Awkward Property Brothers Moments Caught On Camera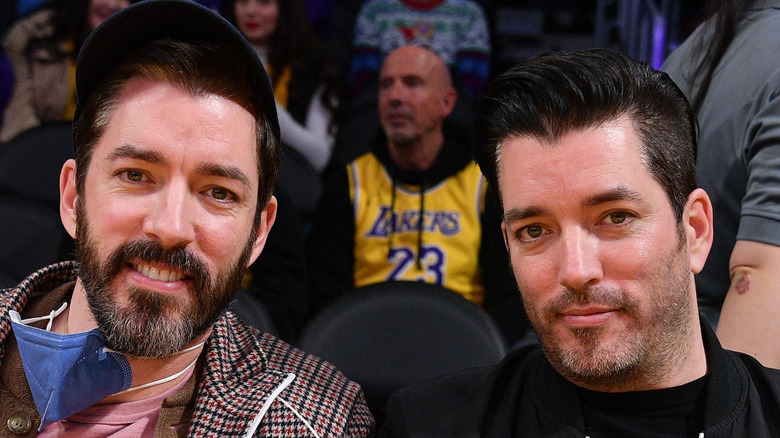 Allen Berezovsky/Getty Images
Drew and Jonathan Scott, the popular twins behind HGTV's "Property Brothers," are known for being one of the most fun, charming pairs of twins on television. With a slew of shows, an entire product line, and tons of social media traction, they're also some of the most successful and famous renovation hosts on HGTV! To top it all off, these brothers can also sing a decent duet! For example, in 2023, they performed a cover of "You've Lost That Lovin' Feelin'" by the Righteous Brothers on "The Tonight Show" (via YouTube).
From their witty banter and burns to their ability to always make people smile, these two are always a good time — especially when they go off script. Scott brothers fans, you're in for a treat! We've rounded up the most awkward, goofiest moments the twins have recorded for your entertainment.
These clips are full of scandal, sibling drama, saucy twinning, and hilariously uncomfortable interviews. Fair warning: there are things in this list you won't be able to unsee!
They admitted to kissing fans
While playing the notorious drinking game "Never Have I Ever" with Popsugar host Allie Merriam, the brothers admitted they'd kissed fans at meet-and-greets (via YouTube). Drew painted a pretty vivid picture of his brother's approach: "Jonathan does this whole thing. We have fans that come for photos and he's like, 'Man, I really would love a kiss from somebody.' Then he gets mobbed by all the fans."
For his part, Jonathan doubled down with a series of increasingly awkward comments: "I do not accept pity kisses. However, if you lean in — even if you're just going to whisper something in my ear — and I misread it as a kiss, I go for it. People will literally just say to me, 'Are you a Property' — and I'll just jump on it."
Playing on the moment, Drew joked, "Does he have to drink twice if it was tongue?"
To be fair, they were both drinking during this segment, but it is a pretty shocking thing to say on air. Allie did her best to smooth over the moment by saying, "That's good, lots of love."
That time Drew and Jonathan got saucy on Conan
It turns out the Property Brothers' fans and clients are just as flirty as they are — sometimes uncomfortably so. During an interview with Conan O'Brien, the two shared a story of one of their most cringey encounters with a client (via YouTube). "We had this one homeowner, not to be named — she would hit on me so bad with her husband right there," Jonathan said. "He was oblivious to what was going on."
As hard as Jonathan tried to finish the story seriously, Drew couldn't help demonstrating dramatically for the crowd. All eyes were on him as he reenacted the homeowner's awkward dancing.
From that point on, the brothers pretty much took over the show and led the whole panel to talk about how construction terms have questionable names. "Most construction terms are derived from a pervert, somewhere," Jonathan said. "There's your hardwood, there's your caulk, you've got to put caulk everywhere."
"Wait a minute — who said you have to put c**ks everywhere?" Conan responded, pretending to be confused.
"When you see these like big, burly construction trades, and they're over there, like, 'Yeah, you've got to lube up the nipples — let's go over there and lay some caulk,' you can't help but turn into a teenager and laugh," Jonathan said.
Drew donned 18 layers of tighty-whities on live TV
In September 2019, Drew and Jonathan appeared on "Live with Kelly and Ryan" to try and beat one of the silliest Guinness World Records — "most underpants pulled on in one minute by a team of two" (via YouTube).
"This is the weirdest thing we've ever done, and that's saying something," host Kelly Ripa joked.
To make matters even weirder and more hilarious, the judge and Drew both showed up with the same pair of socks on. "Are you also wearing these tighty-whities?" Drew pressed the judge. "Let's see!"
Overall, watching Jonathan put underwear on his brother gave us some secondhand embarrassment. Drew took some time after the buzzer sounded to model the new look, which can best be summarized as an adult diaper baby. As Kelly put it, "We can all agree that we can't unsee this." In the end, they didn't quite break the record either, falling short by only one pair of underpants. Better luck next time, boys.
Jonathan and JD Scott teased Drew about the way he pronounces words
JD Scott, the now-famous third Scott brother, occasionally made an appearance on "Property Brothers" to stir things up. In one HGTV behind-the-scenes clip, he asked Drew, "What's your favorite thing about yourself?" (via YouTube).
Drew responded, "I would say my hilarious personality." 
"My favorite thing about you is not how you pronounce things," JD said. Jonathan chimed in by teasing his brother over his pronunciation of "opportunity." Talk about being called out!
Drew followed up with, "It's my Scottish accent coming out." As it turns out, the Scott brothers actually have Scottish ancestry. According to a different behind-the-scenes video, they're descended from Scottish nobility (via YouTube). Jonathan said, "This summer, we decided to prove to everybody that we're not just Scotts by name, but also by blood. We went back to Scotland and visited all of our family. ... We're actually related to one of the kings of Scotland, Robert the Bruce."
The bro burn that maybe cut too deep
Drew and Jonathan are well known for teasing each other and making a bit out of their sibling rivalry, but occasionally they've taken things beyond playful banter. On one "BroCam" episode, an unscripted vlog series about the brothers, Drew dug into Jonathan for being "the emotional brother" (via YouTube).
"Have you ever noticed when we reveal a house on 'Property Brothers' for the homeowners, that if they tear up, Jonathan tears up?" he asked viewers. 
Jonathan played into the setup at first. "It was probably dusty in there or something like that," he said, smiling.
When Drew continued to rapid-fire roast him about crying during movies like "The Notebook," Jonathan clapped back with, "Just because you're a robot and have zero emotion doesn't mean we all have to be like you. ... The Wizard [of Oz] didn't give him a heart, that's for sure." Ouch!
Despite how harsh these comments might seem, the Scott brothers have said they can't actually stay angry with each other for more than a few minutes. "If there's something bugging us, we get it out," Drew said during a 2019 interview with "Entertainment Tonight" (via YouTube).
When Drew took a vase to the head
It's not every day that things get violent on HGTV, but the Scott brothers have been known to get a rise out of their clients. In a "Property Brothers" webisode from 2013, Jonathan gave Drew a hard time for the way he delivers pricing news to clients (via YouTube).
"I hate it when you drop the price of the dream home, because it's so ridiculously out of the range of the buyer," he said. The video then cut to a montage of all the times clients have slapped, punched, smothered, or thrown objects at Drew after he revealed the final numbers.
Though most of these aggressive interactions appear staged, the last one had us questioning what really happened. In the video, a client smashed a vase into Drew's head, cascading sharp fragments all over him. When he slowly stood up to face the camera, he appeared genuinely pained. He doesn't have visible cuts, but we're pretty sure he spent the rest of the day picking debris out of his shirt and hair.
Jonathan doesn't know what to do with his hands
This is probably the creepiest video of Jonathan you'll ever see — and definitely the most awkward! In a 2013 blooper reel, he has an unscripted mannequin-hands moment while talking about their latest "Property Brothers" project (via YouTube). 
The video clip starts off normally, with Jonathan explaining why they have to increase a client's budget. As he spoke, his hands slowly slid up into view, thumbs covered. They were stuck in a very unnatural, stiff way that clearly caught the attention of the camera operator. Halfway through the take, Jonathan blurted out, "I don't know what to do with my hands — is this natural?"
At first, we questioned whether they were fake hands coming up to choke him as a gag (pun intended), but then the fingers moved slightly. We've all had moments like this — usually while dancing — but Jonathan really took it to a whole new level of weirdness. Jonathan, if you're possessed, blink twice!
The Chubby Bunny Challenge
Do you hate the sound of chewing? You probably weren't a big fan of the Chubby Bunny Challenge. JD introduced this viral trend to his brothers back when it was first going around, and HGTV managed to capture it all on camera (via YouTube). The challenge, as JD explained, involves shoving as many marshmallows into your mouth as possible before the timer sounds. "Whoever has the most in their mouth [at the end] is the winner," he explained.
Cut to: Drew trying to shove an entire fistful of marshmallows into his mouth. He really got into it, even using his fingers to stretch one cheek open farther! Jonathan was more organized in his approach, packing marshmallows in one at a time and searching for empty gaps. Meanwhile, JD just looked pained.
After the timer sounded, the boys removed (or ate off-camera) their marshmallows, and a tie was declared. Jonathan, the loser, challenged JD and Drew to a tiebreaker, during which they tried to shove more marshmallows up their noses. Gross! When they both failed to do that, Jonathan joked, "Because you tried it, that means I win this challenge."
Of all the goofy and embarrassing things the brothers have done over the years, this challenge definitely made our top 10!
The magnetic key mishap
"Property Brothers" is all about that final reveal. While the walk-through usually goes smoothly and wows the clients, sometimes things don't go exactly as planned. In a blooper reel from 2013, the brothers had a run-in with a magnetic key holder (via YouTube). When Jonathan tried to demonstrate the magnetic aspect of this cool entryway gadget, he failed — repeatedly. He tried multiple times to toss the key onto the panel, assuming it would stick, but it fell to the ground each time. On his last attempt, he held awkward eye contact with the clients while Drew retrieved the key from the floor. 
Drew finally stepped in, but even he couldn't get it on the first try. He attempted to place the key gently against the board, but it still wouldn't stick! Crickets. On the last try, he slapped the key against the board and it actually stuck.
Though the clients did say, "Wow!" when he finally got it to work, we couldn't help but wonder whether they were reconsidering their whole remodel by this point.
Everything about this behind-the-scenes video
If you've ever been unexpectedly dragged into a home video, someone's livestream, or a controversial conversation, you'll know how uncomfortable it can be. You didn't want the limelight. That's why you chose to work behind the camera.
Drew and Jonathan Scott, on occasion, have taken time out of their busy lives to celebrate their hardworking crew. Though we know the crew appreciates the sentiment, the brothers' impromptu habit of turning the camera on their staff clearly isn't the most loved approach. In a behind-the-scenes clip from 2019, Drew and Jonathan introduced each of their team members to viewers (via YouTube). The two tried their usual banter with each member of the crew, which produced a whole string of somewhat uncomfortable encounters.
"He's very easy to make blush and turn red, right?" Drew said of his director. "Tell us about the last time you said something that was really awkward."
Thankfully, Jonathan jumped in to cut him off. "No, too much information," he said. Their production assistant definitely didn't want to be on camera. He looked peeved; when the brothers tried to get a story out of him, he simply said, "I plead the Fifth." Several more crew members even tried to hide but were ultimately outed. To top it all off, their director of photography turned pink and looked completely embarrassed when they flipped his camera around on him.
Jonathan catches Drew singing in the shower
2013 was clearly a year of sibling drama for the Scott brothers. In one episode of "BroCam," Jonathan broke into Drew's hotel room to show fans how his brother lives off camera — in the hopes of embarrassing him, of course (via YouTube). "Drew gave me a key to his room, which was a huge mistake," he told viewers, key card in hand. "You're going to learn a couple of things about him that are just completely embarrassing."
While inside the room, Jonathan pointed out how strange it was that the room appeared so clean after Drew had been living there for more than a week. "Everything is meticulously organized," he whispered. "That's how Drew rolls." He then went through the dresser drawers until he came across a set of watches. "Who travels with a dozen watches?" he asked while stifling a laugh. "It doesn't make sense."
Before he could finish his joke about Drew's closet setup, Jonathan's singing interrupted. "He loves to karaoke in the shower," Drew told viewers before he shouted, "Sounds good!" through the bathroom door. Jonathan opened the door, half-naked and surprised to see his brother.
"What are you doing here?" he asked, closing the door to cover his exposed chest. In the end, he grabbed the camera from Jonathan to stop the recording.
Jonathan's burn comes back to bite him
If you're ready for more spicy moments with the twins, this video is definitely for you. In 2018, the brothers treated fans by responding to thirst tweets (via YouTube). Some fan comments had them laughing, while others took them completely by surprise. "Who are you perverts?" Drew asked at one point.
The most awkward moment of the clip came when the brothers argued over who was more attractive. "Duh!" Jonathan said, gesturing at himself. He then pointed to Drew. "Do you want a guy who manscapes, or do you want a guy who — "
Drew finished for him, "Who's hairy and dusty?"
Jonathan then admitted, "I don't know where I was going with that." Clearly, he didn't think that one through!
Before they knew it, the brothers were in too deep to turn back. "Are you really a part of the HGTV community if you wouldn't have a threesome with the Property Brothers?" read one tweet. Jonathan responded, "No, you're not a true fan. That's why on our cruise, 'Sailing with the Scotts,' every night I sleep in a different cabin."
Drew followed up with a tentative, "Hashtag twin sandwich."
Shots fired over wedding plans
In 2021, Jonathan and Drew sat down with Scott Evans from Access Hollywood to discuss the forthcoming season of "Celebrity IOU" (via YouTube). During the interview, Jonathan discussed his relationship with "New Girl" actor Zooey Deschanel. Scott asked Drew whether he had thought of what to say in his best man speech, should his brother and Zoey decide to tie the knot someday. That's when things got awkward!
"First of all, why are you assuming that he'd be the best man?" Jonathan asked.
"Oh!" the host shouted, hand over mouth. "Shots fired!" He quickly tried to pull together another question to ask, but Drew beat him to it with, "It would be random if you just made Kevin Hart your best man."
Later, Scott asked the brothers who was more likely to pick up the check at a restaurant. Jonathan claimed his brother always footed the bill without asking, which made him look bad. "If we're out with a group of like 30 people, Drew always just gets the check," he said. "He always puts it on our joint corporate account, so I'm still paying for half of it and he takes the credit."
Party foul or playing it smart? We'll leave that judgment up to you.