Riley Keough Makes First Red Carpet Appearance Since Lisa Marie Presley's Death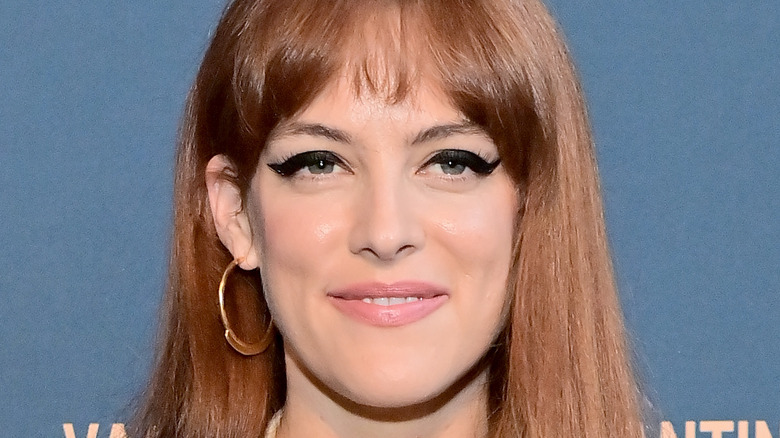 Stefanie Keenan/Getty Images
Riley Keough is the eldest child of Lisa Marie Presley and the eldest granddaughter of music icon Elvis Presley. So even before she stepped into acting, Keough was famous for being rock royalty. Following the tragic death of Lisa Marie on January 12, Keough wrote a heartfelt tribute to her mother, which her husband, Ben Smith-Petersen, read at Lisa Marie's service. "I remember how it felt to be loved by the most loving mother I've ever known," Keough wrote, per People. "I'm a product of your heart."
In June 2022, the actor's personal and professional life merged when mother and daughter appeared at a red carpet event in honor of Baz Luhrmann's "Elvis" biopic. Speaking to The Hollywood Reporter, Keough noted that while she's accustomed to doing premieres solo, "To be able to have these experiences with my mom, my grandmother and my sisters has been really emotional, special and overwhelming for all of us."
Keough and Lisa Marie shared a close relationship, and she's been out of the spotlight following her mother's death. On February 16, Keough missed the London premiere of her latest project, "Daisy Jones & the Six." "No one really thought Riley would be involved in the screen and Q&A, given everything she has been through over recent weeks, but her absence was noticeable," a guest at the London event told the Mirror. However, a week later, Keough made a stunning return to the red carpet.
Riley Keough wore a dramatic black dress to the Daisy Jones & the Six premiere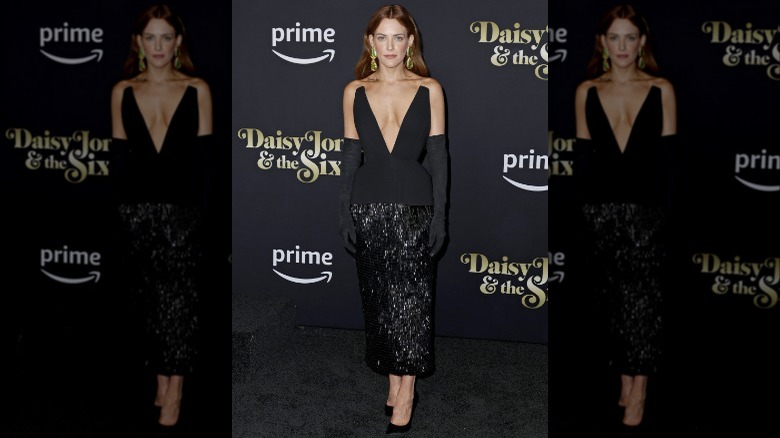 Frazer Harrison/Getty Images
On February 23, actor Riley Keough made a red carpet appearance for the premiere of "Daisy Jones & the Six." Accompanied by her husband, stuntman Ben Smith-Petersen, Keough wore a strapless black Schiaparelli gown with a dramatic v-cut front. Just below her hips, the dress shimmered with ornate glass-beaded fringe. She accessorized her look with classic black heels and black opera gloves. These elegant long gloves are part of a glamorous accessory trend recently worn by Kate Middleton and Beyoncé. For a single touch of color in her stunning ensemble, Keough wore spring-green and gold Schiaparelli earrings that dangled almost to her shoulders.
The night's theme was '70s glam since "Daisy Jones & the Six" takes place during that era. The series debuts March 3 on Amazon Prime and is based on a novel that chronicles a rock band's internal struggles during their meteoric rise to success. The book's author, Taylor Jenkins Reid, notes she was particularly inspired by Fleetwood Mac and the relationship between Stevie Nicks and Lindsey Buckingham, per Hello Sunshine.
Keough plays the series' eponymous Daisy Jones, a part that seemed destined to be hers from the start, even before she knew it was a rock story. "I just heard the title and thought, 'I'm gonna play her,'" Keough told The Hollywood Reporter. "It was the same feeling I had when I knew that I was going to marry my husband."
Riley Keough's portrayal of Daisy Jones was inspired by Lisa Marie Presley
Before she stepped out as fictional rock singer Daisy Jones, actor Riley Keough watched videos of female musicians from the 1970s, like Linda Ronstadt and Stevie Nicks. She was also influenced by a source closer to her heart—her mom, singer-songwriter Lisa Marie Presley. However, Keough was impacted by her mom's attitude to life more than her profession. "I was raised by somebody who did their own thing and didn't really care what other people thought. She was definitely inspirational to me," Keough told People.
Playing Daisy also helped the actor connect to her family's musical legacy. Prior to this role, Keough didn't have experience playing guitar or singing. She wasn't the only member of the cast in this situation. They learned on the job, practicing individually and as a group during months of rehearsals. "My whole family are musicians and I've been around this world a lot and been on tour and all that kind of stuff," Keough told ET. "But I'd never really done it myself. So for me, it was more about my personal relationship with getting to play music, which was fun."
As Keough developed her musical skills, Lisa Marie was a key source of encouragement for her daughter. "She was so excited. I was worried, and she really supported me," Keough recalled to Vanity Fair. "There were some really challenging songs, and she helped me focus and believe in myself."