Royal Family Reportedly Declined Invite To Lilibet's Christening - But She Received A Royal Title Anyway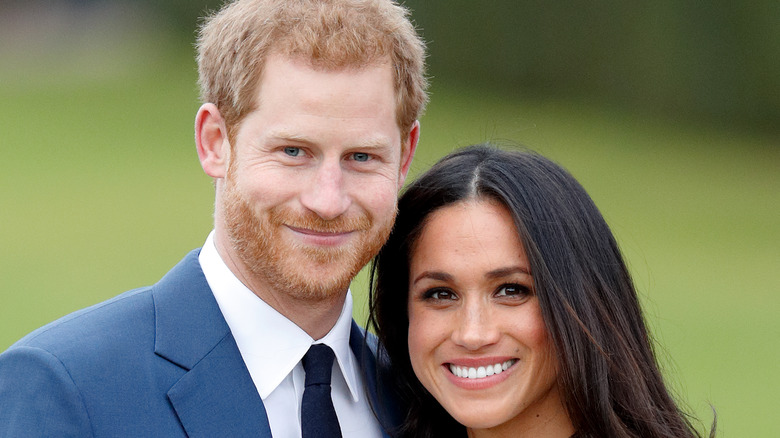 Max Mumby/indigo/Getty Images
On March 3, Prince Harry and Meghan Markle, Duke and Duchess of Sussex, hosted a christening for their 21-month-old daughter, Lilibet Diana, at their home in Montecito, California. While it's often been speculated when and where Lilibet would be christened, royal experts have long thought it unlikely that it would occur in the UK. 
Having the christening in the US was a choice that also reflected the preferences of Lilibet's godfather, playwright and actor Tyler Perry. In the Netflix docuseries "Harry and Meghan," Perry recalled that while he was honored to be chosen as a godparent, he had some misgivings about traveling abroad for the christening. "Does this mean we got to go [to the UK] and do all of that in the church with them and figure all that out, because I don't want to do that," Perry said, per the Mirror. As an alternative, he suggested, "Maybe we can do a little private ceremony here and let that be that and if you have to do it there then it's okay."
Like Perry envisioned, the event was a smaller affair, with 20-30 guests. Meghan and Harry also kept the guest list small for Archie's christening. In 2019, Lilibet's older brother was christened at Windsor Castle with 25 guests attending. While Doria Ragland, Meghan's mother, participated in both events, Harry's side of the family was notably absent this time. Even so, the ceremony provided a royal touch in terms of Lilibet's title.
Archie and Lilibet are now Prince and Princess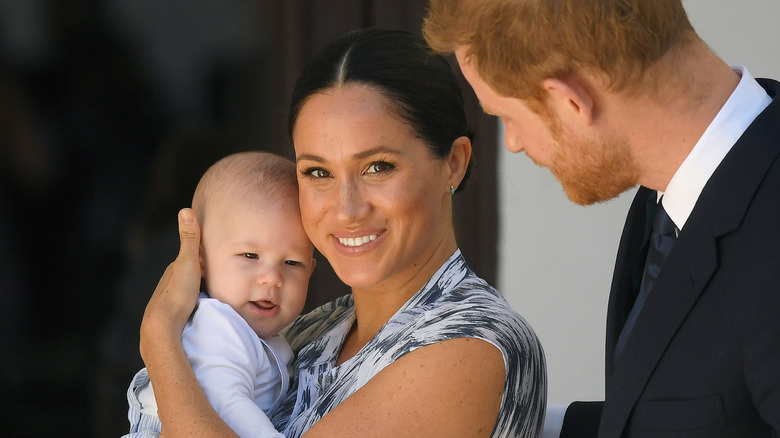 Pool/Getty Images
Prince Harry and Meghan Markle's spokesperson used Lilibet's new title for the first time when announcing her christening, saying, "I can confirm that Princess Lilibet Diana was christened on Friday, March 3 by the Archbishop of Los Angeles, the Rev. John Taylor." 
As reported by People, Harry and Meghan invited King Charles, Queen consort Camilla, and William and Catherine, Prince and Princess of Wales, to Lilibet's christening. While it is unknown exactly why the royals didn't attend, it appears they've been involved in discussions concerning the debut of Archie and Lilibet's titles. A royal source told the Mirror, "The appropriate conversations have taken place ahead of today's news (of Lilibet's christening)." Now that the big reveal has occurred, Buckingham Palace has plans to update the official royal website.
According to a 1917 decision made by George V, Archie and Lilibet have had access to these titles since September 2022, following the death of Queen Elizabeth. Like King Charles, George V was a proponent of a slimmed-down monarchy, and he wanted to decrease the number of people calling themselves princes or princess. This rule states that the current monarch's grandchildren (who have a male royal parent) can use prince or princess titles. However, Archie and Lilibet are not eligible to be styled as His or Her Royal Highness, since Harry is no longer a working royal. Instead these designations are in abeyance — a kind of limbo where they existed but aren't used.
Prince William and Kate Middleton's children have had prince and princess titles since birth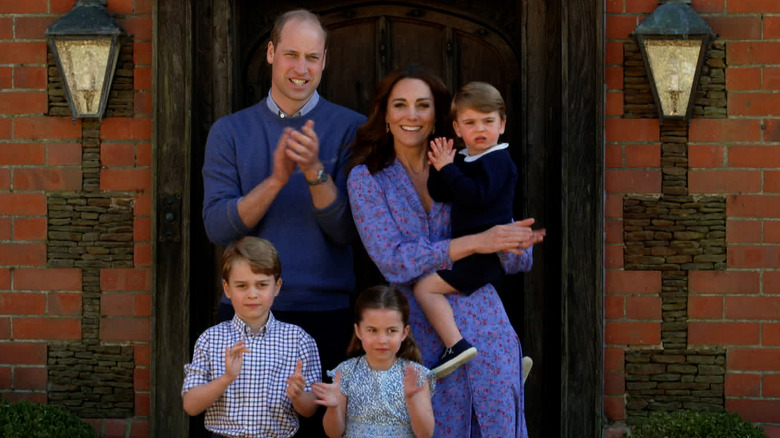 Comic Relief/Getty Images
Royal titles can be murky. During Prince Harry and Meghan Markle's bombshell interview with Oprah in 2021, Meghan revealed her surprise when she learned that Archie wouldn't get a title. She mistakenly believed her child was being unfairly excluded, perhaps due to race discrimination. At the time Archie was a great-grandchild of the monarch, so he didn't qualify under George V's rules.
However, to add to the confusion, Archie's cousins Prince George, Princess Charlotte, and Prince Louis have had their titles since birth. Although they too didn't fit George V's stipulations, another monarch intervened on their behalf — Queen Elizabeth. Since Prince George will one day be king, his great-grandmother wanted him to be designated a prince right away. She also decided to give his younger siblings the same privilege. 
Even though Elizabeth didn't expand this title option to her other great-grandchildren, Archie and Lilibet weren't alone in their lack of royal titles. Princess Anne's two children, Peter Phillips and Zara Tindall, weren't eligible either, since George V's declaration specifies that it's the children of the monarch's sons who can be called prince and princess. However, in their case, when Queen Elizabeth offered to change the rules, their mother declined. Looking back, Anne was pleased with her decision. In 2020 she told Vanity Fair, "I think it was probably easier for them, and I think most people would argue that there are downsides to having titles."