Brush Shape Matters When Applying Blush - Here's The Shape To Choose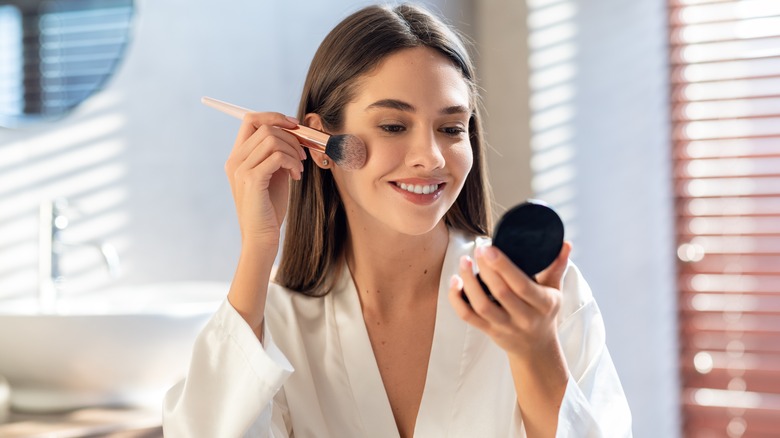 Prostock-studio/Shutterstock
Makeup routines are constantly evolving, and tips and tricks for applying certain products in your routine differ depending on who you ask. When it comes to blush, which you might be applying wrong, there's a tried-and-true method for the application step. Choosing the correct type and shape of makeup brush is more important than you might think.
However, there are so many options when it comes to brushes for your blush in terms of what the actual brush is made out of, the shape of the brush, and the overall quality. In fact, different shapes of brushes can leave your skin looking uneven after application instead of a natural look. Whether you're someone who uses their fingers to apply their blush or reaches for whichever makeup brush is closer to you, you'll want to know what the best brush to grab is in order to achieve the look you're going for.
The shape of the brush can help determine how your blush looks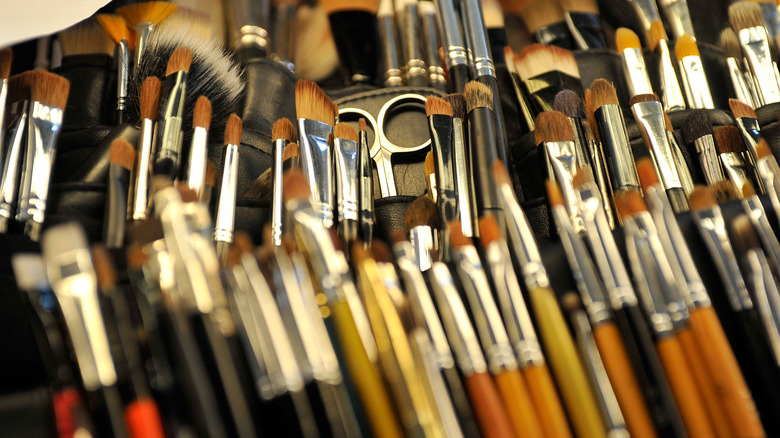 Joe Corrigan/Getty Images
Blush will look bad if you apply it incorrectly. It won't blend, or it'll blend in too much and get totally lost in your face. Luckily, that won't be an issue once you know what brush to choose.
While there are a lot of options to choose from, there's one shape you should reach for when you're applying your blush, according to celebrity makeup artist Fiona Stiles. She told Self that round, dual-fiber brushes are the best for application, sharing, "It's very difficult to get a round shape with a flat, square blush. If you're looking to get blush on the apples of your cheeks, you want something rounded, so you can buff it in your face without winding up with any lines." Plus, there are round brushes made specifically for powder and cream blushes. Luckily, liquid blush often comes with its own applicator, but you can still use the rounded brush for blending them out perfectly. 
Make sure your makeup brush is good for blending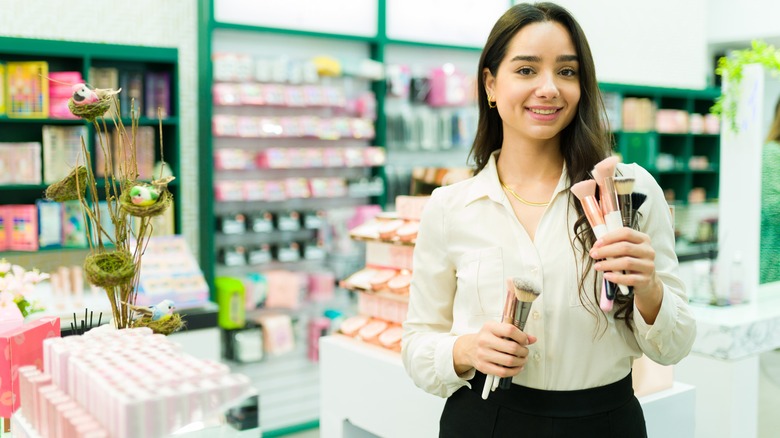 antoniodiaz/Shutterstock
No matter what size and shape you go for, make sure you're using a brush that will allow you to blend your blush into your skin, especially if you're going for a natural look. Makeup artist Tobi Henney tells Marie Claire, "Pick a slightly rounded brush designed to be applied on the cheekbones. I also love a brush that is firm, but soft at the same time to allow for perfect blending."
Blending can be tricky, but it's important because it helps blur and soften your look, which makes it so any harsh lines aren't as apparent. So, whether you're using your blush as part of a minimal makeup routine, or you're doing a full face of makeup and wanting it to help lift your cheekbones, make sure you've got a round, soft brush on hand and apply your blush according to your face shape for beautiful results.