Whatever Happened To The Bold And The Beautiful's Nick Marone?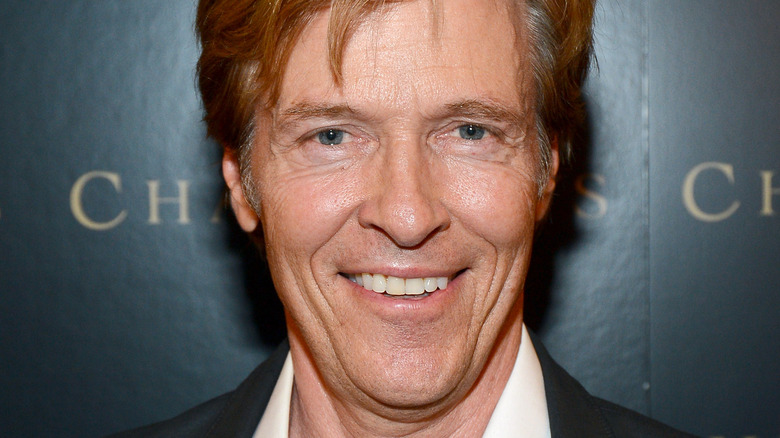 Frazer Harrison/Getty Images
Part of the amazing ride that was "General Hospital" back in the early '80s was the super couple Frisco and Felicia Jones (Jack and Kristina Wagner). Jack would later move on to "The Bold and the Beautiful" as Nick Marone, who vied for the heart of Brooke Logan (Katherine Kelly Lang), from 2003 to 2012. Dominick "Nick" Payne was captain of a tanker for Marone Industries that crashed near Los Angeles. Nick soon became rivals with Ridge Forrester (then Ronn Moss) over Brooke Logan (Katherine Kelly Lang). He was shocked when his mother, Jackie Payne (Lesley-Anne Down), told him that Ridge was his half-brother because Massimo Marone was their biological father. Brooke and Ridge got married, and on their South American honeymoon, the evil Sheila Carter kidnapped Ridge. Nick and Massimo helped Brooke rescue Ridge who ended up falling into a furnace and was believed dead. As Nick consoled Brooke, they ended up having sex and she got pregnant. 
Ridge, however, was actually alive, and it turned out he was the father. Nick and Stephanie Forrester (Susan Flannery) had gotten close because she didn't like the Ridge and Brooke pairing. Stephanie's daughter, Felicia Forrester (then Colleen Dion-Scotti) started dating Nick, even after he discovered she had colon cancer. Eventually, Felicia moved to Europe, so Nick then found solace with Bridget Forrester (then Jennifer Finnigan), Brooke's daughter. They got closer after Nick saved her and Ridge from a collapsed mine.
Nick's life got more dramatic
Despite Ridge's interference, Nick and Bridget would eventually get married. Bridget got pregnant but had a miscarriage, after she learned Brooke had an affair with Nick. Felicia returned with her son Dominick, claiming Nick was the father, but his rival, Dante Damiano (Antonio Sabàto, Jr.), was the baby daddy. Nick and Bridget split again and he wooed Brooke, but Massimo intervened by framing his son for a crime. After some turmoil, Brooke and Nick married, but Donna Logan (Jennifer Gareis) revealed she saw Ridge and Brooke kissing. Nick then had revenge sex with Bridget and she got pregnant.
Because Stephanie shoved Donna over a second-floor railing, Nick then dangled her over that same railing, forcing her to sign Forrester Creations over to him; Brooke divorced him as a result. When Nick sought help from psychiatrist Taylor Hayes (then Hunter Tylo) for his anger issues, he remembered that his mom was a prostitute, so Stephanie made Jackie's sordid past public. Nick then attempted to thwart the family's new company, Forrester Originals.
He later married Taylor, and was accused of murdering Shane McGrath (Dax Griffin), but was exonerated when Ridge confessed that he witnessed Shane kill himself. Nick made a deal with Eric Forrester (John McCook) that if he divorced Stephanie, Nick would sell him back Forrester Creations. He used that money to buy Spectra Fashions, renaming it Jackie M. Nick and Taylor later used in vitro fertilization to get pregnant.
Nick sailed off into the sunset
Taylor and Nick's baby needed a bone marrow transplant, and the couple learned the donor eggs were from her rival, Brooke. Nick was later accused of shooting Stephanie because he had threatened her, but the culprit turned out to be Brooke's brother, Storm Logan (William deVry). Nick got custody of baby Jack, and fell for babysitter Katie Logan (Heather Tom). When Katie needed a heart transplant, he stuck with her, eventually taking her on a sailing trip to Catalina Island where they had an affair — and she got pregnant.
Brooke's son, Rick Forrester (Jacob Young), teamed up with Nick to steal designs from Forrester Creations in an effort to help the ailing Jackie M, and Stephanie and Nick called a truce when she invested money in the company. He also threw a party for her when she had a stroke. Eventually, Nick and Bridget got back together after she had a fling with Owen Knight (Brandon Beemer), but because of her heart ailments, they decided to use a surrogate to get pregnant. Nick and the surrogate, Agnes Jones (Sarah Brown), hooked up after he dumped Bridget because of the affair.
Nick and Agnes eventually grew apart, and he had a brief fling with Pam Douglas (Alley Mills). After a kerfuffle regarding potentially stolen Forrester designs ending up at Jackie M, Owen and Jackie weren't seen again, and Nick and his son Jack sailed away into the world.