The Hidden Messages In King Charles' Clothes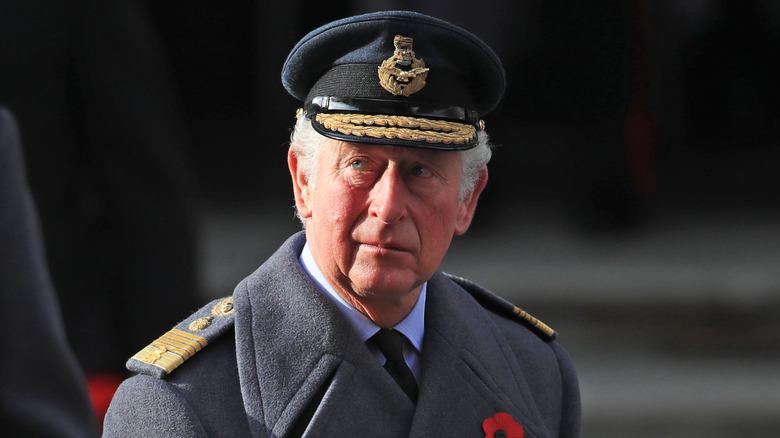 Wpa Pool/Getty Images
Throughout much of King Charles' adult life, his sense of style was overshadowed by his ex-wife, Princess Diana. Thanks to her gorgeous short blond haircut, iconic biker shorts, and unforgettable revenge dress, Diana became the royal family's resident fashionista — preventing many of us from noticing just how well-dressed Charles truly is. Indeed, Charles is a sort of low-key style icon, encompassing the kind of look that implies one likes to sip scotch on a leather couch. When GQ listed the monarch as number 50 on the 2012 list of best-dressed men, even the likes of Donatella Versace voiced their approval. The fashion designer, for one, boldly declared, "I have an image of what a British gentleman looks like, and that image finds real expression in Prince Charles. He is beyond fashion — he is an archetype of style" (via The Cut).
Although it's true that Charles sets the standard for how an older British man should dress, it wouldn't be fair to say that his style lacks meaning. On the contrary, Charles has been known to use his clothing to draw attention to some of his favorite causes. He has also used the symbolism of his attire to demonstrate how seriously he takes his royal position. From the activism inherent in his beloved 40-year-old coat to the meaning behind his modern coronation garb, King Charles' clothes often carry hidden messages.
Charles' 40-year-old coat is a stance against fast fashion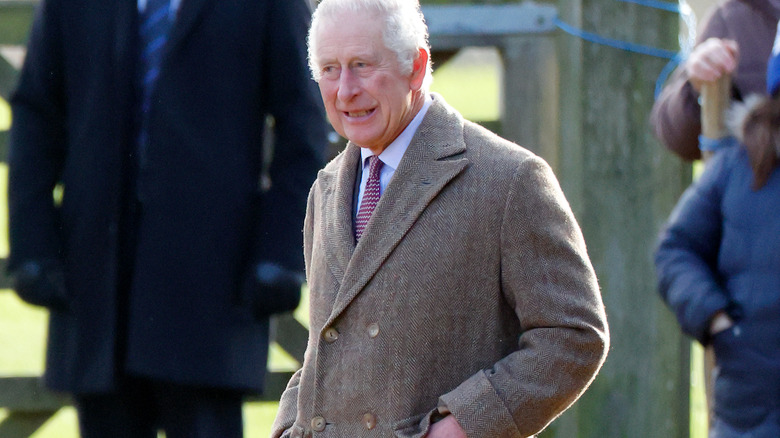 Max Mumby/indigo/Getty Images
King Charles III is all about sustainability, and he isn't afraid to wear clothes to prove it. On January 1, 2023, the British monarch went to church with his wife, Camilla, queen consort, on his arm. During this outing, cameras captured the king wearing a gorgeous wool coat. Interestingly, this was far from the first time that Charles had worn that particular piece of attire. Back in 1988, on a separate visit to Sandringham, the monarch was photographed with his parents, Queen Elizabeth II and Prince Philip, wearing the exact same coat. 
For the king's fans, the hidden message behind Charles' clothes was clear. In a TikTok video that quickly went viral, Jessica Weslie noted that the monarch used his coat to demonstrate his stance on fast fashion. "King Charles is king, but he is not wearing new items all the time. He has had this coat for about 40 years. We love a sustainable king," the TikToker shared.
This environmentally-friendly message is consistent with Charles' past statements on the issue of people buying clothes, only to toss them out shortly after. In a 2020 interview with British Vogue, the monarch agreed that his personal fashion motto is essentially a call to stop fast fashion: "Buy once, buy well." He went on to explain his view that society needs "a circular economy, rather than a linear one where you just make, take, and throw away." 
His patched suits spread a message about sustainable fashion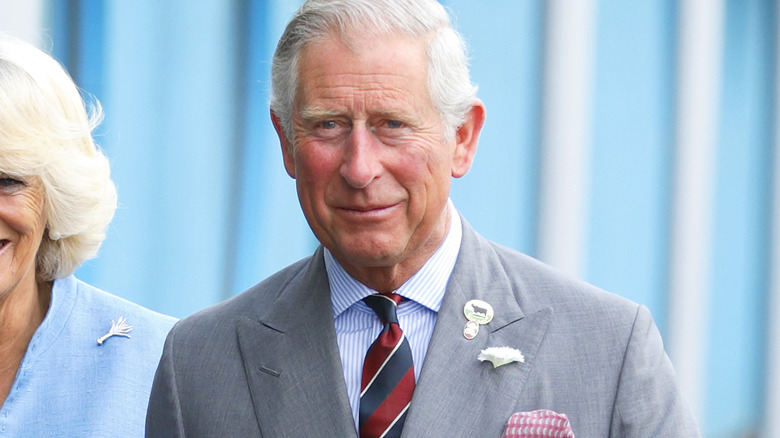 Max Mumby/indigo/Getty Images
For centuries, the British royal family has been known for its unbridled opulence. According to a 1990 report in the Chicago Tribune, Princess Diana was rumored to have spent exactly $22,950 in her first decade at the palace — on underwear alone. And, on a trip to Paris, Princess Catherine waltzed through town in a $10,000 Chanel ensemble (via Marie Claire).
Among these royals, King Charles III stands out for his willingness to reuse old clothes. Nicknamed the "patch-up prince" by The Daily Mail, Charles has been known to mend his jackets and suits. In 2013, when his double-breasted Anderson & Sheppard suit required some attention, Charles had a patch added to the piece. The same year, the then-prince appeared on the show "Countryfile" in a gardening jacket riddled with multicolored patches. When asked about his attire, Charles reportedly joked, "I got somebody to patch it up with leather and now I can hardly move" (via The Daily Mail).
For Charles, however, these fixed-up suits are more than a fashion statement; they're a message to the public. Speaking to British Vogue about sustainable fashion in 2020, Charles shared, "I'm one of those people who hate throwing anything away. Hence, I'd rather have [my clothes] maintained, even patched if necessary, than to abandon them." In that sense, Charles' patched-up suits are a way to show us all that sustainable fashion can be attractive and even look good on the likes of a king.
King Charles' attire at the Sussex wedding teaches moderation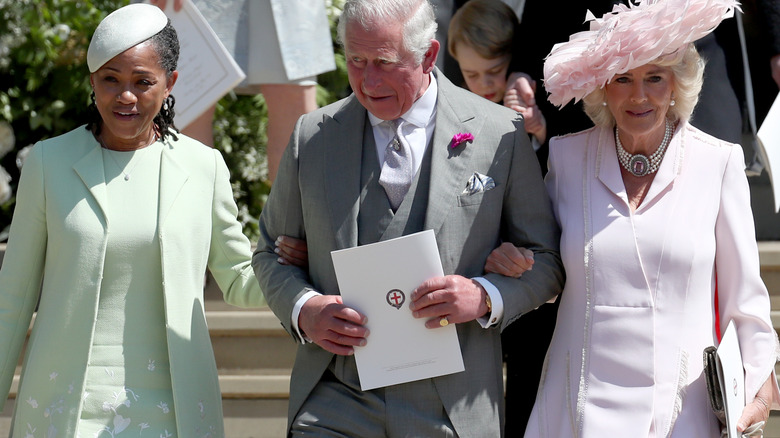 Wpa Pool/Getty Images
If royals aren't afraid to buy expensive clothing during normal times, they seem particularly keen to purchase showstopping attire for their weddings. According to a 2018 investigation by Vanity Fair, just one of Meghan Markle's two wedding dresses cost an estimated $265,000. Compared to Kate Middleton's whopping £250,000 (roughly $310,000) nuptial gown, that's practically a steal (via The Sun). Of course, neither of these two women wore their gowns more than once; Meghan didn't even wear hers for the whole ceremony.
Amid this culture of consumption, King Charles III made the choice to hold back. On the date of the Sussexes' wedding, Charles refrained from investing in a new suit and instead wore a light gray Anderson & Sheppard coat from 1984. When asked by British Vogue why he had re-worn an old suit on this occasion, Charles explained his reticence to buy something new, saying he still owned something that fit: "I've considered it. But in the case of that particular morning coat, as long as I can go on getting into it, I only wear it a few times a year, in the summer, so obviously you want to keep those sorts of things going." From Charles' perspective — important occasion or not — one must not buy new clothes unless necessary. As he told British Vogue, "But if I can't fit into [my clothes], then I just have to have something new made."
Charles' re-soled shoes communicate his belief in a repairs-based clothes economy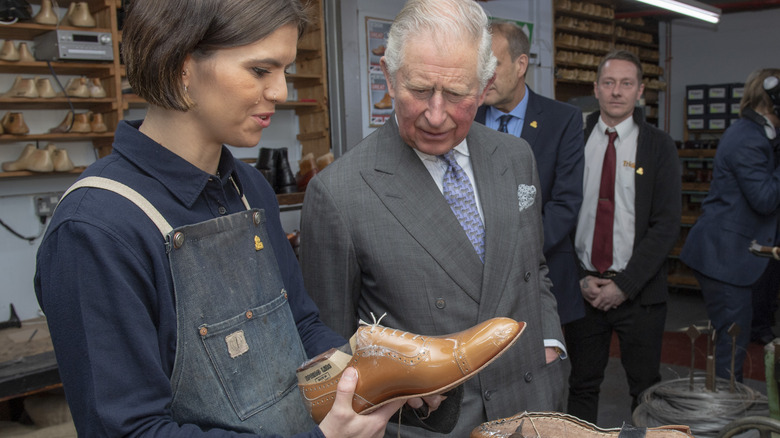 Wpa Pool/Getty Images
Just because King Charles III doesn't approve of fast fashion doesn't mean that the monarch hasn't considered eco-friendly alternatives for the fashion economy. As revealed in an interview with British Vogue, Charles believes in pursuing a system that's based on mending the clothes we already have, rather than constantly replacing them.
"I happen to be one of those people who'd get shoes ... repaired if I can, rather than just throw it away. And that's why I think, from an economic point of view, there are huge opportunities for people to set up small businesses involved with repair, maintenance, and reuse." According to the king, he has always been inspired by shoe repairs: "When I was a child, we used to take our shoes down to the cobbler in Scotland and would watch with fascination as he ripped the soles off and then put new soles on."
To prove the extent to which he believes in this principle, Charles often wears shoes that have been fixed up. Photos published in The Daily Mail have shown the monarch wearing black loafers that boasted at least three leather maintenance patches. For Charles, this type of mending business is one of many "huge opportunities, particularly now, within the whole sustainable fashion sector, to counter this extraordinary trend of throwaway clothing –- or throwaway everything, frankly."
He loaned his clothes to Camilla to show how good vintage clothes can look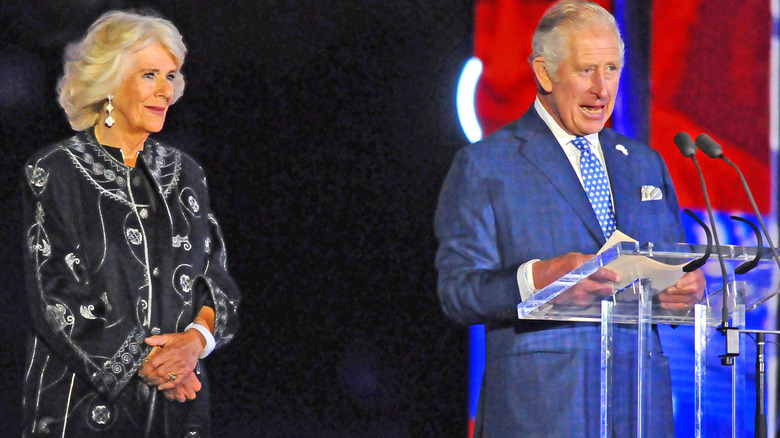 Wpa Pool/Getty Images
During Queen Elizabeth II's Platinum Jubilee weekend, Camilla, queen consort, showed up to a concert wearing an eye-popping piece. Accompanied by her husband, King Charles III, Camilla wore a black cashmere robe called a Saudi daqlah. The garment had been created years before by the famous Saudi designer, Yahya Al-Bishri. Notably, the piece was not originally part of the queen consort's own collection. On the contrary, it was actually an item of Charles' clothing, which he had received as a present on an official visit to Saudi Arabia.
In this situation, the image of Camilla sporting Charles' hand-me-downs spread a powerful yet hidden message about repurposing clothing, rather than tossing it aside. Not only did it show that the future queen was not afraid to wear secondhand attire, but it also proved just how chic vintage wear can be.
Interestingly, this message has long been part of Charles' system of beliefs. In a conversation with British Vogue, the monarch opened up about why he doesn't like to throw away clothing — including items that no longer serve him. "The difficulty is, as you get older, you tend to change shape, and it's not so easy to fit into the clothes," the king confessed. "I can't bear any waste, including food waste. I'd much rather find another use." Indeed, Charles' daqlah looked absolutely stunning on Camilla.
The king wore a kilt in Scotland to demonstrate cultural awareness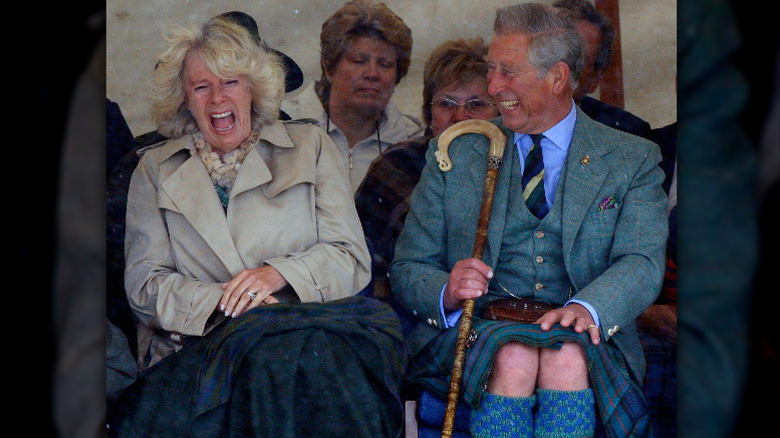 Jeff J Mitchell/Getty Images
As a member of the royal family, King Charles III must honor the traditions of each region of the United Kingdom. To show his respect for Scotland, the king has been known to wear traditional garb on his visits — most notably, a kilt. One prime example of this occurred in January 2023, just days after Prince Harry published his tell-all memoir, "Spare." Holding his head high above the drama, Charles visited Aberdeenshire in full Scottish garb. Donning his green and red checkered kilt, the king showed the Scottish people that he was entirely focused on the trip — and not on his son's bombshell accusations. He even paired his kilt with a silver-decorated sporran that made him look as regal as ever.
In some ways, Charles' appearance was the ideal way to demonstrate that everything in the monarchy was business as usual. To the British people, the image of a high-ranking royal sporting a kilt on a Scottish visit was a familiar one. Prince Philip was photographed numerous times over the years wearing one of his checkered kilts. And Charles himself has appeared wearing this garb in photographs dating as far back as 1955. In that sense, Charles' clothing on his Scottish visit was the perfect way to show that the monarchy — and its traditions — remained strong.
Charles wore blue on Christmas in memory of his parents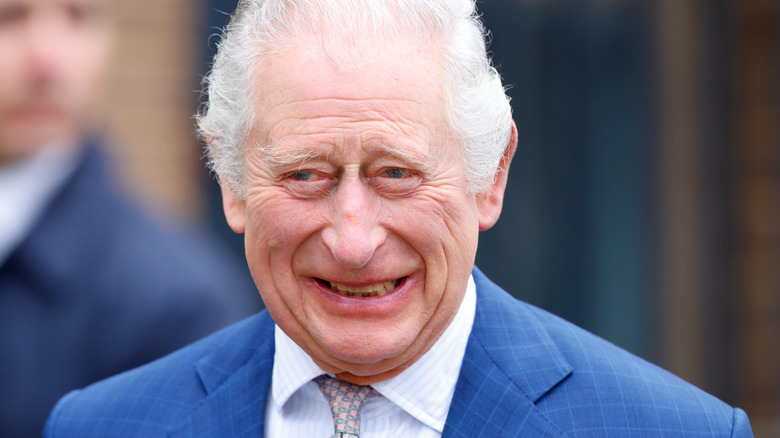 Max Mumby/indigo/Getty Images
It's no secret that blue is a royal color. Members of Britain's upper crust are referred to as "blue-blooded," after all. And, as reported by Hello, medieval sumptuary laws banned anyone other than royals and nobles from wearing blue, as a way to keep the middle class from stealing their thunder. However, when King Charles III wore a cobalt blue suit to his 2022 Christmas address, it didn't seem like he did so out of this intense tradition — the suit was, after all, re-worn in typical Charles fashion. On the contrary, on the occasion of his first holiday speech as monarch, it seemed that Charles' color choice represented a nod to his late parents, Prince Philip and Queen Elizabeth.
According to a piece by The Telegraph, Charles paired his blue Christmas suit with a light blue tie speckled with white dots; he also wore cuff links decorated with the blue and white Greek flag. In that sense, the king's color scheme was an homage to Philip, who famously had Greek royal roots. However, Philip was likely not the only one who Charles honored with his clothes.
His mother, Elizabeth, was almost certainly referenced in his attire, as well, since her favorite color was blue. A 2012 spread in British Vogue revealed that 29% of the queen's outfits that year were blue (via The Daily Mail). Perhaps, then, Charles wore the color to follow in his mother's footsteps.
His signet ring is proof that he is king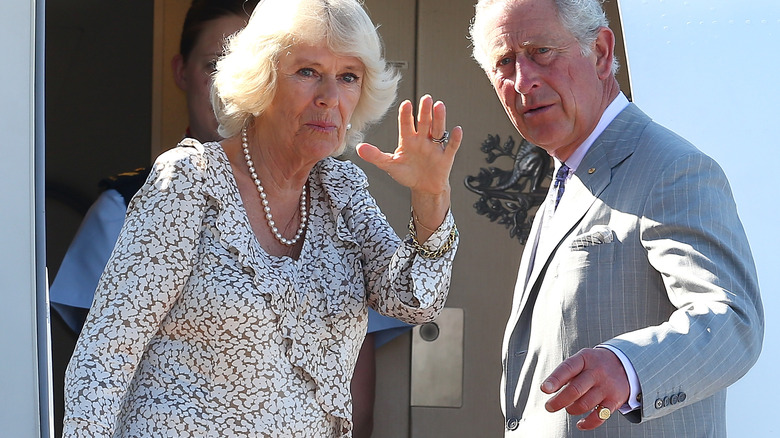 Paul Kane/Getty Images
When it comes to fashion, King Charles III may be best known for his suits, but that doesn't mean the monarch can't rock some blingy jewelry. Over the years, Charles has been spotted many times wearing a signet, or a small seal engraved into a ring. According to Hello, Charles has worn his signet on his left pinkie finger since at least the 1970s. And, he continues to sport it to this day. He was even filmed wearing the gold piece in a September 2022 video that went viral for the way he reacted to a broken pen (via YouTube).
Interestingly, however, Charles' signet is a whole lot more than just a piece of jewelry. Historically speaking, the signet was seen as a representation of one's social class. As British fashion expert, Beatrice Behlen, told Bloomberg, "Signet rings have been around since people wore jewelry. They seem to always have been popular, but I believe they became more popular with the rise of the bourgeoisie. Members of the middle class would not have a coat of arms, so having a signet ring would be a prominent sign to show that you are of a higher class."
Charles' signet ring, in particular, bears the symbol of the monarchy. When he was still a prince, his signet carried the symbol for the Prince of Wales. Therefore, Charles' ring is a way to denote his royal rank. 
Charles wears military attire during certain funerals, reminding us of his service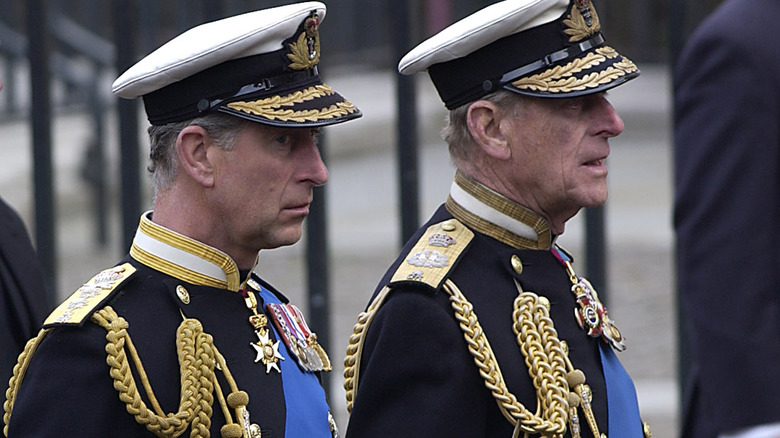 Anwar Hussein/Getty Images
On April 9, 2022, Queen Elizabeth, the queen mother, was buried at St. George's Chapel. King Charles attended the funeral in full military garb, carrying out the decades-long royal tradition of incorporating this unique attire into burial processions. In general, this outfit choice serves to remind the public of Charles' military past. He began a naval career in 1971 and later became a jet pilot. Charles also learned how to fly a helicopter and became a member of the 845 Naval Air Squadron.
Charles' decision to join the Navy was, in many ways, expected of a royal from his generation. As Queen Elizabeth II shared in a 2012 speech at the Armed Forces Muster, "It is a tradition of very long standing that the sovereign, and members of the royal family, are intimately associated with the Armed Forces and have been proud to serve in all three services" (via The Royal Household).
Now, as the king of England, Charles is the commander-in-chief of the Armed Forces. His time in the Navy has prepared him for this role, demonstrating to the public that he understands the commitment made by those who join the British military. Thus, the fact that Charles — and other royals — don military garb to family funerals reminds the public of the royal family's strong military ties.
Charles' coronation outfit will communicate his intention to be a modern monarch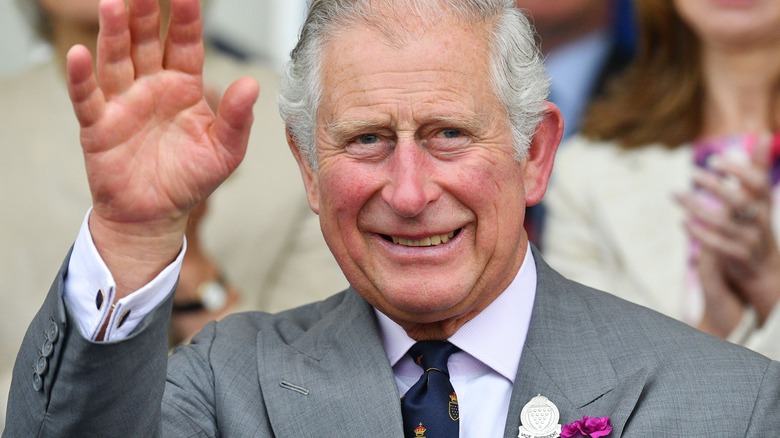 Wpa Pool/Getty Images
May 6, 2023, is the official date of King Charles III's coronation. On this day, Charles' clothing choices will be particularly relevant, as they will signal his intentions for the rest of his time as monarch. And, according to one royal insider, Charles plans to break tradition with his coronation outfit. As the anonymous source told The Sun, the king has chosen against undergoing the ceremony in traditional breeches and silk stockings because "senior aides think breeches look too dated." Instead, Charles has apparently opted to wear a military uniform — garb that will once again emphasize his time in the military. 
This major departure from tradition serves as a sign that Charles does not intend to be an antiquated monarch, focused on maintaining centuries-long protocol. On the contrary, it showcases the king's forward-looking stance and his determination to dream up a better future.
Chatting with Express, fashion expert Jo McLaren said that this message would be very much in line with Charles' vision for his reign: "King Charles is not afraid of change — his relentless drive for amplifying environmental issues and encouraging climate change initiatives is a prime example of this."