All Of Nikki Newman's Many Husbands On The Young And The Restless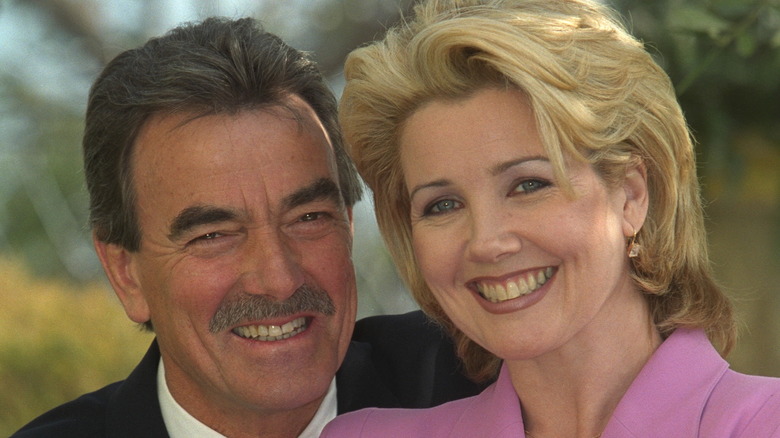 Eric Robert/Getty Images
Nikki Newman has been played by Melody Scott Thomas on "The Young and the Restless" for so long, it's easy to forget she wasn't the first actor to play the role. As hardcore fans know, Erica Hope was the first to Nikki Reed, as she was then known, when the character was first introduced in 1978. 
The following year, the role was recast with Scott as Nikki, kicking off one of the longest, most-impressive runs by an actor in a single soap. With 2023 marking the 50th anniversary of "The Young and the Restless," Thomas has embodied Nikki for most of the series' run — and shows no sign of stopping anytime soon. "Actually, I didn't even want this job when I took it," she admitted to Entertainment Tonight. However, her agent convinced her to take the role, which was only expected to last three years. All this time later, she admitted, "I'm so grateful because I wouldn't still be here if I weren't so happy here"
During the course of those years, "Y&R" viewers saw Nikki expand from her downtrodden, wrong-side-of-the-tracks origins to become a force to be reckoned with in Genoa City. Those viewers have also watched Nikki walk down the aisle — a lot. At the time of writing, the character has been married a staggering 12 times.
Her marriage to Greg Foster didn't last long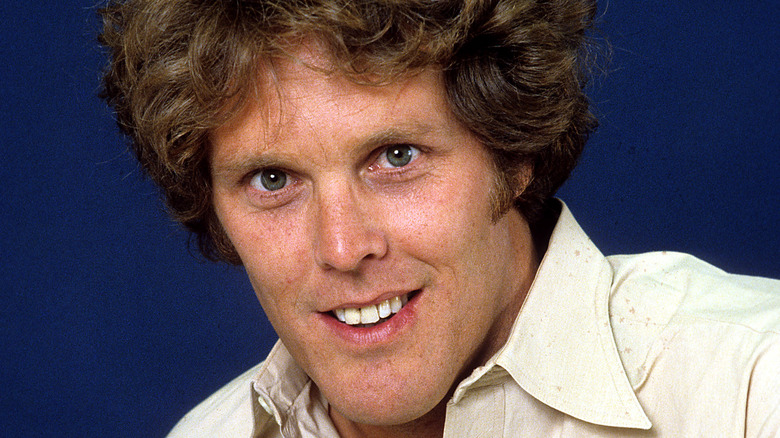 Michael Ochs Archives/Getty Images
It wasn't long after arriving in Genoa City that Nikki Reed fell into a romance with Greg Foster (played by Wings Hauser), an up-and-coming attorney who was the brother of Jill (Brenda Dickson). They decided to tie the knot — a situation that was complicated by the fact that her ex, Paul Williams (Doug Davidson), was still carrying a torch and did everything he could to sabotage the relationship.
There were other factors hampering the hopes of a happy marriage between the two — chief among them being the emotional distress Nikki was still experiencing from having killed her own father (in self-defense). Nevertheless, Nikki and Greg got married.
During the course of the marriage, which lasted from 1979 until 1981, Nikki signed on to what she believed to be a modeling agency, not realizing it was a front for sex work. When Nikki reluctantly agreed to take on her first client, the guy died of a heart attack before anything happened. After she and her boss Rose DeVille disposed of the body, a street kid named Tony discovered the man and stole his wallet. When Tony was arrested and charged with murder, Greg was appointed as his public defender. Rose, fearing her whole illicit operation could be shut down, threatened to kill Greg. Once the whole sordid truth unraveled, Greg walked out on Nikki — ending the marriage then and there.
She was manipulated into marrying Kevin Bancroft by Victor Newman
After her divorce from Greg, Nikki found herself in the orbit of Victor Newman, a man who would ultimately play a key role in her life for decades to come. Victor first encountered Nikki while she worked as an exotic dancer at a nightclub. Victor was smitten, inviting Nikki to his ranch so he could take her under his wing and tutor her in the ways of etiquette, à la "My Fair Lady." After they hooked up, Victor felt he'd made a huge mistake, and decided to pawn her off on Kevin Bancroft (Christopher Holder). 
Using his manipulative scheming, Victor positioned Nikki and Kevin like chess pieces, pushing them together so that romance would be inevitable. Nikki eventually married Kevin, but then discovered she was pregnant with Victor's child. She kept quiet about her daughter's parentage, but eventually, the cat came out of the bag. Kevin filed for divorce.
That, however, cleared the way for Nikki to finally get together with Victor ... but not quite yet.
Her brief marriage to mobster Tony DiSalvo was a complete sham
After splitting from Kevin, Nikki did what anyone would do: she joined a commune, which she exited after discovering it was a con job. After returning to Genoa City, she discovered that mobster Tony DiSalvo (Joseph Taylor) had produced a sex tape, featuring Nikki's exotic dancing intercut with another woman engaged in sex acts, with the edited product making it appear as if Nikki was starring in an X-rated movie, provocatively titled "Hot Hips." The reason: Tony was working for Kevin's mom, who planned to use the tape as leverage in the bitter custody battle over Nikki's daughter, Victoria (who had actually been fathered by Victor). 
When Tony confronted Nikki with the tape, she came up with an interesting gambit: she seduced Tony into marrying her, only to demand the tape as his wedding present to her. Tony agreed, and just before the wedding ceremony he went to retrieve the tape but was interrupted by Paul (who was now a PI working to bring down the Genoa City mob) and his pal Andy. Tony pulled a gun and fired at Paul — only to have the bullet hit Cindy, a sex worker who was in love with Paul, and had barged in at that precise moment. Paul's friend Jazz then entered, and dealt Tony a fatal blow to the neck, killing him instantly — not to mention what would have been Nikki's third marriage.
Nikki finally married Victor Newman ... for the first time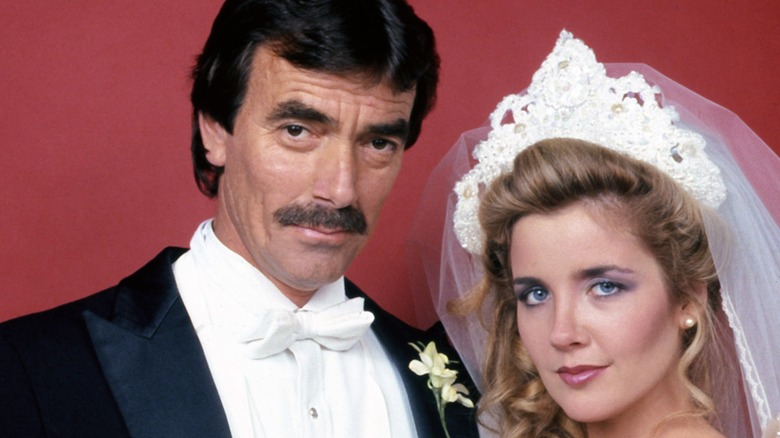 Donaldson Collection/Getty Images
Although he was deliberately kept in the dark about his role as the real father of Nikki's daughter, Victor eventually found out. By that time, Nikki had coupled up with Rick Daros (Randy Holland) — not realizing he had drowned his wife and was planning to do the same to Nikki while they vacationed in St. Croix. As he revealed his plans to Nikki after tying her up, she was rescued by Paul, Andy, and Victor. Rick retaliates by shooting Victor with a spear gun. 
Thankfully, Victor's wound wasn't fatal (although it did leave him temporarily impotent). As Victor recovered from his injury, Nikki spent time with him and their bond grew stronger and stronger. Victor was powerless to deny his attraction to Nikki and eventually popped the question. They wed in a glittering ceremony that remains one of the most emotional "Y&R" weddings ever.
Naturally, the nuptials didn't exactly go off without a hitch. Said hitch was Victor's ex, Eve Howard, who nearly ruined the ceremony by trying to murder Nikki. Just as she snuck into Nikki's room and was about to stab her with a knife, someone rushes in and foils Eve's plans, leaving Nikki none the wiser that she almost bought the farm on her fourth wedding day.
Jack Abbott married Nikki in order to get back at Victor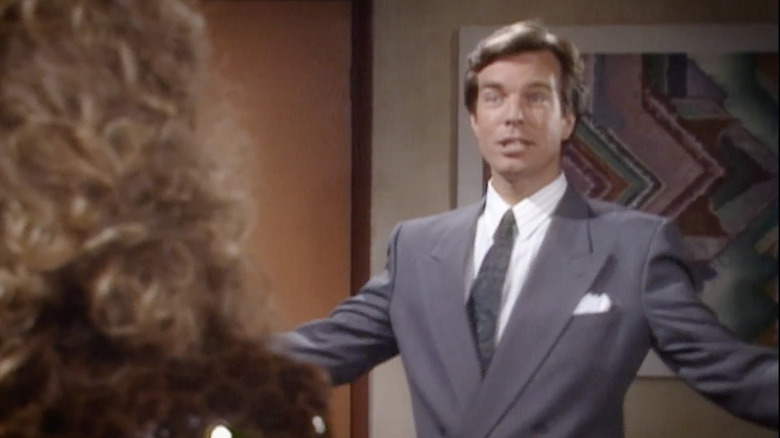 CBS
Nikki and Victor did not have the smoothest voyage as newlyweds. Almost immediately after their wedding, a big complication entered the picture in the form of Jack Abbott (played by Peter Bergman). Nikki found herself attracted to Jack, while Victor felt the seductive pull of Jack's sister, Ashley (Eileen Davidson) — which bloomed into full-fledged love when Victor saved her from being sexually assaulted. With Victor spending more and more time with Ashley, so too did Nikki with Jack.
The situation grew more complicated when Nikki, fearing she'd lose Victor to Ashley, faked having a terminal illness. Meanwhile, Ashley became pregnant by Victor (whose speargun-induced impotence had improved substantially) but then terminated the pregnancy. Victor then hooked up with Leanna Love, not knowing she was using him to write a damaging book about him, all part of Jack's scheme. When Nikki then went off with Jim Grainger (only to make Victor jealous, of course), Jack saw an opportunity and launched a major charm offensive to win Nikki's heart — all as part of his ongoing efforts to crush his mortal enemy, Victor. 
It worked, and Nikki wound up making Jack husband No. 5. However, once Nikki discovered she'd merely been a pawn in the power struggle between Jack and Victor, and Jack discovered Nikki had lost their baby after a physical altercation with Victor, the marriage pretty much imploded.
Nikki elopes with Dr. Joshua Landers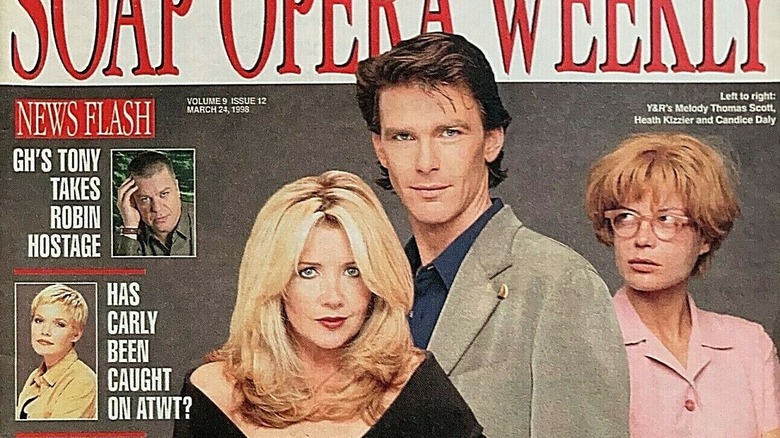 Frederick M. Brown/Getty Images
After her divorce from Jack, Nikki then wound up with her gynecologist, Dr. Joshua Landers (Heath Kizzier). Nikki wasn't all in when he popped the question but agreed anyhow. The wedding went off the rails when the doc — who was left a widower after the death of his wife — discovered his dead wife wasn't quite as deceased as he'd been left to believe. When she returned to reveal she was alive, her attempts to rekindle their romance were rebuffed by Josh, who told her he had now moved on and was in love with Nikki.
To retaliate, Landers' presumed-dead wife disguised herself as a maid and, armed with a gun, shot Nikki — who briefly dies, with viewers given a brief glimpse of the afterlife before she's revived and retreats from going towards the light. "There are two morals to this story," Melody Thomas Scott joked of the bonkers storyline in an interview with TV Guide. "Never hire a maid without references and never marry your gynecologist!"
She married Victor for a second time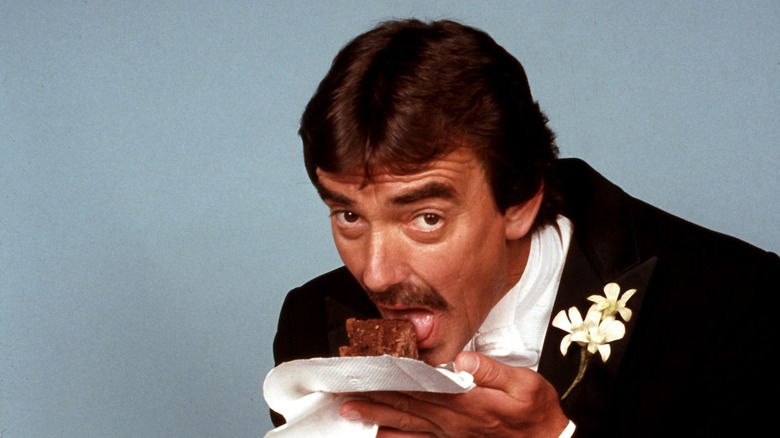 Donaldson Collection/Getty Images
After her near-death experience led Nikki to divorce Dr. Landers, who should re-enter the picture but Victor Newman. There was one teensy-tiny problem, however; Victor was married at the time, to architect Diane Jenkins (Alex Donnelly). Victor, of course, wasn't really in love with her, and had only stolen her away from Jack, who did love her, as part of their endless feud.
However, when Nikki hovered death with a terminal illness — for real, this time — Victor divorced Diane and rushed to Nikki's hospital bed. There, he pledged to marry Nikki on her deathbed (but promised Diane he'll return after Nikki dies). Nikki foiled the whole plan by making a miraculous recovery, which she tried to hide from Victor so he'd stay with her; however, he eventually figured out by Nikki stubbornly remaining alive. 
Victor figured that they were already married (again), so he decided to take another kick at the can. However, when Nikki's desire to have a child was met with disdain by Victor, she cheated on him with Brad Carlton (Don Diamont). Victor discovered her affair, and, even though he's also cheating on her, called it quits with Nikki for a second time. Spoiler alert: It won't be the last. 
She divorced Victor only to marry him a third time
In a 2002 storyline, Victor goes on his own version of a vision quest, traveling the highways and byways of the United States in order to figure out why he keeps burning through divorce lawyers as his relationships keep imploding. That whole experience led Victor to an epiphany, albeit not the one he should have had (that he's a lying, cheating cad), but the realization that Nikki is his one true love. 
When Victor returned to Genoa City, he told Nikki what he had come to realize. Despite being married to him and being burned by him twice before, she agreed to tie the knot for a third time. "It's an unexplainable, chemical thing and it's her greatest downfall," Melody Thomas Scott told TV Guide of Nikki's relentless attraction to Victor. "She loves him more than she wants to love him and, on especially bad days, she really hates that she loves him."
This time, the couple had a relatively long run — they remained married until 2008. Ultimately, however, the marriage was unable to sustain the six years' worth of wild, over-the-top soap storylines — including that time she caught him making out with his son's wife. For the third time, Nikki and Victor consciously uncoupled.
She unwisely married sleazy campaign manager David Chow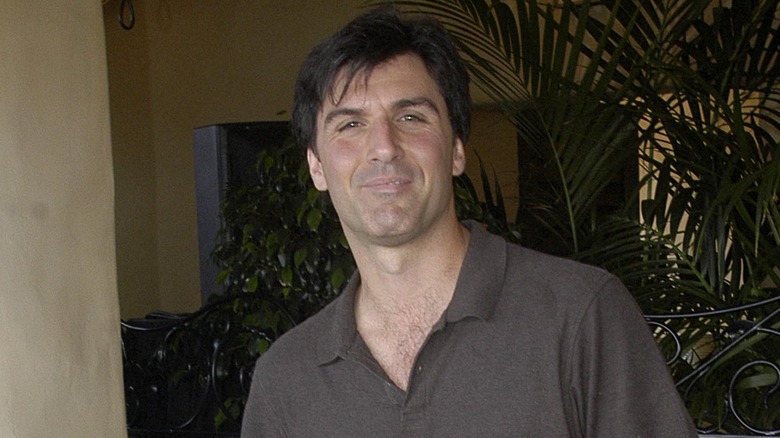 Steve Grayson/Getty Images
After ending it with Victor again, Nikki dulled the pain by throwing herself into her new passion: politics. In fact, it was during her ill-fated run for Senate that she met David Chow (Vincent Irizarry), whom she'd hired to be her campaign manager. Unbeknownst to Nikki, David was actually working for the mob and had infiltrated her campaign in order to assassinate her. 
With impeccable timing, David proposed to Nikki just after she'd discovered that Victor had popped the question to Sabrina Costelana (Raya Meddine), the daughter of a mutual friend. Nikki accepted, once again failing to do a background check, which would have led her to realize the guy she was about to marry had a nasty habit of marrying women and murdering them so he could inherit their money.
When Nikki finally discovered the truth, she asked him for a divorce. He responded by attempting to murder her — a plot that miraculously derails when he's killed in a random car accident, thus saving Nikki from having to hire yet another divorce attorney.
Bartender Deacon Sharpe wed Nikki in a Bold and Beautiful crossover
In a crossover storyline from "The Bold and the Beautiful," bartender Deacon Sharpe (Sean Kanan) wound up in Genoa City. Given that both he and Nikki were recovering alcoholics, they met while attending AA meetings, leading the two to form a tight bond that grew even tighter with time.
Unbeknownst to Nikki, Deacon also came armed with some damning information. He had proof that Nikki had murdered Victor's wife, Diane Jenkins. Deacon offered a deal — he'd keep her secret under one condition — she would have to agree to marry him. With no other options, Nikki agreed to save her neck by saying "I do" to Deacon. 
However, Deacon's video evidence was eventually exposed, which proved Diane acted in self-defense and it was Deacon who disposed of her body. Nikki was finally free to end her marriage to Deacon. It was at that point that one of her previous ex-husbands enters the picture. 
She tied the knot with Jack Abbott for a second time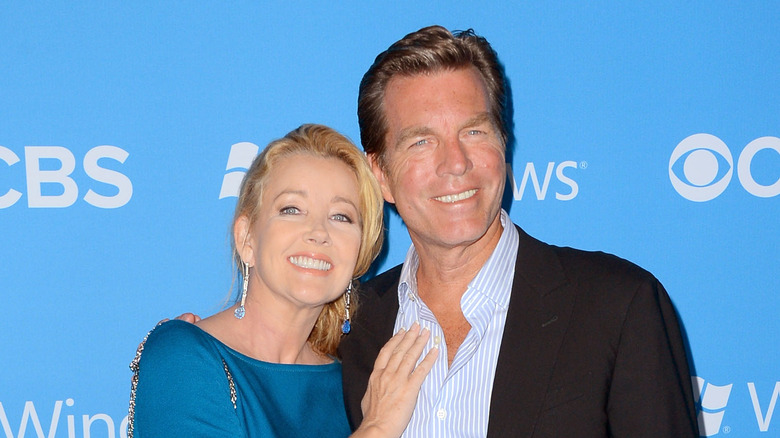 Frazer Harrison/Getty Images
After Jack Abbott was shot and left paralyzed, Nikki visited him in the hospital. The spark that had led them to the altar all those years ago was reignited. As their bond grew, Jack made a bold moveand he asked her to marry him. Nikki, who never received a marriage proposal she couldn't accept, said yes. 
Much like Nikki's terminal illness, Jack managed to make a remarkable recovery from his paralysis — shocking Nicki and their wedding guests by standing up from his wheelchair at the altar. 
The fatal blow to the newlyweds' second marriage came when Jack surprised his new bride with an extravagant honeymoon, and she turned him down in order to go searching for Victor, who had gone missing. It was then that it finally dawned on Jack that Nikki would never love him the way she loved his nemesis; when she returned from her unsuccessful mission to find Victor, her attempted reconciliation fell on deaf ears, and they divorced.
She married Victor Newman for a fourth time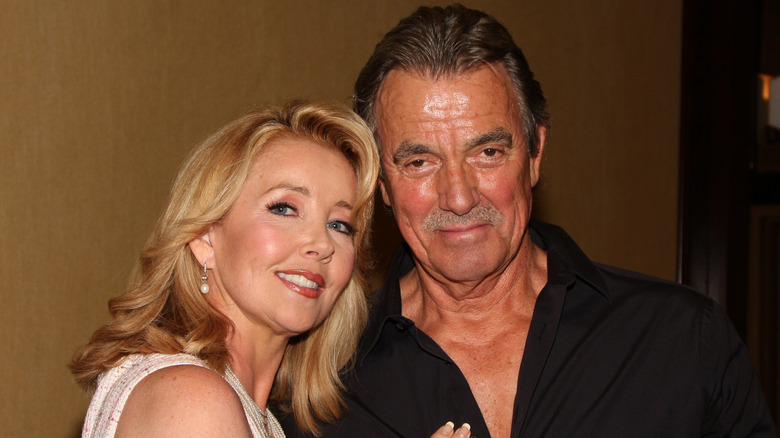 Kathy Hutchins/Shutterstock
Victor had been presumed dead when he emerged alive and well. When he returned to Genoa City, the first person he encountered was Nikki, crying as she visited his grave. Naturally, they reunited and tied the knot again — this time with a twist. The two agreed to have an open marriage in the hopes of not letting another one of their inevitable affairs lead them back into divorce court.
Speaking to TV Guide about Nikki's fourth marriage to Victor — Nikki's 12th marriage and Victor's 15th — Thomas Scott joked that Nikki was destined to never learn her lesson when it came to her most frequent spouse, repeating the same mistakes over and over again. "She always falls for his bulls**t, but that's what's so charming about her," the actor explained. "She goes with her heart, not her head. She's a good example of what not to be. I mean, seriously, who'd want to be Nikki? I love this role and I'm very happy, but c'mon! She's hopeless."