Retracing Prince Harry's Under 24-Hour Coronation Visit In Britain (No Love Lost There)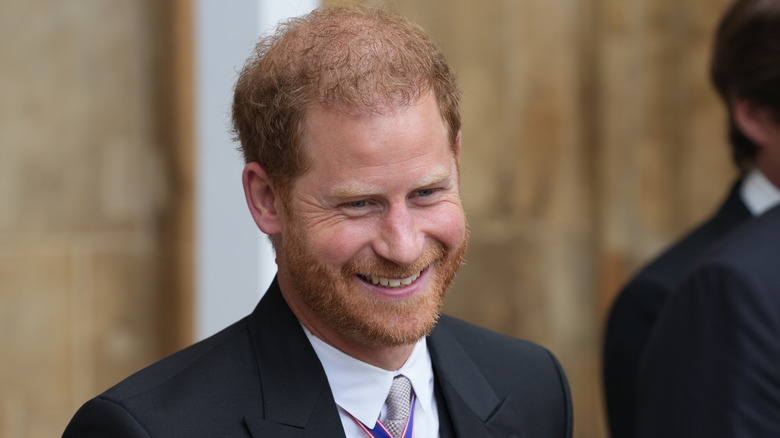 Wpa Pool/Getty Images
From the start, Prince Harry's coronation visit had been billed as a brief appearance. Even before the Duke of Sussex received his invitation, let alone confirmed his attendance, the trip was envisioned as Operation "Harry in a Hurry" — a 48-hour whirlwind stop in his home country.
As Harry RSVPed for his father's coronation and began to firm up his plans, the purported two-day timetable was condensed to an evener briefer window of a single day. "Organizers have been told Harry won't be attending the concert with the rest of the Royal Family, which is a great shame as it will be such a spectacular event," a royal source informed the Mirror. Juggling his responsibilities as a son and a father, the duke intended to stay for the coronation ceremony and leave immediately afterward so he could go back to California and celebrate Prince Archie's fourth birthday. "It is about showing up, showing support and being there for his father," a source explained to The Telegraph. "It was a very personal decision, not a PR one."
Now with the ceremony concluded, Harry's plan has come to fruition, and he's headed for home. Here's a play-by-play lookback at Harry's lightning-fast visit.
Harry stuck to a coronation-only appearance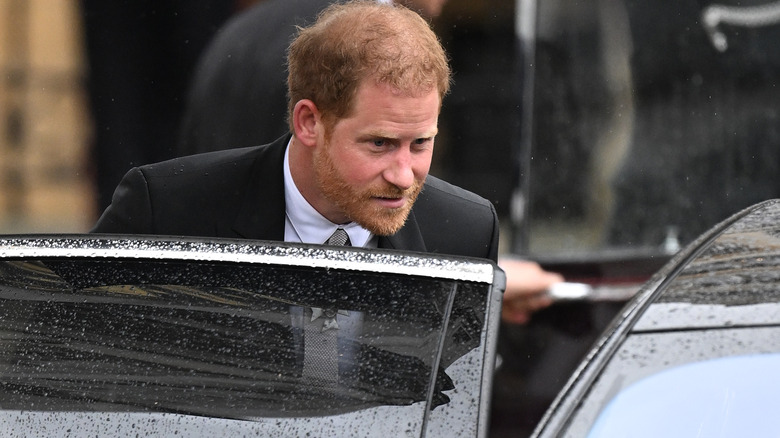 Jeff Spicer/Getty Images
On Friday, May 5, Prince Harry, Duke of Sussex, arrived in London's Heathrow airport after a  reported commercial flight from Los Angeles. He stayed over at Frogmore Cottage, his former home. The next morning, Harry arrived at Westminster Abbey solo and walked between his cousins, Princess Eugenie and Princess Beatrice, who were accompanied by their husbands. Unlike his uncle, Prince Andrew, who was just ahead of him wearing special ceremonial robes for the Order of the Garter, Harry wore a dark morning suit. However, the duke did accessorize with his Afghanistan service medal and three different jubilee medals. 
During the service, Harry sat in the third row at Westminster Abbey, beside Eugenie's husband, Jack Brooksbank. His view was somewhat obstructed by the tall red feather of Princess Anne's ceremonial Blues and Royals uniform. While a source told The Telegraph that Harry intended to "do his best" with regards to participating in other activities that day, it appears that Harry declined an invitation to a family lunch at Buckingham Palace. After the ceremony, Harry was spotted traveling in a vehicle that was possibly headed to the airport. According to the Daily Mail, lip readers spotted Harry saying the words "airport" and "3:45 p.m." to Eugenie's husband, Jack Brooksbank.
As reported by Page Six, a source confirmed that Harry's home journey would also be on a commercial flight. By leaving the U.K. in the afternoon, he is expected to return to the U.S. by evening. 
Harry was able to avoid awkward family encounters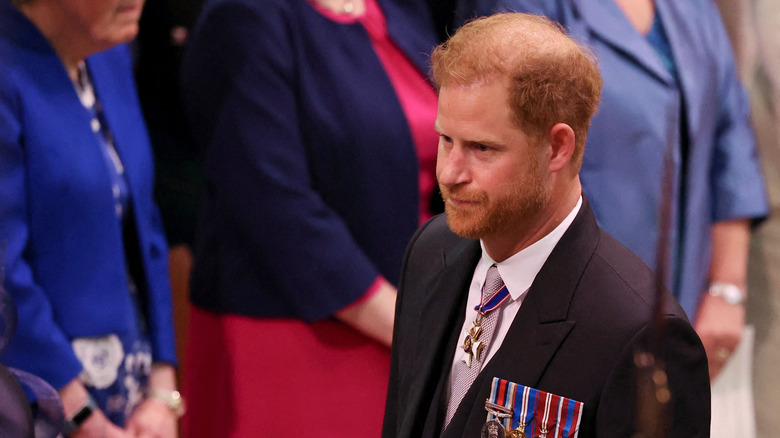 Wpa Pool/Getty Images
While King Charles' coronation was important to Prince Harry, so is his time with Prince Archie. Talking of family time in 2020, the Duke of Sussex observed, per Us Weekly, "You've got to celebrate those moments where you are just on the floor rolling around in hysterics." Other responsibilities contrast these moments. "Inevitably, half an hour later, maybe a day later, there's going to be something that you have to deal with, and there's no way you can run away from it," he added.
While Harry has kept communications open with Charles, relations with William, Prince of Wales, haven't been so cordial. Speaking of the brothers' relationship, "there has been minimal contact since the queen's funeral," author Omid Scobie told ITV's This Morning. Attending a high-profile event amid tense family relations is no easy feat. According to body language expert Carole Railton, the duke was "out of step with the others around him," per the Daily Mail, and he looked uneasy as he entered the abbey. 
Presumably, a private family lunch would have been even more anxiety-producing. Scobie asserts that Harry prioritized the coronation because of his dedication to duty as well as his relationship with his father. "For Harry, there was certainly no question about [attending]," Scobie asserted. "There is a serious constitutional reason for him to be here, and he takes that seriously, even though he's not a working member of the royal family."