The Latest Blush Trend Involves Using Multiple Shades For A Lush Look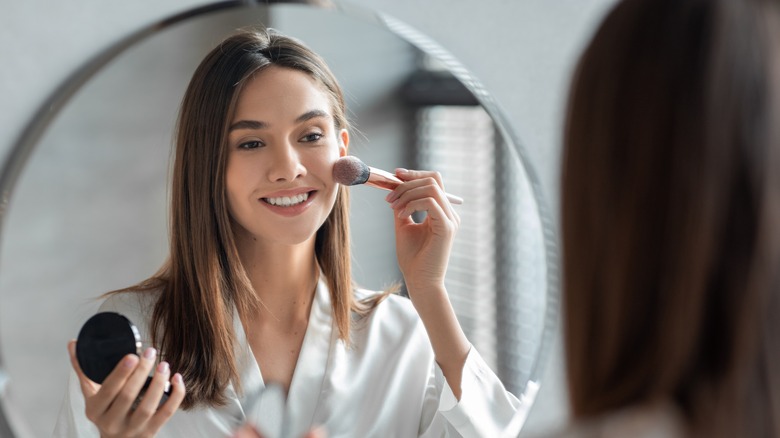 Prostock-studio/Shutterstock
Makeup routines are constantly evolving as new products come onto the market or people discover new ways to use certain products in their repertoire. When it comes to blush, if you're looking to try something new, then makeup experts have the perfect solution for you.
Celebrity makeup artist Emily Gray shares one tip for doing your blush with Byrdie, telling the outlet, "The multiple shades of blushes trend I'm seeing is a nod to the '80s but in a more wearable way. The '80s were all about bold colors on the eyes and cheeks. We're now taking that concept and applying it to our 'less [is] more' direction of makeup." The trend involves mixing up two or more shades of blush. So, if you want to try out the less is more trend or the clean makeup aesthetic, think about layering your blushes to create the perfect look. Mixing blushes also allows you to achieve the perfect color for your skin tone.
Mixing blushes may give you a more natural look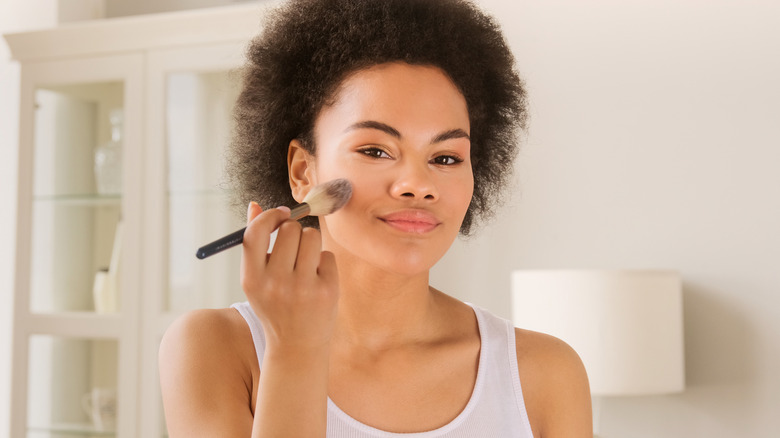 AliceCam/Shutterstock
If you want to match your blush to your skin tone, mixing up two shades may help you achieve that perfect blend. Think about choosing the best match for your skin tone and complexion. Makeup artist Daniel Martin tells Allure that the best way to choose a blush shade is to compare it to your lips. He shares, "Test it out on the apples of your cheeks to see if it 'clashes' with either your natural lip color or lipstick. If it looks off or unnatural, you should choose another shade."
If your skin is fair, then you might want to use less blush, but you could start with a light pink and mix that around with a darker, more intense purplish shade to find a tone that works for you. If you have medium skin you might mix different types of pinks for your perfect shade. Makeup artist Cher Webb tells Byrdie, "Medium skin tones tend to be more tanned with warmer undertones. This kind of complexion looks amazing with a mix of pink and rosy pinks." If you have dark skin, then you might reach for a red or berry shade to match your skin tone. You might even try starting with a coral shade and then going in with a berry shade to mix things up a bit.
Mix your blushes for all-day coverage
There may be an added benefit to mixing your blushes aside from just achieving that perfect match. Beautylish suggests mixing different shades and types of blush to get yourself a flushed look that lasts all day. For days when you want your blush to look perfect for many hours, you can use this tip by first applying your cream blush followed by your powder blush. If you want, you can also apply a layer of powder in between to really set the blush into place.
This trick can be especially useful on days when you'll be taking a lot of photos when you want to use a heavier hand to apply blush and make sure you're choosing the right shape of brush for your blush as well for the perfect application. You can also finish your entire look with setting spray to ensure an all-day hold.