Styling A Maxi Dress For Summer Has Never Been More Fun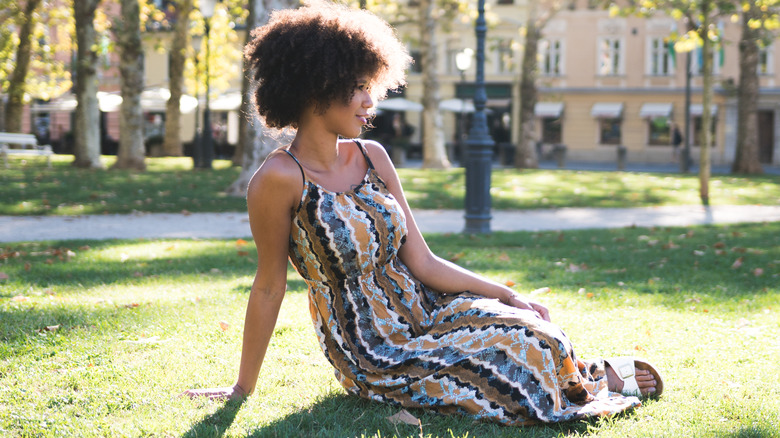 Kovaciclea/Getty Images
Dressing for summer can be easier and way more fun than you think. While styling your favorite pair of denim shorts is a foolproof way to get dressed successfully during hot summer days, the warm-weather fashion landscape offers so much more.
Maxi dresses are the ultimate summer garment that anyone can pull off. While you may be thinking that a loose silhouette is not everyone's cup of tea (which is absolutely true), luckily maxi dresses come in all shapes, sizes, and materials. Whatever your aesthetic, this versatile piece can make it happen.
With a maxi dress, depending on its fit, structure can be added or counterbalanced with another piece of clothing or accessories, fashion stylist Melissa Chataigne tells Today. It's the piece that's going to take you from the office to a night out and from a casual brunch with friends to a formal event — you just need to style the floor-sweeping length right.
Cut it out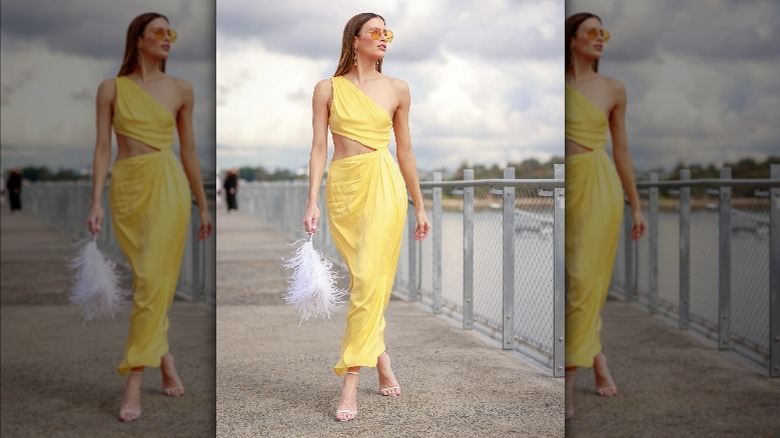 Hanna Lassen/Getty Images
Maxi cut-out dresses are stylish summer garments that can be dressed up or down for most occasions. Pair yours with strappy sandals or cute pumps and an interesting clutch if you're attending a more formal event. Color-coordinate the accessories to work with the color of your dress, and keep jewelry dainty for a softer aesthetic. For a more laid-back look, opt for wedge sandals and a smaller shoulder bag. Make use of headpieces and sunglasses to round off the casual effect and channel summer vibes.
Skip the straps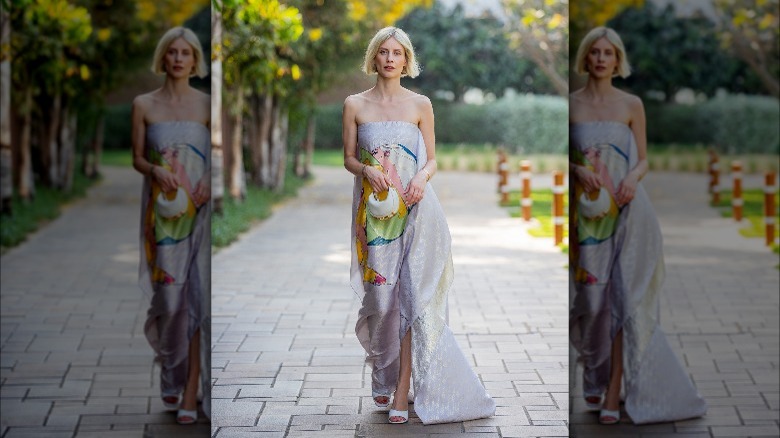 Christian Vierig/Getty Images
The ultimate summer look can be achieved by simply omitting the straps from your maxi dress. Strapless dresses typically have a very feminine silhouette and create a softer aesthetic overall if they're more loose-fitting. Mind your fabric here, as silk and viscose will effortlessly move on your body, while cotton and other materials may not. Choose a smaller handbag or clutch in leather, as well as leather sandals. Chunky jewelry can add an edgy twist to the fit, but stick to elegant pieces if you want a softer look.
It's always boot o'clock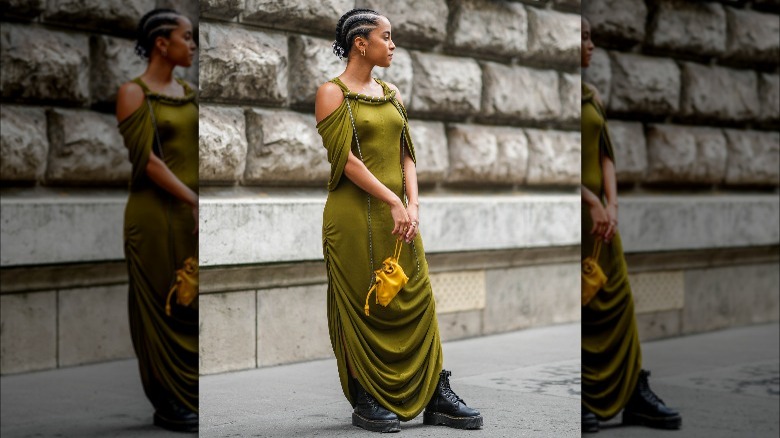 Edward Berthelot/Getty Images
Elevating your look can be as easy as reaching for a bold shoe, and there is no bolder shoe than a boot, especially when it comes to styling a maxi dress. Most maxi dresses have a looser, more delicate silhouette, making a leather boot the ideal footwear choice if you'd like to edge it up a bit. Because black boots go with almost everything, you have stylistic freedom for the rest of your fit. Keep the jewelry to a minimum and consider adding another grungy element, such as a chain shoulder bag.
Florals as a summer staple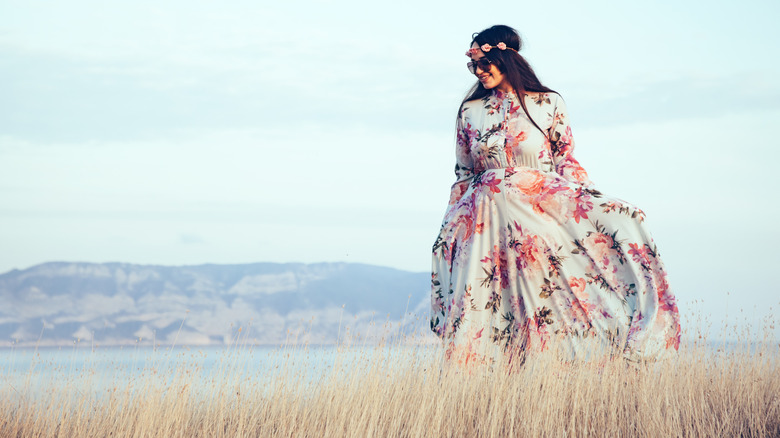 Alena Ozerova/Shutterstock
While florals for warm weather might not exactly be groundbreaking, they're sure a fan favorite. A flowy maxi dress with a floral pattern and a frill here and there is a dress no summer should go by without. For a more feminine look, opt for a dress that's cinched in the waist, or do it yourself with a waist belt or a belt bag. Open-toed shoes are the minimalist's dream here, as they will be barely visible, and if you'd like to stand out, go for a platform slide.
Play with pastels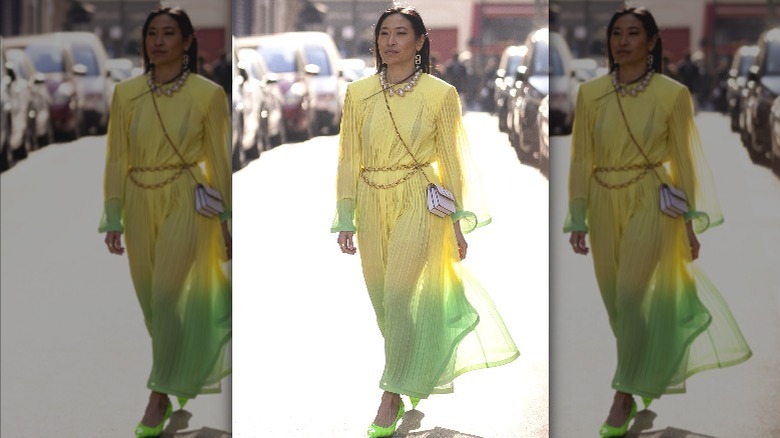 Claudio Lavenia/Getty Images
You can't go wrong with pastels when styling your maxi dress for summer. They're unrivaled warm-weather colors, and they pair so well with each other. Work around the color of your dress here and have fun. Matching pastel shades from the same palette, like lemon yellow and mint, is a surefire way to nail this styling route. To create depth using color, introduce a colder pastel shade like bubblegum pink to the look with an accessory. Break the overly loose silhouette of the maxi dress by playing with statement jewelry and an optional belt.
Go in on the sheer trend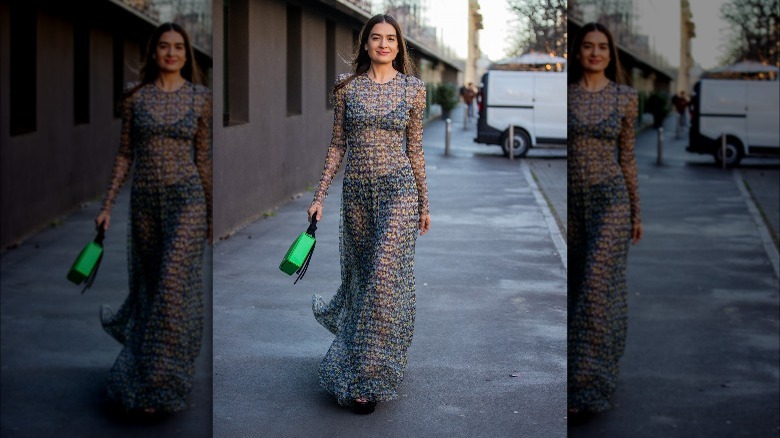 Christian Vierig/Getty Images
Sheer skirts are trending, but you can translate the look to your maxi dress just as well. For a romantic aesthetic, opt for a sheer but patterned dress with long sleeves and a tighter fit at the top. Make sure to wear thicker undergarments here as they will peek through the dress. Black is a good contrasting option to the delicate silhouette of the maxi. Go for an open-toe shoe in leather, as that will create more counterbalance to the overall feminine vibe. The same goes for your bag — just don't make it too big.
Put a shirt under your maxi dress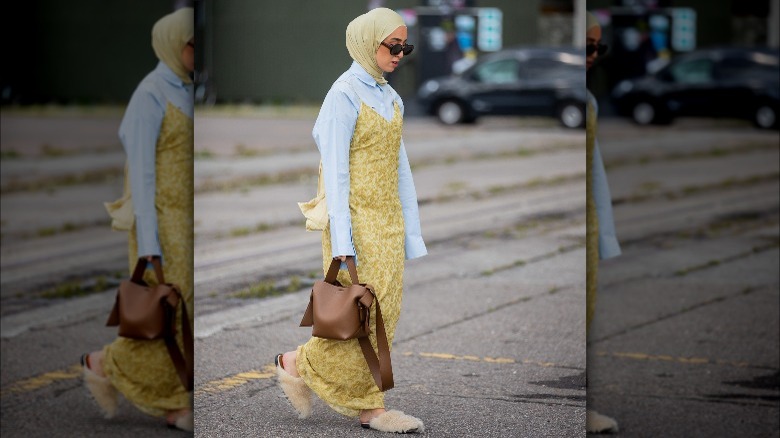 Christian Vierig/Getty Images
A classic button-down shirt will elevate your maxi dress and make it appropriate even for the office. A spaghetti-strap maxi dress that's more on the tighter-fitting side would work best here. Avoid shades that are too similar, as this will create the illusion of one single piece of clothing. Instead, opt for contrasting colors or complementing shades from the same color scheme. Add your favorite summer mules and a leather or wicker bag, and don't forget sunglasses — oversized ones would contrast the overall silhouette nicely.
White with neutrals
You can't go wrong with a white maxi dress as a summer choice. As white is such a prevalent summer shade and a maxi dress is a large piece of fabric that makes the most of your outfit, accessories can completely change the feel of it. Choose unexpected neutrals to pair it with — tan or brown mules and a contrasting black leather bag. This laid-back summer styling would benefit from minimal jewelry and micro sunglasses, as well as a hip belt for added dimension.
Channel romantic date vibes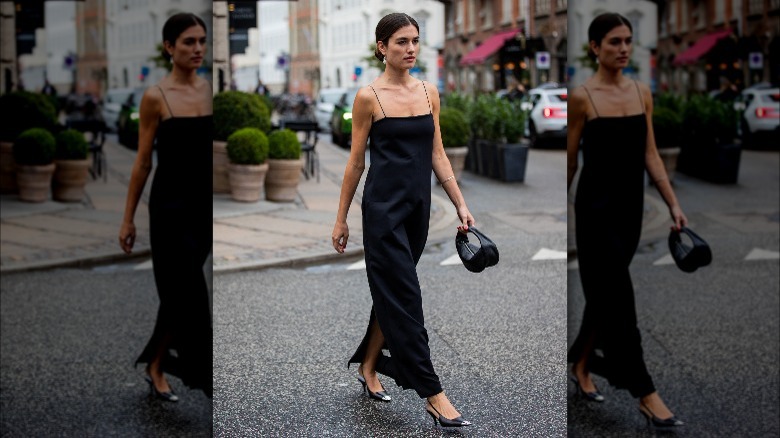 Christian Vierig/Getty Images
A tight-fitting maxi dress with spaghetti straps is the supreme summer date-night outfit. To avoid looking too on-the-nose romantic, go for an overall black look. Accessories are key as they can take the look in any direction. For a classier aesthetic, kitten heels or pointed-toe pumps are great, as are strappy sandals. Incorporate gold or silver here to tie it with your jewelry — a statement necklace or earrings would work great. Add a pop of color to your bag if you'd like, but keep it toned down.
Sneak up with sneakers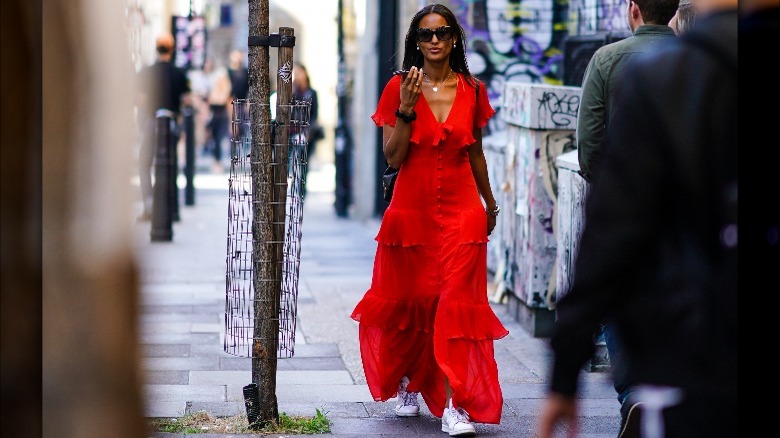 Edward Berthelot/Getty Images
Wearing a dress doesn't mean you don't get to incorporate a sporty add-on. Choose the dress first, as it's the focal piece of your look, and work around it. For example, if you opt for a bright color, keep your sneakers more neutral. The fit of the pair is just as important — a dad sneaker is going to counterbalance the femininity of the dress while providing ultimate comfort. Dainty jewelry is a great casual choice, but don't be afraid of statement pieces. A good pair of sunglasses and a suede shoulder bag will round out the look.
Take the knit route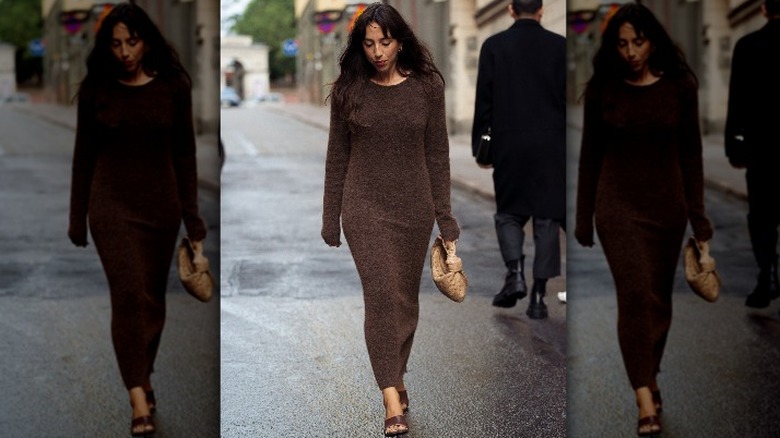 Raimonda Kulikauskiene/Getty Images
A colder summer night is imminent, which doesn't mean you have to leave your maxi dress hanging. Take the knit route and opt for a knitted maxi dress that will keep you warmer when hitting the town. For a complementing touch, add a woven leather handbag in a shade of the same color scheme. Leather mules would counterbalance the soft knitwear feel of the maxi dress — go for either open-toe or pointy ones. A total monochrome look would be a fashion statement and an interesting take on the summer knit.
A fun pattern is all you need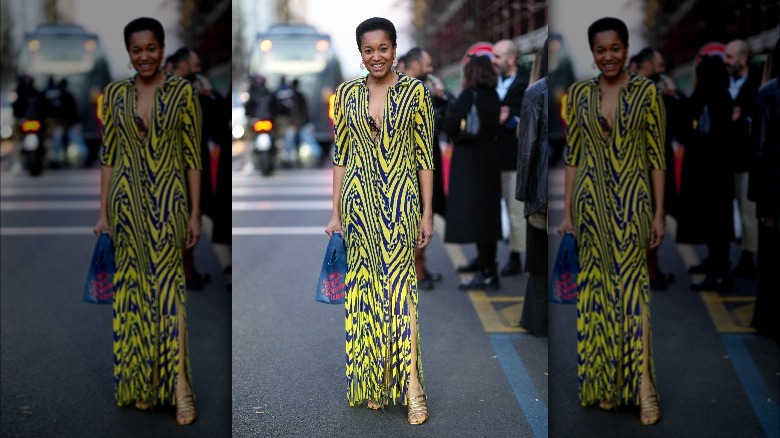 Edward Berthelot/Getty Images
A maxi dress is essentially the entire outfit, so make it fun. A mix of complementing colors or an unexpected pattern will do all the heavy lifting in this look — all you need to do is choose your accessories. Focus on one shade of the pattern at a time and color-coordinate other pieces accordingly. For example, a cheetah print maxi dress would look great paired with textured slingback pumps in brown and a woven leather clutch in black. Go all out and consider more interesting add-ons like flower brooches or beaded headpieces.
Add a harness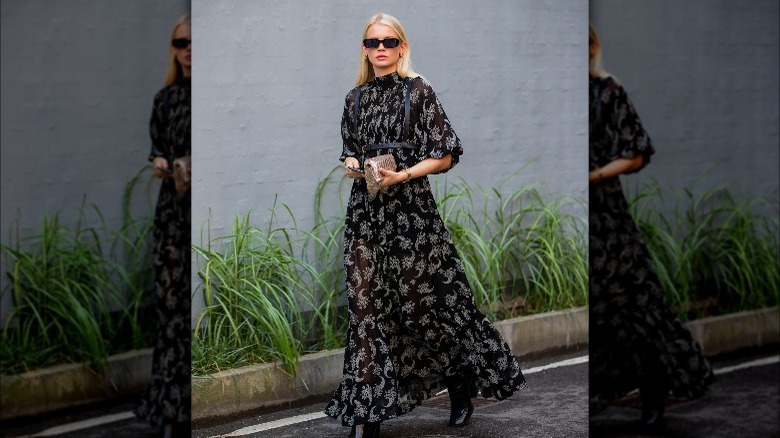 Christian Vierig/Getty Images
A leather harness, whether you're going for edgy or unstated, can be paired with a maxi dress in the summer. To keep the cooler vibe despite rocking a feminine silhouette, add leather accessories and keep your overall fit darker. This way, you'll still have the romantic feel of the flowy maxi dress without sacrificing your edge. On the other hand, understated calls for a more toned-down look, which can be achieved with a monochromatic white outfit. A white leather harness on a more form-fitting white maxi dress, paired with white leather mules, and your understated look is all but basic.
Don't store away your blazers just yet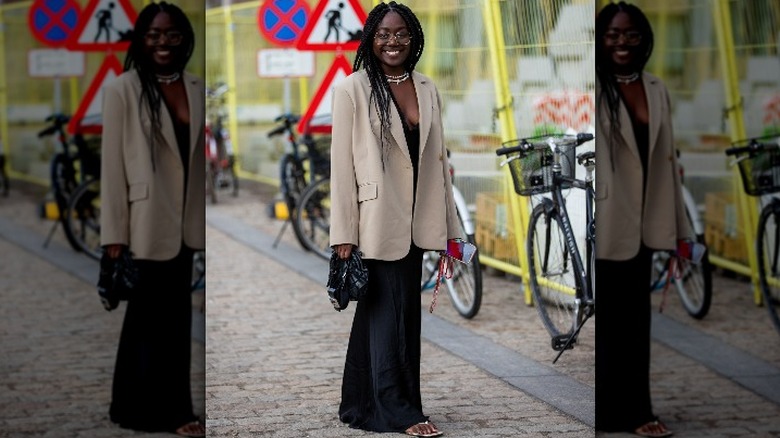 Christian Vierig/Getty Images
Blazers aren't just for colder seasons. Pair your favorite one with a tighter-fitting maxi dress for a perfectly balanced silhouette. Stick to more neutral shades, as patterns and bold colors could come off too strongly unless that's exactly what you're going for. An oversized blazer in taupe would complement a basic black maxi dress. To keep it interesting, go for a 'barely there' strappy sandal in a contrasting yet still neutral shade, which in this case would be white. To take it to the next level, add a crystal or pearl necklace.
Cottagecore casual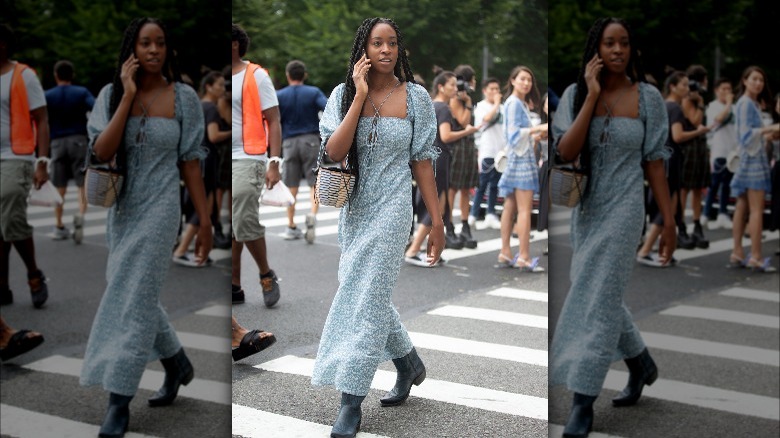 Melodie Jeng/Getty Images
As cottagecore is taking over the Internet, make it work for your everyday life by incorporating the trend-inspired maxi dress into your summer looks, puff sleeves included. Play with accessories, as it's all in the details with pieces like maxi dresses. Go casual with a wicker basket bag, a fun summer hat, and smaller sunglasses, which will also be a super functional summer look. As for footwear, cowboy boots are a fashion-forward choice, while cute sneakers and sandals are a safe route for the soft cottagecore aesthetic.