Flat Brushes Vs. Round Brushes: Which One Is Right For Your Hair?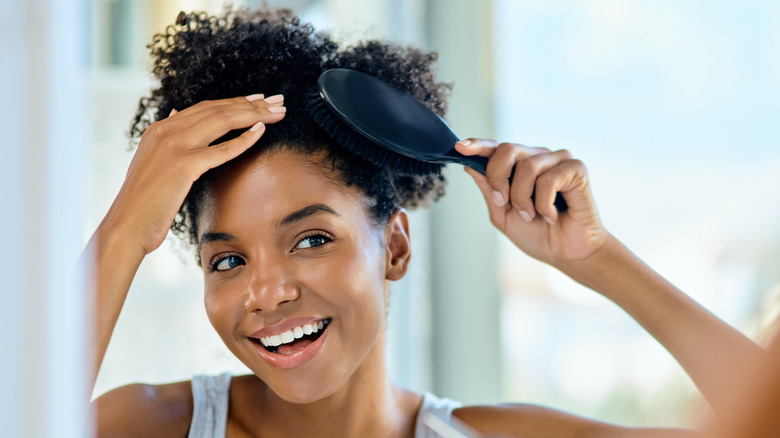 Katleho Seisa/Getty Images
Hair brushing is an essential part of haircare, one that moisturizes and nourishes your hair with natural oils while you detangle and style it. For many people, running a brush through your strands two times daily is all you need to keep it looking shiny and healthy. Since the process of brushing encourages your scalp to produce oil, this routine can be decreased for oily locks, or increased for drier manes.
The act of brushing may be straightforward, but choosing the best brush for your hair can be a daunting decision. Hairbrushes come in an extensive variety of shapes and bristle types. In all likelihood, there's more than one right answer, depending on the task you have in mind. "I highly recommend the use of multiple hairbrushes for different styling needs," Ro Morgan, a celebrity hairstylist, explained to CNN. When looking at brush types, two main categories are flat and round. While both share the same selection of bristle and body materials, the difference in shape is key. Whether you're brushing to eliminate tangles or brushing to create a salon-worthy blowout, here's how to choose which shape is the right one for the job.
Flat brushes were made for detangling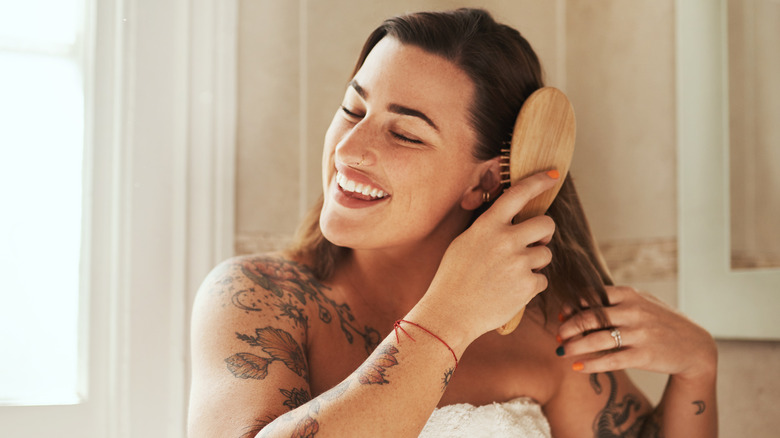 Peopleimages/Getty Images
As their name implies, flat brushes are any hair brush that has a side sans bristles and can lie flat on a table or vanity. Flat brushes come in rectangular and oval shapes, or even ergonomically shaped options, like Crave Naturals' Glide Thru Detangler. Paddle brushes are typically larger flat brushes that often have a squishy cushion under the bristles. In contrast, vented flat brushes have openings between each row of bristles, which can be helpful when using a blow dryer. 
Flat brushes, particularly paddle brushes, are detangling powerhouses. Besides untwisting jumbled strands, flat brushes also tame static.This versatile brush type is a go-to choice for people with long hair or thick hair. To enhance your hair's natural shine, consider a flat brush with boar bristles. Besides massaging and stimulating your scalp, these natural bristles surpass synthetic bristles by dispersing oil all through your hair. And if detangling freshly washed hair is your aim, opt for a flat brush specifically designed for this task, like a wet brush, to avoid breakage.
When it comes to styling, paddle brushes are a perfect choice for maintaining straight hairstyles. If your hair is naturally straight, you can rely on a paddle brush to smooth any wayward strands. These brushes can also help get you through your morning routine faster. "On shoulder length or longer hair, it can expedite drying time, as it spreads the hair across the brush," hairstylist Kim Becker explained to Women's Health.
Round brushes excel at blow-dry styles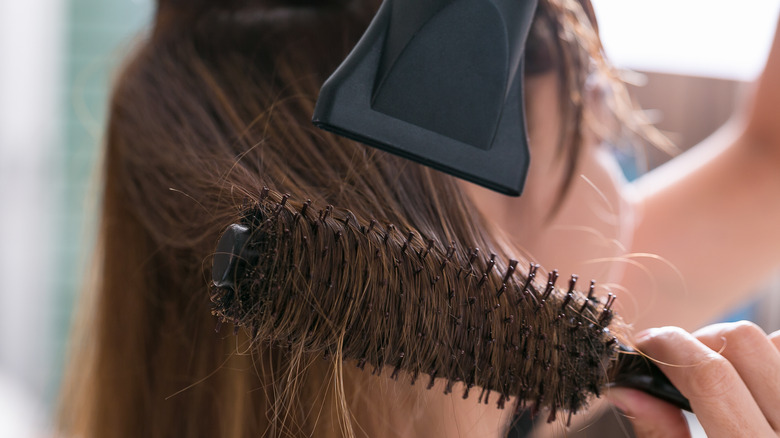 Zyn Chakrapong/Shutterstock
If you're looking for volume, reach for a round brush. When teamed up with your blow-dryer, round brushes can help you add curls and waves and help you achieve an amazing blowout at home. However, unlike the more straightforward way of using flat brushes, round brushes have a steeper learning curve. With round brushes, choosing the correct diameter is key to unlocking the styling magic in those 360 degrees of bristles. While smaller round brushes will provide tighter curls, they could prove unwieldy with long hair. In contrast, larger round brushes can add volume or waves to lengthier hair. When drying and styling with a round brush, resist the urge to wrap too much hair too many times. For optimum results, wind each portion a single time and move methodically through your strands. In addition, take note of the brush's position: "A general rule of thumb is to direct the brush away from your face while also holding the blow dryer toward the brush," Monaè Everett, Blushington's artistic director, informed Byrdie.
Once again, boar bristle varieties can work in your favor and provide a bigger boost of volume. Another way to maximize heat styling is to select a metal-bodied round brush. The metal will conduct heat during blow drying, and enhance your ability to form curls. Metal brushes also excel at helping hair dry faster and creating a sleek finish. Frequently these varieties feature a ceramic coating or plating on top of the metal.