Katy Perry Gave Major Adele Vibes At King Charles' Coronation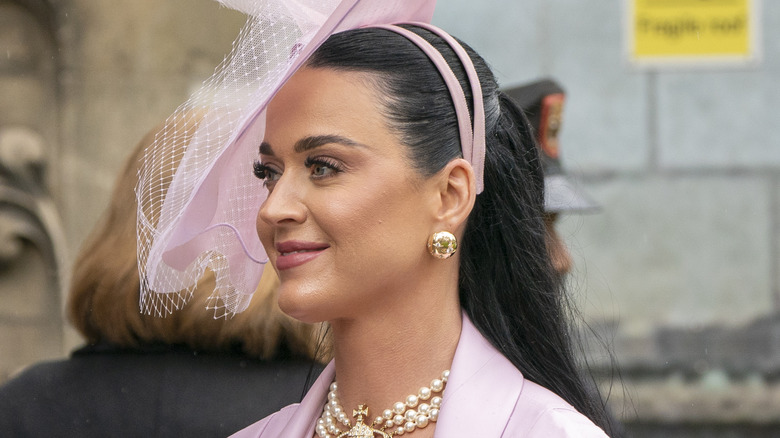 Wpa Pool/Getty Images
The frenzied hustle and bustle of the at-times unusual coronation of King Charles III would have been enough to give anyone a fleeting moment of crowd-induced panic, and as Katy Perry hilariously demonstrated, not even celebs are an exception to this rule. The singer and TV personality was spotted at the royal affair looking wide-eyed and lost, and internet users were quick to spot the meme-worthy moment in a matter of minutes. 
Of course, it's hard to blame Perry for getting mixed up in the madness. CBS reported that over 2,000 celebs, stars, politicians, and other bigwigs were invited to attend the coronation of King Charles. Considering all the pomp, tradition, and lavish outfits (oversized hats included), it's no wonder that attendees might have felt a bit overwhelmed by all the ado. 
Still, seeing a celebrity zone out or do the old "look around but don't look panicky" routine helps humanize these larger-than-life superstars. And, as the internet pointed out, it's not the first time an international pop star has been caught on camera serving up an aloof, thousand-yard stare.
Katy Perry's Westminster wandering and wondering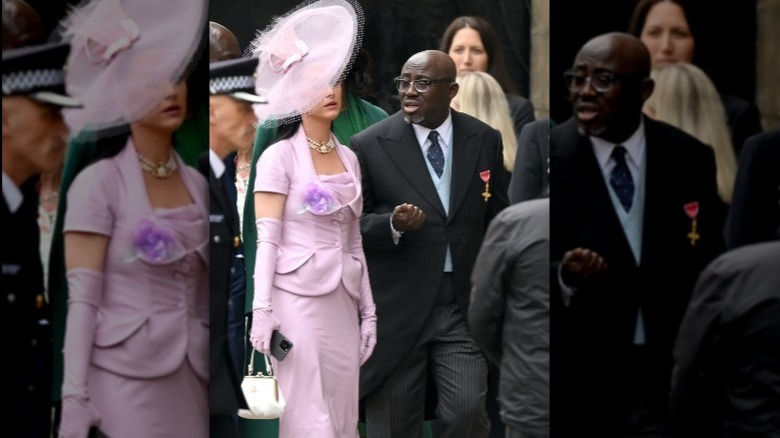 Karwai Tang/Getty
Perry arrived at the coronation with the editor of British Vogue, Edward Enninful, per Vogue. She attended the event in a Vivienne Westwood lavender ensemble complete with several eye-catching details (Perry is the queen of all things kitsch, after all). In addition to a smart pencil dress and tailored peplum jacket, the singer donned matching opera-length gloves, a large, whimsical fascinator, and an edgy pearl choker with a bejeweled Saturn center. She looked stunning, but sometimes, she also looked a bit stunned. 
A video circulating on Twitter shows the singer looking for her seat amidst the buzzing crowd in what appears to be an unsuccessful endeavor. She looks on either side of her, attempting to peer through the lavender fishnet of her headpiece, and even stops to ask a row of seated attendees for guidance. They must've been unhelpful, though, because the singer quickly scurried toward Enninful, who had already walked off-camera. 
To be fair, the singer looked much more in her element at the Coronation Concert at Windsor Castle the following night. Clad in a dazzling metallic gold ball gown with a full hoop skirt, the pop star sang smash hits like "Roar" to a crowd of 20,000 with complete focus and confidence (via the BBC). Unfortunately, that did not save her from joining the ranks of musicians-turned-memes.
Bored, blasé, maybe both?
Another Twitter video captured a glimpse of Perry, who (finally!) had found her seat in Westminster Abbey, blinking in an expressionless stare. The video put Perry side-by-side with Adele, who was also turned into a meme when a camera caught her zoning out at an NBA All-Star game in 2022 (via Twitter). It's hard to say whether the singers were bored, blasé, or simply thinking about something else — but the moments were deemed meme-worthy by the internet nonetheless. 
"Me immediately after someone gives me directions," one user added to the Perry video thread. "Do you ever feel like a plastic bag?" wrote another. Even the Weeknd was looped into the camera confusion when Lil Guap tweeted a video of the R&B artist walking through a maze of mirrors during his 2021 Super Bowl performance with the caption, "Katy Perry looking for her seat at the coronation of King Charles III." 
Maybe Perry had trouble falling asleep in her royal digs at Windsor Castle the night before coronation and was a bit scatterbrained — who wouldn't be after having a sleepover in a castle? Regardless, Perry didn't seem to take it too hard on the chin. She responded to her new coronation meme on "Entertainment Tonight," saying, "I just want everybody to know, thank you so much for your concern. I found my seat. The memes are meme-ing, and I love it."