The Tragic Story Of Cole And Dylan Sprouse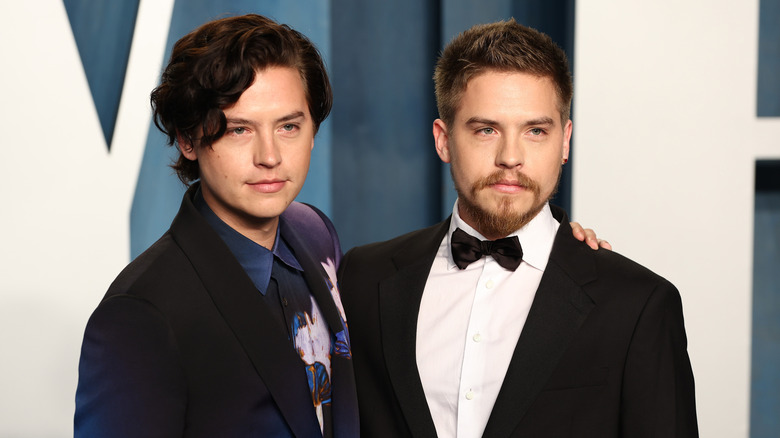 Arturo Holmes/Getty Images
For as long as there has been cinema, the world has had a fascination with stories surrounding twins. The lovable trope of identical siblings is something that audiences just can't resist watching on television and in movies. Flicks like "The Parent Trap," TV shows like "Sister, Sister," and anything that the Olsen twins ever touched have inevitably turned to gold. This is why it was no surprise when brothers Dylan and Cole Sprouse took the world by storm after their Disney Channel debut in 2005. To the world, it seemed like the boys had it all — fame, fortune, and perfectly groomed bowl cuts to boot. But behind the scenes, the Sprouse twins' lives weren't as picture-perfect as they appeared on screen.
Like many other child stars, Dylan and Cole have dealt with their fair share of struggles over the years. From dealing with toxic family members to being impacted by mental health issues, the brothers have overcome a significant amount of tragedy in their lives. Luckily, their resilient personalities have allowed them to come out on the other side as well-adjusted, successful adults. And now as they enter their 30s, they are choosing to be more open about their previous struggles than ever.
Cole Sprouse has began speaking out about his mom's narcissism
Until recently, the Sprouse brothers kept a fairly low profile. Aside from the occasional magazine or red carpet interview, the twins generally didn't divulge many of the details regarding their personal lives to the public. It seemed they enjoyed maintaining some semblance of a normal private life — until Cole went on record to tell all about his childhood.
In a March 2023 podcast episode of "The Diary of a CEO," Cole opened up to host Steven Bartlett about some of the trauma his mother, Melanie Wright, caused him and his brother (via YouTube.) He explained that drug abuse, poor mental health, and "wicked narcissism" were all factors that came into play when he and Dylan were in their mother's custody. According to Cole, Wright's inability to take other people's perspectives into consideration made it impossible for her to show up for her family in a healthy way.
Hearing Cole explain his tragic relationship with his mother may stir familiar feelings for many — perhaps because a similar story from another former child star dominated the New York Times Best Seller list after its release in August 2022. "I'm Glad My Mom Died" by Jennette McCurdy detailed her toxic relationship with her late mother, who also displayed extreme narcissistic tendencies while forcing her daughter into show business. Unfortunately, it's widely known that narcissistic parental figures are extremely common in the entertainment industry, and Sprouse and McCurdy's stories have only further proved that.
Hollywood exploited the fact that Dylan and Cole Sprouse are twins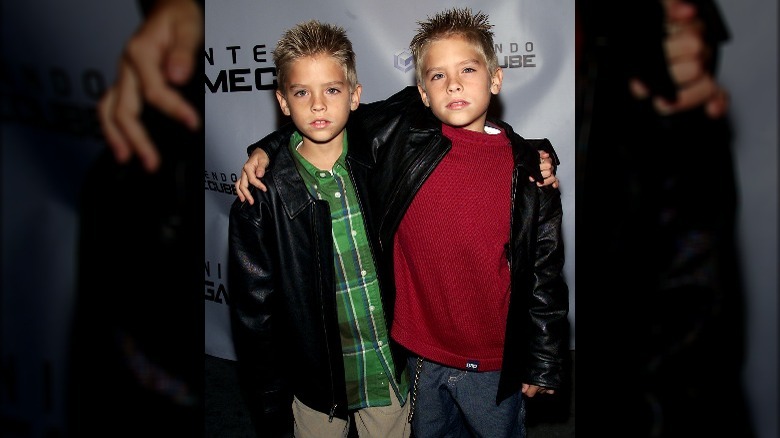 Evan Agostini/Getty Images
Especially in California, strict labor laws exist to protect the infants and children who appear on television and in movies. But as with any business, executives are always looking for loopholes to make scheduling and production more economical. That's why in the world of child actors, identical twins are a gold mine.
Dylan and Cole Sprouse fell victim to this labor law caveat at just eight months old, as revealed in an interview with WIRED. Starting with diaper commercials, Dylan and Cole would often switch off playing the same role on screen, therefore doubling the production time that the Department of Labor allows. They went on to both star alongside Adam Sandler in "Big Daddy", and also both played Ross Geller's son in "Friends." It wasn't until they landed the leading roles in "The Suite Life of Zack and Cody" that they finally played characters independent of one another.
The Sprouse brothers aren't the first set of twins who have been exploited due to the fact that they're identical. In the '90s sitcom, "Full House," twins Mary-Kate and Ashley Olsen famously switched off while playing the role of Michelle. And while this may not seem like a big deal since the labor guidelines are still technically being adhered to, Cole Sprouse has detailed that in their case, during an appearance on "The Diary of a CEO" podcast, he and his brother were selfishly forced into acting as a means to financially provide for their mother.
Dylan and Cole Sprouse's parents divorced when they were babies
Although Cole Sprouse doesn't remember exactly when his parents separated, he has said that he only has one clear memory of them all being together. During an interview on the "Call Her Daddy" podcast with Alex Cooper, Cole said he vaguely recalls a picturesque scene of his family riding bicycles in Switzerland when he was just a baby, but admitted that he may have embellished the memory over the years. After living in Italy and Switzerland for a time, the family moved back to the United States when the twins were four months old. By the time they turned five, Melanie Wright and Matthew Sprouse had divorced.
Back in the States, the twins lived with their mother in Long Beach, California. According to Cole, Melanie Wright pushed her sons into acting as a way to make ends meet. While speaking with Cooper, Cole explained that his father had concerns about placing the boys into acting. And according to a since-deleted Tumblr post Cole shared, if it weren't for his mother he likely wouldn't have chosen acting as a career for himself.
Since their split, Melanie and Matthew appear to have ventured down very different paths. It doesn't seem that Melanie ever settled down again with another long-term partner, and even shared on Instagram that she had been cheated on by a boyfriend in 2019. As for Matthew, he went on to marry esthetician, Chrissy Durette.
Dylan and Cole Sprouse's father was forced to take full custody of them when they were 10
Dylan and Cole Sprouse lived with their mother until they were ten years old. And while she may have seemed like a typical loving, doting mother to outsiders, Cole has recently opened up on the "Call Her Daddy" podcast about many of the struggles they faced with their mother during that time. Unfortunately, due to the fact that Melanie Wright struggled deeply with addiction and mental health issues, her parenting abilities were called into question in 2002.
According to Cole, a judge ruled Wright unfit to be a mother that year, therefore placing "forced custody" of the boys onto their father, Matthew Sprouse. And although that may sound like a troubling situation, Cole says that he has an excellent relationship with his father, and considers him to be one of his best friends to this day. Although Cole describes his tumultuous relationship with his mother as the "greatest wound of his life," it seems that giving parental rights to the boys' father was the right move.
Three years later, Dylan and Cole went on to land their leading roles in "The Suite Life of Zack & Cody," which launched their careers to an entirely new level. It seems that being in the care of a grounded, level-headed parent helped them to acclimate to their newfound fame and maintain a semblance of normalcy that still benefits them today.
Melanie Wright, Dylan and Cole Sprouse's mom, has had a troubled life
Before having her sons, Melanie Wright was pursuing a career in painting. While he has said that she was very talented, Cole described her as the "tortured artist type" during "The Diary of a CEO" podcast appearance. Sadly, it seems that Wright is still just as creative yet troubled all these years later.
Wright has documented much of her life over the years via multiple Instagram accounts. When looking over the images on her feed, viewers are met with a variety of content that, at first, seems fairly innocuous. Selfies with friends, artistic doodles, and #throwback photos of her sons are all common on her profiles. But by taking a deeper look at some of the captions Wright has written and many of the videos she has posted, the sad truth becomes more apparent.
In one Instagram caption, Wright details that she has to "parent on social media" due to her lack of relationship with her sons in real life. In many other posts, she shares how much she misses her sons, and details some of her personal and financial struggles, and followers often leave comments that express concern for her well-being.
If you or anyone you know needs help with addiction issues, help is available. Visit the Substance Abuse and Mental Health Services Administration website or contact SAMHSA's National Helpline at 1-800-662-HELP (4357).
Dylan and Cole Sprouse are very close with their father
Fortunately for Dylan and Cole Sprouse, their father has been a guiding light in their life. Although their mother was determined that her sons pursue careers in Hollywood, Cole described his father as simply being a "blue collar dude" during his "Call Her Daddy" podcast appearance. So while the twins were rising to super-stardom on Disney Channel, they were fortunate to be grounded by their father who took a very down-to-earth approach to their careers.
When Dylan and Cole were born, Matthew was working as a physical education teacher in Italy. Then after the family moved back to the States, he became an automotive repairman. Cole has shared multiple photos with his father over the years, affectionately referring to him as "pops" in his captions (via Instagram). Although their family has had a bit of a rocky past, it's heartwarming to see how close their father-son relationship remains today.
Acting took a toll on Dylan and Cole Sprouse's mental health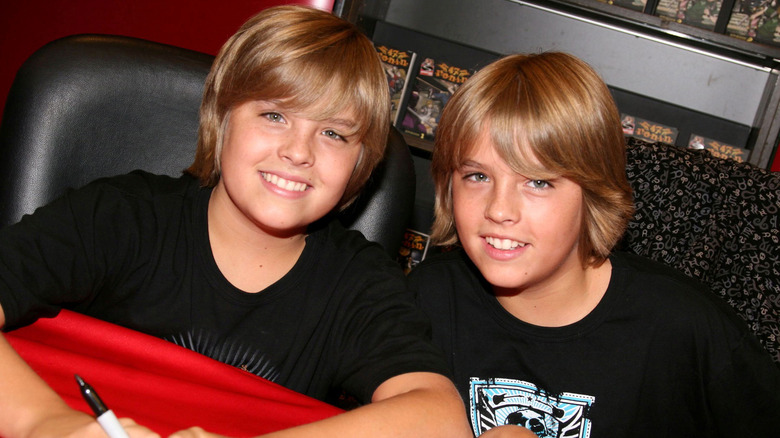 Bruce Glikas/Getty Images
In an April 2022 interview with The New York Times, Cole Sprouse opened up about the trauma he and his brother endured as a result of being child stars. He explained that although many people believed that he and Dylan were one of the lucky few young actors who made it to childhood without being affected by life in the public eye, he says that isn't the whole truth. Although Dylan and Cole do seem to be fairly well-adjusted adults despite their unconventional upbringings, Cole stated that they were still influenced by the psychological effects of fame.
He stated that he and his brother did have their fair share of mental health issues dealt with by the hands of Hollywood, but it seems they dealt with them in a more private manner than many of their peers. Over the years, it has become an all-too-common phenomenon for former childhood stars to suffer from mental health conditions as they transition into adulthood.
Disney starlets such as Lindsay Lohan, Britney Spears, and the late Aaron Carter all went on to struggle very publicly with the pressure of being former child stars. This explains why many assumed Dylan and Cole may follow the same troubled path. Luckily, it appears that the Sprouse twins have had a healthy amount of support throughout their careers, something that other stars may have been lacking during their struggles.
Dylan and Cole Sprouse needed to step away from acting after The Suite Life of Zack & Cody
Dylan and Cole Sprouse's careers with Disney ended in 2011 when "The Suite Life On Deck," a spinoff of "The Suite Life of Zack & Cody," came to a close. The twin brothers were 19 at the time, and due to industry burnout, they decided to step away from acting. Instead, the two young men decided to attend NYU to pursue careers in other, completely non-related fields.
While in school, Cole majored in archaeology, while Dylan majored in video game design. Many were surprised to learn about the twins' interest in STEM fields given that they had already had tremendous success as actors, but according to Dylan, they didn't really need much more training in the world of acting. By going to school for other things, they were pursuing some of their other interests and taking a shot at having a somewhat "normal" life compared to their upbringing.
Cole Sprouse thinks that Disney Channel gets an unnecessary bad rap with child stars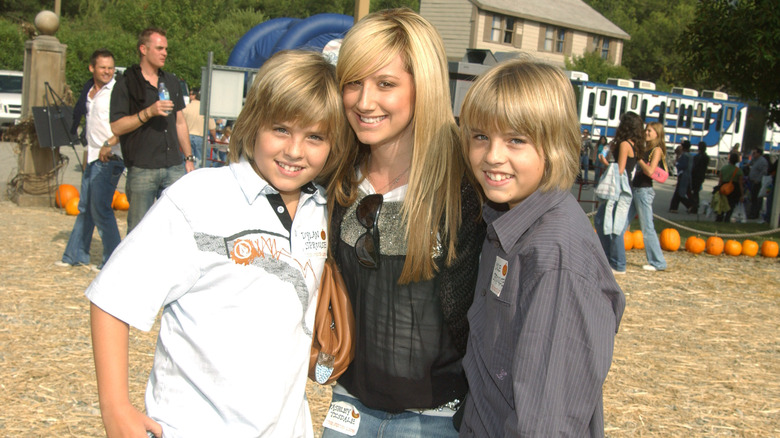 Amy Graves/Getty Images
While Cole Sprouse has been open about the trauma he and his brother received as a result of their unusual childhoods, he doesn't believe that the Disney company is to blame. Although he has recognized that female Disney Channel stars have unfairly dealt with a great amount of hyper-sexualization that he and his brother didn't have the same degree of, overall he feels that his experience with Disney was actually very positive.
During his "Call Her Daddy" interview, Cole explained that landing a Disney Channel show was actually "life-saving" for his family. He explained that he felt that child stars who came from a background of privilege would be more likely to point out the flaws of working for a major studio like Disney, whereas he and his brother just felt fortunate for the income it provided. While he made it clear that he didn't want to invalidate anyone else's experiences with the company, he explained that was simply the perspective he and his family approached the opportunity with.
Dylan and Cole Sprouse have said they probably won't work together again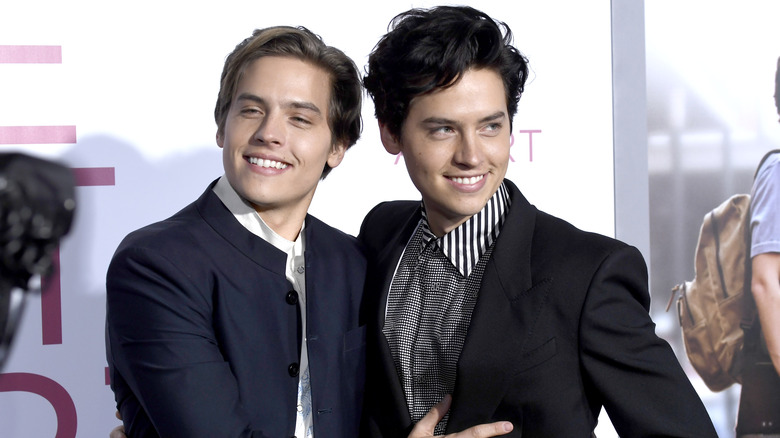 Frazer Harrison/Getty Images
Now 30 years old, the brothers still remain best friends. They are so close that Cole revealed during the "Call Her Daddy podcast" said he went through a very rough period after he had to move away from his brother to film "Riverdale" in Vancouver, British Columbia. That being said, fans of the brothers will be disappointed to learn that they likely won't be seeing them together again on screen anytime soon.
In an interview with Us Weekly in 2020, Dylan Sprouse said that the only way he and Cole would act alongside each other again is if Dylan were to write the script himself. Dylan, who is now an entrepreneur and owner of the brewing company  All-Wise Meadery, stated that stereotypical twin movies are "never good." It seems that Dylan would have high standards for any future collaborations with his brother, so we hope one day we are able to see a project that they create together.
Dylan and Cole Sprouse have faced intense scrutiny in the public eye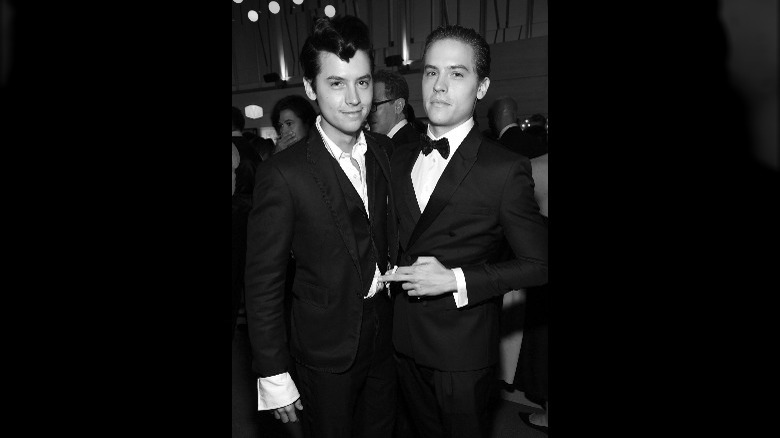 Kevin Mazur/vf19
As is the case for all celebrities, public criticism just comes with the territory of being famous. But when a celebrity happens to be an adolescent who is dealing with a wide variety of other coming-of-age issues, that criticism can be devastating. Much like many other Disney stars who came up during their era, the Sprouse brothers definitely heard their fair share of negative opinions as they were growing up.
One example Cole has given of the unfair scrutiny that he and his brother were put under is regarding their sexuality. While speaking with Alex Cooper on the "Call Her Daddy" podcast, Cole opened up about the fact that male Disney stars are usually expected to maintain a "wholesome" image, even as they grow into adulthood. This was difficult for him, because to some fans, seeing Cole embracing any normal level of sexuality as an adult seemed like a massive departure from the squeaky-clean image he had developed as a teenager. Sprouse stated that he is a people-pleaser by nature, and while he initially felt pressured to fit into the mold created for his younger self, he eventually became more comfortable with embracing the more authentic, mature version of himself despite what critics had to say.