Meghan Markle No-Shows For Big Award Win Amid Car Chase Backlash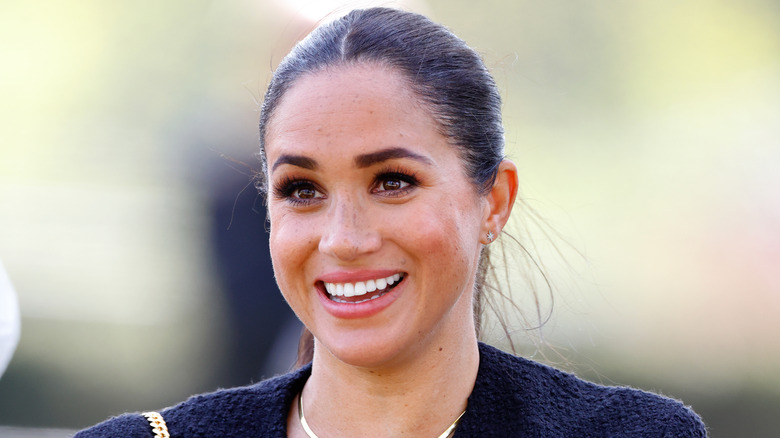 Max Mumby/indigo/Getty Images
Despite their built-in celeb status, it's abundantly clear that The Duke and Duchess of Sussex want nothing to do with the risks and downsides of fame. And, many folks agree that Prince Harry and Meghan Markle's 'near-fatal' paparazzi car chase proves exactly why. Despite having a much larger inclination to lay low than most other royal family members, Meghan and Harry have had plenty of disturbing interactions with the paparazzi, and the recent infamous car chase was simply the latest. It's really no surprise, then, that even though the couple already keeps their distance from the public eye, they may be thinking of keeping things even more private than before moving forward.
The royal family was reportedly 'relieved' that Meghan skipped the coronation, and with recent events on the brain paired with a lot of justified sensitivity surrounding Princess Diana's death, Harry is likely an advocate of Meghan steering clear of public appearances. Consequently, it should've been no real surprise that the duchess was a no-show at a recent award ceremony. Yet, that hasn't stopped some members of the public from giving her a hard time for it. 
Meghan Markle accepts an award virtually a week after alleged close call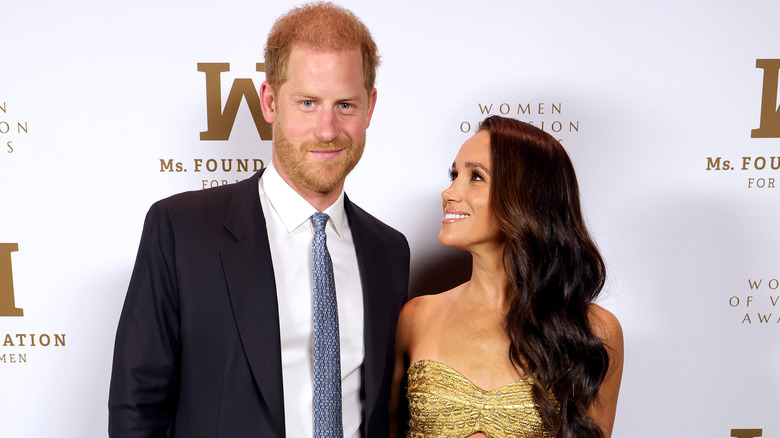 Kevin Mazur/Getty Images
On Tuesday night, Meghan Markle was awarded a very special honor, but she wasn't present to accept it. The 49th annual Gracie Awards were hosted in Beverly Hills, and Meghan received an award for her podcast, "Archetypes." The Gracie Awards focuses on achievements in media and entertainment by women, and Meghan was declared a digital media national winner. The duchess released a statement on the Archewell Foundation website upon hearing that she was being honored, saying, "Thank you to the Alliance for Women in Media Foundation for this prestigious honor. This is a shared success for me and the team behind Archetypes — most of whom are women — and the inspiring guests who joined me each week."
This comes in the wake of plenty of speculation and mistrust surrounding the Duke and Duchess of Sussex's recent paparazzi-related drama, with some witnesses challenging the car chase claims and the royal family ignoring the incident entirely. The incident in question occurred a week earlier while Harry and Meghan were leaving the Women of Vision Award ceremony in New York City. Meghan was honored at that ceremony "for her global advocacy to empower and advocate on behalf of women and girls," according to ET. It seems that while Meghan's work is keeping her in the spotlight, she may opt for accepting accolades virtually until the dust settles.