The Story Behind Kristen's Nicole Mask On Days Of Our Lives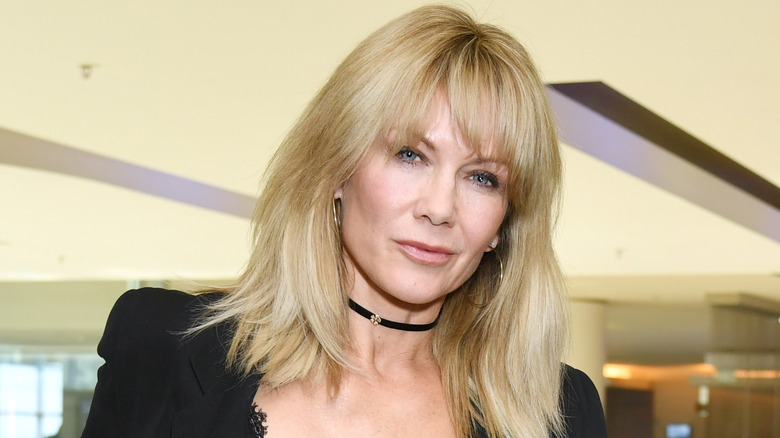 Jc Olivera/Getty Images
"Days of Our Lives" fans know that the soap opera has pushed the envelope many times over when it comes to wild and exciting storylines. The sudser has seen nearly everything from demonic possession to characters being buried alive and brought back to life. However, some of the most fun and entertaining storylines include doppelgangers and mistaken identities. While there have been many cases of lookalikes running wild around Salem, fans will likely never forget the time that Kristen DiMera (Stacy Haiduk) disguised herself as Nicole Walker (Arianne Zucker) using a very convincing mask.
Long-time viewers will be well aware that Kristen has a history of becoming obsessed with the men she loves. In the '90s, fans watched her go to great lengths to get John Black (Drake Hogestyn) to become her husband, and decades later she was at it again when Kristen fell for John's son, Brady Black (Eric Martsolf). Kristen's love for Brady utterly consumed her, and although the pair once had a romantic relationship that ended in rather dramatic fashion, Brady vowed that he wanted nothing more to do with her.
So, instead of trying to win him back through communication and kindness, she found a devious way to get her man, and that included Kristen disguising herself as Brady's longtime friend and former girlfriend, Nicole. Of course, major drama ensued.
How Kristen fooled Brady into a romantic relationship
"Days of Our Lives" fans watched Kristen plot to get Brady back in her good graces by having an elaborate mask of Nicole's face made. Of course, she had a little help in the form of Xander Cook (Paul Telfer). At the time, Nicole was presumed dead, so returning to Salem wearing Nicole's face was something that Salemites were surprised to see. However, many were confused when Nicole dumped the love of her life, Eric Brady (Greg Vaughan), and became infatuated with Brady instead.  
Not knowing that Nicole was actually Kristen in disguise, Brady found himself drawn to her — not least because Nicole was a woman for whom he had once shared a great love. The two began dating and even got intimate before Xander finally told the police about Kristen's scheme. Eventually, John discovered the truth as well and, during an anniversary party for him and his wife Marlena Evans (Deidre Hall), he confronted the faux Nicole. The two struggled and he eventually ripped off the mask to reveal Kristen's face. 
Everyone was understandably shocked by the revelation, especially Brady and Eric. Eric finally understood why the woman he believed to be Nicole was giving him the cold shoulder, and Brady was horrified to find out that he had been engaged in a relationship with Kristen the entire time. Things went from bad to worse when Kristen later found out that she was pregnant with Brady's child due to their deceptive intimate encounters.
Kristen and Brady welcomed a daughter together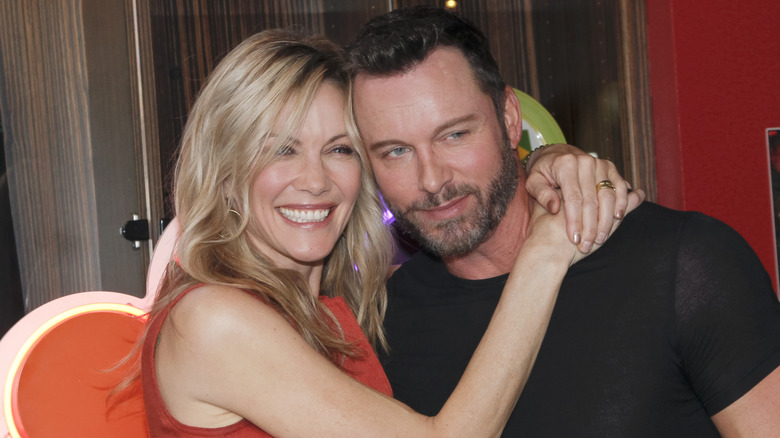 Tibrina Hobson/Getty Images
After Kristen was revealed to be masquerading as Nicole, she and Brady were forced to deal with the fact that she was expecting his child. During the pregnancy, they grew closer and even decided to give their relationship another shot. However, tragedy struck when Kristen and Brady learned that their daughter, Rachel Black, had died shortly after birth. A year later, they found out that Rachel had actually been switched with Sarah Horton's (Linsey Godfrey) child at the hospital. Sarah was forced to hand over the baby, but co-parenting their daughter didn't keep the couple together. 
They soon split and even battled over custody of the little girl. Meanwhile, Kristen's identity swap wasn't the first time that "Days of Our Lives" viewers had seen that kind of wild storyline. Previously, Sami Brady (Alison Sweeney) disguised herself as a man named Stan, Marlena and her doppelganger, Hattie Adams, have swapped places on several occasions, and Adrienne Kiriakis (Judi Evans) and her own lookalike, Bonnie Lockhart, have also switched identities. 
Kristen even has her very own doppelganger in Susan Banks, whom she used in the '90s to help her trick Brady's father, John, into believing she was pregnant with his child. Evidently, Kristen has a long history of causing chaos in Salem, and her Nicole mask was just one of many times she shocked fans of the long-running soap opera.