Strict Rules About The Holidays That The Royals Can't Break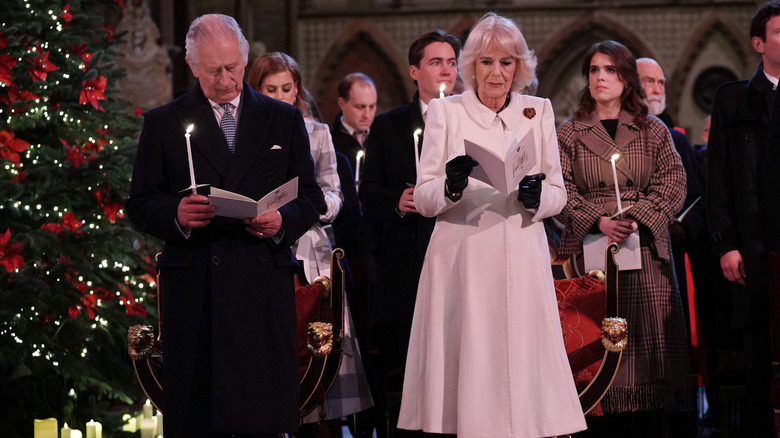 Pool/Getty Images
Like any other ordinary family, the royals spend the holidays together, and with these holidays come some special (and strict) traditions. Most of us have holiday traditions we look forward to every year, whether that be Easter egg hunts, fun board games, or decorating the Christmas tree. However, while most of us probably don't get into too much trouble when we break or bend some family holiday traditions, the royals can't exactly let loose over the holidays. In fact, they need to remain as prim and proper as ever.
From taking a freezing walk to church to arranging and attending some formal luncheons, it's safe to say that the holiday season is one of the busiest times of the year for the royal family. And unlike the rest of us, they don't have the option to escape to a sunny beach somewhere when all their public obligations are done. Nope, the royals all spend Easter and Christmas together; the latter is usually celebrated at Sandringham with the whole family present, and while it's a big estate, even we have to admit that it probably gets a little crowded sometimes when the whole family's gathered for the holidays.
Most of us get to wind down and just be ourselves among family, but the royals still follow strict rules even when it's just them — and honestly, it seems a little exhausting. Let's take a peek at what they can and can't do when the holidays roll around.
The royal family attends church together on Easter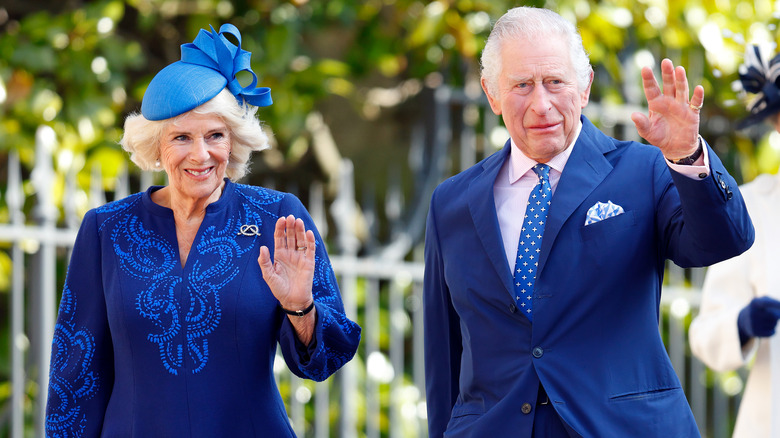 Max Mumby/indigo/Getty Images
When you're a member of the royal family, you'll find yourself at Windsor Castle over the Easter holidays with the reigning monarch and the rest of the family. You'll also have to dress to impress, because you can bet that you'll be making a few public appearances.
Queen Elizabeth II religiously attended the Easter service at St. George's Chapel during her reign, and royal fans look forward to spotting the royals as they make their way to church on Easter Sunday every year. Yup, inconspicuously sliding into the back bench at the church is not an option if you're a royal.
It appears King Charles III is continuing his late mother's Easter traditions. Royal biographer Ingrid Seward told The Sun that, just like his mother before him, King Charles is now the Defender of the Faith, and Easter is a significant holy holiday, which means the king will observe it just as his late mother did. Ahead of the 2023 Easter holiday, Seward said that the family will likely spend time offering "some special prayers in the private chapel within the castle just for the family and immediate household." She added that the family's first Easter service without the queen won't be as somber as many expect, but will rather serve as an opportunity to look back at fond memories while also celebrating the years to come. The family was spotted walking to church on Easter Sunday, just like Seward predicted.
Even the royals host Easter egg hunts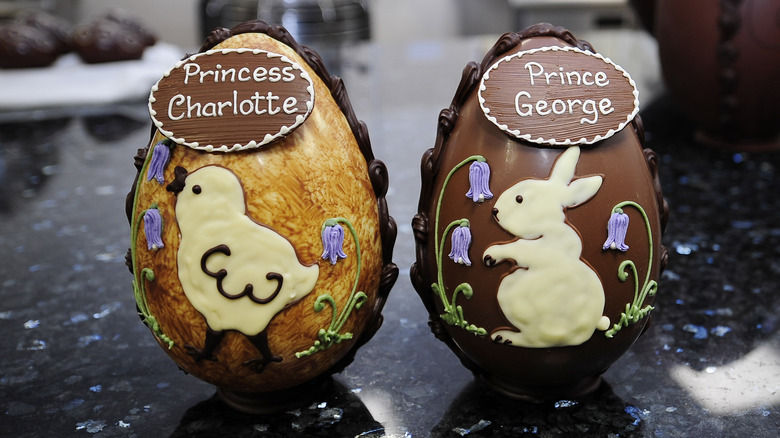 Wpa Pool/Getty Images
For all their formalities, the royals still value some good old-fashioned fun, and just like the rest of us, they like to celebrate Easter with an egg hunt. This tradition dates back to Queen Victoria, who loved hunting down painted eggs her mother hid and continued the tradition with her own children. The hunt is usually organized by one of the family members, and royal biographer Ingrid Seward told The Sun she's pretty confident that Princess Catherine is the one who does it these days, thanks to her killer organization skills. In the past, the royals even invited families in the area to bring their children over for some Easter fun. In 2017, Windsor Castle, the Palace of Holyroodhouse, and the Royal Mews at Buckingham Palace invited children from all over to come and take part in Easter activities like egg hunts and craft projects.
Sadly, Queen Elizabeth II never took part in Easter egg hunts (not that we know of, anyway), but she's been gifted some cool Easter-inspired trinkets over the years. The former Ambassador of Ukraine, Volodymyr Khandogiy, presented the queen with a wooden egg when he paid a visit to Buckingham Palace once. The egg features a hand-painted portrait of young Queen Elizabeth, and it appears the queen was so fond of it that she made sure it got a mention on the royal website. It remains to be seen if King Charles joins his grandchildren for an egg hunt. We're waiting with bated breath.
The monarch hands out special coins on Maundy Thursday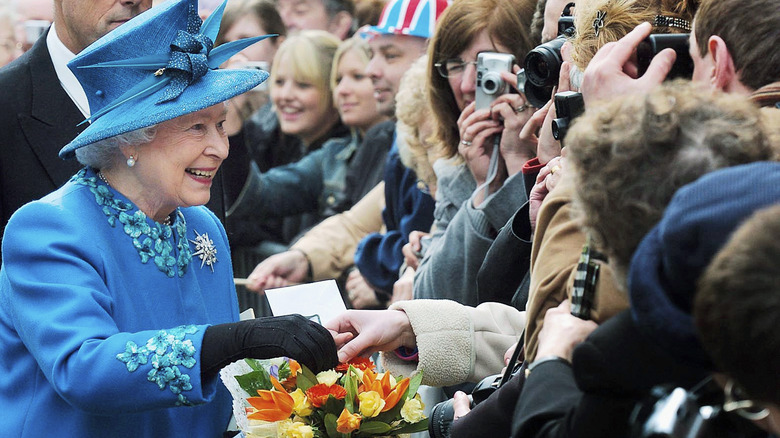 Pool/tim Graham Picture Library/Getty Images
During her reign, Queen Elizabeth II continued to honor an Easter tradition that dates back to 600 AD: the handing out of special coins on Maundy Thursday (the Thursday that precedes Easter Sunday). This special tradition exists to pay tribute to those who do significant work in their churches and communities. During her reign, the queen decided to start implementing this tradition across Britain, which meant she traveled to different churches and communities every year. The number of coins that were handed out each year matched the monarch's age at the time.
As the new reigning monarch, King Charles III will now continue this tradition. He's no stranger to the proceedings; in 2022, he and his wife, Queen Consort Camilla, attended the ceremony in the queen's stead. 2023 saw Charles take on this duty as the new monarch for the first time. "During the service, His Majesty will present 74 men and 74 women (signifying the age of the monarch) with the Maundy Money to thank them for their outstanding Christian service and for making a difference to the lives of people in their local communities," a statement released by Buckingham Palace read. Charles was accompanied by Camilla during the ceremony. It's beautiful to see some of the queen's oldest Easter traditions being upheld by the new monarch.
Christmas decor stays up until February
Wpa Pool/Getty Images
Now, this is a tradition we can get behind! Taylor Swift sings about keeping the Christmas lights up until January, but Queen Elizabeth II stretched it until February. So next time someone dares to question your decision to keep those decorations up, you just tell them the queen did it (and T-Swift does it, apparently), which means it's the sensible thing to do.
On a more serious note, the reason Queen Elizabeth held off on taking down the decorations is actually pretty special and also incredibly sad. While many superstitious folks believe that keeping Christmas decorations up past Twelfth Night (January 5) and Epiphany (January 6) is inviting bad luck, the queen clearly wasn't the superstitious sort, because she went ahead and started the tradition of keeping the Christmas vibe alive and well until February 6. Why that specific date? Because it's the anniversary of her father King George VI's death. The queen saw keeping Christmas decorations up until that date as a way to remember her father, and in the past, she would stay at Sandringham to honor this anniversary on her own before heading back to resume her duties at Buckingham Palace. (We're not crying, you're crying!)
The monarch sends out hundreds of holiday cards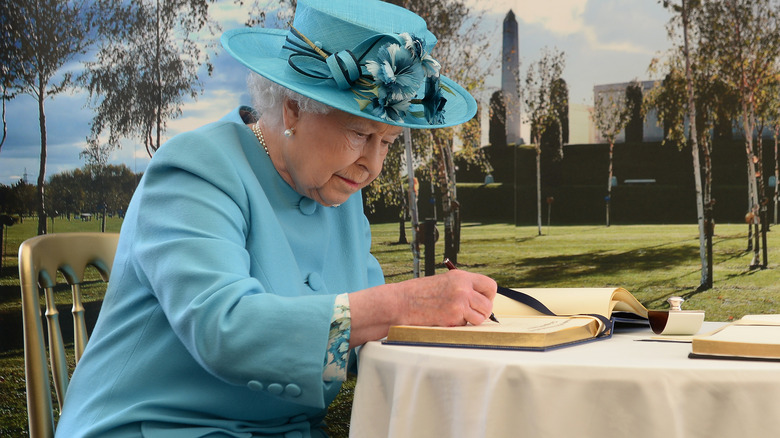 Wpa Pool/Getty Images
When you're the monarch of England, you better flex your writing hand, because you'll be signing plenty of holiday cards come Christmas. Queen Elizabeth used to sign around 750 Christmas cards (sometimes more) with her husband, Prince Philip, every year. Yup. And they weren't lazy, either. Instead of jotting down their initials like most of us would do (because 750 is a lot, you guys!), they signed each card "Elizabeth R" and "Philip," respectively. The "R" in the queen's signature stands for "regina," which is Latin for "queen."
Rumor has it that the queen wasn't a major procrastinator like so many of us, and rather than signing herself into a stupor shortly before Christmas, she started signing Christmas cards as early as the summer holidays. Yup, we all need to be more like Queen Elizabeth. The best part? She would sign a different name depending on who the cards were addressed to. Those going to heads of state and other politicians would be signed "Elizabeth R.," while cards to the queen's close friends were simply signed "Elizabeth." Her cousins received cards signed "Lilibet," which was the queen's childhood nickname.
We hope King Charles III and Queen Consort Camilla know they need to get cracking on those cards soon. People are used to getting actual signatures from the monarch and their consort, so resorting to printed signatures simply won't do.
The family attends a special luncheon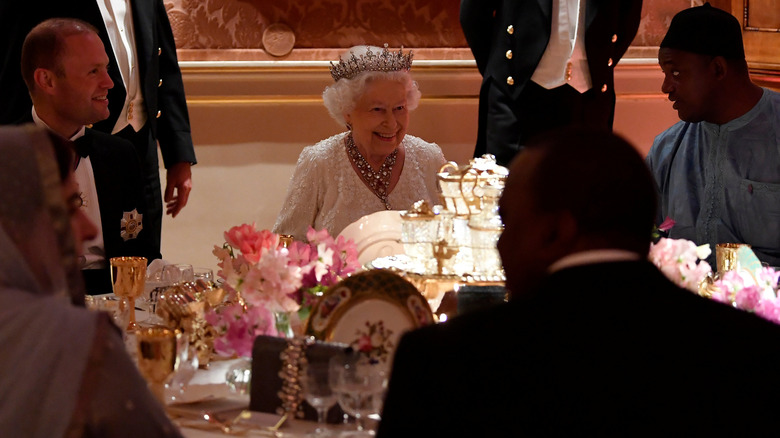 Wpa Pool/Getty Images
Queen Elizabeth II's annual Christmas luncheon at Buckingham Palace was a very exclusive and extravagant affair that was often attended by up to 50 extended family members. For all the fanfare, the public has never gotten an inside glimpse at the luncheon. But of course, people talk, so we do know some of what transpires behind the castle walls at this annual Christmas event. 
For one, it's reported that the queen used to delight young royals at the luncheon by gifting them something small, and that Meghan Markle once pulled a Christmas cracker with none other than King Charles III. Known for her fun-loving spirit, Meghan shared the joke inside the cracker with the rest of the family and put on the paper hat that was inside (why, oh why are we deprived of photos from this event?).
It's not all fun and games, though. It's still a very formal event that follows strict rules, and outsiders aren't welcome, even if they're dating one of the royals. Princess Catherine wasn't invited to the royal Christmas luncheon until she was engaged to William. Her first time attending was also the first time she met the rest of his family. The pressure must have been insane. "There's so much etiquette, there's so much decorum, there's so much that can go wrong," royal expert Suzannah Zuckerman told The Today Show after it was revealed that Catherine had finally been invited to this major royal holiday event.
Forget escaping to the beach, Christmas is spent at Sandringham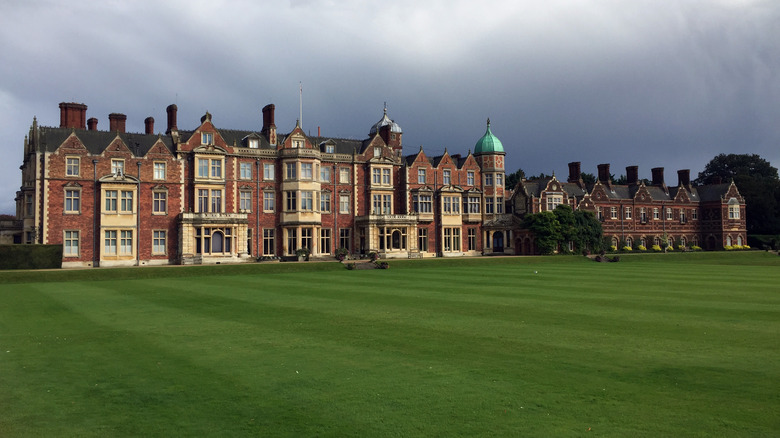 Mrmhf/Shutterstock
If you're one of the senior members of the royal family, your Christmas plans are all worked out for you: You shall spend it at Sandringham with the reigning monarch and close family members.
The go-to location for Christmas celebrations used to be Windsor Castle; the royal family had been spending the holidays there since the 12th century. But King George VI decided, for some reason, that Sandringham was better suited during his reign. Of course, Queen Elizabeth II decided to keep this tradition after his death, but she didn't do so religiously at first. While her children were still growing up, the queen spent Christmas at Windsor. By the time 1988 rolled around, the royal family had gone back to spending Christmas at Sandringham because Windsor Castle was set to be rewired that year. As it turned out, Sandringham's location was much better suited for Christmas, and it once again became a tradition for the royal family to spend the holiday there. "It's close to London where she [the queen] does occasions almost right up to Christmas," former press secretary for the queen, Dickie Arbiter, told Hello! Magazine.
Showing up at Sandringham for Christmas is compulsory, but when you show up is even more important. Family members arrive in order of importance on Christmas Eve: those farthest down the line of succession arrive first, and more senior members arrive last.
You have to walk to church, even if it's freezing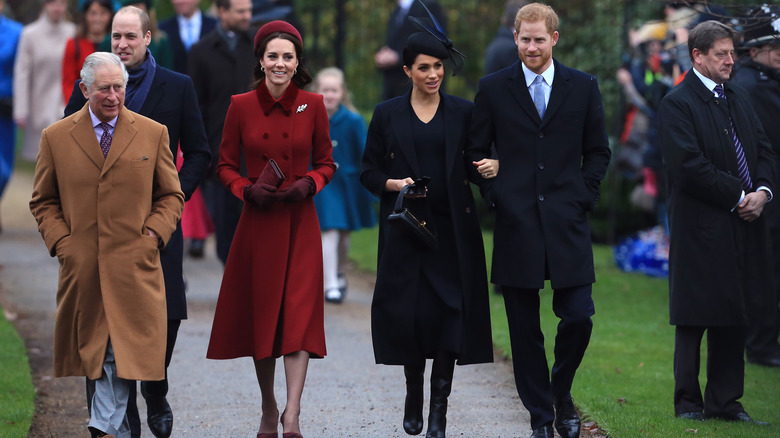 Stephen Pond/Getty Images
When packing for your Christmas holiday at Sandringham, you better remember to bring your mitts and woolly socks. Because when you're a member of the royal family, you have to walk to church on Christmas morning, come rain or shine.
The walk from Sandringham to St. Mary Magdalene Church on Christmas morning is a longstanding royal tradition. In fact, it's possible that the traditional walk is more entertaining to the onlookers who gather than it is for the royal family (we all know we'd endure basically any weather if it meant getting to see our favorite celebs or royals, but we, unlike them, have a choice in the matter). Luckily, the royals don't have to walk far at all: The walk is about 300 meters, which is a blessing, given that women typically wear heels to church, and no one wants achy feet on Christmas Day.
The reason the royals attend St. Mary Magdalene Church is, well, because it's super close to Sandringham, but Queen Victoria also visited the church during her time and likely started the tradition. Queen Elizabeth II religiously attended church on Christmas Day. This was, in part, because she was the Supreme Governor and Defender of the Faith of the established Church of England, but also because she was a devout Christian. With King Charles III taking over his mother's duties, it's very likely he will continue this annual walk.
Christmas lunch is a kid-free zone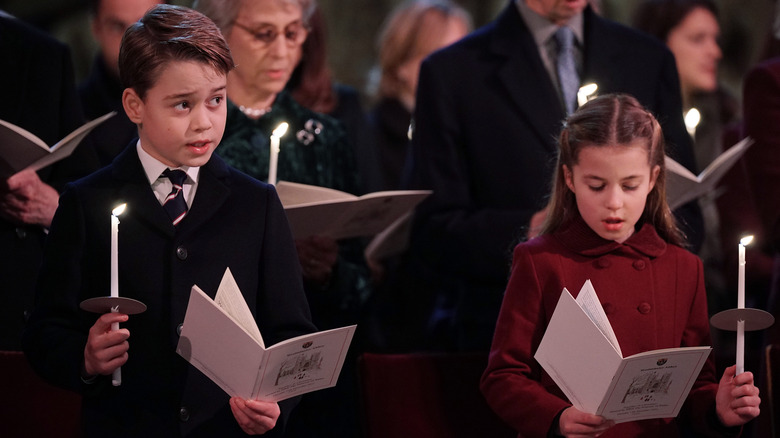 Pool/Getty Images
While walking to church in freezing weather isn't exactly the best way to kick off Christmas Day, the royal family can at least daydream about the delicious Christmas lunch awaiting them back at Sandringham while they do so. In addition to mouth-watering dishes, they can also look forward to winding down for a bit, because their children enjoy Christmas lunch in a separate room with a nanny keeping a watchful eye, the queen's former chef Darren McGrady explains via the Daily Mail.
We all know that entertaining young kids at the Christmas table can be, well, challenging. In the end, their parents settle for cold food and don't get a chance to have a meaningful conversation with a single relative. Queen Elizabeth II clearly wanted to avoid this at all costs, so kids are only allowed to start sitting at the "adult table" when they are "old enough to conduct themselves properly," McGrady told Hello! Magazine. "So for the Queen, there was never a case of putting a high chair at the table with a little baby squealing and throwing food. It was Victorian. The children's place was in the nursery and Nanny would take care of them. It's your modern-day 'Downton Abbey,'" McGrady elaborated.
The no-kids-at-the-table rule also applies to the queen's annual Christmas luncheon. "There's that division between the kids and the grown-ups, so the grown-ups can all sit down and have a natter," royal expert Phil Dampier told The Sun.
You need to cease eating at the same time as the monarch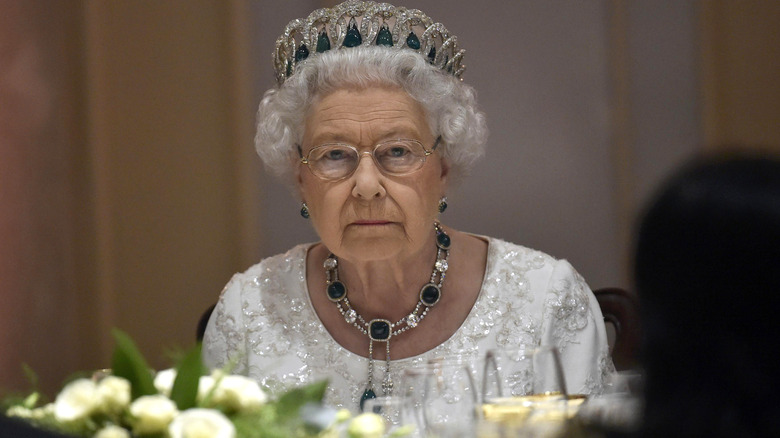 Pool/Getty Images
If you ever find yourself privileged enough to share a meal with the monarch of England, you better keep an eye on them at all times, because once they stop eating, so should you, even if your stomach is still growling with hunger. Yup, the monarch sets the pace, and you better follow suit, unless you want to suffer terrible embarrassment.
This rule applies to guests and family members, which means those sharing a meal with the monarch over the holidays better eat fast if they don't want to miss out on all the delicious food. Of course, it's possible to get lost in a conversation with someone else at the table and forget to keep an eye on the king or queen. According to former royal butler Paul Burrell, this has happened on one occasion. "I was once on the Royal Yacht Britannia in the South Pacific and the queen was hosting a dinner for a local prince," he told The Guardian, explaining that the prince started to enjoy his dessert (which was a sort of fruit soup), not noticing that the queen had finished eating. "He was about to raise the bowl to his lips to drink it when he looked at the Queen and realized he had made a terrible mistake. Not wanting to make him feel awkward, she picked up her finger bowl and took a sip," Burrell recounted. Trust the queen to make light of an awkward situation.
Get ready to step on a scale before and after Christmas dinner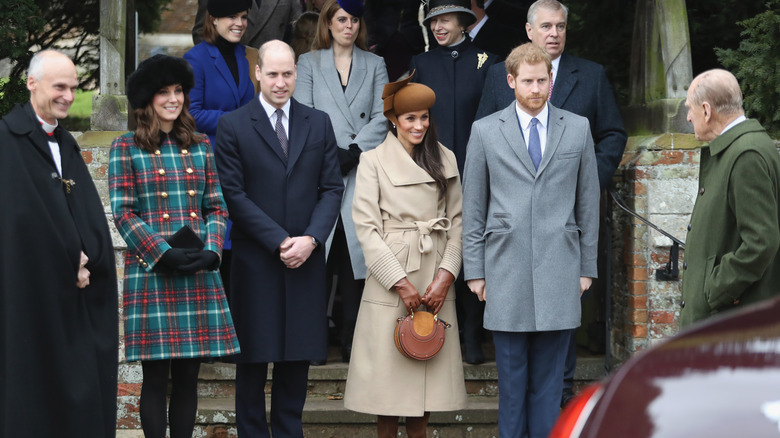 Chris Jackson/Getty Images
The tradition of weighing guests upon their arrival and departure dates back to King Edward VII. He decided that the number on the scale was a clear indication of how well guests had been fed, with 1.4 kilograms being the magical number they had to gain during their stay to satisfy the king.
This is no doubt a very dated tradition that hasn't aged well at all, yet some allege that Queen Elizabeth II continued to implement it. Royal expert and editor-in-chief of Majesty magazine, Ingrid Seward, told Grazia that royals are required to step on some ancient scales during their visit to Sandringham every Christmas in honor of Edward's tradition. We have to admit that this sounds a little far-fetched. Would the queen really have continued this tradition, knowing how damaging it can be to people struggling with eating disorders? Since Seward had never had Christmas lunch or dinner with the family herself, she can't know for sure that the queen continued this tradition; all we have to go on is speculation. If it is indeed true, we hope King Charles III will have the good sense to abolish this outdated tradition for good.
If you need help with an eating disorder, or know someone who is, help is available. Visit the National Eating Disorders Association website or contact NEDA's Live Helpline at 1-800-931-2237. You can also receive 24/7 Crisis Support via text (send NEDA to 741-741).
Gifts should be cheap and hilarious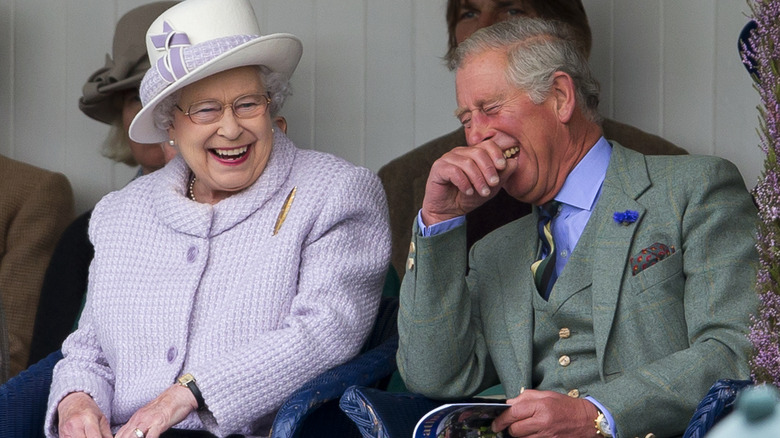 Max Mumby/indigo/Getty Images
We don't know about you, but when we think about spending Christmas with the royals, elaborate gifts are definitely among the things that come to mind. That couldn't be farther from the truth, though. While royal children tend to receive bigger gifts, the adults use it as an opportunity to provide each other with a good laugh. Per Express, Queen Elizabeth II's nephew, Viscount Linley, once described opening Christmas gifts with the royals as a "total uproar."
The royals uphold the German tradition of opening gifts on Christmas Eve, and they reportedly do this in the red drawing room at Sandringham every year. If you've ever wondered whether the royals have a sense of humor, wonder no more. One year, Princess Anne gave King Charles III a leather toilet seat (yes, for real!), and even though it was supposed to just be a joke, Charles took such a liking to this gift that it now travels the world with him. Princess Diana, known for her witty streak, gave Sarah, Duchess of York (also known as Fergie), a leopard-print bath mat one year. Prince Harry, who shares his mother's penchant for mischief, reportedly once gave Queen Elizabeth II a quirky shower cap with the phrase "Ain't life a b*tch" printed on it (we'd sell some of our most precious belongings to get a picture of Her Majesty wearing that cap!). Prince William and Princess Catherine, in turn, once gave Harry a "grow-your-own-girlfriend" kit.