The Tragic Story Of Sex And The City Star Kim Cattrall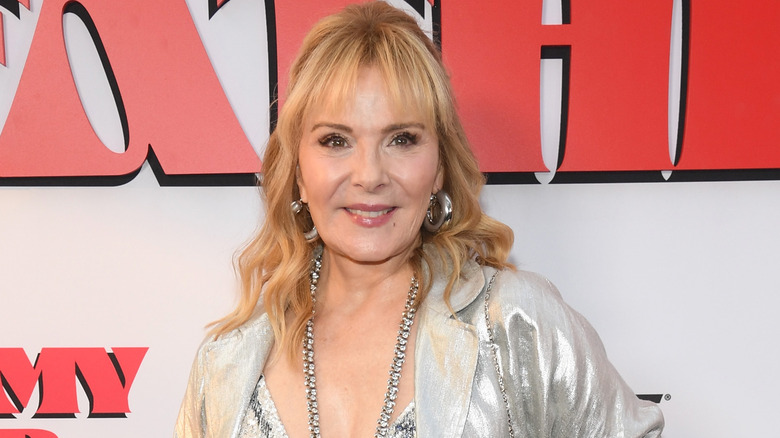 Gary Gershoff/Getty Images
The following article contains references to suicide.
You probably know her best as Samantha Jones from "Sex and the City," but Kim Cattrall has been trying to leave her famous character behind for years. After the British-Canadian actor found new levels of fame as the sex-positive PR maven on the hit HBO show in 1998, she spent the next few decades as one-quarter of the "fab four." However, after begrudgingly making two spin-off films, she said goodbye to Samantha.
Producers asked Cattrall to appear in a third movie, but she was appalled by Samantha's arc — plus, things were allegedly very frosty between Cattrall and the other stars of the show. "Never," she later said of returning. "It's a 'no' from me." And so it was hardly surprising when Cattrall was nowhere to be seen in the 2022 reboot, "And Just Like That." However, fans were shocked when, in 2023, it was announced that Cattrall would make one brief cameo in the reboot's second season. "Kim had two stipulations — one, that she would not act with any of the other girls, and two, she did not want to see Michael Patrick King," a source told Page Six of her cameo.
In addition to her various difficulties with "Sex and the City," Cattrall has faced a number of personal calamities. "The tragedies in my life continue to shape me," she told The Guardian in 2019. "Now I don't want to be in a situation for even an hour where I'm not enjoying myself."
Kim Cattrall learned a lot about her family's secrets later in life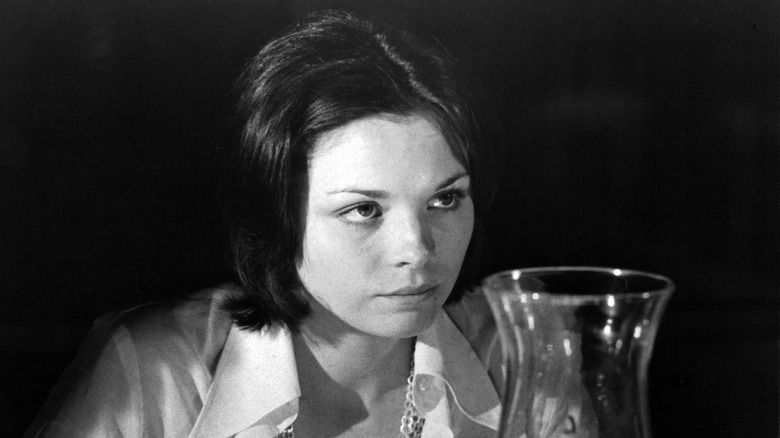 Michael Ochs Archives/Getty Images
Even before she was born, Kim Cattrall's family had a somewhat tragic past. "My mother's childhood was shocking and dramatic," Cattrall once told The Guardian. "Her father abandoned my grandmother, leaving her in terrible poverty, struggling to bring up three children." Despite this tragic legacy, Cattrall has been inspired by her grandmother's hardship to, as she put it, "want to tell stories about real women who are not Superwoman but need extraordinary powers to survive."
Cattrall learned even more about her family's tragic past during an appearance on the BBC show "Who Do You Think You Are?" in which she delved into her ancestry. Cattrall learned that after abandoning her grandmother, her grandfather started another family. On the show, Cattrall traveled to England to find them. After meeting her half-relatives, Cattrall learned that her grandfather never told his second wife about the family he left behind, and she was left with even more sadness. "I'm so sad that he couldn't have had a thought for the three girls [Cattrall's mother and aunts]," she said.
She wished she'd been surrounded by more family growing up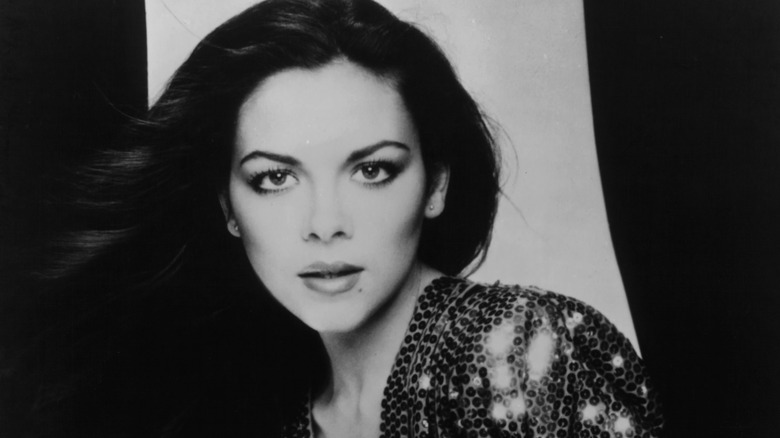 Michael Ochs Archives/Getty Images
Kim Cattrall was born in Liverpool, England, in 1956 shortly before her family moved across the world to British Columbia. Growing up in Canada wasn't always easy for Cattrall, who often felt a pull to her family back in England. "There are many times I think about what my life would have been like if I would have stayed," Cattrall confessed to the Liverpool Echo. "In some ways I think I would have been much happier surrounded by family. In Canada it was just us." 
Cattrall went on to explain that, as a child, she felt saddened not to have a grandmother and aunts to spend time with. "We grew up barely knowing each other," she said. When she was 11, Cattrall spent a year in Liverpool. She made friends and fell in love with the city. "When my dad came to collect me and take me back to Canada I remember, every night, praying to go back to Liverpool," she recalled.
Kim Cattrall was raised to go with the flow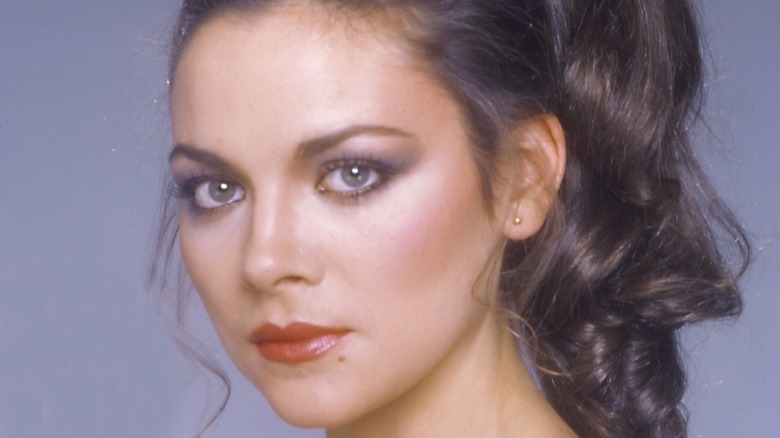 Harry Langdon/Getty Images
As a young girl, Kim Cattrall was raised with typical 1960s values. Her father had been a British army officer, while her mother was a secretary. "They were scousers, real grafters," she told The Guardian in 2019. But they also fit the classic 1960s gender stereotypes. "It was very clear what their roles were," she told Glamour. 
As she got older, Cattrall realized that her parents' way of doing things simply didn't work for her. "Truly what I learned from my parents was not to make waves. Just go with the flow. Don't stand out," she told the outlet. "I realized that was not how I was going to live my life. I wasn't happy." 
Instead of going with the flow, Cattrall decided she had to take a stand on things that mattered to her. As she put it, "I like to have a point of view."
At 41, Kim Cattrall didn't think she could play a 'sex bomb anymore'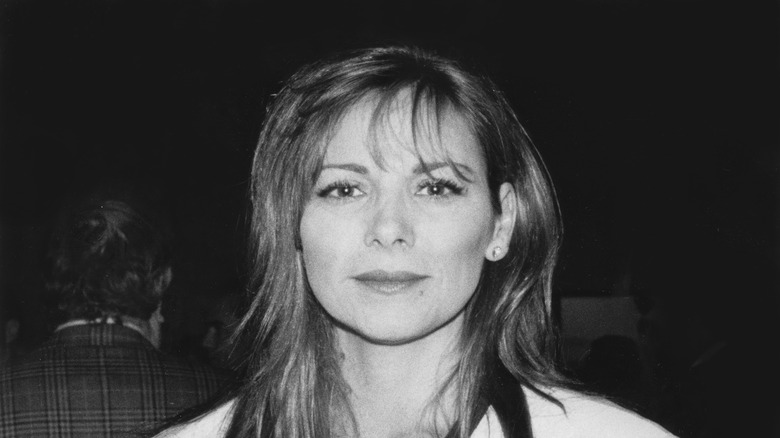 Lindsay Brice/Getty Images
By the time "Sex and the City" came around in the late '90s, Kim Cattrall had already had a long, successful career with roles in "Star Trek" and "The Mary Tyler Moore Show." When the show's creator, Darren Star, approached Cattrall about the role, she was hesitant to take it. In fact, she refused the role three times — but Star kept pushing. "She wasn't interested in a TV series," Star told Variety. "Now it's impossible to imagine the show without her."
Why was Cattrall so hesitant about the role? "At the time I was just about to turn 41... I felt I couldn't be the sex bomb anymore," the actor said, as reported by The Things. "You have to understand that this was 1997. We've come a long way since then — 40 is now the new 25, 60 is the new 40. I was just thinking: 'Who is going to believe it? And do I want to do it?'" Nevertheless, Star eventually convinced her to take on the role seemingly despite the actor's instincts. But thank goodness she did!
Sex and the City took a toll on her marriage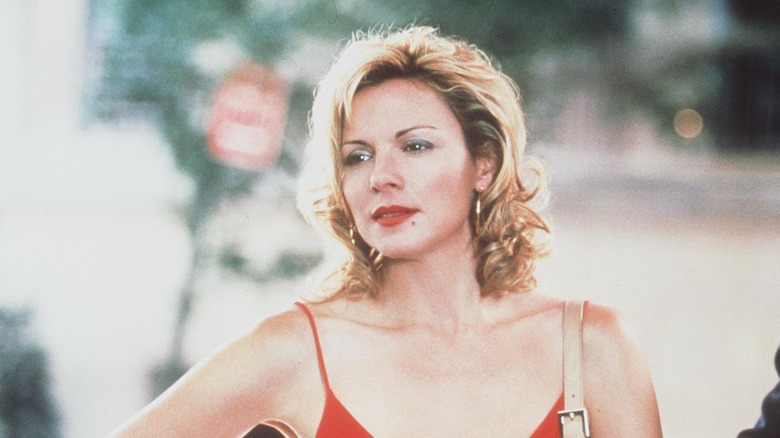 Getty Images/Getty Images
"Sex and the City" may have given Kim Cattrall a whole new legion of fans, but it also brought her a number of difficulties, too. For one thing, the show took up so much time, her marriage to Mark Levinson began to suffer. In fact, Cattrall has even blamed the show for their eventual divorce. "It cost me my marriage, because I was never home," Cattrall told news.com.au. "I was never there and my husband got lonely and upset and competitive, and it was really difficult, it was really hard."
To make matters worse, this wasn't Cattrall's first experience with divorce — she'd been married twice before, first to Larry Davis and then to Andreas Lyson. As the actor explained to The Guardian, her first divorce had also been hard. "When my first marriage fell apart I didn't know if I was going to be OK for a long time," she said. "I've always been more insecure personally than professionally."
Kim Cattrall never had children because of her career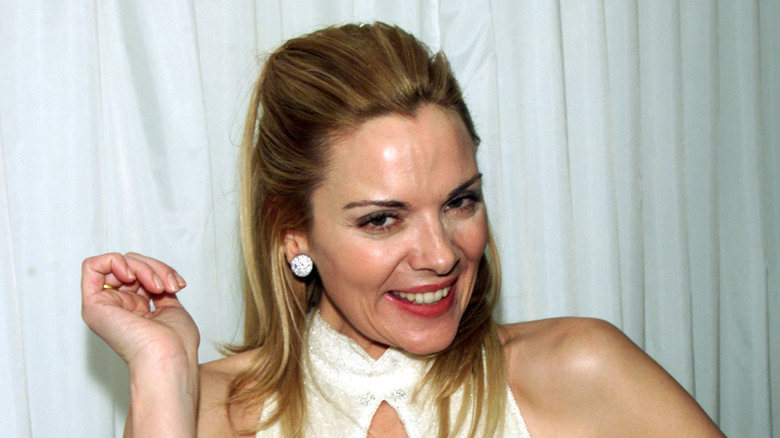 Evan Agostini/Getty Images
Another thing that Kim Cattrall gave up because of "Sex and the City?" Motherhood. As the actor revealed on the "Women's Prize For Fiction" podcast, she was already in her 40s when the show began. In order to commit to the project, she decided that trying to have children would be impossible. 
"This was 1998, I would have to become a bit of a science experiment. ... My partner and I would have to be available to have sex at a certain time. ... There's just no way I could have done that in a healthy, emotional, physical, or even physical state, and do 19-hour days," she said.
In an interview with "Woman's Hour," Cattrall explained that despite not having children of her own, she found happiness by mothering the young people in her life. "I am not a biological parent, but I am a parent," she said. "I have young actors and actresses that I mentor, I have nieces and nephews that I am very close to. ... You can express that maternal side, very clearly, very strongly. It feels very satisfying."
She never really got along with her Sex and the City co-stars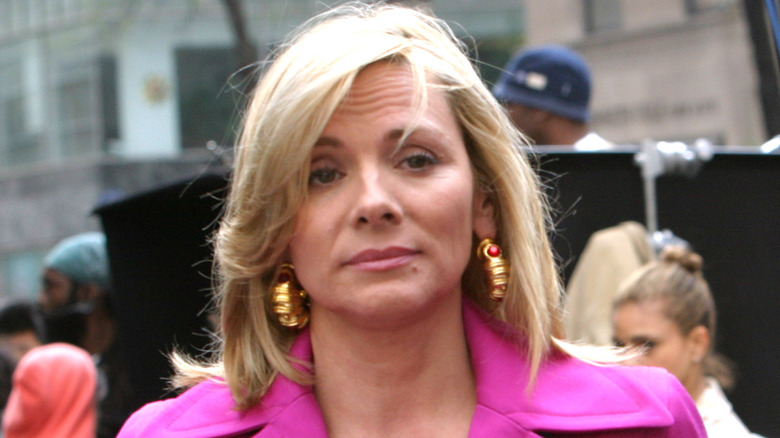 James Devaney/Getty Images
There was yet another reason why Kim Cattrall's time on "Sex and the City" wasn't exactly her happiest. As the actor later revealed, she didn't quite get along with her co-stars. After making the second film, Cattrall was asked by Piers Morgan for ITV if the women were friends. "We've never been friends," she revealed. "We've been colleagues."
Apparently, a lot of the tension between Cattrall and her co-stars came down to money. When Sarah Jessica Parker, who played Carrie Bradshaw in the show, was given a substantial raise as a producer, Cattrall reportedly asked for a raise, too. Her co-stars were allegedly unhappy with her request and "wouldn't even sit with her at mealtimes," according to The Telegraph. Apparently, by the time filming for the movies started, Cattrall and the other cast members weren't even on speaking terms.
Being a sex symbol wasn't always easy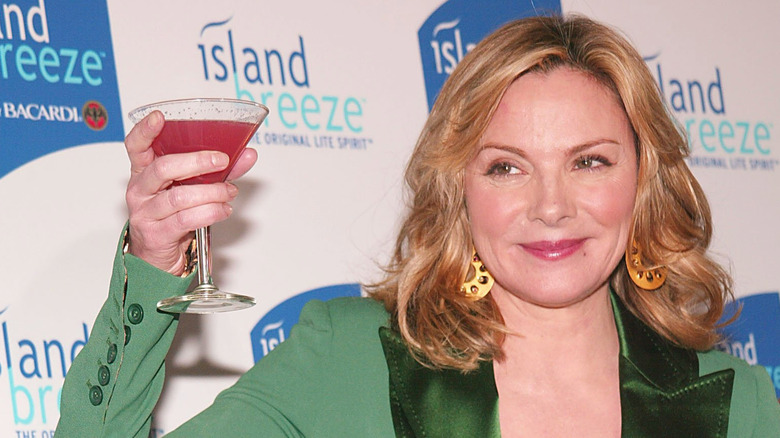 Sylvain Gaboury/Getty Images
As Samantha Jones, Kim Cattrall solidified her casting type — she was officially a sex symbol. In some ways, Cattrall was happy with this. 'Someone said to me, 'Are you frightened that you'll be stereotyped playing this one thing for the rest of your life?'" she relayed to The Guardian. "But this 'one thing' is such a positive, vibrant outlook on life. It could be a lot worse! For me to play a femme fatale in my forties ... I thought that those days were done, that I'd be playing wives and mothers."
The one downside was that men her own age found themselves intimidated by her. "I found a lot of guys my age and older were absolutely terrified of me," she said, adding, "The perception is that I'm going to be something in the bedroom that they can't compete with — but that's their loss." Clearly, her sex symbol status wasn't the worst tragedy of Cattrall's life!
Kim Cattrall was heartbroken by how they wrote Samantha's character for the third movie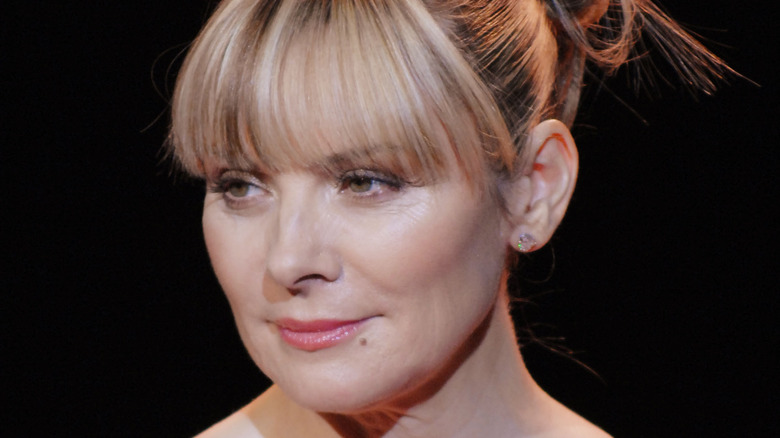 Carlo Buscemi/Getty Images
Even though Kim Cattrall had a few issues during her time on "Sex and the City," one thing she did enjoy was her character. "I played her, and I loved her," the actor told Variety. "I felt ultimately protective of her."
In fact, Cattrall was so protective of Samantha that she was horrified when she felt that the writers were letting her character down. As Cattrall explained, she read a script for a third movie (that ultimately never got made) in which Samantha received unwanted sexual pictures from Brady, Miranda's son. The plot line was, as far as Cattrall was concerned, "heartbreaking."
Cattrall went on to wonder why Samantha couldn't be shown going through career difficulties instead. "Why can't Samantha, who owns her PR company — maybe she had to sell it because of financial woes? ... I thought that's a great idea. That's a conflict. Instead of an underage boy's ..." Cattrall told the publication.
Kim Cattrall experiences misogyny often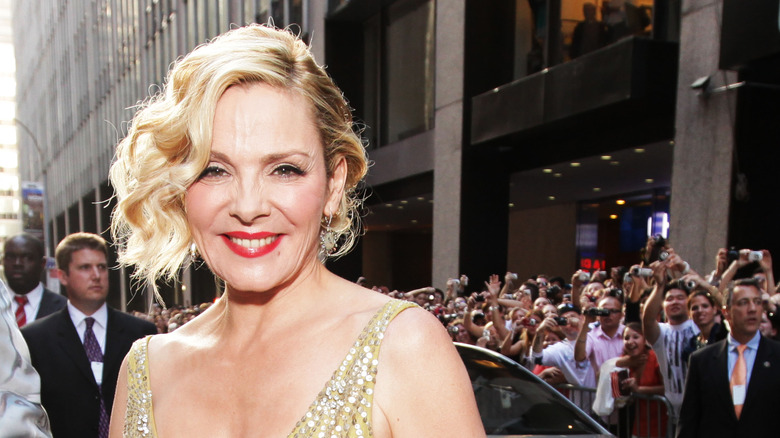 Neilson Barnard/Getty Images
Kim Cattrall began her acting career back in the '70s. As a woman who has been working steadily for over five decades in Hollywood, she has unfortunately experienced a great deal of sexism. As the actor explained to Glamour, it actually happens far more often than most people realize. "Look, when I was coming up as a young actress, the casting couch and all of that always existed, and not just in showbusiness, you know?" she said. "I realised very early on that I was going to have to protect myself, that I would not go and meet somebody in a hotel room."
As Cattrall went on to explain, she feels the industry has begun to improve, especially with the new addition of on-set intimacy coordinators. But, tragically, she still experiences misogyny. "I experience [misogyny] every day, especially when I'm by myself," she said. "But when I'm with my partner, other men know I have back up — and I hate it that, even these times, this is still the case. I get treated differently when I'm with a man, especially my partner." Cattrall continued, saying, "Misogyny isn't something that happens occasionally. It's prevalent and it's hurtful."
As hard as this constant misogyny must be for Cattrall, we can only applaud her for speaking up.
Her father died after being diagnosed with dementia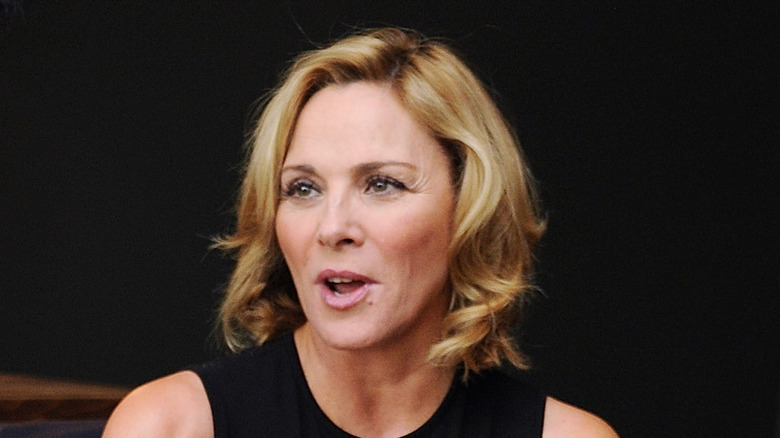 Dave M. Benett/Getty Images
Tragedy struck Kim Cattrall in 2008 when her father was diagnosed with Alzheimer's disease, a form of dementia. Four years later, he died at the age of 86. Cattrall initially struggled to allow herself to grieve. "I was going to go to Central Park to let balloons go but I couldn't get out of bed," she told the Daily Express. "I was trying to be brave and I suddenly thought, 'What am I doing? My dad died, I should be able to cry.' I was beating myself up about not being able to get over it." She scattered her father's ashes at Anfield Stadium, the home of his favorite soccer team. "It's still really raw," she said at the time.
Since the shock of his death, Cattrall began contemplating her own mortality. "I'm concerned about Alzheimer's disease," she told the Mirror in 2016. "It took my father. But that's your DNA. It's part of life. And I'm trying not to be so fear-based. It's a wake-up call to enjoy life, more than anything else."
Kim Cattrall's brother died at the age of 55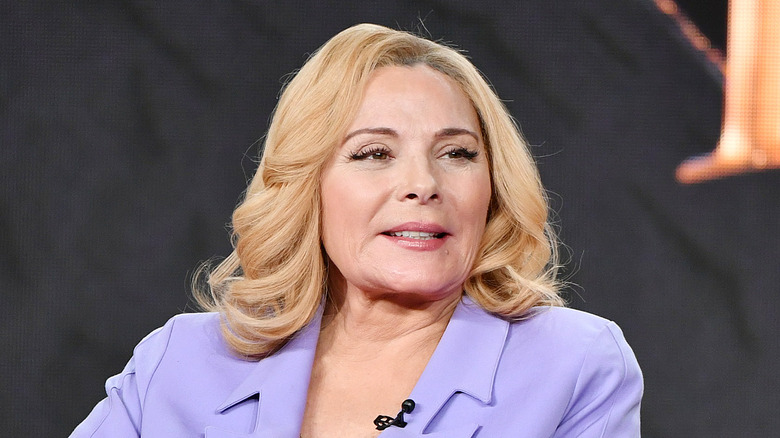 Amy Sussman/Getty Images
One of the biggest tragedies in Kim Cattrall's life came in 2018 when her brother, Chris, was found dead at his home at the young age of 55. He'd been reported missing five days earlier.
A year after Chris' death, Cattrall told the Daily Mail that he'd died by suicide. As she explained, no one was prepared. "He was suffering from depression but depression is a curious thing and it can be impossible to detect if someone does not want you to know," she said. His death shook her to her core. "There is a well of sadness in me," she said, adding, "I am different now and I will never be the same."
In 2023, Cattrall once again opened up about the tragedy — her mother had recently died, which made her reflect once again on her brother's death. "With my mum, she was 93 and it was a slow decline," she said to The Times. "But my brother, this was out of the natural order. This wasn't supposed to happen. It was sudden and unexpected." The actor continued, saying, "It is all so accessible, all the time, a weight that is always with you and never leaves."
If you or anyone you know is having suicidal thoughts, please call the National Suicide Prevention Lifeline​ by dialing 988 or by calling 1-800-273-TALK (8255)​.
She felt her former co-star was using her brother's death for publicity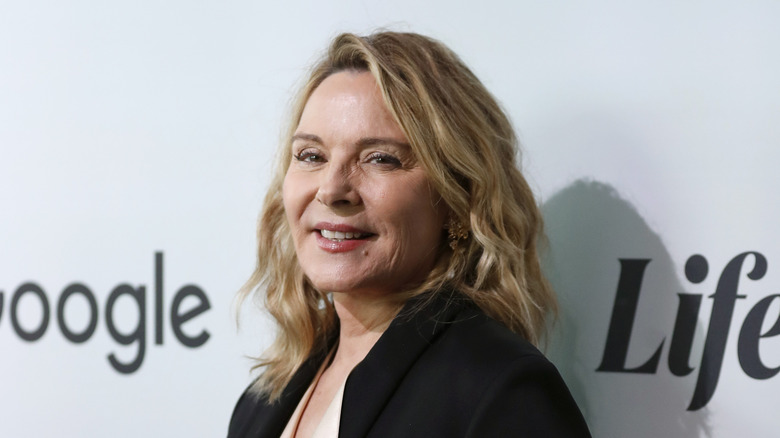 John Lamparski/Getty Images
Kim Cattrall's brother's death was probably one of the worst moments of the actor's life — and to make matters even worse, Cattrall felt that one of her old "Sex and the City" co-stars was using the incident for her own gain. After the news of his death, Sarah Jessica Parker reached out to Cattrall through an Instagram comment, writing, "Dearest Kim, my love and condolences to you and yours and Godspeed to your beloved brother."
Cattrall wasn't pleased with the comment and called out Parker in a separate Instagram post. "Your continuous reaching out is a painful reminder of how cruel you really were then and now," Cattrall wrote in the caption. "Let me make this VERY clear. (If I haven't already) You are not my family. You are not my friend. So I'm writing to tell you one last time to stop exploiting our tragedy in order to restore your 'nice girl' persona." She then included a link to an article in the New York Post about the "mean girls culture" on the "Sex and the City" set — clearly, she felt that Parker's condolences were disingenuous. 
Parker did respond, saying at an event, "If somebody in your life, whether you're in touch with them or not, [is] suffering for any reason, it's involuntary that you want to convey condolences or sadness or just let someone know you're thinking about them."