The Truth Behind The Sex And The City Cast Feud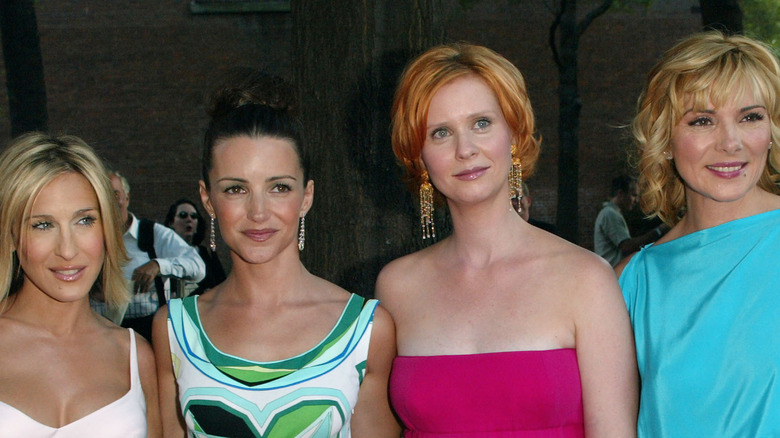 Evan Agostini/Getty Images
In January 2021, Sarah Jessica Parker announced to millions of eager fans that an official "Sex and the City" revival was in the works. This announcement came over 20 years after the series first aired on HBO. Throughout the six seasons of the show, fans follow best friends Carrie Bradshaw (portrayed by Parker), Miranda Hobbes (Cynthia Nixon), Charlotte York (Kristin Davis), and Samantha Jones (Kim Cattrall) as they navigated romantic and sexual encounters while living in New York City, per Us Weekly. While they might have played besties on the show, castmates Parker and Cattrall have been in a fairly public feud.
After Parker posted the announcement on her Instagram profile, many fans commented about the fact that Cattrall did not appear in the promotional photo that she attached to the announcement. Some commented on the post, claiming that the feud that existed between the stars had caused Cattrall not to appear in this revival. "I don't dislike her," Parker responded to her fans. "I've never said that. Never would. Samantha isn't part of this story, but she will always be a part of us."
While Samantha will always be a part of the "Sex and the City" franchise, it's likely that Cattrall will be leaving it behind, given the history that exists between herself and the other cast members.
Kim's desire for a pay increase is blamed for early tensions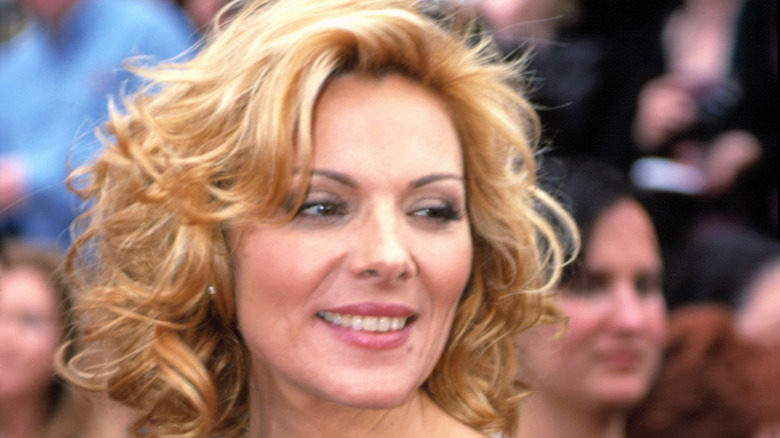 Shutterstock
Though it was initially revealed in 2004 that Kim Cattrall's desire to be paid more as a part of the reason for the demise of "Sex and the City," this issue was brought up again in 2008. The first public acknowledgment of the tension that existed between Cattrall and the rest of the cast members was published in The Telegraph. 
In the article, it was reported that other cast members and crew members were so angry with Cattrall with her desire for a pay increase that they "wouldn't even sit with [Cattrall] at mealtimes" during the filming of the first "Sex and the City" movie.
One of the first public mentions of the tension that existed specifically between Cattrall and her cast member, Sarah Jessica Parker, was reported in New York Post article published in 2009. According to inside sources, the filming of the second "Sex and the City" film was incredibly uncomfortable due to Parker and Cattrall no longer speaking to one another. However, Cattrall refuted these claims during a 2010 interview with Daily Mail, stating, "People don't want to believe that we get on. They have too much invested in the idea of two strong, successful women fighting with each other. It makes for juicy gossip and copy. The truth of us being friends and getting along and happily doing our jobs together is nowhere near as newsworthy."
Almost a decade later, Kim finally revealed her true feelings towards Sarah Jessica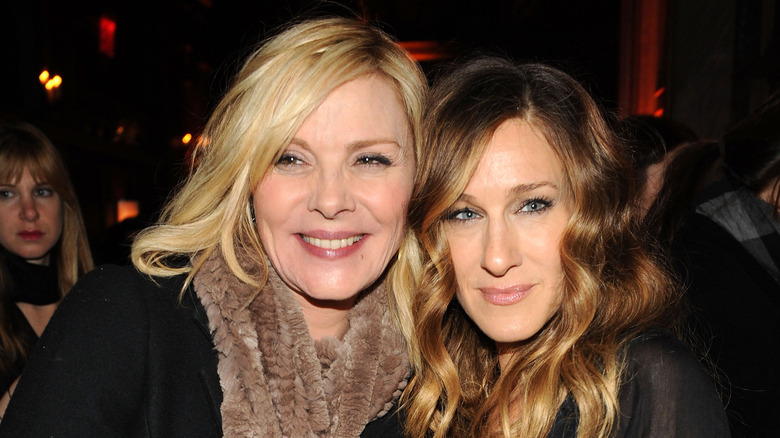 Bryan Bedder/Getty Images
The deteriorating relationship between Kim Cattrall and her "Sex and the City" cast members became fodder for gossip once again when Daily Mail reported in 2017 that a third movie was canceled due to demands from Cattrall that could not be met. 
During an interview with Piers Morgan in October 2017, Cattrall finally openly admitted that she disliked Sarah Jessica Parker. "This is really where I take to task the people from 'Sex and the City,' and specifically Sarah Jessica Parker," Cattrall told Morgan, according to Elle Magazine. "I think she could've been nicer. I really think she could've been nicer. I don't know what her issue is." Parker responded by saying that she was "heartbroken" about Cattrall's admission.
Tensions between Parker and Cattrall hit their boiling point in February 2018 after Cattrall's brother was found dead in Canada. After posting "love and condolences" in response to Cattrall's announcement of her brother's death on her Instagram, per Us Weekly, Parker was immediately criticized by Cattrall for having impure intentions. "Your continuous reaching out is a painful reminder of how cruel you really were then and now," Cattrall said in an Instagram post. "Let me make this VERY clear. (If I haven't already) You are not my family. You are not my friend. So I'm writing to tell you one last time to stop exploiting our tragedy in order to restore your 'nice girl' persona."
From that moment forward, the franchise has moved forward without Cattrall and will continue to do so in the new "Sex and the City" series.