Jorts Are The Update On Trendy Cargos - Here's How To Pull Them Off
When you think of jorts, you probably think of the type that your dad wears on summer days — not exactly the height of fashion. However, this time round, jorts (jeans and shorts combined) are the cool girl version of denim shorts, and the good news is that they're also super comfortable.
Cargo pants have been around for a while now in all their iterations. In fact, utility clothing seems to be one trend that will stick around for a long time. Everything from dresses to skirts and, of course, pants, have more pockets than you know what to put in them. However, much like denim maxi skirts and denim corset tops, it seems that denim cargo shorts are here to stay. Far removed from the teeny tiny denim shorts you often reach for in summer, the jorts trend is all about comfort — the baggier, the better. Your legs will thank you for the extra breathing room on a humid day.
Here are some of our favorite ways to style the trend, so you look less dad-on-vacation and more part of the fashion pack.
With unexpected pieces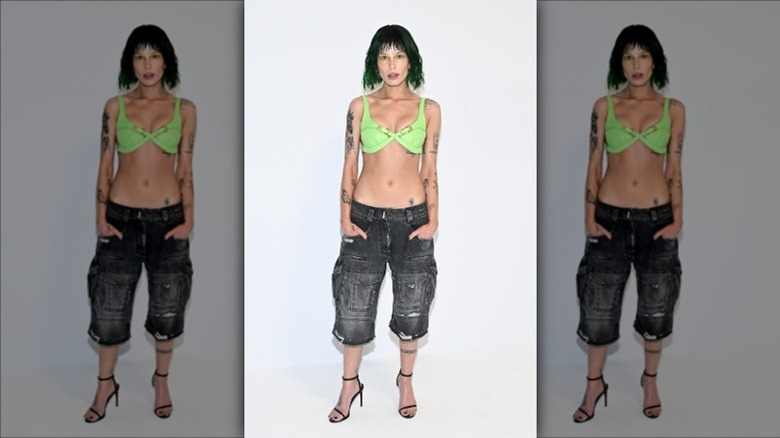 Stephane Cardinale - Corbis/Getty Images
When it comes to styling jorts, you usually wouldn't reach for a bra top and heels. However, that's exactly what Halsey did, and it looks weirdly good. If you're petite, heels will add some height to your jorts look. Most jorts are knee length or lower, so heels will help to lengthen your legs. Plus, pairing a revealing top with your jorts will create a cool juxtaposition. For a more laid-back vibe, choose a white top, or branch out like Halsey with neons for an out-of-the-box look.
With cowboy boots
Hop on the Wild West streetwear trend by pairing your jorts with cowboy boots (horse, unfortunately, not included). This fun take on a classic tank top and jean shorts look is attention-grabbing but comfortable. We recommend sticking to neutrals like gray, white, and black. As jorts are longer, you'll need to make sure your cowboy boots don't come above your calf, especially if you're on the petite side. Otherwise, the proportions of your outfit will be off and you could look shorter than you are.
With basics
Jorts are just longer jean shorts, so if you're unsure about how to style them it's always a good idea to go back to basics. Chunky sneakers and a white t-shirt will always pair well, and when paired with jorts they're a match made in heaven. This type of outfit is suited to casual events such as sightseeing on vacation, running errands with friends, or even just talking a walk around the neighborhood. Plus, you won't have to take a bag thanks to your spacious jorts pockets.
With sportswear
Bring back '90s Sporty Spice vibes with this unique outfit combo. An oversized sporty jacket (any brand) paired with oversized jorts is a great combination. All-black will give your outfit a streamlined vibe, but a colorful sports jacket would also look really cool and brighten up a neutral look. Add ankle socks and sneakers and you've got yourself an outfit for those days when it's warm but there's still a breeze in the air. The key here is finding clothes that have a baggy style but don't overwhelm your frame — think an oversized jacket with a cropped fit.
With a white shirt
Nothing says contrast like a frilly white shirt and ultra baggy jorts. The trick to pulling off this look is choosing a pair of jorts that sit low on the hips, but if you're not comfortable showing your stomach, choose a longer shirt and undo the top buttons rather than the bottom ones. The feminine energy of a frilled white shirt when paired with the sporty aesthetic of sneakers creates a bold and unusual look. Finish with Y2K accessories like an iconic '90s zigzag headband.