What Is The 3-Color Rule And How Can It Help You Get Dressed In The Morning?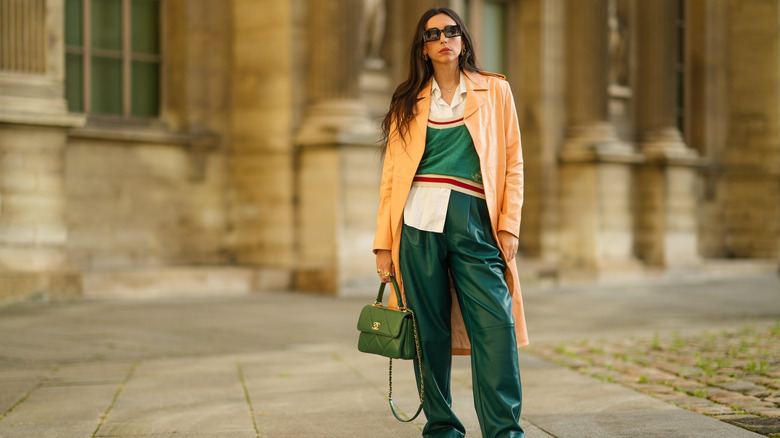 Edward Berthelot/Getty Images
Trying to pick out the perfect outfit each day can add a lot of unwanted stress and time to your morning routine. You might find yourself quickly in a rut, reaching for your old faithful pinstripe power suit or sticking to a simple monochromatic look. If you're getting tired of the same ol' outfits, you'll want to change it up. 
It's definitely time to add color back into your life. Since you don't want to make a fashion faux pas, the thought of adding fun pops of electric yellow or introducing new and fun patterns might trip your anxiety switch. Keep your life simple and stress at bay by using the three-color rule to freshen up your routine. It's a simple theory that will keep you at the top of your outfit game — and ensure you don't end up on anyone's worst-dressed list.
A simple breakdown of the three-color rule will take your outfits out of the monochromatic fashion trend. You can learn a few ways to experiment with this rule by looking at the color wheel. 
Break down of the 3-color rule
Simple and easy come to the rescue when you add the three-color rule to your outfit choices. It allows you the freedom to enjoy those patterns you adore but not get side-eye from your fashionista coworkers.
In its simplest form, the three-color rule to outfit creation has you picking three colors for the day. Everything from your accessories (and sometimes even your makeup) must fall into this color rule. Each outfit consists of a dominant color, a secondary color that complements the dominant color, and an accent shade. For example, TikToker @ellie.richards shows how you could wear a coral jacket and lipstick as your dominant color, a secondary color of brown through your shirt and bag, and finish the look off with navy pants. Everything coordinates together, and you look fabulous.
However, don't just get stuck on solid colors. You might pair a brown jacket with a blue striped shirt and camel pants. Other fun patterns are cheetah, plaid, or zebra. You might even try floral patterns for summer. Some variations on this rule say that black and white don't count as colors, so if you incorporate them, you can potentially get away with five colors. Try other variations on this style rule, as well, for more pizzazz.
Experiment to keep your look fresh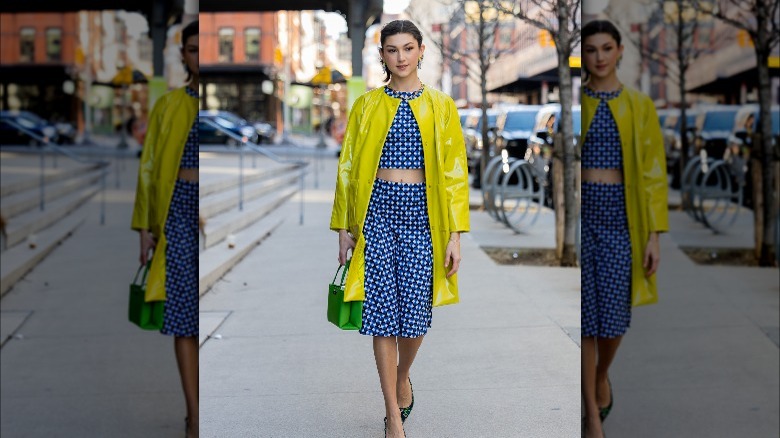 Christian Vierig/Getty Images
While the three-color rule works excellent for neutral outfits or patterns, it's also great for adding a fun pop of color to your outfit. This is especially true if you take the three-color rule one step further by throwing the color wheel into the mix. 
Using the color wheel, pick three neighboring colors to make flattering but popping color choices. For example, green, blue, and purples are neighbors on the color wheel, so you could create an outfit using olive green pants, a blue striped shirt, and a purple jacket. You might also try wearing a yellow patterned dress with green shoes and a blue handbag. Oranges, greens, and yellows also look smashing together. Influencers have hopped on this trend due to the amazing color options that open up. 
Depending on what you like to wear, many possibilities open up when you add the three-color rule to your outfit choices. It keeps you away from one-color styles and doesn't have you mixing and matching too many colors at once, while still giving you bright choices.