Adele Has A Not-So-Secret History As A Taylor Swift Fan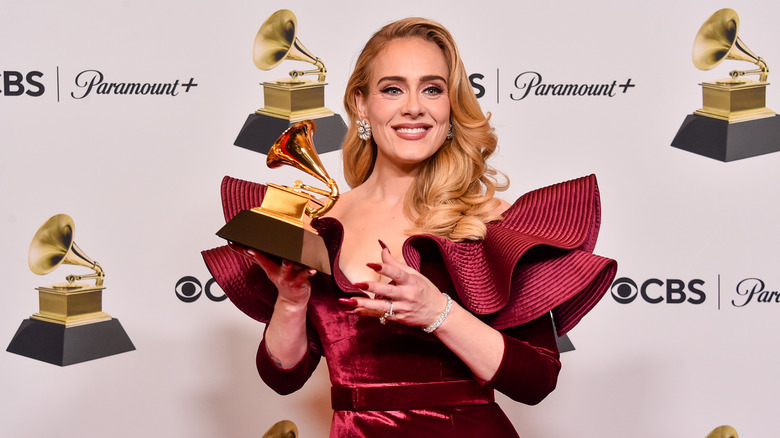 Alberto E. Rodriguez/Getty Images
We love seeing women supporting other women, especially in the music industry. The world of music can feel extremely small and competitive for female singers hoping to make it big, but luckily many artists have made it their mission to uplift their fellow musicians rather than tear them down. Adele, famous for her many ballads of love and loss, is no stranger to supporting her peers in the music industry. 
One artist that Adele has publicly admired for years is Taylor Swift, who is having a total moment amidst her sold out "Eras Tour." At a "Happy Hour with Adele" fan event the singer said, "I think Taylor's one of the greatest songwriters of our generation." She calls Swift's music "fun" and shared that she enjoyed listening to both "folklore" and "evermore" during the COVID lockdowns. 
As the Swifties show out in full force to support Swift's latest tour, Adele publicly admitted she is a hardcore fan — and she is definitely jealous of all the fans who get to see her live.
Adele admires Swifties' dedication to their favorite artist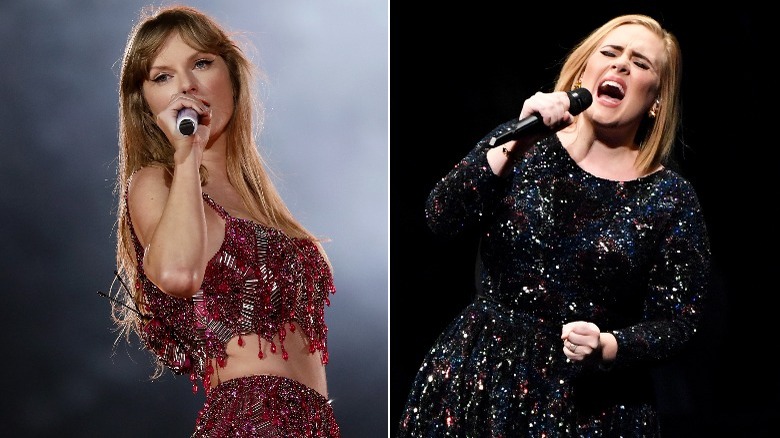 Ethan Miller & Natasha Moustache/tas23/Getty
Adele has been performing at her Las Vegas residency since last year, and recently announced that she has extended her stay through November 2023 at Caesars Palace. She isn't the only superstar performing in Sin City, though. Back in March, Taylor Swift took her "Eras Tour" to Allegiant Stadium, just a few blocks away from Adele's concert. On the Friday before Swift's Saturday show, Adele addressed the Swifties in her audience directly, saying, "If anyone is going to see Taylor tomorrow, I'm f****ing jealous. You know I love her." Adele isn't the only one jealous of "Eras Tour" attendees: Taylor Swift fans will stop at practically nothing to see her perform live. According to Ticketmaster, there was "historically unprecedented demand" for "Eras Tour" tickets when they were first released, making it almost impossible for fans to get their hands on tickets without issues. Adele has attended Swift's concert before, though. In 2018, she took her son to Swift's "Reputation" tour. 
Swift isn't the only artist that Adele has totally fangirled over throughout her career. At this year's Grammys, Adele and Lizzo were spotted freaking out over Beyonce while she made an acceptance speech, snapping a selfie while they grinned ear to ear. Adele lost her mind yet again over country music star Shania Twain, who made a surprise appearance at Adele's Vegas residency. Adele shared on her Instagram Story, "Thank god you had a hat on [Shania Twain] I would have self-combusted had I seen it was you!!"
There have been quite a few celeb sightings enjoying themselves at the 'Eras Tour'
While Adele is busy with her own residency show, she clearly would love to watch Taylor Swift rock out to all her iconic music eras live and in the flesh. Adele is in good company amongst famous Swifties. Easter eggs aren't the only thing fans have spotted during Taylor Swift's "Eras Tour": Concert attendees have taken to social media to share the many celebrities who took time out of their busy schedules to see the pop star sensation. From music group HAIM to movie star and icon Laura Dern, celebrities are letting down their hair and letting out their inner Swiftie at the "Eras Tour."
TikToker @totallystefani attended the second night of Swift's run at MetLife stadium, and shared some of the most surprising celebrity sightings, including Mike Myers, Ben Stiller, and Miles Teller. Other star-studded attendees at different shows include longtime besties Selena Gomez, Gigi Hadid, Blake Lively, Emma Watson, and Cara Delevingne. Matty Healy, who Swift allegedly had a very recent fling with, was also spotted at multiple shows. While the two have yet to confirm their breakup, insiders have reported that there is no bad blood between the alleged ex-couple.