All Black Outfit Ideas That Still Serve Summer Vibes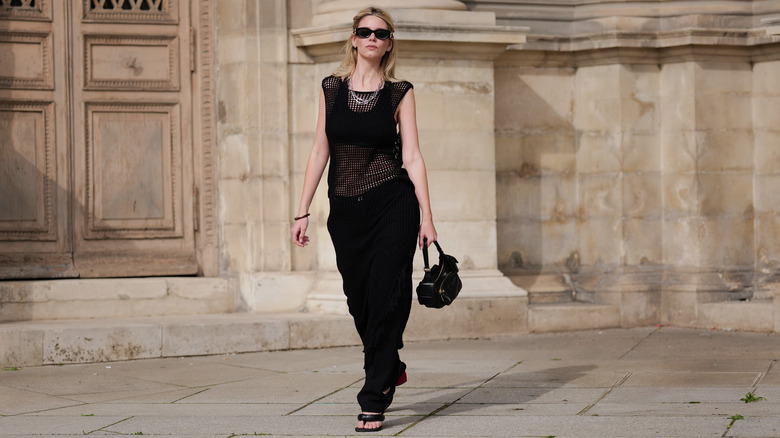 Edward Berthelot/Getty Images
Summer has made its official entrance, and that means it's time to switch to your summer wardrobe. Just because it's summer, though, it doesn't mean you're stuck wearing white, pastels, and neutrals. Whether you're someone who likes to wear black occasionally in the summer or someone who doesn't wear any other color, there are plenty of black summer outfits that will fit your aesthetic.
An all or mostly-black outfit will help you look put together in seconds. Elegant, sophisticated, and classic, black may not be a typical warm-weather color, but it can definitely become one when styled the right way. The only thing you need to be mindful of is that black has the potential to attract more heat, leading you to feel hotter when the sun is beating down. To combat this, breezy summer dresses, linen pants, and shorts should be your go-to.
If you're looking for ways to style your black summer staple pieces, look no further — we've got all the inspiration you need.
Party ready maxi dresses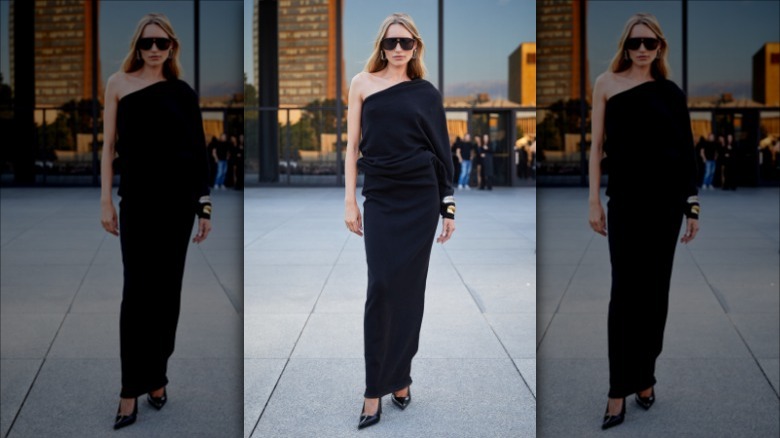 Sebastian Reuter/Getty Images
Looking for a summer outfit that's elegant but won't leave you feeling like a sweaty mess? Maxi dresses for summer like the one above are the perfect choice. If you feel like a black maxi is too dull on its own, search for details like an asymmetric hem or one-shoulder design. Accessories are a great way to make an outfit more interesting, too. Add a pair of statement earrings or a large necklace to add dimension to your look. Simple black heels are always chic, but metallic heels will bring extra glamour to an outfit.
Cutout details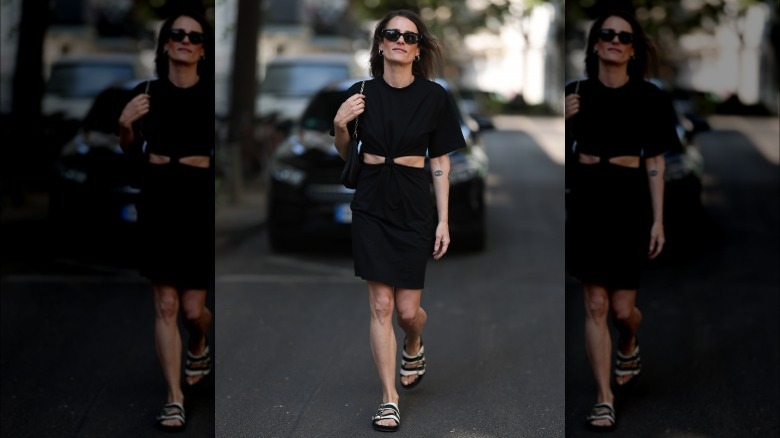 Jeremy Moeller/Getty Images
Hop on the cutout trend this summer with a black cutout dress. Not only will a center cutout help keep you cool (more breathing room, anyone?), but it will also break up an all black outfit, particularly if your dress is longer. The cutout in question doesn't have to be huge. Even just a sliver of midriff will have the same effect and give your outfit extra dimension. Finish your look with sandals and a pair of oversized sunglasses for a casual vibe.
Backless is your friend
We've already established that black maxi dresses are an excellent summer option, but the same goes for black midi dresses. A midi dress that's either backless or features a lower back will look super summery. You don't have to show too much skin, just enough so that your chosen dress doesn't overwhelm you. We recommend choosing some slim sandals in either a metallic or a colorful finish — if you go for gold or silver, you could match your sandals to your jewelry for a cohesive look.
Cover up with a shirt dress
Sometimes, comfort is best, and a shirt dress will give you all the comfort you need on a sweltering summer day. Plus, a shirt dress has the added bonus of covering up your shoulders, a must if you burn easily or are sensitive to heat. Go for '90s-style platform sandals on your feet to give yourself a little bit of height without ruining the comfortable vibe of your look (open-toe shoes will also give you better ventilation if the rest of you is relatively covered up).
Repurpose your party dress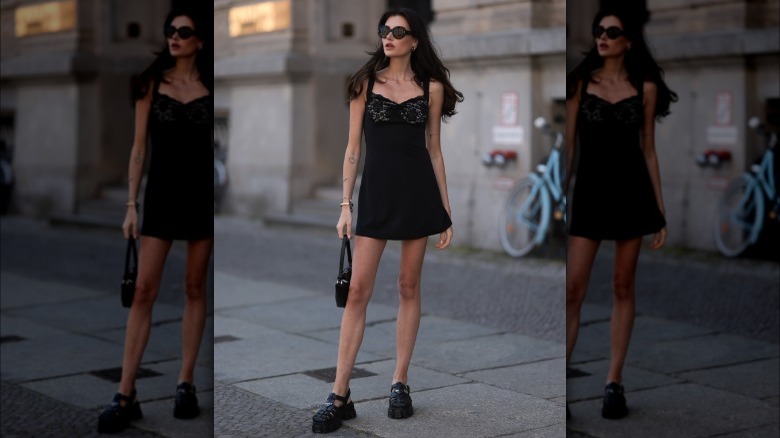 Jeremy Moeller/Getty Images
You wouldn't think a black slip dress would be the basis for a great summer outfit, but it definitely can be. A mini slip dress will look better than a midi slip in this case, as mini dresses have a naturally more casual appearance. From there, grab your smallest bag and a pair of sunglasses, and you're set. Chunky shoes will balance out the delicate look of a slip dress, but go for flat sandals or even sneakers if you don't like the style of chunky shoes.
Understated and pretty
You can't beat a classic sundress — they allow you to put in the bare minimum of effort and still look on point. Ballet flats are one of the most popular summer shoes at the moment because of the balletcore trend, but we don't think they'll go out of style anytime soon. Moreover, the simplicity of this outfit makes it a solid choice for vacation. If you don't want your outfit to look overly simple, add a pretty headband or colorful shoes to upgrade your look.
Change up the neckline
Halterneck dresses are flattering on pretty much everybody and will help bring a different shape to a regular black dress. If you feel confident, a dress with a backless design is an excellent way to add an interesting visual aspect to what is otherwise a plain black dress. If you do choose a dress with lots of elements like a backless design, halterneck neckline, or cutouts, keep the rest of your accessories lowkey, including your jewelry.
Crochet dream
Crochet is one summer material that practically screams vacation vibes, and we love how even the most basic of crochet pieces can look refreshing. As crochet is so summery, sandals would be the best footwear choice to pair with your crochet dress. Crochet dresses can be a solid cover-up option for the beach if you plan to grab dinner and drinks straight after, but can also be dressed up with jewelry and a handbag. Either way, the versatility of a black crochet dress makes it a summer wardrobe must-have.
Keep things 2000s
Cargo pants are another Y2K trend to make a comeback and they are the perfect pant for summer. Many are made from lightweight materials like cotton or even linen, meaning you'll stay cool even on the hottest of days. A crop top always looks good (tying into the big pants/small top theory), but if you don't feel comfortable showing off your midriff then opt for high-waisted cargo pants. For contrast, pair your look with white sneakers or even ones with a colorful design. This will break up your look so it isn't entirely monochrome.
Versatile and fresh
Looking for a way to combat the heat while wearing black? Shorts are the answer. A black t-shirt and shorts are a timeless style combination that can be played around with to fit a range of occasions. Oversized t-shirt with denim shorts, tailored shorts with a cropped tee — the options are endless. For a look that's something a little different, swap your usual sneakers out for some loafers or even a pair of Mary Janes. The latter works best if your shorts are slightly tailored or pleated instead of more casual denim shorts.
For breezier days
On a summer day where it's warm but threatening to rain or just not quite the temperature for an all-out dress moment, a chic black jacket will save the day. Intentional layering will not only keep you warm but add an effortless vibe to your look, too. The trick is to figure out proportions. An oversized shirt or jacket can look good over a midi/maxi dress, but if your dress is too voluminous it may look a little awkward. Instead, go for a jacket with a slightly cropped silhouette.
Bare your shoulders
Refined and elegant, a strapless black midi or maxi dress is the one thing you should have in your closet. Throw a baggy shirt over the top and pair it with sneakers for a laid-back vibe, or add heels and statement jewelry for a look better suited to formal occasions. However, note that a strapless dress may not be the most comfortable thing to walk around in all day, especially if it's a longer dress. Either opt for a mini length or save the style for shorter events.
Utilize your fall footwear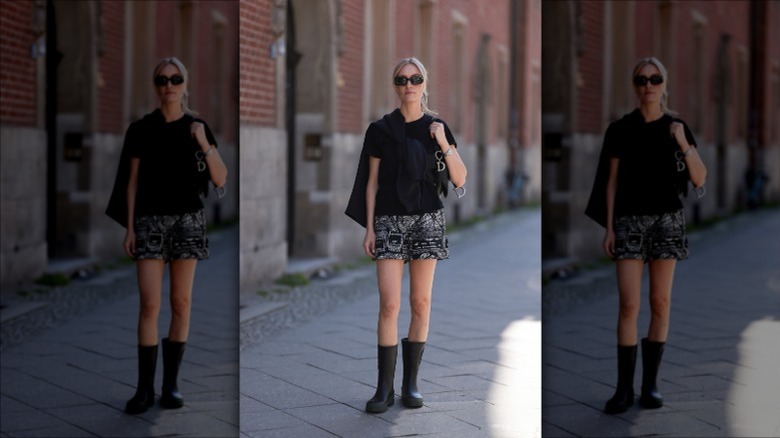 Jeremy Moeller/Getty Images
Shorts and chunky boots may sound like a weird style combination, but the truth is that they can actually look pretty good together. Plus, if you hate your feet being out, sticking to sneakers and boots and pairing them with shorts is a solid way to still have your own summer style. Note that if your boots are too high and your shorts too short the whole outfit will look off, so we recommend sticking to ankle or calf length boots and shorts that have a longer leg seam.
Take a trip out west
Cowboy boots are an unexpectedly dreamy combination with a black mini dress come summer. If you want to stick to all black, there are plenty of black cowboy boots to pick from. An unexpected and fun footwear choice, the street style fashion pack has been wearing their cowboy boots with anything from shorts and crop tops to maxi dresses. A black mini dress is a safe clothing option, but when paired with an out-of-the-box shoe choice it becomes instantly less basic. This look is also ideal for festivals and concerts.
When running errands
Finally, as mentioned earlier, you can't go wrong with a big pants/small top combination. However, if you want to add a little something extra, throw a breezy, relaxed-fit shirt over the top. If you're firmly against colors, look for a black shirt that has some sort of texture to it, like seersucker fabric or even stripes. Changes in fabric will bring new depth to your look and ensure it doesn't look flat. Either sandals or sneakers would go well with this outfit.