Royal Family Members Who Embraced A Signature Hairstyle
Wpa Pool/Getty Images
Heavy is the head that wears the crown. Maybe that's because of the arsenal of products needed to keep a royal coif looking picture-perfect despite heat, humidity, wind, rain, or a bejeweled tiara. Or maybe it's because their heads are filled with so many rules about how they can and, more importantly, cannot wear their hair. A royal's hair is her crowning glory, and whether it's kept short and tidy, long and flowing, or in an elaborate updo, you can bet there won't be a strand out of place. In fact, it's part of the royal rules that hair must be neat and natural. There are even hairstyles that the royals are forbidden from having, which is why you won't see Princess Catherine rocking a platinum ponytail anytime soon. 
No, you'll never see a royal without perfect hair, which explains why there are so many signature, iconic styles among the women of the royal family. Once they find something that works, they tend to stick with it. From the late Queen Elizabeth II's short curls to the Princess of Wales' bouncy blowouts, their styles are "inhairently" classic.
Princess Diana's do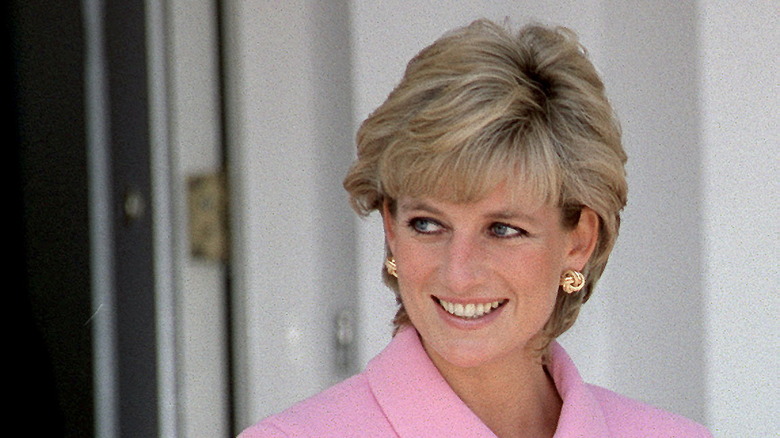 Tim Graham/Getty Images
One of the most photographed women in history, the stunning transformation of Princess Diana from a quiet school teacher to "The People's Princess" happened right in front of our eyes. A large part of that transformation had to do with her hair. Diana favored shorter styles throughout most of her adult life. As a 19-year-old bride-to-be, her dirty blonde hair was often layered, her big blue eyes peering out from under long bangs and earning her the nickname "Shy Di." 
Her style remained the same throughout the early years of her marriage, give or take a few inches and a highlight or two. But the choppier her relationship with her husband became, the choppier her hairstyle did, too. Finally, at a photo shoot for British Vogue in 1990, she asked famous stylist Sam McKnight to chop it off, and her iconic "textured pixie" look emerged. Sporty, sophisticated, and sassy, the look seemed to reflect the attitude of the princess as she struggled to reclaim her life. 
Both the style and her relationship with McKnight lasted longer than Diana's marriage. The princess separated from Charles III in 1992, and they officially divorced four years later. McKnight told Today that he thought Diana was "really coming into her own" at the time of her tragic death in 1997. "She had developed this style of her own that was stripped of all the sort of artifice of the '80s," he said. "She was just becoming this amazing, confident, modern woman."
Camilla's classic bob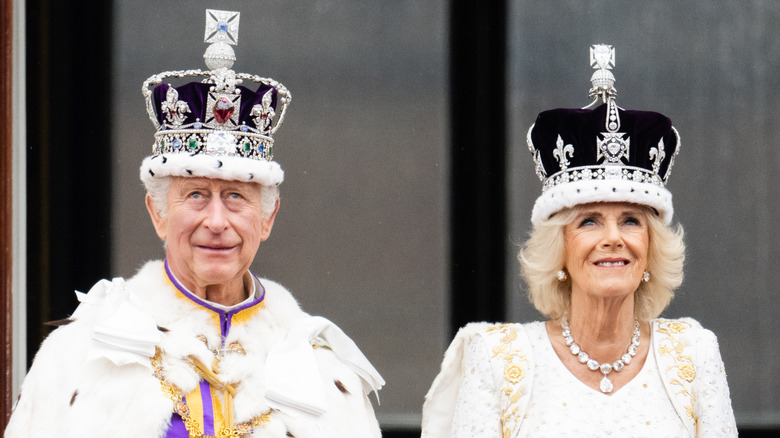 Samir Hussein/Getty Images
The feathered bob, a look made popular in the 1970s by stars like Farrah Fawcett, has been worn by Camilla Parker Bowles basically since then. Rather than give up her iconic look after becoming Queen Consort, Camilla gave it a glow-up in the form of a shorter length and a more flattering shade of blonde. Camilla's stylist, Jo Hansford, spilled her hair color secrets in an article in the U.K.'s YOU Magazine, explaining that she has been gradually changing the color from its former cool shade of white to its warmer, honey hue. Hansford told Daily Mail that Camilla "looks glamorous," adding, "But she doesn't try to look glamorous – that's not her thing at all." 
That's been apparent since Camilla first came into our collective consciousness with her outdoorsy style, which was in sharp contrast to the stylish and always-put-together Diana, Princess of Wales. The Queen Consort was once often photographed with unkempt hair, little to no makeup, and frumpy clothing. It seems that she's royally stepped up her effort. 
The Queen's curls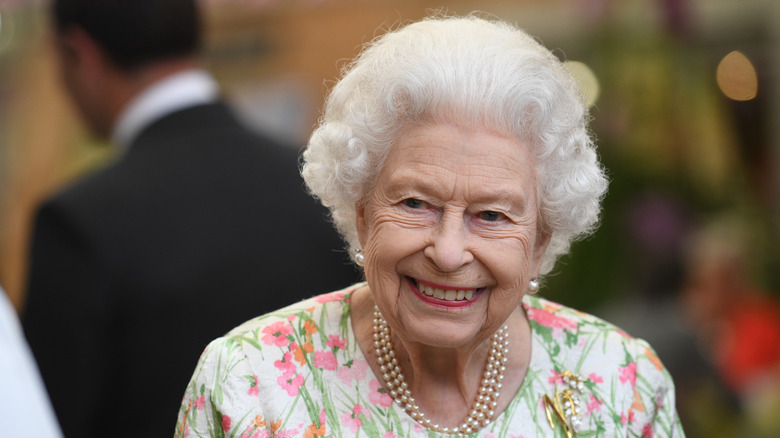 Wpa Pool/Getty Images
One of the most recognizable things about the late Queen Elizabeth II, besides her corgis and colorful clothing, was her hair. Thick and naturally wavy, the queen's hair hardly changed for more than 70 years. It wasn't about being stuck in a fashion rut as much as it was about practicality and presenting a specific image. When you saw her, whether in person, in a photo, or on a souvenir acquired in Great Britain, the style left no doubt that you were looking at the Queen of England. Favoring function over fashion, the queen's signature look was swept back and off of her face, with a few curls at each side. It was reportedly the ideal perch for a crown and allowed the queen to carry out her royal duties with continuity of appearance. 
Bethan Holt, The Telegraph's fashion director and author of "The Queen: 70 Years of Majestic Style," told the magazine, "It's easy to take the Queen's hairstyle for granted because very little changed during her reign, but every small decision, from the colour to the shape of its form, all adds up to this iconic image that will forever be identifiable as Queen Elizabeth II."
The Princess of Waves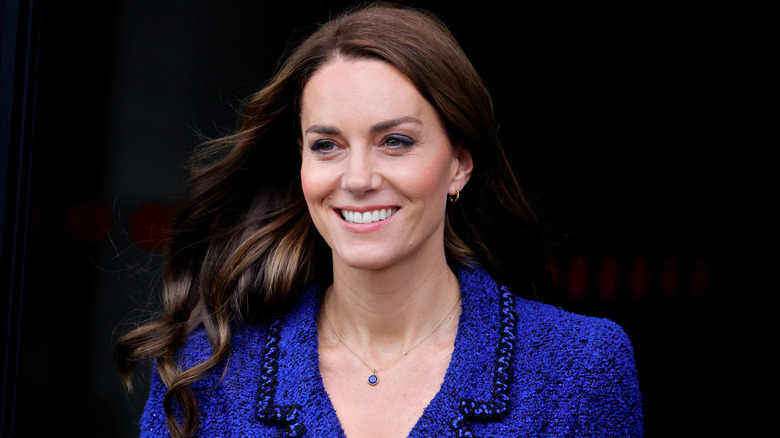 Max Mumby/indigo/Getty Images
The Princess of Wales is also the princess of waves. Her high ponies, low buns, and half-updos all start with her signature loose, bouncy curls. Long and luxurious, Princess Catherine's mane may look effortless, but it apparently takes more than a little skill. Her personal hairdresser, Richard Ward told People that he achieves her signature style through what he calls the "Chelsea Blow-Dry," a technique he perfected prior to having a princess for a client. "It is beautifully finished, frizz-free, shiny hair," Ward said. It's also quite labor-intensive. Joel Silverman of London's Jo Hansford salon told Daily Mail that the process involves blow-drying hair in small sections with a big round brush before finishing it off with velcro rollers. 
Of course, any good style starts with hair that's healthy and not overprocessed. And although Kate Middleton may have gotten a new hair makeover with some highlights since becoming Princess of Wales, she's known for keeping her hairstyle simple and simply stunning. 
Meghan's messy bun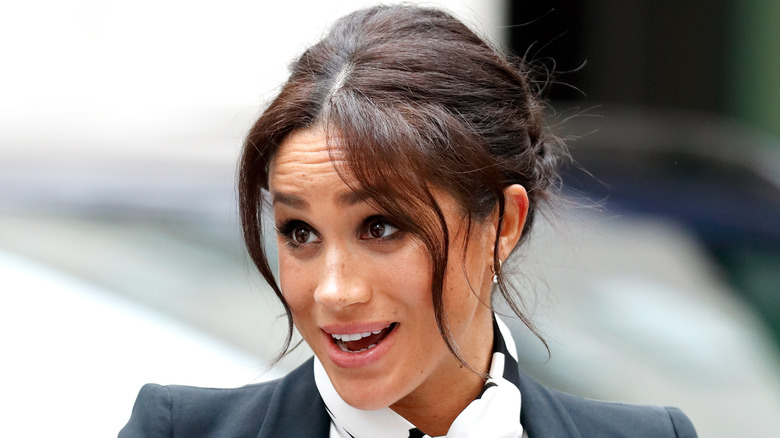 Max Mumby/indigo/Getty Images
Meghan Markle has been bending royal rules since marrying into the monarchy. Most famously, she's continually pushed the envelope on protocol, including defying the neat and tidy hairstyles with her signature messy bun. Proving that she's not your everyday duchess, Meghan wore the undone bun at her wedding reception, which raised a few eyebrows for its decidedly untraditional and modern vibe. Hairstylist George Northwood told British Vogue that he was Meghan's "mane" man, saying that he worked with the Duchess of Sussex to create the look. "We always wanted it to be refined imperfection – that's what sums her up," he said. 
That could also sum up the strained relationship Meghan and Harry have with the rest of the royals. In a situation even messier than Meghan's iconic hairdo, the Duke and Duchess of Sussex stepped down from their royal duties, preferring instead to live in California with their two children, Prince Archie and Princess Lilibet. With her laid-back look and perfectly imperfect style, Meghan seems to have finally found a place she can relax and let her hair down.
Like mother like daughter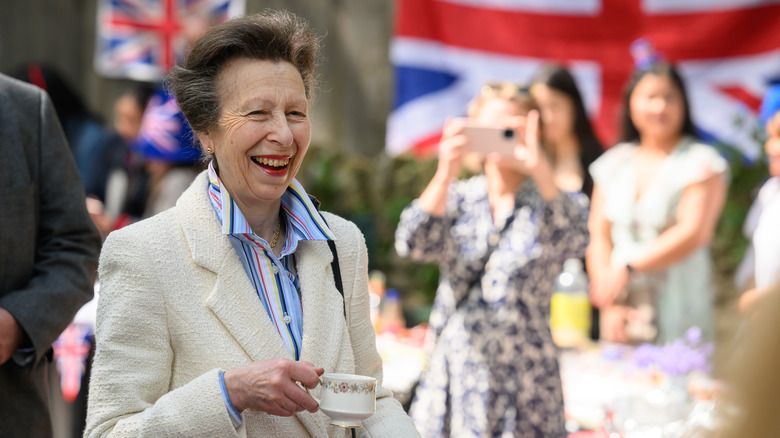 Leon Neal/Getty Images
Like her mother Queen Elizabeth II, Princess Anne has embraced a no-frills, practical style that's remained virtually unchanged throughout most of her life. The gravity-defying updo features a simple twist in the back with a voluminous top that easily secures hats and other royal headpieces. Like all of the royal styles, the princess's look was painstakingly recreated for the hit series "The Crown." According to People, Erin Doherty, the actress who portrays the queen's only daughter in Seasons 3 and 4, said that recreating the regal hairdo could take as long as two hours. When the princess heard that news, she was reportedly incredulous, replying that it takes her only "10 or 15 minutes."
Maybe it's that efficiency that's kept Princess Anne from changing her dated bouffant, but there might be more to it than that. Claudia Harrison, who took over the role of the woman referred to as "the hardest working royal" in Season 5, speculates that it has to do with her approach to her responsibilities. In an interview with Marie Claire Australia, Harrison mused, "She's not there to decorate a room, she's there for a job, and I think her hair is part of that."
Beatrice has a flair for hair accessories
Wpa Pool/Getty Images
Her vintage wedding dress and tiara may have been on loan from the queen, and her hair color may have been inherited from her mother, but the oldest daughter of Prince Andrew and Sarah Ferguson has a style that's all her own. Princess Beatrice is known for her long strawberry tresses that she often wears in loose curls, but her true signature look is the array of statement-making hair accessories that perch atop her head. The princess has a fascination with fascinators, hats, and headbands. The bolder, the better. One of the most controversial was the pink Philip Treacy hat she wore to the wedding of the Prince and Princess of Wales. While many ridiculed the fascinator, it was the princess who got the last laugh. The hat that launched its own Facebook page, according to the Los Angeles Times, pulled in an impressive estimated $109,435 in an eBay charity auction. 
As a non-working royal, Beatrice has a bit more freedom to express her personal style, and she has no problem doing it. While some of Beatrice's looks may be considered inappropriate, overall, the princess does seem to have a head for fashion.
Margaret's glamour girl style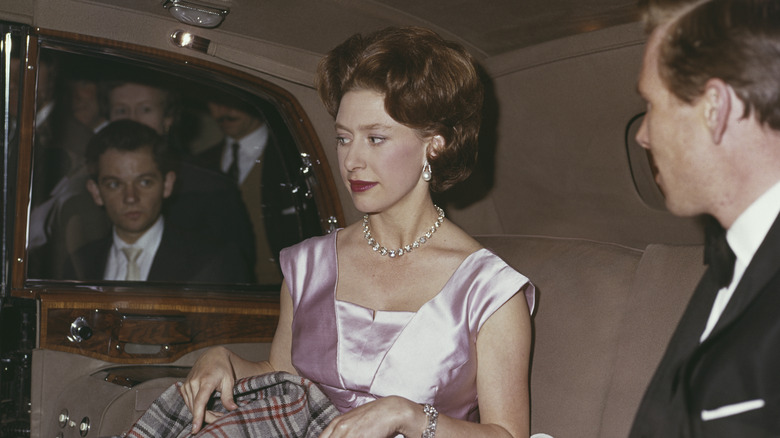 Keystone/Getty Images
Queen Elizabeth II and her younger sister, Princess Margaret, may have shared the same royal lineage, but certainly not the same lifestyle. Margaret was seen as glamorous, dramatic, and even a bit frivolous, while the queen was traditional, stoic, and practical. People once described the princess as a "royal rebel" with her chain-smoking, cocktail-drinking, party lifestyle that included a fair share of failed romances. Her innate sense of fashion made Margaret a woman to watch, and she gave the people something to see, including a slightly scandalous photo taken by her husband where she sits in a bathtub wearing nothing but a tiara. 
Margaret may have flown in the face of tradition, but she was always a trendsetter, especially when it came to her hair, which she kept stylishly coifed with weekly trips to the hairdresser.  Although she wore it in elegant French twists and experimented with both layered bobs and flirty bangs, her signature style was an elegant bouffant that didn't take itself too seriously. Similar to her sister's "heir-do" but with less structure, it was a classic look that could be styled in many ways to match Margaret's many moods. 
Fergie sees red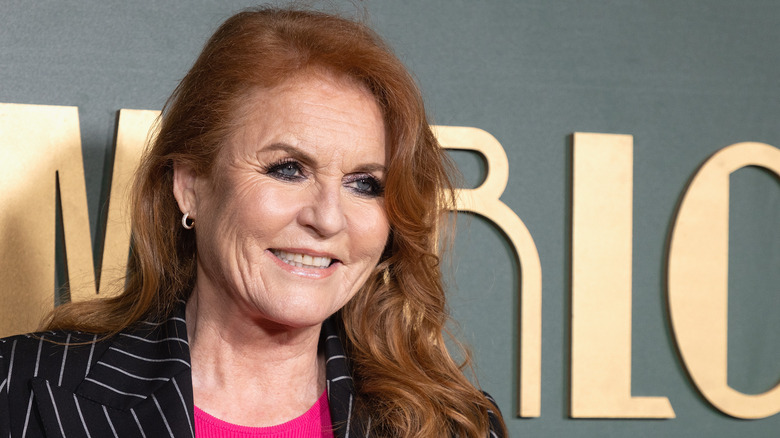 Jo Hale/Getty Images
Her royal title may have changed after her divorce from Prince Andrew, but Sarah Ferguson's trademark red mane remains the same, perhaps because it suits her so perfectly. The color says strong, sassy, fiery, and fun — all qualities that the Duchess of York simply radiates.
Fergie, as she was nicknamed by the press, gained a reputation among the royals for being a little wild, and her hair followed suit, making her an easy target for the press. They made fun of her weight and her style (or perceived lack thereof), ruthlessly criticizing her for not presenting in a proper royal way. Rather than let all of the criticism destroy her, the duchess held her red head high and decided to write her own story, literally. Today, Fergie is a successful author, having penned children's books, historical fiction, and her own tell-all memoirs, "My Story" and "Finding Sarah."
Eugenie's lovely lob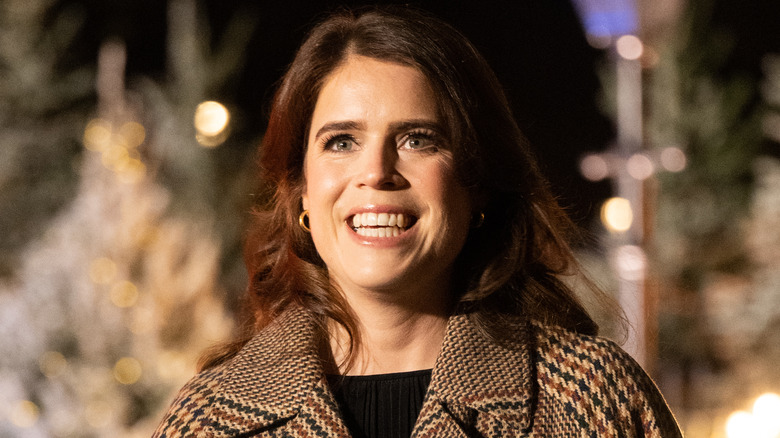 Samir Hussein/Getty Images
She shares her sister's love of playing dress up with hats, but Princess Eugenie keeps things a little simpler than her famous sib when it comes to what's underneath. The youngest daughter of the Duke and Duchess of York has worn her brown hair in a stylish, shoulder-grazing lob for years. The beauty of the style lies in its versatility. It can be worn in beachy waves or sleek and straight, as the princess seems to prefer these days. It's long enough to wear in an updo or a low bun, and it can vary in length by a couple of inches without losing its shape. 
Although the princess once told Harper's Bazaar, "I love trying new looks," she's kept her haircut relatively unchanged for several years. However, Eugenie hasn't been as committed to the color. Her beautiful brunette locks have varied in hue from a rich, deep chestnut to a lighter shade of brown to the auburn shade she wore for her 2018 nuptials to Jack Brooksbank. Today, the royal mom of two is keeping it real with her beautiful, natural brown. 
Signature style starts early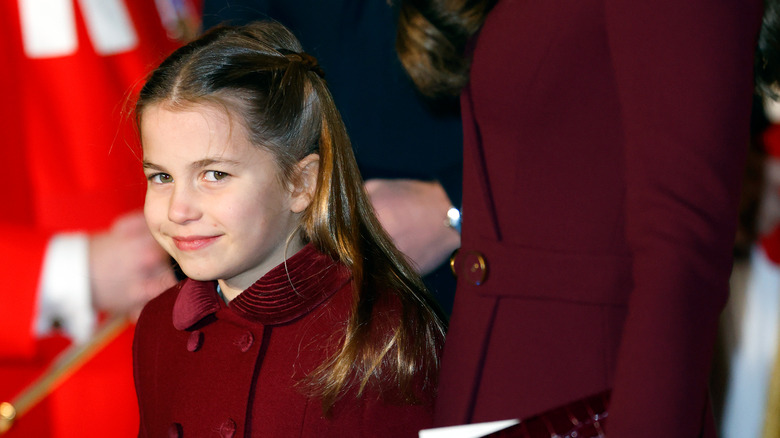 Max Mumby/indigo/Getty Images
Finding your signature royal style starts young, and Princess Charlotte seems to be well on her way with her go-to do that's polished enough for the palace yet perfectly suited to playdates. The simple style starts with a different take on the half-up, half-down look often favored by her fashionable mother, Princess Catherine. The sides of Charlotte's hair are sectioned off and loosely French braided (plaited) before being gathered and held together in the back with a ribbon.
The style is sweet in its simplicity, although Catherine famously admitted during a visit to Cumbria that hair braiding is not one of her royal skills. According to Harper's Bazaar, she told an onlooker, "I tried to do a plait on Charlotte this morning, and it didn't really work very well." Prince William isn't much help either. People reported that on a royal outing, the prince was joking with another dad about the challenges of trying to style their daughters' hair. "Never try to do a ponytail!" William commiserated. "Nightmare."