Co-Parenting Might Be The Messiest Aspect Of Kim Kardashian And Kanye West's Split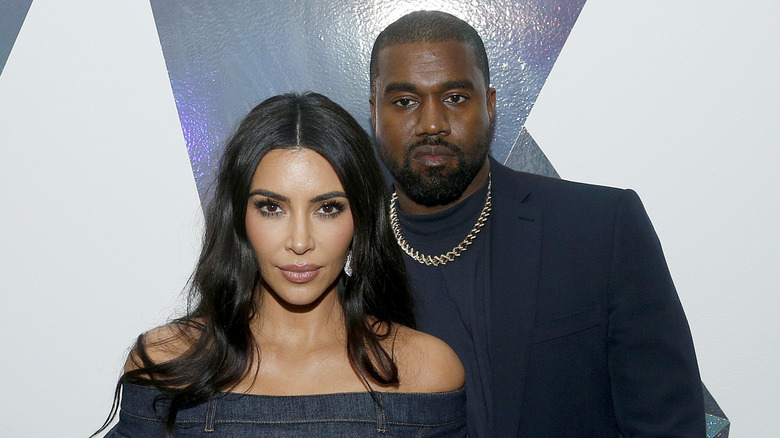 Lars Niki/Getty Images
Co-parenting with an ex can be emotionally draining enough on its own. But co-parenting with an ex while the whole world watches is another level of frustration and chaos entirely — something exes Kim Kardashian and Kanye West are learning on a visceral level following their long, drawn-out, and highly publicized divorce that started back in 2021. For these A-list stars, everything about their split was larger than life. 
In addition to both partners' global notoriety, the estate they had to split was far larger than the average family's. Business mogul and reality TV star Kardashian's net worth is nearly $800 million, while rapper and Yeezy founder West's net worth is in the billions. They also share a relatively large family of four with children North, Saint, Chicago, and Psalm. 
But out of all of these Icarian circumstances of a relationship that began, blossomed, and faded under the limelight, the most difficult challenge seems to be ensuring their four kids remain safe, happy, and healthy.
Kim Kardashian and Kanye West's years-long split in summary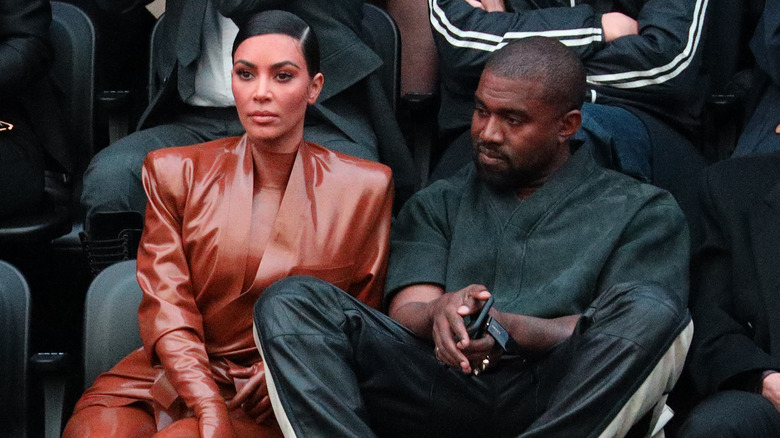 Pierre Suu/Getty Images
Kim Kardashian and Kanye West's complete relationship timeline is a bit hard to follow, to say the least. The two sparked media attention in 2010, had their first child, North, two years later, and finally tied the knot in 2014. The couple would later have three more children amid "Keeping Up with the Kardashians" premieres, West's musical career, and both parents' respective brand launches and tabloid fodder sprinkled throughout their time together.
This level of fame would be enough to make anyone wonder about its effects on the couple's four young children — their parents' highly publicized divorce in 2021 being no exception. Shortly after their split, Kardashian had to put her foot down following online attacks from West, who posted on Instagram asking his fans what he should do about his daughter, North, having a public TikTok account against his wishes. 
One year later, West took to social media to share his qualms about his third child, Chicago. The "College Dropout" creator posted a video on Instagram accusing the Kardashian family of purposefully excluding him from Chicago's birthday celebrations, forcing a stunned Kardashian to refute these claims, saying that not only was West given the party's location, but he was very much in attendance (via Complex).
Kim's tired of having to clean up Kanye's messes
The drama circulating Kardashian and West's relationship and subsequent co-parenting seems to fly in the face of a divorce that, on paper, looked fairly amicable. Per Entertainment Tonight, the stars' divorce settlement stated that Kardashian and West would share joint custody of their children, with West providing $200,000 a month in child support. Additionally, the couple agreed to use mediators for parenting disputes.
However, real life proved to be far messier. On top of his social media posts, West has been outspoken about his feelings toward the divorce in several tracks released post-split, including a feature on Pusha T's "Dreamin of the Past," in which West raps, "When Daddy's not home, the family's in danger." In West's track "True Love," he references his visitations with his kids: "When I pick 'em up, I feel like they borrowed. When I gotta return them, scan 'em like a barcode."
Meanwhile, Kardashian continues to raise the kids in the Calabasas mansion that the couple first set eyes on in 2013.The mom of four shared her feelings in a "Kardashians" confessional, saying, "I still feel the need to not talk about it and protect it from my kids and I always will feel that way. I used to spend hours and hours and hours of my day as the cleanup crew [for Kanye]. I just don't have that energy" (via PopSugar).