Kate Middleton's White Barbie Heels Win The Summer's Hottest Shoe Trend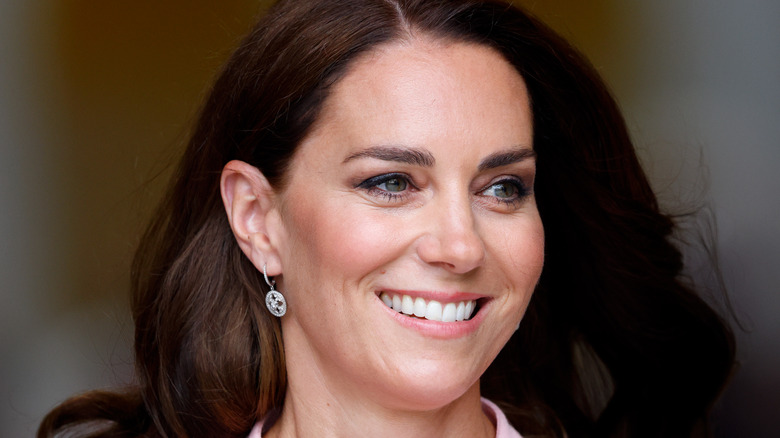 Max Mumby/indigo/Getty Images
We may receive a commission on purchases made from links.
Let's face it: we're all Barbie girls living in a Barbie world, eagerly anticipating the summer's hottest (and undoubtedly pinkest) film by Greta Gerwig, "Barbie" — and yes, that could include at least one member of the royal family, too. Kate Middleton was spotted more than once rocking summer trends that Barbara Millicent Roberts would be proud to wear, even inspiring the actress playing the film's titular role to follow suit. 
After all, how can one not be excited for a Margot Robbie and Ryan Gosling vehicle promising to cater both to our nostalgia and existential dread? Sneak peeks of the film have revealed stunning bubblegum pink and porcelain white ensembles that seem to have stepped straight off a Barbie doll circa 1985. They're the clothes we wished we could wear while we played with our dolls as kids, but who's stopping us from rocking those same trends now? 
No one, that's who — the "Barbie" color palette and style is the perfect summer trend that Kate Middleton, Princess of Wales has already mastered. Here's how you can get the look, too.
A vision in baby pink and white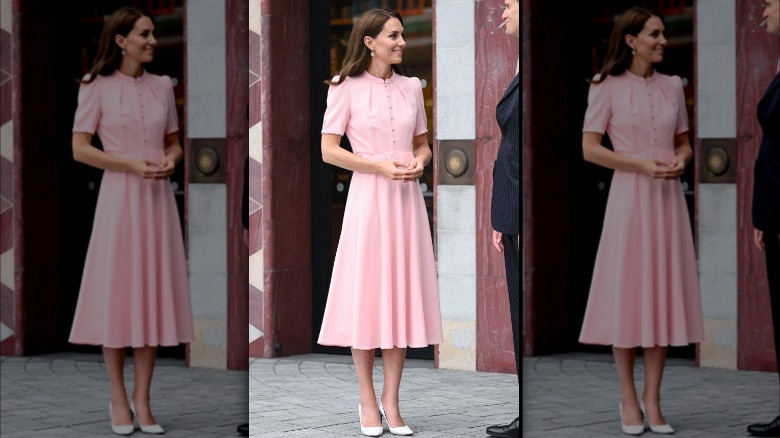 Karwai Tang/Getty
On June 27, just under a month away from the "Barbie" film release date, Kate Middleton paid a visit to the Young V&A (Victoria and Albert) Museum in London. The museum is designed specifically for children to young teens, and her visit was in honor of the museum completing its renovations and opening new galleries.
Kate donned a Beulah midi dress that looked like it belonged in a Barbie springtime collection. It featured dainty buttons centered down a high-neck bodice with a mock collar, puffy sleeves, and a wide, matching belt around the waist. The light pink hue complemented the royal's dark, wavy locks and understated makeup, but the real essence of Barbie was all in the shoes. 
The Princess of Wales paired her Beulah dress with white pumps with a pointed toe, a favorite of her's that she's been seen wearing more than once, proving yet again that she is a master at recycling her most iconic looks.
Barbiecore is all the rage this season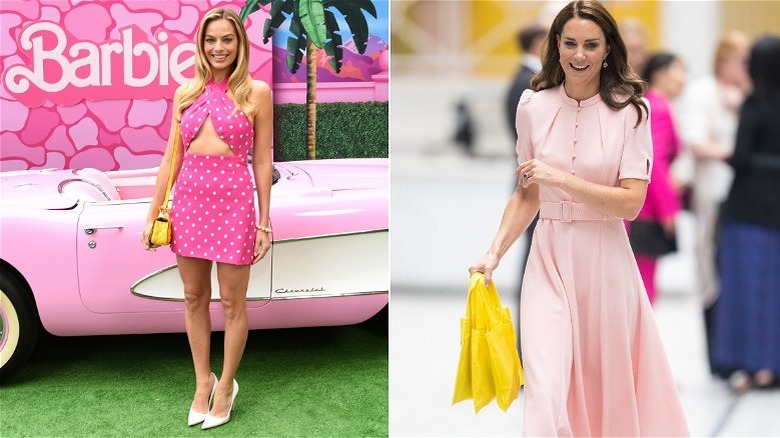 Jon Kopaloff & Samir Hussein/Getty & undefined
While Kate Middleton hasn't explicitly stated whether she plans to see the film, her shift to Barbie pinks and whites hasn't gone unnoticed by Barbiecore fans worldwide — even Barbie herself has followed the princess' style. At a photo call, "Barbie" star Margot Robbie rocked a polka-dotted custom Valentino dress inspired by an actual Barbie doll circa 2013. Paired with her pink and white mini dress? White pumps, naturally. 
Indeed, pumps are coming back in style this season, proving that you can take the Barbie Girl out of the Barbie World, but you can't take the Barbie World out of the Barbie Girl. But it's not just white pumps. Robbie sent another unexpected fashion trend soaring with an iconic western Barbie outfit, though it's unlikely we'll see Kate rocking that particular look (although she'd undoubtedly look amazing). 
You can rock your own Barbiecore look by pairing pink dresses, skirts, or, yes, even bedazzled flare jeans for under $40 with a pair of Elisabet Tang slip-on stilettos. If you want even more Barbie flair, you'll be pleased to know the pumps also come in hot pink patent leather. Now come on, Barbies, let's go party.