Ryan Seacrest Couldn't Stay Away From Live For Too Long (Surprise, Surprise!)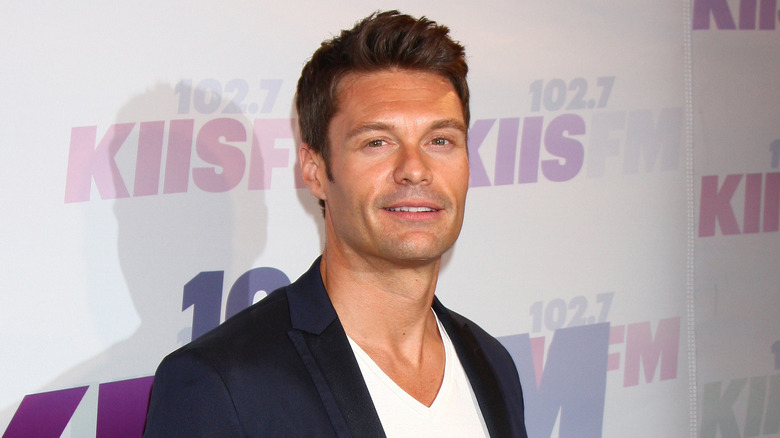 s_bukley/Shutterstock
After appearing on "Live with Kelly and Ryan" for six years, Ryan Seacrest announced in February 2023 that he would be giving up his co-hosting duties with Kelly Ripa. "When I signed on to host Live in 2017, it was meant to be for three years, but I loved the job and working with Kelly so much that I extended my time," he shared in an Instagram post. 
Always the busy guy, he also explained what he would be doing in lieu of waking the world up via early-morning TV. "I'll be ... shoot[ing] the 21st season of 'American Idol' in LA, continue my radio show on KIIS-FM and 'Dick Clark's New Year's Rockin Eve,' and focus my summer on opening three more Ryan Seacrest Foundation Studios in pediatric hospitals across the country."
Of course, he couldn't completely leave the show behind, and Seacrest promised fans he would return as a guest host in the future. Apparently, that future is now. Fans may have been surprised to see Seacrest back in his co-host chair this past week, bantering back and forth with Ripa. But despite the name "Live" in the title, these segments with Seacrest were pre-taped before his official leave from the show, in anticipation of the show's summer break.
You'll be seeing more of Seacrest on Live this summer
The current line-up for "Live With Kelly and Mark" includes Kelly Ripa and her husband, actor Mark Consuelos, as co-hosts. The duo are still shooting live broadcasts for the daily morning show, but they know in advance when they'll be taking days off. This is why you'll continue to see Ripa and Ryan Seacrest at the helm of future summer shows. His pre-recorded episodes will randomly air during the season. 
And while no dates have been announced as to when Seacrest may return for an actual live episode, you can be sure there's at least one in the future given how much the star loved his job. When Seacrest said goodbye during his final episode of "Live" in April of this year, he shared his gratitude and love. "You took this L.A. stranger and made him a part of your family and welcomed me into this well-oiled machine," he conveyed. "This is a special place; there's no place like this on television."
In his goodbye post on Instagram, he included a special note for Ripa and the viewers. "I'm going to miss my work wife and all the laughter we shared," Seacrest stated. "I've been grateful to be able to share a cup of coffee with our viewers every day, one of the best parts of the gig." He also congratulated his replacement, Consuelos. "Feel free to remodel my dressing room!" he joked. 
The Wheel of Fortune spins for Seacrest
While the recent summer episodes are the first time Ryan Seacrest has been seen back in the co-host chair, it's not his first visit to "Live With Kelly and Mark." In May, he popped up on the program as an official guest. "There's this fascinating thing I've experienced called time," he told Kelly Ripa, when she asked what he was up to. Of course, if you're at all familiar with Seacrest, you know he never stays un-busy for long. 
It's also entirely possible you may be seeing Seacrest back as a guest on "Live With Kelly and Mark" thanks to his newly announced position as the host of the game show "Wheel of Fortune." In a note posted to his Instagram account, Seacrest shared the news. "I'm truly humbled to be stepping into the footsteps of the legendary Pat Sajak," he wrote. "I can't wait to continue the tradition of spinning the wheel and working alongside the great Vanna White."
Earlier this month, before the announcement, Ripa showed her support for Seacrest taking over "Wheel of Fortune" duties. "He'd be perfect for that!" she told Access Hollywood. "That to me makes perfect sense ... I could see him sliding in there."