Jackie Kennedy Was A Career Girl Long Before It Was The Norm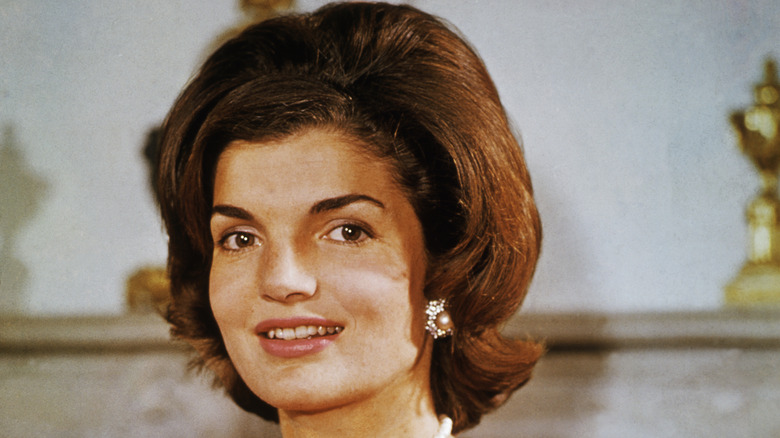 Bettmann/Getty Images
When thinking of Jackie Kennedy's long-lasting legacy, one often recalls trends and designers Jackie Kennedy made popular or what Kennedy's second marriage was really like — but there was far more to the former first lady's life than clothing and marriage. Ever the trendsetter and never one to be tied down to societal expectations, Jackie was a career girl long before it was the norm. 
Most of what we hear of Kennedy's life is relegated to a small time frame directly orbiting her first marriage to former President John F. Kennedy and his assassination in 1963 and her second marriage to Aristotle Onassis until 1975. However, the widow had much life left to live, residing in her Fifth Avenue home in New York City until 1994.
After a long stint in the public eye, Kennedy returned to the passions she was pursuing before her toothy Bostonian beau would become the 35th president of the United States, changing both of their lives forever. Despite the immense tragedy that seemed to follow her throughout her life, her professional pursuits, at least, were exactly how she wanted them to be.
Before Jackie was Jackie O, she was a reporter for a local newspaper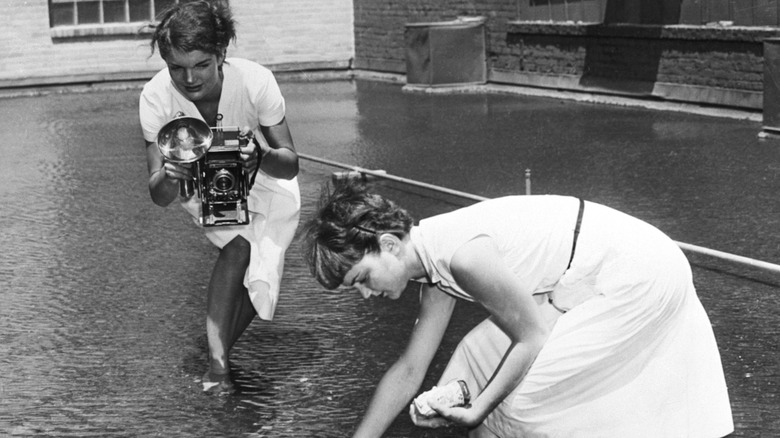 Bettmann/Getty Images
While much of Jackie O's reputation lies on the larger-than-life personas of her two late husbands, the truth is Jackie Kennedy hated the idea of being a housewife. She prioritized independence and education whenever possible, having graduated from George Washington University in 1951, years before entering the public eye as first lady. After graduating, Kennedy worked as a reporter-photographer for the Washington-Times Herald.
Kennedy was no stranger to the powerful and famous. During her time as a photojournalist, the young reporter covered notable figures such as Richard M. Nixon, Dwight D. Eisenhower, and Queen Elizabeth II. After the death of Kennedy's second husband, Aristotle Onassis, the now twice-widowed single woman struggled to find direction and purpose. So, she returned to her first love: literature. 
Town and Country cites a conversation between Kennedy and her friend, Letitia Baldridge, published in Greg Lawrence's "Jackie as Editor: The Literary Life of Jacqueline Kennedy Onassis." Baldridge encouraged Kennedy to capitalize on her many social connections to pursue a career in book editing — and capitalize on those connections she did.
Jackie Kennedy's third life as a private, unseen working editor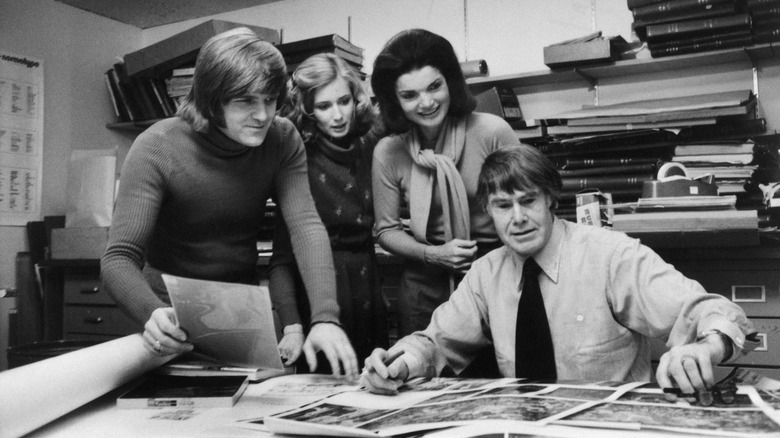 Bettmann/Getty Images
Jackie Kennedy reached out to Thomas Guinzburg, president of Viking Publishing and old college roommate of her stepbrother, Hugh D. Auchincloss, about a potential editing job at Viking. Guinzburg was eager to have Kennedy on the team but suggested a role as consulting editor, given her lack of experience in the field, which Kennedy accepted. She worked part-time for $200 a week until a controversial book surrounding the attempted assassination of Ted Kennedy led to her resignation.
From Viking, Kennedy moved into a role at the Doubleday publishing company as an associate editor, working fewer days a week for a relatively hefty salary of $20,000 a year. Kennedy edited books such as "Moonwalk," "Dancing on My Grave," and "False Dawn: Women in the Age of the Sun King," among others, to wide acclaim. Kennedy prided herself on taking a secondary role, allowing the authors to shine, which the writers greatly appreciated. 
In a written essay responding to feminist Gloria Steinem publicly asking why Kennedy would continue to work on the cover of Ms. magazine in 1979, Kennedy wrote (via Vanity Fair), "Of course women should work if they want to. You have to do something you enjoy. That is the definition of happiness."