Cardi B's Kids Live Incredibly Lavish Lives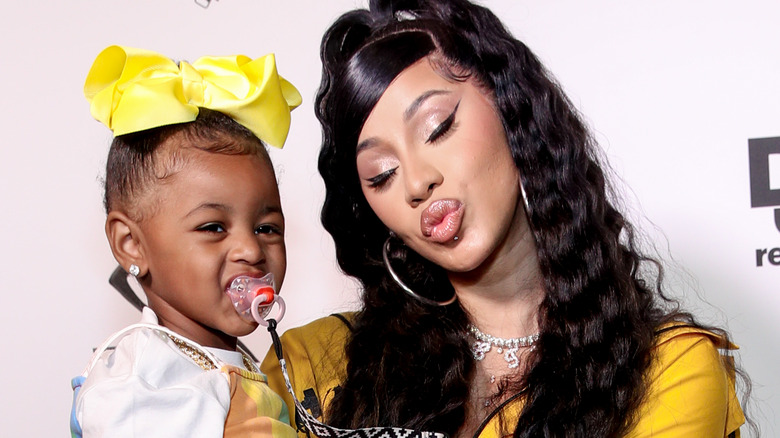 Rich Fury/Getty Images
Cardi B's two kids live extraordinarily lavish lives — and the rapper is the first to admit to raising them á la silver spoon. She and her husband, fellow rapper Offset, are frequently criticized for showering their daughter and son with opulent jewelry, designer clothing, and extravagant birthday parties. But for the "Money" rapper, the luxurious lifestyle stems from wanting to give her kids the childhood she never had. "I know I can be a little extra when it comes to my kids but I ain't really had s*** growing up soooo yea imma ball," Cardi tweeted in September 2022 — and that's exactly what the mom of two has done since the day her kids entered the world.
The couple welcomed their firstborn, a daughter named Kulture Kiari Cephus, on July 10, 2018. Three years later on September 4, 2021, Cardi B and Offset announced the arrival of their son. However, they waited to reveal the baby boy's name and image to the public until April 2022. The Migos rapper shared a photo of their 7-month-old son on Instagram, captioning the adorable (since deleted) post "WAVE SET CEPHUS." From being swaddled in Versace to dripping in diamonds before their first birthdays, read on for a glimpse into the lavish lives of Cardi B's kids, Kulture and Wave.
Even as a baby, Kulture's wardrobe was exclusively designer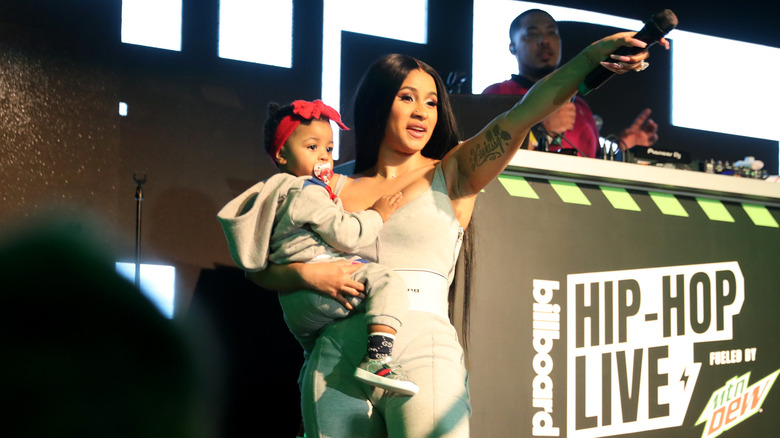 Johnny Nunez/Getty Images
In February 2019, Cardi B posted on her Instagram Story to share a luxury haul of designer baby clothes for Kulture. In the video, the "Bodak Yellow" rapper repeated, "My daddy keep me so fly mami, my daddy keep me so fly" while panning over an assortment of tiny Gucci and Versace pieces. "Aw look at this jacket, I gotta buy me a matching jacket," Cardi gushed about one impossibly small item. The eight pieces of designer infant clothing included two Gucci jackets, two Gucci dresses and one by Versace, a pair of Gucci pants and a Versace sweatshirt, and a Versace bib. In total, the luxury baby clothes retailed for $3,700.
Earlier that year, the doting mom shared a photo on Instagram of Kulture dressed in a Versace onesie on a private jet. Around the same time, Cardi posted a close-up shot of the baby wearing another Versace outfit and a custom rose gold and diamond bracelet on her little wrist. The blinding piece of jewelry was cut in an elegant cursive script that spelled out her name with part of the "K" taking on a heart shape.
Cardi B dropped $80K on diamond jewelry for her 10-month-old daughter
Taylor Hill/Getty Images
A few months later in May 2019, Cardi B shared a post on Instagram showing off a collection of diamond jewelry she purchased for her daughter Kulture, who was 10 months old at the time. The caption of the since-deleted post read, "Just spent a bag on my daughter, you know a bad b**** gonna spoil. If I'm iced out my daughter gotta be too." The "Hustlers" actress added, "YEUP IM BRAGGING CAUSE I BUST MY ASS TO DO SOO."
The post also included a screenshot of a text message exchange, including a photo of nine diamond tennis bracelets and a pair of diamond stud earrings. The message sent by Cardi revealed the exorbitant cost of the precious jewels to be $80,000. "Bracelets are comin out cuteeee and changed the setting to the studs with the bigger pair," the mom of two wrote. She added a request to the recipient, likely her husband Offset, for approval "to wire the 80k."
Kulture received a custom-made $100K necklace when she turned 1 year old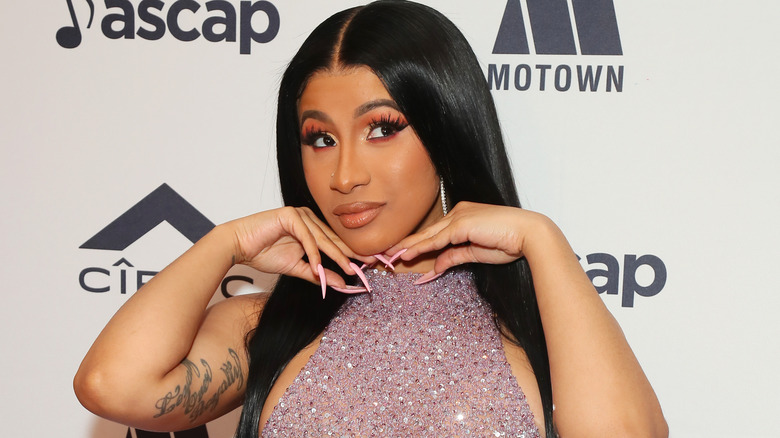 Leon Bennett/Getty Images
Shortly after purchasing $80,000 worth of tennis bracelets and diamond earrings for their baby, Cardi B and Offset gifted their daughter a diamond-encrusted necklace in honor of her first birthday. According to TMZ, the "WAP" rapper commissioned a custom piece from Eliantte, a jeweler who frequently works with celebrities. The bespoke necklace featured a white gold chain with a strand of diamonds and a large diamond-encrusted pendant featuring four characters from the children's show "Word Party," of which Kulture is a big fan. The outlet reported that the bejeweled piece cost approximately $100,000 — and that was just one of the gifts the tot received on her special day.
Cardi B showed off the dazzling necklace on Instagram, captioning a video of the sparkling pendant, "KULTURE new chain ❤️ WORD PARTY its her fav ❤️." The indulgent mom added, "YOU KNOW A BAD B**** GON SPOIL HER."
Cardi B and Offset reportedly spent $400K on Kulture's first birthday party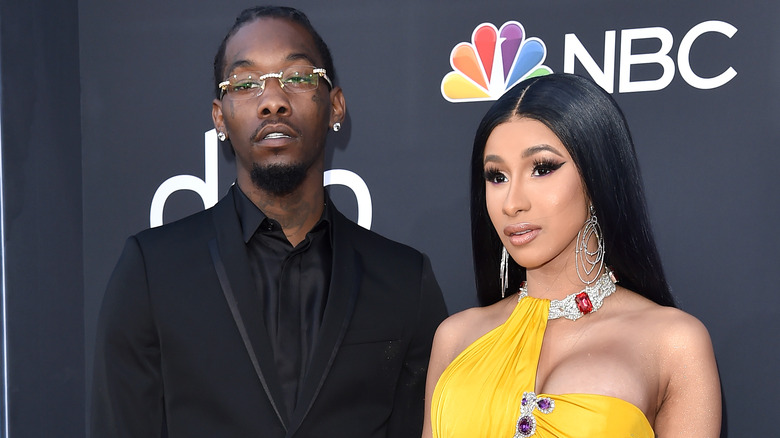 Axelle/bauer-griffin/Getty Images
The extravagance surrounding Kulture's first birthday continued with her lavish birthday bash. Cardi B and Offset threw a party for the little girl in New York City with "Onederful Birthday" as the theme. The excited mom captured the celebration on her Instagram Story, sharing photos of Kulture decked out in an opulent gem-encrusted necklace, diamond earrings, and a stack of sparkling bracelets. Cardi also posted a photo on Instagram showing off her and her tiny tot's matching custom Moschino dresses for the special occasion.
The "I Like It" rapper's snaps of the party setup also included a "Word Party" themed cake and dessert bar, a cloudscape of multicolored balloons covering the ceiling, a Build-a-Bear Workshop station, cookies in the shape of Kulture's face, and a nightclub section for the adults in attendance. Offset also shared a few snaps of the bash on his Instagram Story, including a photo of bags filled with stacks of cash. TMZ reported the cost of the ostentatious gathering to be a staggering $400,000.
Offset gave 2-year-old Kulture a Birkin bag, and Cardi B defended the luxurious gift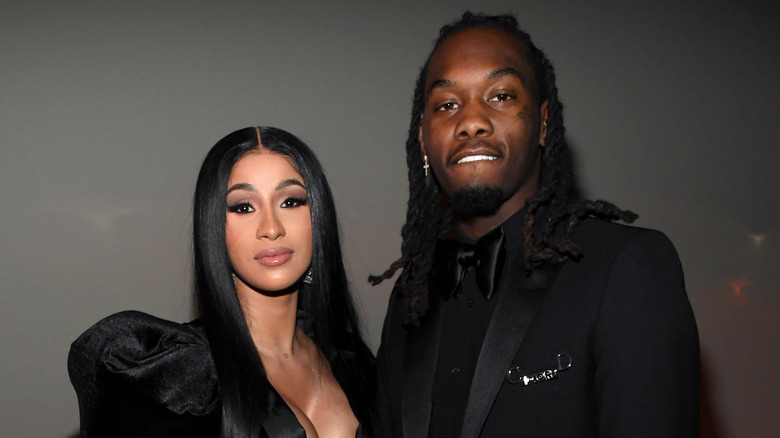 Kevin Mazur/Getty Images
Continuing their tradition of luxurious birthday presents, Offset gifted Kulture with a Hermès Birkin bag in celebration of her second trip around the sun. People criticized the Migos rapper for giving the toddler an expensive accessory that many adults would love to own — could they afford one — and Cardi jumped to his defense on her Instagram Story. "When celebrities buy their jewelry and designer s***, people be like, 'Kids don't care about that. They only care about toys and candy.' Yeah, they only care about toys and candy, but the thing is the kids also go outside," she said. 
The "Bartier Cardi" rapper elaborated, "Kids go to restaurants, kids go to fancy places, celebrity kids, they go do red carpets. If I'm wearing Cha-nay-nay, my kid's having the same same, you know what I'm saying? It's not up to what the kids like," she said. "If it was the kids, they'd be outside in diapers. Because if I was looking like a bad b****, expensive b**** and I have my kid looking like a bum bum, then y'all would be talking s***," Cardi asserted.
Cardi B showed off her 2-year-old daughter's extensive jewelry collection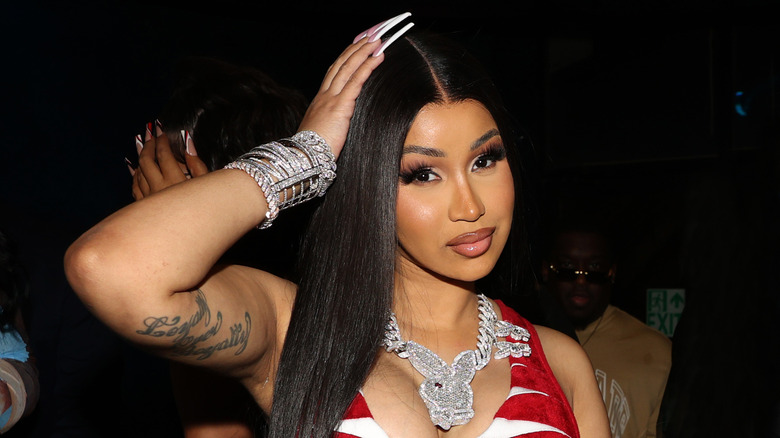 Shareif Ziyadat/Getty Images
In September 2020, Cardi B gave her fans another inside look at her daughter's extensive jewelry collection. Posting on behalf of Kulture on an Instagram account she runs for the little girl, the rapper shared a video captioned, "I'm Icey 🎀." While most 2-year-olds' jewels include plastic Disney princess tiaras and half-eaten candy necklaces, Kulture's assortment of accessories were exclusively diamond-encrusted precious metals. The camera panned over her "Word Party" pendant chain, several Cuban link necklaces, a blinding gold diamond watch, and multiple gleaming pieces featuring Kulture's name in glittering stones. Suffice it to say the collection is wildly lavish for a child.
Posting on her own account the day prior, Cardi shared an adorable carousel of photos showing her daughter wearing a mini Louis Vuitton backpack, diamond stud earrings, and a custom tennis necklace with letter charms dangling from the chain to spell out her name.
Cardi B dropped over $13K on seven designer bags for her tiny tot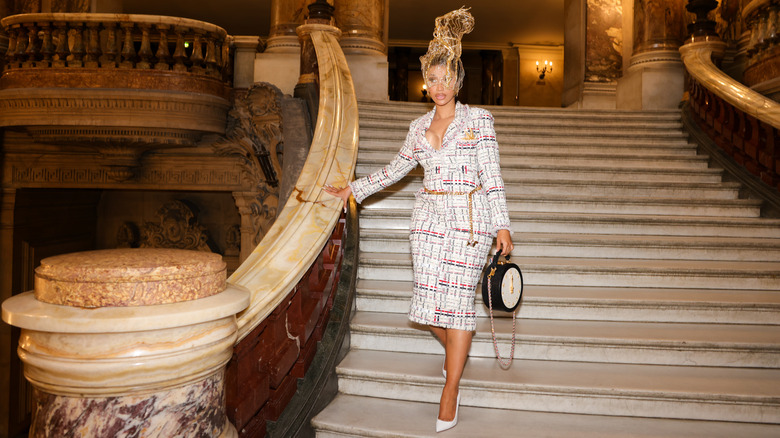 Pierre Suu/Getty Images
In an April 2020 Instagram post that's since been deleted, Cardi B showed her followers the designer loot she brought home for Kulture. The haul included not one, not two, but seven luxury handbags, as well as a Chanel bracelet. The collection featured four Chanel bags (including the Mini Drawstring and Mini Flap purses), three from Dior (namely two Lady Dior bags and one Oblique Jacquard Saddle purse), and one Dolce & Gabbana handbag. 
While panning over the items, the "Finesse" rapper drawled, "Ooo, I went crazy shopping. All for Kulture though, nothing is mine — all KK." Proactively addressing any critics, Cardi added, "What? God gave me a doll for a reason!" The mom of two captioned a second (also deleted) post, "This is what happens when God gives me the baby girl I always wanted. I shop more for her than I do myself."
Even Kulture's sweats are designer brand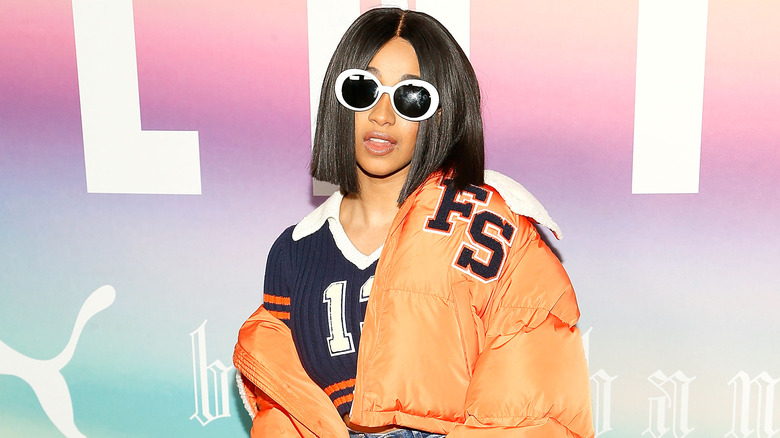 Paul Morigi/Getty Images
As evidenced by several photos of Kulture posted to Cardi B's Instagram, even the little girl's sweatpants are designer brand. A January 2021 carousel shared on Kulture's Instagram account captured the 2-year-old in an adorable pink matching set. While the T-shirt and sweatpants looked like your run-of-the-mill casual clothes, both pieces featured Balenciaga stamped across the fabric. 
In March 2022, the rapper shared an Instagram photo of 3-year-old Kulture wearing a monochromatic black and white outfit including a T-shirt and sweatpants by Balenciaga — clearly one of the family's favorite luxury brands, at least when it comes to children's loungewear. The tot accessorized with multiple gold chain necklaces, her diamond watch, a tiny luxury crossbody bag, and designer sneakers. Kulture may like getting glammed and dressed to the nines with her mom, but even on her more casual days, she's still wearing the finest loungewear on the designer market.
Kulture's third birthday included a $250K Richard Mille watch and an opulent fairy tale themed party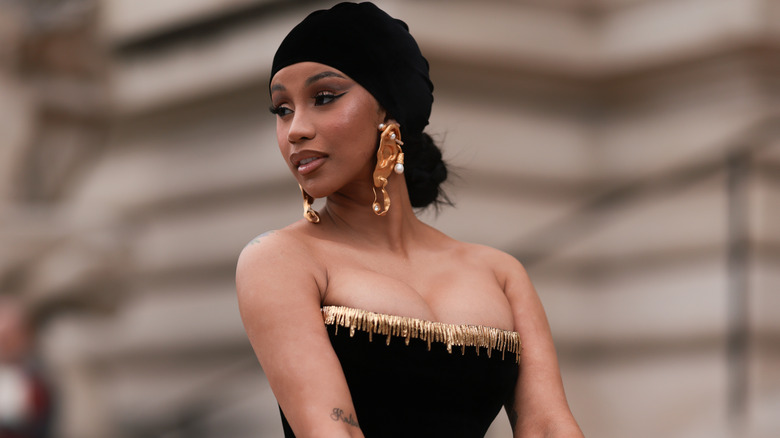 Jeremy Moeller/Getty Images
Offset stays one-upping himself when it comes to presenting birthday gifts to Kulture. In 2021, the rapper gifted the 3-year-old a luxury wristwatch from one of the foremost watchmaking brands in the world, Richard Mille. The premier watch was widely rumored to be valued at a heart attack-inducing $250,000. Additionally, Cardi B surprised their daughter with another bespoke piece of Eliantte jewelry and posted about it on Instagram. The custom necklace featured a diamond-encrusted Cuban link chain with diamond charms in the shape of a Birkin bag, a Chanel logo, a Minnie Mouse head, a cursive letter "K," and a heart with a Minnie Mouse bow wrapped around it. 
But that's not all! The two rappers threw Kulture a fairy tale themed birthday bash that included an entrance by ornate horse-drawn carriage, a pony dressed as a unicorn, ball pits and bounce houses, Disney princesses in attendance, an indoor bowling alley, and more, all documented by the indulgent mom on her Instagram Story.
After being criticized for the extravagant gifts and party, Cardi tweeted, "Listen imma live my childhood dreams thru my kids 🤣😩😩🤣🤣." She doubled down after receiving more pushback, tweeting, "Yes why not ? Princess parties, unlimited toys, vacations and Pools my kid loves the pool and I went to the pool like 5 times in my childhood. Different flavor cereal not just Raisin Bran 😩."
Cardi B's son Wave was dripping in diamond chains before he turned 1 year old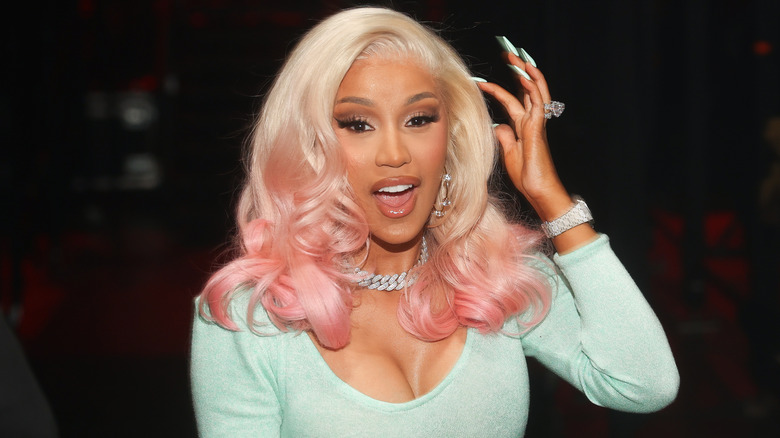 Prince Williams/Getty Images
In the very first photo Cardi B shared of her son Wave, the little tyke was dripping in diamonds. Just 7 months old at the time, Kulture's baby brother wore two diamond tennis necklaces, a pair of diamond stud earrings, and a custom pendant necklace similar to the first Eliantte piece the mom of two had commissioned for her daughter — except Wave's diamond-encrusted pendant was easily double the size of the one hanging from Kulture's "Word Party" necklace. 
According to Page Six, the baby's chain was fashioned by Eliantte as well. It features a diamond-encrusted Cuban link chain, a massive wave-shaped pendant with an enamel Baby Shark surfing the glittering gems, "Wave" spelled in emerald-cut diamonds, and an additional gigantic emerald-cut stone attaching the pendant to the chain. And just a month later, Cardi's youngest child was debuting new drip. By the time Wave turned 8 months old, his parents added a classic diamond-encrusted Cuban link chain to his collection to match those of his sister. Cardi shared several photos of the iced-out baby on Instagram, writing, "BIG WAVE 🌊 BIG 8 MONTHS 🥲😤"
For her fourth birthday, Kulture received $50K in cash and a lavish birthday bash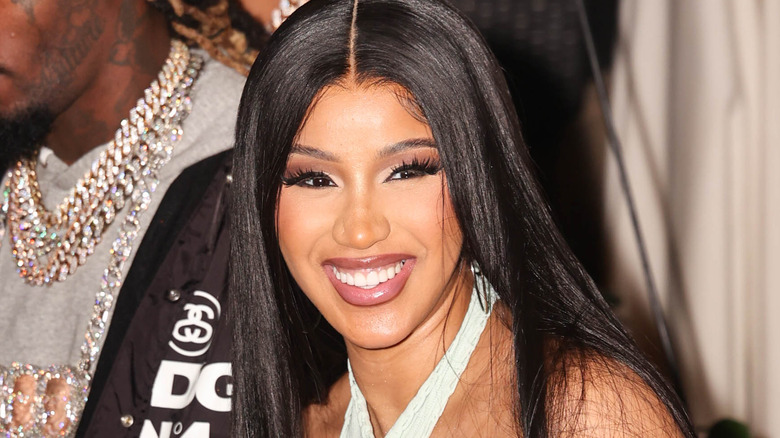 Jose Devillegas/Getty Images
Another birthday, another lavish bash! For Kulture's fourth birthday, Offset bestowed his daughter with a five-figure stack of cash — a cool $50,000, to be precise. Sharing the moment on his Instagram Story, the rapper handed the toddler the bundle of bills and asked her what it was. Kulture replied, "A ticket," which Offset laughed at before explaining, "A ticket is a million, girl. That's 50. Say, '50!.'" 
Cardi B and the Migos rapper also kept up their tradition of throwing an extravagant mermaid themed party for their daughter. The "Girls Like You" rapper shared a glimpse of the party on Instagram with a carousel of photos, including a few of Kulture in an elaborate (and very cute) mermaid costume, which Cardi turned into a mommy-and-me fashion moment with a much sexier mermaid ensemble of her own. The mom of two lovingly captioned the post, "I got your back, your front and sides 💗🎀🧜🏾‍♀️.....BIG 4🥺"
Cardi B and Offset's son celebrated his first birthday with three luxury sports cars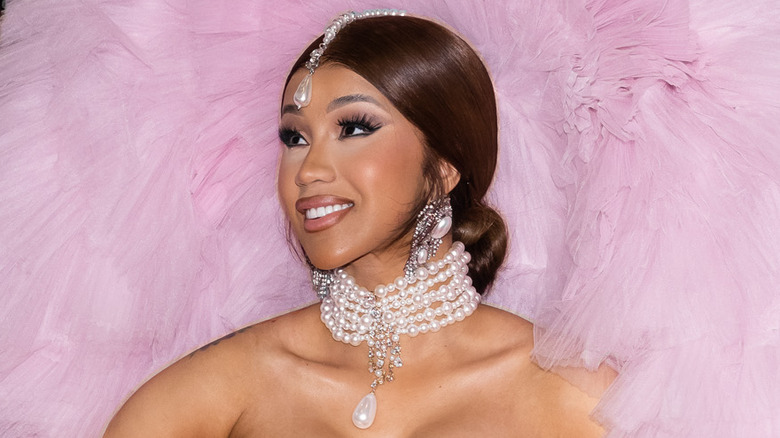 Gotham/Getty Images
Kulture isn't the only Cephus kid whose birthday dreams come true in the form of a flashy party. In celebration of Wave turning 1 year old in September 2022, Cardi B and Offset hosted a race car themed bash complete with three very expensive, very fast-looking luxury sports cars. A carousel of photos shared on the doting mom's Instagram showed the party venue outfitted with elaborate balloon arches, three vibrantly colored coupes stationed at the entrance, a food and drinks bar, slides for kids to play on, and more. Cardi captioned the post, "WAVE, SET, GOOOO!!!!!! 🏁🏎🥳 HAPPY BIRTHDAY to my love."
The award-winning rapper also shared a few clips from the celebration on her Instagram Story, including a video of Wave riding into the party in a bedazzled Baby Shark themed motorized Mercedes for kids. The 1-year-old looked completely enamored with the action unfolding around him as a venue full of family and friends greeted him.
Kulture was gifted a $25K Birkin bag for her fifth birthday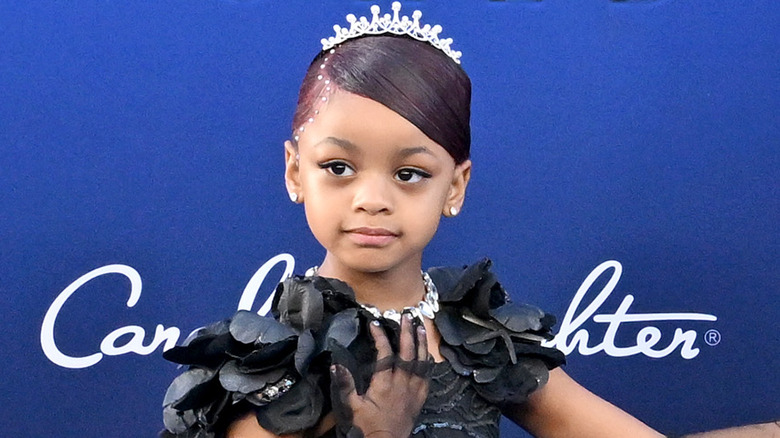 Axelle/bauer-griffin/Getty Images
For her fifth trip around the sun in July 2023, Kulture received another Birkin bag from her parents and a special surprise from a beloved cartoon character. Cardi B commemorated the milestone moment with an emotional Instagram post, writing, "My baby is five🥹....Happy birthday to my pretty princess. It's beautiful seeing my girl grow yet makes me a lil sad that my baby is not my little baby no more," she reflected. 
Photos in the carousel show Kulture dressed in a bubblegum pink ballerina ensemble complete with a matching Birkin bag (valued at up to $25,000), and a video toward the end of the compilation captures an exciting visit from Princess Poppy from "Trolls." Kulture embraces the pink character for a tight hug, then proceeds to animatedly talk to her before going in for another hug and a high five. Cardi noted in her caption that the surprise was a "light lil turn up today till the weekend," implying a larger celebration would take place then — and that it did.
Cardi and Offset threw their 5-year-old a "Super Mario Bros." themed party complete with appearances from Princess Peach, Mario, and Luigi. The bash featured a bounce house and ball pit, pottery painting and book bag decorating activities, slides, a buffet of Caribbean dishes, a multitiered "Super Mario" cake, and more.
Cardi B dropped $20K on a playground set for her kids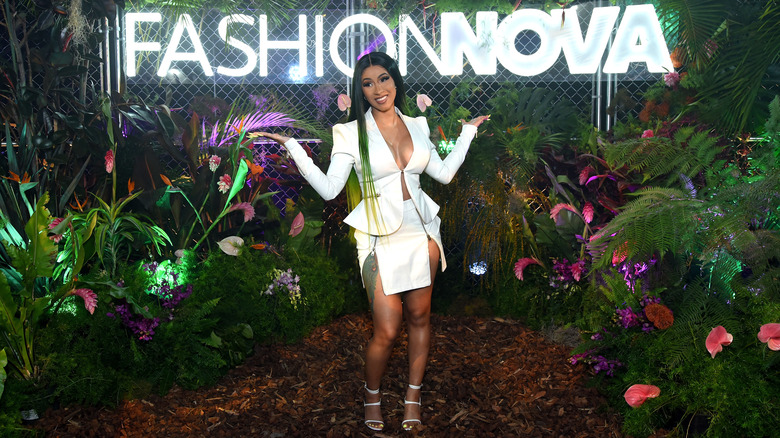 Presley Ann/Getty Images
During a brief conversation with The New York Times for a series celebrating the 50th anniversary of hip-hop in July 2023, Cardi B revealed that she dropped $20,000 on a playground set for her kids — and she had no shame in doing so. In fact, the rapper felt quite the opposite. To her, it was just another signifier of all she's accomplished in her career.
"I just bought this playground set for my kids and it's huge," Cardi told the publication. "It looks insane. And I spent in the 20-thousands for it," she unabashedly divulged. The mom of two continued, "This is what I work hard for, for my kids. Overly spending on your kids doesn't mean that you're a great parent, but it makes you feel good. It makes you feel like that you're living your childhood dream," the multi-award-winning, record-breaking rapper explained.
Cardi shared a video of the luxury play set on Twitter, writing, "I really go dummy for my kids.....Obsessed!!! I love it." The massive outdoor playground featured several slides and swings, a ball pit, a rope and climbing net, monkey bars, and more.