How Celine Dion Moved On From The Death Of Her Husband René Angélil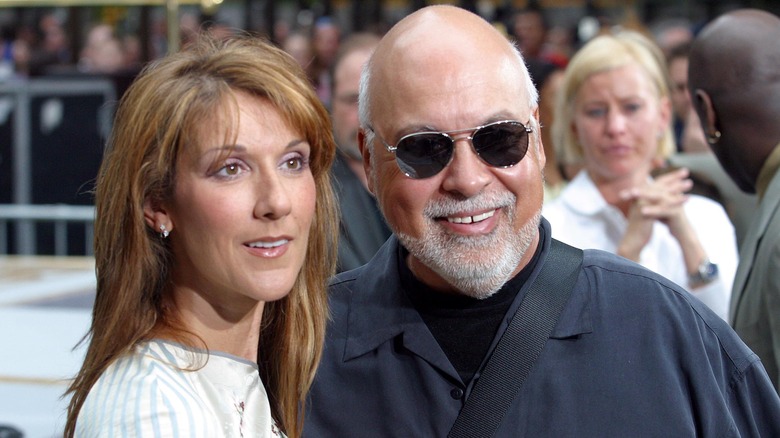 James Devaney/Getty Images
Canadian singer Celine Dion seems to have it all: a thriving career, a beautiful family, and global success. Over the years, she has inspired millions and shaped generations with iconic songs like "My Heart Will Go On," "The Power of Love," and "It's All Coming Back to Me Now." She is one of the bestselling recording artists of our time, with an estimated net worth of $480 million. She was also lucky enough to meet the love of her life at age 12 and marry him in 1994 when she was 26 years old.
Celine Dion's marriage to René Angélil withstood the test of time, lasting until his death in January 2016. Angélil survived a heart attack in 1991 but developed throat cancer eight years later at age 57. Although he made a full recovery, the disease returned in 2013 and eventually took his life after years of treatment. "Before he left, it was very, very difficult for all of us," Dion told CBS News. "So when he stopped suffering, I said to myself, he's okay. And he deserves not to suffer," she added.
The queen of power ballads also admitted she wasn't ready to fall in love again. "I go to bed with him. And I come on stage with him. And so I'm still married to him," Dion confessed. But despite these struggles, she found the strength to keep going and take her music career to new heights. 
The Canadian singer found solace in fashion
Jose Perez/Bauer-Griffin/Getty Images
Celine Dion's insanely glamorous life has made headlines over the years. The French Canadian artist is well known for her impeccable taste in fashion, jewelry, and home decor, and she doesn't shy away from flaunting her wealth. In 2019, she admitted during "The Late Late Show with James Corden" that she possibly owns 10,000 pairs of shoes.
But, as it turns out, her love of fashion has deeper roots than we might think. The singer told PEOPLE that wearing "beautiful clothing and accessories" helped her overcome the struggles she faced over the years. "It's amazing how a little bit of fantasy can alter our moods," she added. Her former stylist, Lawrence "Law" Roach, agreed that fashion had a positive impact on her mood and made her happy. "She's really enjoying herself," he said in a 2016 interview with PEOPLE.
The 55-year-old artist found solace in fashion after the death of her beloved husband. In 2017, she wore a stunning emerald gown at the Grammy Awards. A few months later, she was spotted wearing an Elsa Schiaparelli white suit with over-the-knee boots. Over the next few years, she wowed her fans with a hand-beaded gown by Oscar de la Renta, a Maison Margiela oversized yellow dress, an Alexandre Vauthier jumpsuit, and other exquisite looks. 
The love of her family and fans keeps her pushing forward
In a 2017 interview with The Sun, Celine Dion said she'll probably never stop grieving her husband's death. "He's the love of my life. It's very difficult for me to see myself with another person. The love that I have for him, I live it every day," she explained. Fast forward to 2021, the singer shared a tribute on Instagram, saying that his memory continues to live on. "We're reaching out to you now more than ever, to guide us, protect us, and continue to watch over us," wrote Dion.
The Canadian artist pays tribute to her late husband, René Angélil, every year. In 2022, she wrote on Instagram that she thinks of him "at least a hundred times" each day because she can still hear his words echoing in her mind. The singer also told CBS News that the love of her children, her fans, and her team keeps her pushing forward, filling her life with joy.
Dion doesn't seem to be looking for a romantic relationship. The artist splits her time between work and family, and she's also battling a rare neurological disorder. Her heartbreaking diagnosis is stiff person syndrome, a disease that affects the muscles and nerves. The pop music star was forced to postpone her shows for 2023, but she's still giving interviews and doing philanthropic work.