The Most Daring Outfits Worn By Cher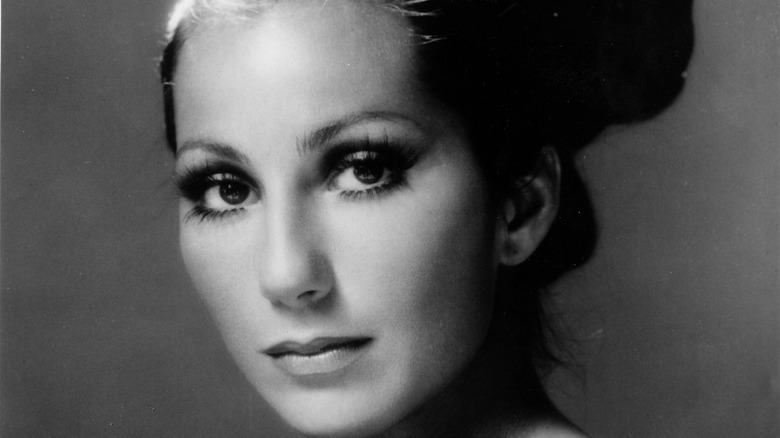 Michael Ochs Archives/Getty Images
For six decades, Cher has been one of the world's top entertainers, but she is arguably most well-known for being one of the greatest fashion trendsetters of our time. She's been game to repeatedly step out of her comfort zone since she debuted on a 1965 variety show in coordinated outfits with her then-husband, Sonny Bono. Cher has continually pushed boundaries ever since, remaining at the center of the fashion world with no signs of slowing down as she approaches her eighties.
In the 1970s, Cher began partnering with designer Bob Mackie, which turned her into a fashion icon and one of the industry's greatest muses. "The Sonny and Cher Show" became Cher and Mackie's playground in which they could debut as many as 20 costume changes per episode, and the pair continued their head-turning design relationship for decades.
For every pop star or actress who tried to wear something new and titillating, it must be humbling to know that Cher conquered all of that fashion ground decades before them: She rocked the original "naked" dresses, showgirl-inspired feather headdresses, and perfectly placed strips of minimal material. She has always been her own guiding star, telling Vogue in 2019, "My style was pretty much what I was feeling at the moment, no matter what anybody else was doing." Let's take an inspirational trip down fashion's memory lane with a look at the most daring outfits ever worn by Cher.
Suede chaps in 1973
Chaps started as a functional piece of clothing meant to protect cattle herders from the bristly bush, but they became a controversial fashion mainstay in the 20th century. Cher wasn't afraid to try them in 1973 when she was photographed heading into CBS Studios wearing a black body suit topped with chaps, plus gold hoops, long black nails, a black satin shawl, and her signature long jet-black hair to complete her fawn-worthy look. Traditionally, chaps were made of leather, but designers eventually began experimenting with new materials. Cher's version was camel-colored suede chaps with straps tied in the front to serve as the belt that holds them in place.
Cher continued to boldly wear chaps throughout her career in photo shoots and on stage. So, naturally, when chaps experienced a fashion renaissance in the 1990s, Los Angeles Times consulted with Cher since she'd been owning the look for decades. She offered an encouraging and inclusive message, inviting anyone to try them. "They look great on everyone," she said. "It's an American thing, the bad-boy cowboy look for rebellious girls to wear."
The naked dress at the 1974 Met Gala
The Met Gala is the annual fundraiser for the Metropolitan Museum of Art's Costume Institute, as well as an opportunity for the A-list's most fashionable to step out in costumes coordinated with each year's theme. Cher was one of the earliest trendsetters in Met Gala history when she walked the red carpet in 1974 wearing a Bob Mackie "naked dress" with flowy white feathers.
The naked dress has since become a fashion sensation and is seen frequently on the red carpet, while Cher's original dress continues to inspire modern Met Gala fashion. In 2015, Kim Kardashian wore a see-through, feathered dress that had everyone wondering who inspired the look. Kardashian cleared the air on her Instagram, giving due credit to Cher by posting her original look. "I just met her and told her this photo was my inspiration for my dress tonight! She is so beautiful! So happy I met her!" Kardashian wrote.
It's a good thing the naked dress created such a legacy because Cher's first one came with plenty of challenges. "If you look at it, it looks like it's stuck to me, and that's because it is," Cher told Vogue. "So when you put it on, Bob [Mackie] sprayed it with like a little hand sprayer, and it just sticks to your skin." The dress' material, soufflé, was also outlawed in the U.S. at the time because it was so flammable.
The 1975 feathered headdress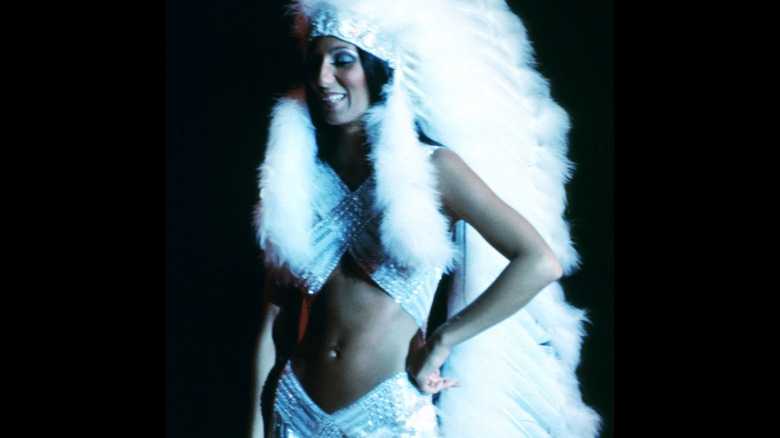 Michael Ochs Archives/Getty Images
Before the phrase "cultural appropriation" was common in our vernacular, Cher took a risk and appeared in a feathered headdress that resembled an indigenous war bonnet in her 1975 video for the song "Half Breed." The song title and costume were not received well by the indigenous community, many of whom found the terminology and the use of the war bonnet as a costume to be offensive.
Cher continued to wear the indigenous-inspired costume on tour as late as 2014 for her performance of the song, although the headdress had become a bigger, more colorful incarnation than the original. However, by 2017, the political climate was changing and fans were able to catch up with her on Twitter, where Cher is known for speaking her mind. She jumped into a firestorm, engaging directly with members of indigenous tribes and learning that the song and costume were a source of pain for some tribal members. In the thread, she eventually promised to stop wearing the costume. The star apologized for any pain she caused to the community, but she also admitted to feeling torn about retiring the costume and song since many fans loved it and expected her to perform it.
The 1986 Oscars appearance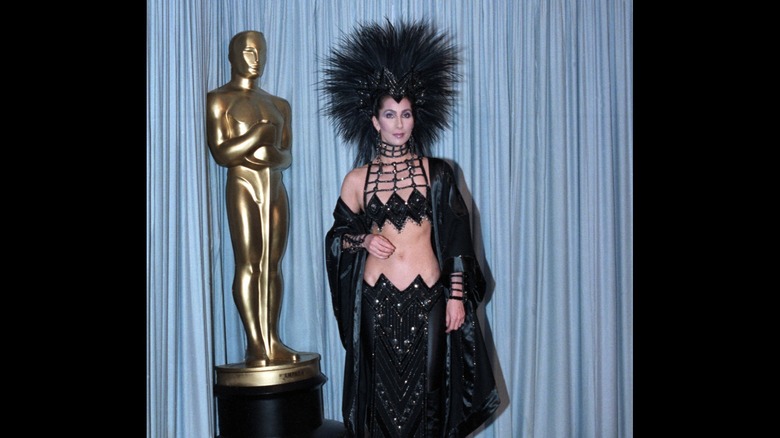 Bettmann/Getty Images
Cher's fashion is sometimes chosen intentionally to communicate a point without words, and the outrageously eye-catching ensemble that she wore to the 1986 Academy Awards sent the message that she didn't care if she was considered "too much" by some. The enormous Vegas showgirl-style black headpiece and sparkly midriff-baring black gown with triangle cutouts commanded that everyone stop and look. In 2022, designer Bob Mackie told The New Yorker, "There were a lot of people who said, 'That's not fashion!' And I said, 'Of course it's not fashion. It's a crazy getup for attention.' And it did get attention — people talk about it still."
The bold choice was also made partly out of vengeance for not receiving a best actress nomination that year for her performance in "Mask," a slight that Cher felt signaled that her dramatic acting wasn't being taken seriously by the Academy. In her defense, she had received the best actress award at the 1985 Cannes Film Festival for the same role. "The Academy didn't like the dress, or me, at that time," Cher told Glamour UK in 2017. "I was too flamboyant and didn't dress like a serious actress, and I had a young boyfriend. So I just decided I would go all out."
The God Save NYC blazer from 1987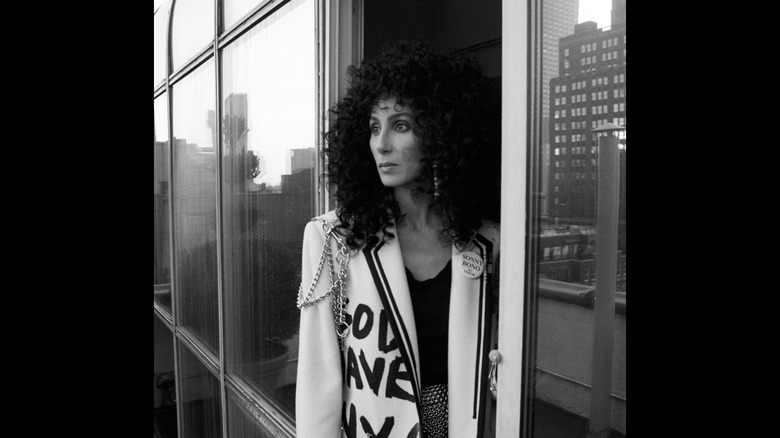 Joe Mcnally/Getty Images
Stephen Sprouse designed urban looks in the 1980s punk and New York club scenes, often blending a gritty aesthetic with formal attire in his collections. In 1987, he designed a punk relaunch that included a white blazer with black graffiti that read "God Save NYC." Cher appeared in the blazer on "Late Show with David Letterman" singing "I Got You Babe" with Sonny Bono, and again in a black and white photo in 1988, and it remains one of her most fashion-forward looks.
In addition to the surprising Letterman duo with Bono, Cher also wore a "Sonny Bono for Mayor" button on the left lapel of the Sprouse blazer in the classic 1988 photo. Bono and Cher maintained a quirky but loving friendship after their divorce, and around this time Cher wasn't afraid to show the world that she still supported her ex-husband, even eulogizing him at his funeral in 1998.
The Sprouse blazer is a special piece that Cher held onto through the decades, and it made an appearance as recently as 2022 for Paris Fashion Week, when Cher gave a few sentimental, but cryptic details about the infamous piece. "This Is My Beloved 'GOD SAVE NEW YORK' JACKET By STEPHEN SPROUSE, 30+++++? yrs old, ps only @HoneyDijon Knew Emotional Depth Of Stephen's Jacket," Cher tweeted.
1988 Oscars appearance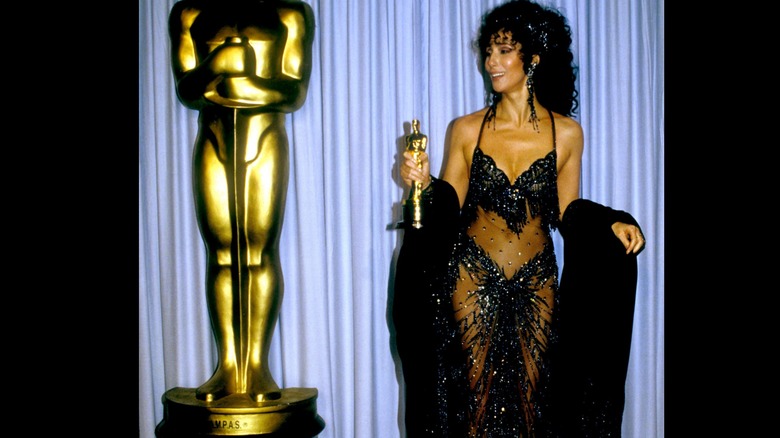 Barry King/Getty Images
Cher made another inimitable appearance at the Oscars in 1988 when she was nominated for best actress in the romantic comedy "Moonstruck." She and Bob Mackie collaborated once again on another skin-baring "naked dress" that thrillingly highlighted her figure, completing the look with a subdued beaded headpiece that blended in with her signature black curls.
Because so many of today's starlets have embraced the naked dress, it's hard to imagine that, in 1988, her dress was considered a controversial and daring choice. Although Cher received plenty of praise for the ensemble, the attention turned to her performance when she accepted the Oscar for best actress, a rare win for a comedic role. Cher's big win was influential and inspirational, paving the way for more funny roles to be considered award-worthy.
Looking back on the dress in 2017 with Glamour UK, Cher remembered it as a relatively safe choice. "The Academy Award dress. The famous one. That's pretty tame," she remarked. She also defended her ability to show off so much skin without ever letting anything slip. "Tell me that you ever saw anything in any of my pictures? Never! Wardrobe malfunctions weren't necessary. I was happy with what I was wearing," she said.
The If I Could Turn Back Time video in 1989
At age 43, Cher made one of her boldest fashion decisions ever when she shot the music video for her hit single "If I Could Turn Back Time." The 1989 video featured Cher performing in front of a boisterous Navy crew on the U.S.S. Missouri in an outfit that was essentially a fishnet body suit with two straps covering only what was absolutely necessary. It would go on to be considered one of the sexiest music videos of all time.
Cher was so scantily clad, though, that the video faced inevitable backlash in its time. The Navy had hoped the video could be a tasteful recruiting tool, but they quickly attempted to establish their distance once the video aired, and per Los Angeles Times, the unexpected costume created "overtones that we had sought to avoid" when they were in pre-production planning. The military eventually made the decision to never allow music videos to be filmed on military property again, thanks to Cher. MTV also temporarily banned the booty-baring video but eventually allowed it to be aired after 9 pm.
No pants at the 1991 Video Music Awards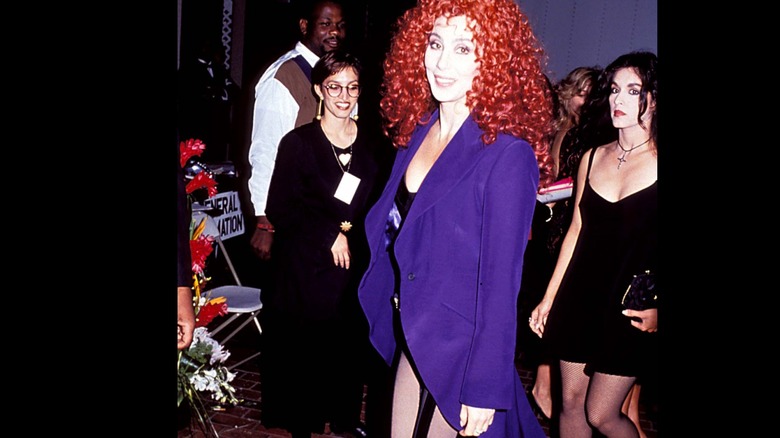 Jeff Kravitz/Getty Images
Cher shocked the red carpet, again, when she showed up to the 1991 MTV Video Music Awards to perform and promote her album "Love Hurts" wearing a purple jacket, a black corset, and no pants. She had black panels of material going down her legs, but there were no pants, or panties, for that matter, involved in this daring ensemble. Cher played with the combination of the formal blazer on top and the sexy rocker underneath and it became an iconic look.
In interviews, Cher is often asked about the regimen she follows to stay in such great shape. This line of questioning began when she was well into her 40s and still turning heads with her fashion and her physique — especially since no one else was rocking no-pants looks in their 40s in 1991. That same year, Cher was gracious enough to write an entire book detailing her diet and exercise regimen. But anyone looking for shortcuts will be disappointed to learn that Cher has always worked hard for her body and made disciplined choices, like consuming very little alcohol, dairy, or red meat, no drugs, and spending plenty of time in the gym.
A surprisingly casual look at the 2000 Emmys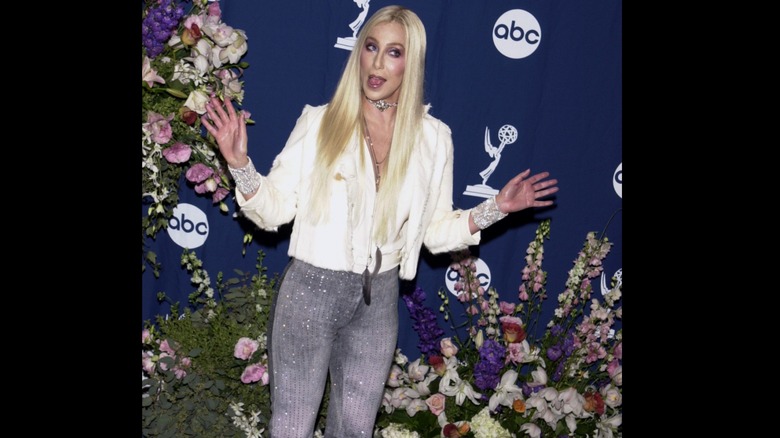 Frank Trapper/Getty Images
At the turn of the century, Cher was 54 and back at the top of the charts with her No. 1 song, "Believe," featuring what would eventually become a revolutionary music trend: Auto-tuning. That year she was also nominated for an Emmy for her live performance at MGM Las Vegas. The Emmys are typically an opportunity for stars to go all out when choosing their fashion. However, Cher showed up in a white furry jacket, sequined ombre pants, and boots, a decidedly understated look compared to other attendees in gowns and tuxedos.
She also debuted long, straight blond hair, which was a shocking departure from the dark locks she'd been known for since the 1960s. Though this might have been a wig, this was the first time Cher made the commitment to going fully blond since a brief stint in 1984. Her entire 2000 Emmys look had a breezy, casual feel that didn't quite match the vibe of the event, let alone the epic comeback she was experiencing in her life at the time.
The bodysuit replica at the 2010 MTV Music Awards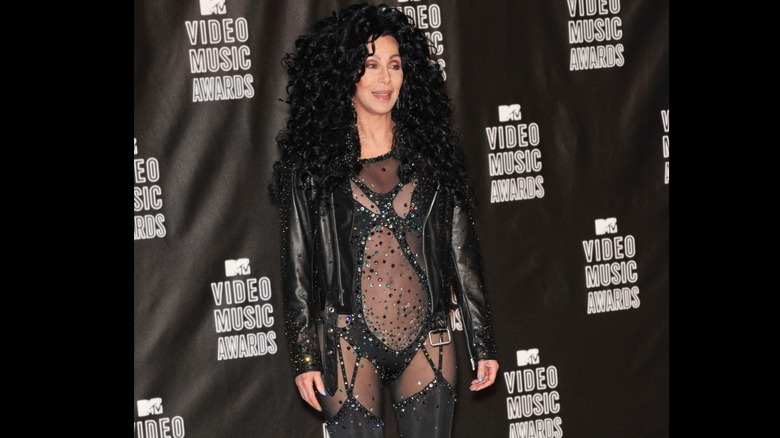 Jaguar PS/Shutterstock
At the 2010 MTV Music Awards, Cher paid tribute to none other than herself when she wore a similar style of bodysuit to the one she donned in her infamous "If I Could Turn Back Time" music video. She'd also worn the replica bodysuit during her 2002 Farewell Tour, and even though it was previously covered fashion territory, it was still an incredibly daring choice considering that Cher was 64 at the time. "I'm the oldest chick with the biggest hair in the littlest costume. I have shoes older than most of these nominees," she joked on stage.
Unbelievably, though, Cher's bodysuit was not the most controversial fashion moment of the night. She presented the award for music video of the year to Lady Gaga, who happened to be wearing her infamous meat dress. The outrageous pair being on stage together in jaw-dropping ensembles gave the awards show a huge ratings boost. In 2021, Cher's replica bodysuit sold for over $100k at a three-day music-themed auction.
The 2017 Icon Award Performance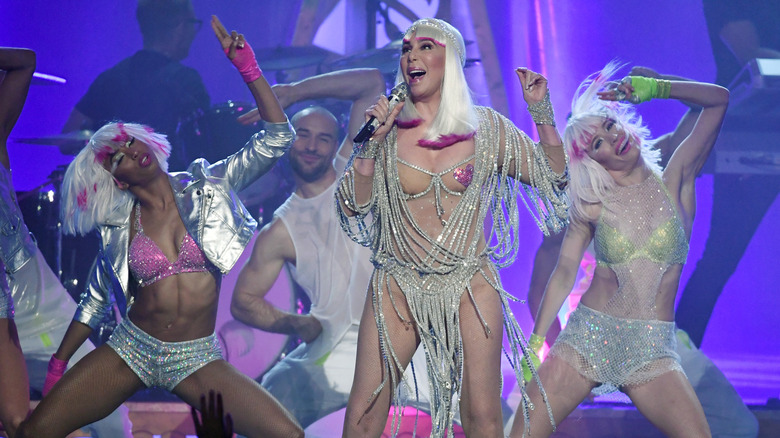 Ethan Miller/Getty Images
In 2017, Cher received the Icon Award at the Billboard Music Awards to honor her illustrious career in entertainment. She performed her hit "If I Could Turn Back Time" and accepted the award while wearing one of her most trusted costumes, the black replica bodysuit. She also stunned the crowd when she announced, "I'm 71 yesterday, and I can do a five-minute plank, okay? Just saying."
She also performed her hit "Believe" in a spectacularly risqué outfit described by Entertainment Tonight as a "sheer, embellished creation – and, yes, those are pasties." Thanks to the sheer design and those eyebrow-raising pasties, the ensemble gave the appearance that she was completely topless underneath all the sparkles. Although her performances were as over-the-top as anyone could expect from Cher that night, she remained humble while being honored. "I think luck has so much to do with my success," she explained in her speech. "I think it was mostly luck and a little bit of something thrown in."
The 2018 Gladiator-inspired bodysuit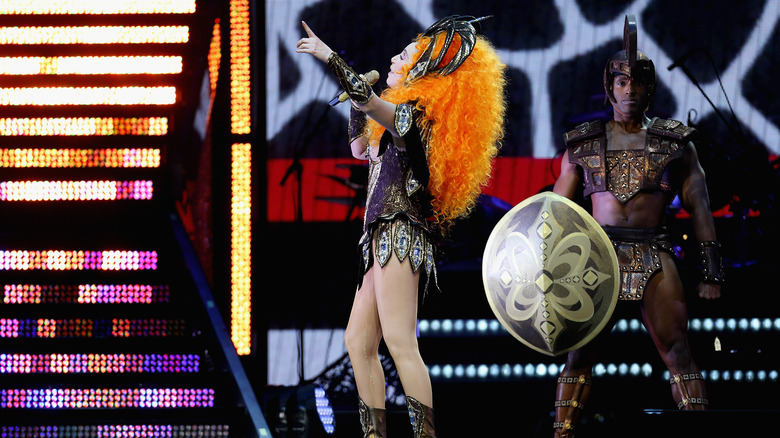 Don Arnold/Getty Images
Cher tried to say goodbye to touring in 2002 with her Farewell Tour, but her live performances never actually ended. By 2018, she was ready to go on the road again to promote her 26th studio album, "Dancing Queen." At age 72, she embarked on the Australian stops of a two-year world tour that would run until COVID-19 forced her to stop.
She kicked the tour off with a bang when she stepped out in a Gladiator-inspired, form-fitting bustier that included the star's go-to materials: Sheer fabric and sparkly crystals. She also wore a bejeweled headdress that sat high above her crown in the shape of horns, and she rocked stunning bright orange curls. Sometimes Cher sacrifices her own comfort to pull off these daring looks, and the truth about this 2018 tour costume came out later in a Vogue interview, in which she reviewed some of her most beloved looks and revealed that she didn't like wearing the cinematic headpiece. "I love this outfit — I hate that the top piece, it's just too big for me. King Kong should be wearing that hat," she joked.
The 2022 Paris appearance in a latex bodysuit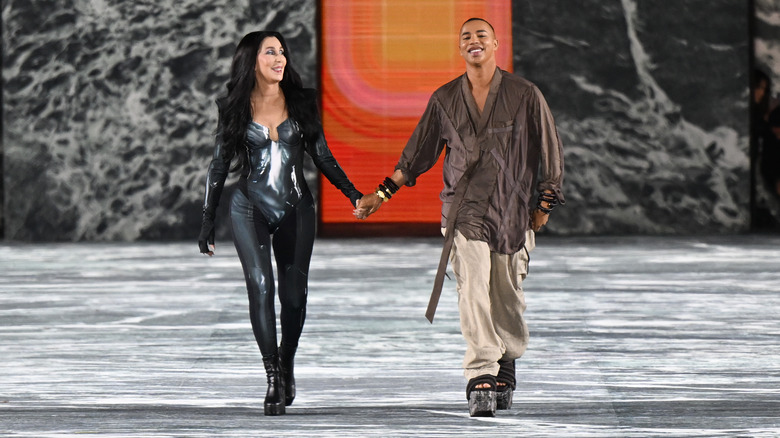 Stephane Cardinale - Corbis/Getty Images
The pandemic may have shut down her world tour, but the pause didn't dampen Cher's desire to step out in dramatic fashion. During 2022 Paris Fashion Week, she made a surprise appearance on the runway of the Balmain show in a form-fitting silver latex bodysuit. After more than 100 models walked the runway, Balmain designer Olivier Rousteing took a solo walk to receive his praise, but he was quickly overshadowed by a delighted crowd when Cher joined him for the final walk. In addition to her runway appearance, the singer made several noteworthy appearances in fabulous fashion throughout the week, showing everyone that she can still command attention virtually any time she makes an appearance.
After the show, Cher admitted on Twitter that the call to the stage is ever-present for her. "STAGE WAS CALLING ME, cher.....oh cher....come Home....I HEAR YOU," she posted. She started dancing again with Sumayah McRae in early 2023, and the star could be starting another residency in Las Vegas. Luckily for fans, Cher can't stay away from her life's purpose.