Diane Von Furstenberg's Granddaughter Is A Princess Who Leads An Extremely Lavish Life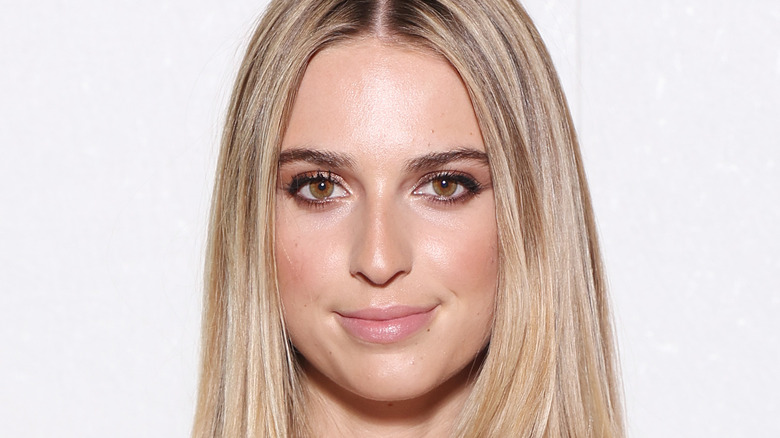 Daniele Venturelli/Getty Images
Talita von Furstenberg, aka "TVF," is living an enviable life. Born to Alexandra (née Miller), daughter of billionaire Duty-Free Shoppers founder Robert Miller, and Prince Alexander von Furstenberg, she is both an heiress and princess. She balks at using the title, however: "It doesn't make sense for me because I didn't grow up in Europe, it is still my title, but I think that Americans don't understand about being a princess in the same way that you guys do. In LA, where I grew up, if I said I was a princess, people would freak out. I didn't think I could claim that title for myself," she said in an interview for Hello!
von Furstenberg is also a world traveler and made waves with some snaps she shared via Instagram documenting a lavish trip to Hawaii with boyfriend Rocco Brignone de Brabant. One slide showed the couple frolicking on a sandbar surrounded by turquoise water. When she's not jet-setting around the globe, she is designing her label TVF for DVF. Yes, her lineage also includes famed fashion designer Diane von Furstenberg. Talita, who has worked as a model and served as her grandmother's muse, was named co-chairwoman of DVF and is poised to take over the business at some point in the future. "I'm still learning and don't want to take that position until I fully think I'm confident enough to do it ... That's what TVF is," she told Daily Mail. 
Talita von Furstenberg is the product of royalty and extreme wealth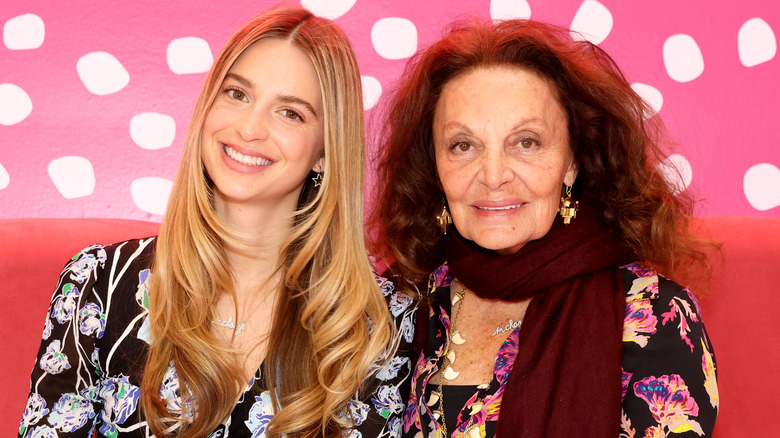 Jp Yim/Getty Images
Born in 1999 to American heiress and her prince, Talita Natasha von Furstenberg is not only entitled to royal status but was also born into extreme wealth at nearly every juncture of her family tree. Her maternal grandfather Robert Miller, who has resided in Hong Kong since 1960, is reportedly worth a staggering S1.9 billion. This means that he is currently the 39th richest person in Hong Kong. When her mom married Prince Alexander von Furstenberg, designer Diane von Furstenberg's son, in 1995 (divorced 2002), she ensured that her children would inherit titles via the family's royal lineage, originating from southern Germany in the modern-day state of Baden-Württemberg. Though the prince's personal wealth is unknown, the fact that he purchased a mansion set on 2.2 acres in California's exclusive Beverly Park for $23 million offers some insight into his personal finances. 
Money also flows from her paternal grandmother's side. Diane von Furstenberg, the Belgium-born fashion designer who created her iconic wrap dress in the 1970s, sold more than one million units of the popular designer staple by 1976. Since then, her empire has grown exponentially, and her personal net worth is estimated at approximately $300 million. Her wealth, however, almost pales in comparison to her current husband, media mogul Barry Diller. Reportedly worth $4.1 billion, the entertainment exec has huge stakes in several successful websites, including Expedia.com, and built Pier 55 in New York.  
Jet-setting around the globe is a favorite pastime for Talita von Furstenberg and her royal cousins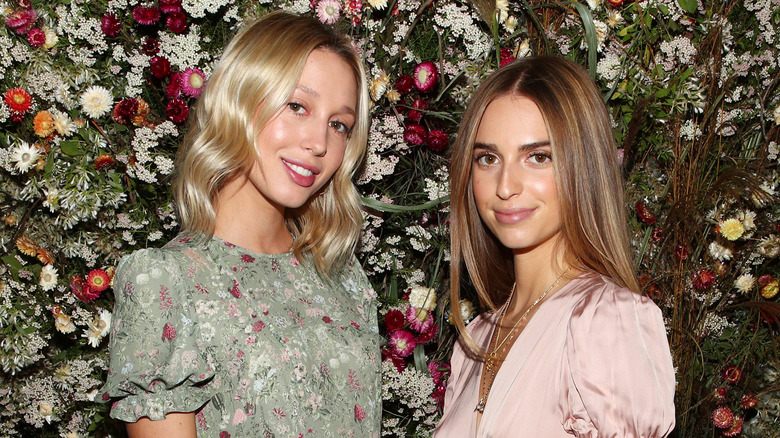 Astrid Stawiarz/Getty Images
Talita von Furstenberg's mom has two sisters, and the three of them were high society "it girls" back in the 1990s. Aunt Marie-Chantal married into royalty as well when she wed Prince Pavlos of Greece in 1995, and Aunt Pia married into American "royalty" when she wed Christopher R. Getty in 1992 (the pair has since divorced). Her large group of cousins grew up in the era of social media, and as such, their every move is documented. They have been spotted together in Japan, Europe, and Mexico, to name just a few of the exotic locations they've traveled to together in recent years.
The young designer is said to be particularly close with her cousin Princess Olympia of Greece, who also models for top fashion houses, including Louis Vuitton and Gucci. They show up intermittently on each other's Instagram feeds and were photographed together in Kyoto. Both currently spend a lot of time in New York, and according to Olympia, "Even if we don't make lunch plans, half the time we run into each other at Bar Pitti because we have so many friends in common. Her boyfriend is my godbrother. I've known him longer than she has!" von Furstenberg concurs. "It's weird how much our lives overlap. It's, like, cosmic" (per Harper's Bazaar). The two cousins were snapped together (above) at the launch of von Furstenberg's sophomore capsule collection for DVF.
Before becoming a designer, Talita von Furstenberg was a model and her grandmother's muse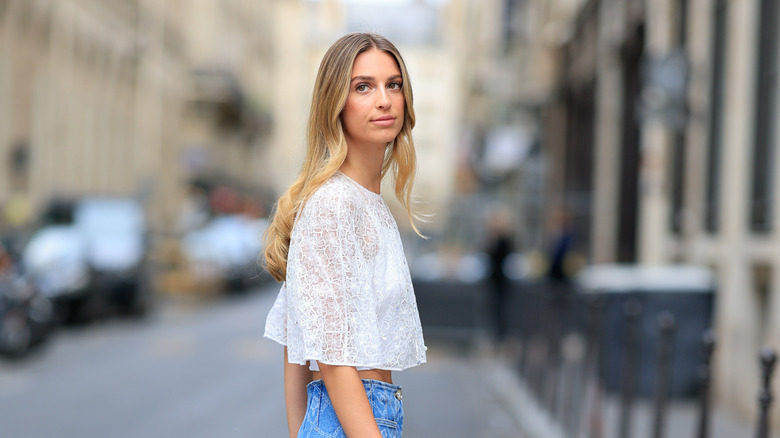 Rachpoot/bauer-griffin/Getty Images
Before officially joining her grandmother's empire, Talita von Furstenberg regularly dabbled in the world of high fashion. As a child, she would accompany Diane von Furstenberg to fashion shows who would assign her tasks to justify her presence there. In an interview with British Vogue, she remembered the experiences. "They were giving me 'jobs' to do, like carrying a sweater from one room to another. I felt so important!" She's had her eyes on the prize forever. "Even since I was literally 6 years old, I've been asking my grandma if I could design TVF for DVF," she told Vogue.
As a teenager, she also did some modeling. She's had several forays into the editorial space, ranging from a piece in The Tatler titled "Introducing Talita von Furstenberg" done in 2015 to more recent spreads in Vogue Germany and Vogue Mexico. DVF officially announced the then-18-year-old Talita as her muse before becoming the face of the brand. "It's all so easy and wearable," she told British Vogue. Now that she's in a position of power, Talita understands the company's mandate. "Everything happens in DVF, all these moments of big change, because you feel so confident in a DVF dress," she said (per Daily Mail). "We need to bring this back to younger generations who haven't had the awareness of DVF and what it stands for and what it could make you feel."
Talita von Furstenberg is co-chairwoman of her grandmother's fashion empire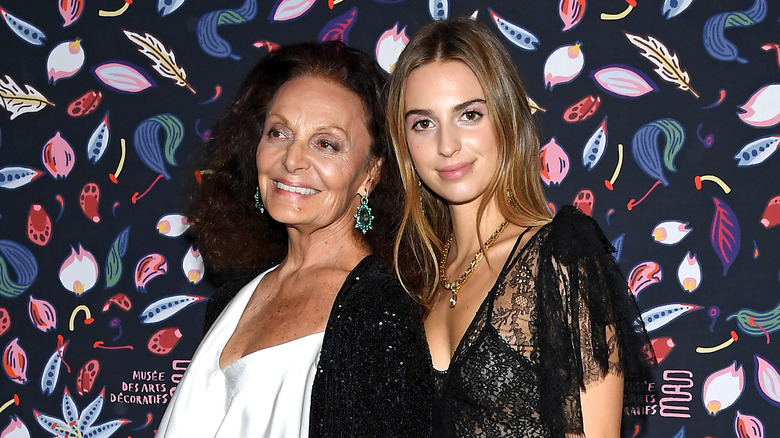 Pascal Le Segretain/Getty Images
"I've been a designer, a success, a failure. I've seen it all. And now I want to use my power, my experiences, my knowledge, and my connections to help women all over the world become who they want to be," Diane von Furstenberg told Town & Country. First and foremost among the women she plans to help is her very own granddaughter, Talita von Furstenberg, who, despite her tender age, has been nurturing a fashion career for several years. While still a student at Georgetown, she launched her very first capsule collection under the DVF banner. At the time, she said, "I've looked up to my grandmother my whole life, and she has successfully leveraged a fashion empire to help and inspire countless women," Talita said in an interview with The Cut. "I hope to follow in her same footsteps."
Follow in her footsteps she has. She eventually transferred to NYU's Gallatin School of Individualized Study to pursue a fashion business degree. Now with several collections under her belt and a clear idea of who her customer is, she is being groomed to take over the company one day. To that end, she was named co-chairwoman of the brand. "I look at it this way," Talita said in the interview with Town & Country, "Your mom wore DVF, and maybe your grandmother wore DVF, but now I can bring something a little more fresh and youthful."
Lavish apartments are where Talita von Furstenberg calls home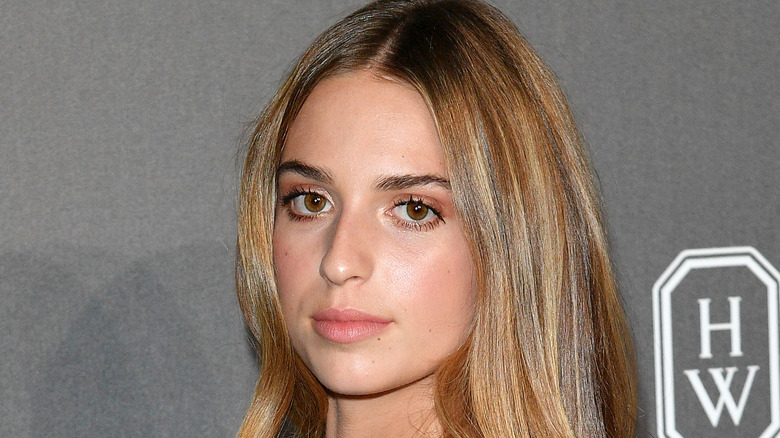 Daniele Venturelli/Getty Images
It should come as no surprise that as someone who is both a princess and an heiress, Talita von Furstenberg has lived in the lap of luxury since day one. DVF headquarters is located in New York City's trendy Meatpacking District, but the young designer and socialite had reportedly been renting an exclusive apartment nearby in the fashionable West Village. According to Guest of a Guest, she's moved out so that she can travel through Europe with her boyfriend, Rocco Brignone de Brabant, who hails from an Italian banking family. The residence, which has a huge terrace and waterfront views, went on the market for $10 million dollars following her departure. Boasting three bedrooms and three bathrooms, the 2500-plus square foot stunner offers the kind of opulent living that most New Yorkers can only dream about.
The award-winning apartment building has 16 stories and floor-to-ceiling windows offering magnificent views of the city. Advertising premium kitchen appliances, a soaking tub, and ample closet space, the building has an enviable list of amenities, including a swimming pool, screening room, and concierge service. New York Post reported that an insider shared news of her departure with an outlet called Gimme Shelter. As of this writing, there is no news about her where she's moved to, but as DVF company headquarters is located in New York, she is bound to surface at a tony new pad sooner or later!
Talita von Furstenberg holds a lot of authority at DVF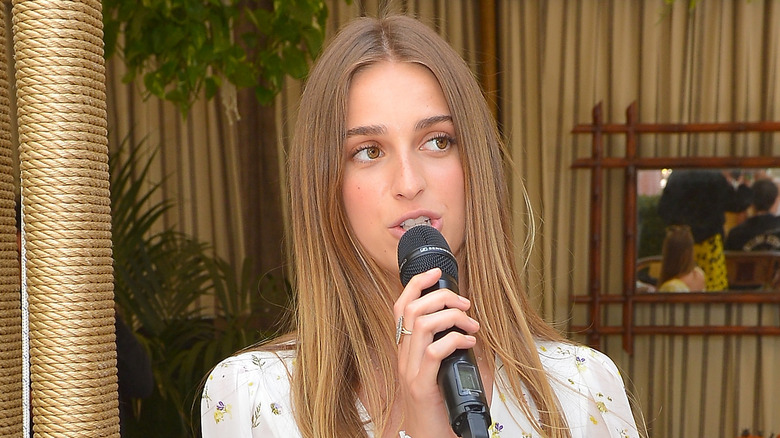 Donato Sardella/Getty Images
Talita von Furstenberg has confidently taken the reigns of her collection and knows who her customer is. "The TVF customer is a girl that wants to be fashionable, but it may scare her because there are so many choices. She wants a dress she can wear on many occasions. They're super effortless pieces that people can feel fashionable and comfortable wearing," is how she characterized her target audience in an interview with Hello. 
Despite her access to Diane von Furstenberg, she doesn't regularly seek design advice from her, which she attributes to their differing aesthetics. "We try to be separate when I'm designing, just because I obviously value her opinion so much," she told Daily Mail, recognizing that her grandmother's fashion line caters to a more mature client with different tastes than her collection's unique clientele. 
She also divulged that DVF is quite unimpressed with her designs until she sees them on an actual person, at which point she is won over. For her part, DVF respects her granddaughter's talent and work ethic. "Talita has always been clear about wanting to follow my path, but she is very much her own person with her own style," DVF told Women's Wear Daily. "It is a joy to teach her all I know, as she is more disciplined than I am."
Famous friends surround Talita von Furstenberg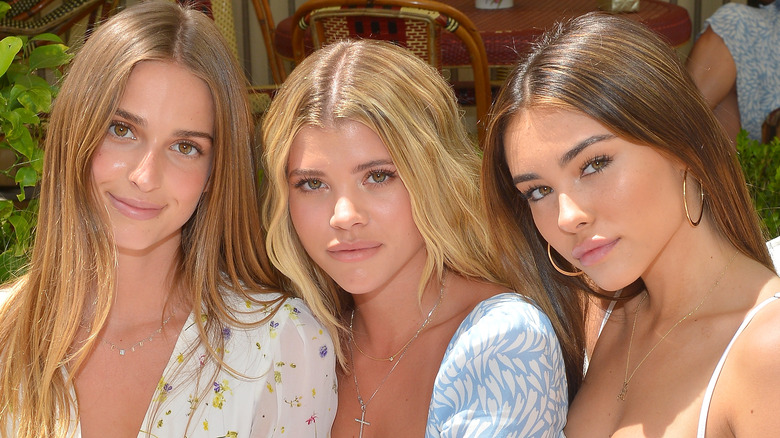 Donato Sardella/Getty Images
As the saying goes — you attract what you put out into the world, and this is certainly the case with Talita von Furstenberg. With an effortless and approachable style that she successfully combines with her natural beauty and youthful air, TVF for DVF is a brand that attracts all the cool kids. Whether she's hosting an event to share her latest collection with young superstars like Madison Beer and Sophia Richie, or jetting off to Greece with her cousin Olympia and Keith Richards's granddaughter Ella, TVF surely knows that the world is her oyster. 
Her squad also includes fellow models Kaia Gerber and Charlotte D'Alessio, but she also interned with none other than presidential candidate Hillary Clinton in 2016. TVF's proximity to Diane von Furstenberg also gives her access to extraordinarily powerful women, like Gloria Steinem, one of her grandmother's close friends. The senior von Furstenberg also funds the DVF Awards, which has honored women like Supreme Court Justice Sonia Sotomayor and Misty Copeland, a principal dancer for the American Ballet Theater. DVF told Town & Country that, "What I most enjoy is giving women a message of confidence as they move forward."  With such a strong, passionate, and talented role model guiding her both personally and professionally, TVF will doubtless have all of the support she needs when it's her turn to helm the company. 
Talita von Furstenberg is a regular at fashion's biggest night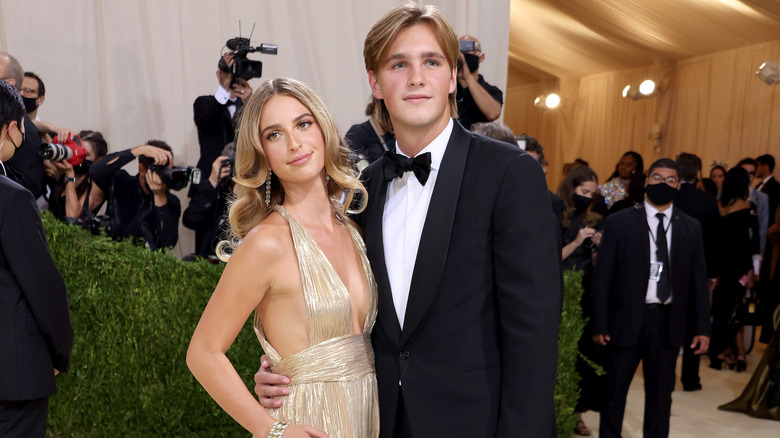 John Shearer/Getty Images
Anyone who's anyone in the fashion industry is well aware that the Met Gala is affectionately referred to as "fashion's biggest night out." With the goal of raising money for the Metropolitan Museum of Art in New York City, this event is one of the most star-studded evenings of the year, one celebrities, fashion designers, and athletes clamor to attend. Unfortunately, it is invitation only, and since 1995, the guest list has been presided over by Vogue editor-in-chief Anna Wintour. Even if you are lucky enough to score an invite, you'll likely have to pay for the ticket, and that's no small amount. Sources say that they can cost up to $50,000 apiece.  
Fortunately for Talita von Furstenberg, who has been breathing this rarified air for the last several years, the price of entry is not remotely prohibitive. She has attended the event several times with her current boyfriend Rocco Brignone de Brabant, and the pair hasn't missed a step when it comes to choosing what to wear. Unlike some of the other megawatt couples that hit the red carpet for the annual event, this pair has, without exception, exuded a flawless elegance that eludes many attendees each year. When the titles of heiress, fashion designer, and princess apply to you, there are few doors that will ever remain closed to you, and TVF is living proof this is true!