How Bridget Moynahan's Life Changed After Dating Tom Brady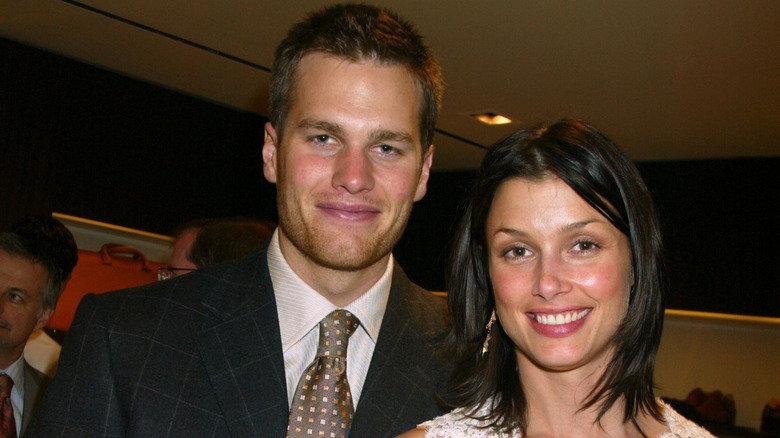 Gregory Pace/Getty Images
Bridget Moynahan is a former model and current actress who has garnered a reputation for no-nonsense roles, such as Erin Regan-Boyle on "Blue Bloods" and more recently, her reprised role of Natasha Naginsky on the "Sex and the City" reboot "And Just Like That." Aside from her acting career, Moynahan was in a high-profile relationship with football legend Tom Brady, which propelled her further into the public spotlight alongside him. They dated between 2004 and 2006, during a time when it seems that the public and the media couldn't get enough of the happy couple.
While the two ended their relationship nearly two decades ago after being together for almost three years, it seems that Moynahan is linked with Brady for good. Not only do they have a child together (Jack Moynahan), but Brady's own recent family shakeups have propelled Moynahan back into the spotlight time and again. Here's what you need to know about how Brady impacted Moynahan's life through all these years, and where the two currently stand.
A Super Bowl win unexpectedly made Bridget Moynahan's name more mainstream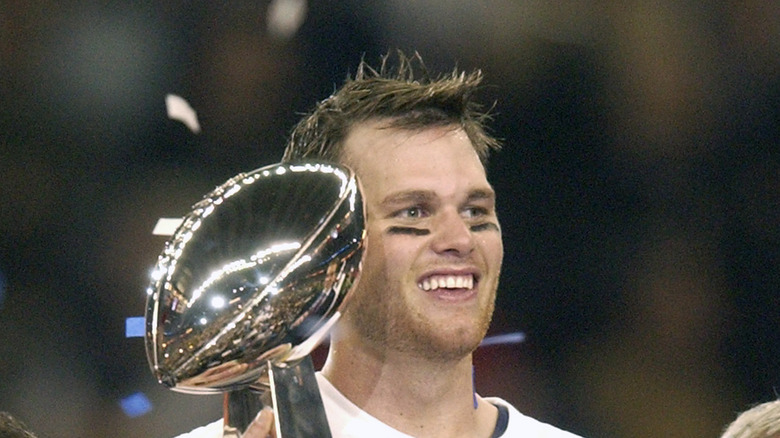 Focus On Sport/Getty Images
While Bridget Moynahan had already been acting for several years, she arguably gained more mainstream attention after Super Bowl XXXVIII on February 1, 2004.
During this Super Bowl, Tom Brady, who was the coveted quarterback for the New England Patriots, helped his team win against the Carolina Panthers with a close score of 32 to 29. In fact, the Patriots barely won but managed to clinch the title thanks to a field goal that was kicked 41 yards. The kick was made by the Patriots' Adam Vinatieri, but Tom Brady helped set it in place with only four seconds remaining in the fourth quarter. 
Not only was this an exciting win for the Patriots, but it was also the second Super Bowl championship Brady helped his team reach in just three years. On top of that, he was named MVP for the game against the Panthers. Brady had a lot to commemorate that night, and he included Moynahan in his celebrations. When or how the couple met is unclear, but their relationship grew quickly from there.
Bridget Moynahan received a lot of attention at the Super Bowl after-party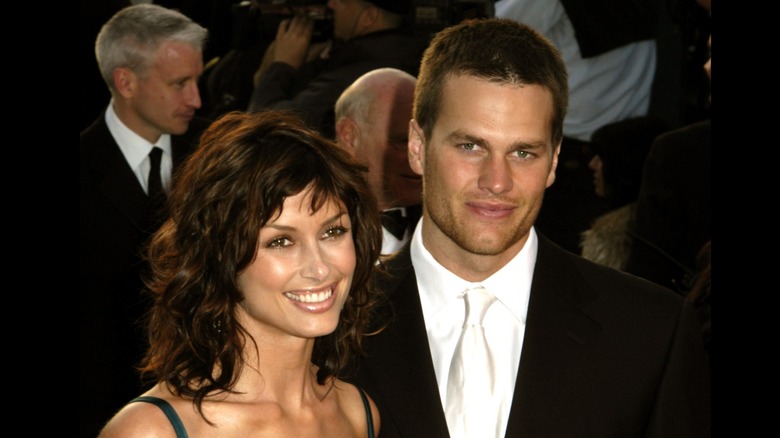 Barry King/Getty Images
After Super Bowl XXXVIII, there was much for Tom Brady to celebrate, and he decided to share the moment with his new girlfriend, Bridget Moynahan. Not much about their relationship was known at the time, but when Moynahan arrived at the after-party, the couple gained a lot more attention.
Sports Illustrated reported that much of the attention at the Patriots Super Bowl after-party was on Brady's apparent new relationship with Moynahan, who was the first of his family and friends to arrive, describing her as "a stunning brunette" who was Brady's "current love interest." Little did Sports Illustrated and the rest of those in attendance at the party known that this "interest" between Moynahan and Brady would soon blossom into a serious relationship.
From there on out, Moynahan celebrated Brady's football victories, and this continued even in the years after they broke up. As Country Living reported in 2021, Moynahan congratulated Brady on that year's Super Bowl win against the Kansas City Chiefs. (It's also important to note that Brady was playing for the Tampa Bay Buccaneers at the time.) That Super Bowl was arguably more handily won, with the Buccaneers beating the Chiefs 31 to 9. 
She got even more attention at the I, Robot premiere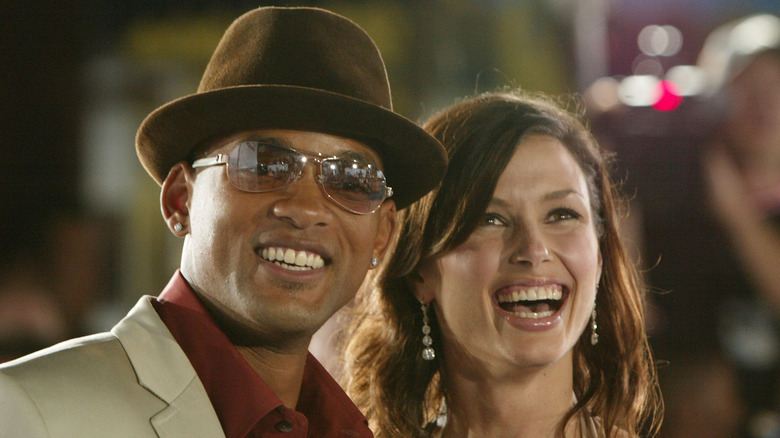 J. Merritt/Getty Images
As Bridget Moynahan showed her support for Tom Brady's escalating football career, he returned the favor. In July 2004, Brady accompanied Moynahan to the premiere of "I, Robot," which is largely seen as their first public event as an official couple.  Based on a series of short stories written by Isaac Asimov, "I, Robot," which also starred Will Smith, got mixed reviews but was considered a summer hit in theaters. Moynahan played Dr. Susan Calvin, a robotics expert in the year 2035. 
Brady undoubtedly brought a lot of attention to Moynahan at the "I, Robot" premiere, given his status as a star quarterback and his two (then-recent) Super Bowl wins. Yet it's unclear whether Brady's popularity and his presence at the premiere translated to a boost in the movie's ticket sales. To begin with, Moynahan herself was already a successful former model who had appeared in "Coyote Ugly," "The Sum of All Fears," and "Serendipity," as well as on shows such as "Sex and the City," so the draw she brought to the movie may just as well have been hers alone. 
Public statements from Tom Brady hinted that marrying Bridget Moynahan was off the table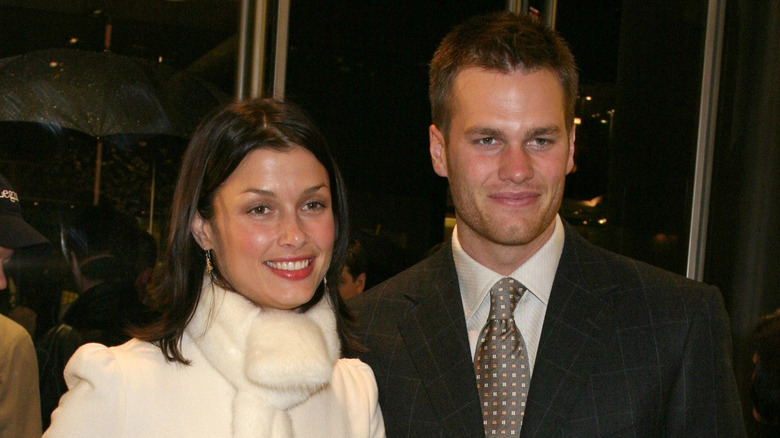 M. Von Holden/Getty Images
Bridget Moynahan and Tom Brady's very public relationship also seemed like a happy one, and so many presumed that their commitment would only get more serious. However, a late 2005 interview with Brady on "60 Minutes" painted a different picture. While correspondent Steve Croft mostly focused on Brady's football career, he also asked the then-New England Patriots quarterback questions about his love life. 
This included whether Brady had thoughts about getting married, and if so, if any such plans included Moynahan. In response, Brady conceded he would like to get married one day but hesitated when asked about any long-term plans involving Moynahan specifically. He went on to say, "I can be myself around her, and there's not many people I can be myself around. It's fun to be around your best friends who know you well, and she's someone that I consider one of my very best friends."
It would seem that these public statements hinted that Moynahan might be stuck in something of a "friend zone" during her relationship with Brady. However, that same year in 2005 was reportedly the "peak" of Moynahan's relationship with Brady, and they appeared not only happy, but also very much in love with one another during this time, as InStyle reported. While the "60 Minutes" interview didn't include Moynahan, it's worth wondering how she might have felt after Brady's hesitation about marriage or whether the feeling was mutual.
She experienced her first high-profile breakup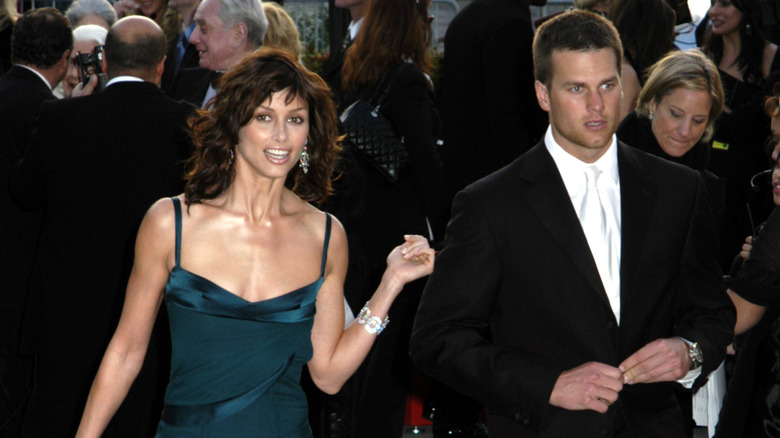 Barry King/Getty Images
After nearly three years of dating, the high-profile relationship between Bridget Moynahan and Tom Brady officially ended at the end of 2006. Though it was announced in December of that year, Moynahan's representative stated that the couple had "ended their three-year relationship several weeks ago," People reported.
With that announcement came even more media scrutiny over the couple's relationship. Fans wondered why they broke up when they appeared to be so happy together. The attention continued in the following months as the high-profile quarterback started dating famed model Gisele Bündchen. They reportedly met on a blind date the same month Moynahan announced her breakup with Brady. Also, People magazine reported that in late January 2007 Bundchen had been seen around New England Patriots games. An anonymous source also told the magazine that they had been dating since around Christmastime in 2006.
While neither Moynahan nor Brady have ever disclosed the reasons why they broke up, there's been gossip about the possibilities ever since. Some of these rumors have to do with Moynahan's pregnancy, though this wasn't discovered until after the couple had ended their relationship.
Bridget Moynahan learned she was pregnant after her breakup with Brady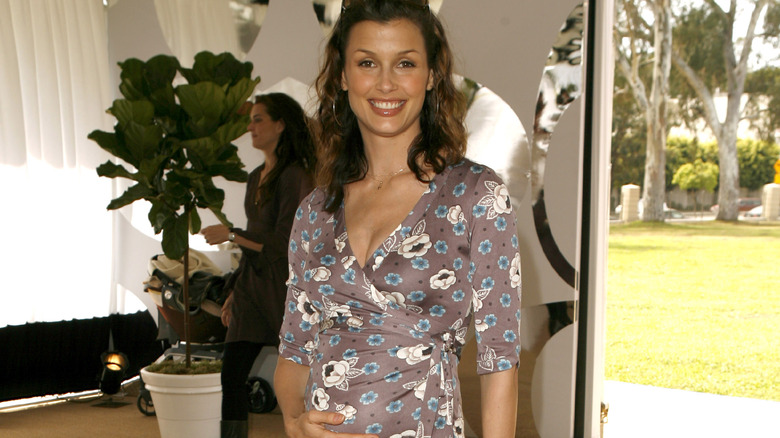 Jeff Vespa/Getty Images
Just three months after their breakup, Bridget Moynahan announced that she was pregnant with Tom Brady's child. To make matters more awkward, Brady had already entered into another relationship with Gisele Bündchen. While much of the attention and public empathy may have been on Brady for becoming a father just after starting a new relationship, it was perhaps much more difficult for the newly single Moynahan to navigate the situation alone.
In a 2023 interview with Vanity Fair, Bündchen also weighed in on the complicated situation she experienced when Brady told her that Moynahan was pregnant with his child. While Bündchen had indeed considered breaking up with Brady, she decided to stay put and see how everything unfolded. She also reportedly considered the future baby as a "bonus child" and said that the experience even accelerated her desire to have children of her own.
She became a single mom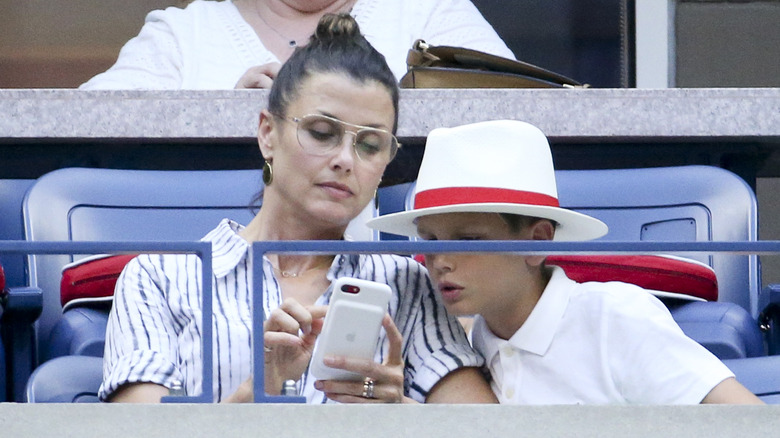 Jean Catuffe/Getty Images
Despite the support of Tom Brady and his new girlfriend, Gisele Bündchen, the reality was that Bridget Moynahan technically became a single mother. Their son, John Edward Thomas Moynahan (nicknamed Jack) was born in late August 2007. Despite the situation's challenges, Moynahan was reportedly excited about the pregnancy and the birth of Jack, whom she delivered at St. John's Medical Center in Santa Monica, California. Additionally, the public soon speculated about the timing of Jack's birth because Brady missed football practice right before the start of the new season. 
Shortly after Jack's birth, Moynahan reflected on how she had to learn how to co-parent with Brady, who had moved on from their relationship so quickly, and what it was like having a child outside of marriage. "I'm a traditional girl, and I believe in marriage, and I just always thought that's the way I'd be doing this," Moynahan told Harper's Bazaar. "For a moment, it was hard for me to accept that this was the way I was going to have a family. I've had to recognize that there are just so many different options today." She also conceded that while she wanted to have more children someday, she preferred to be in a relationship with the father, if it were the right person. It's never easy to be a single parent, but Moynahan took on the responsibility with such grace and didn't seem to care about what rumors swirled around her and Brady.
She experienced a great deal of trauma after her breakup with Brady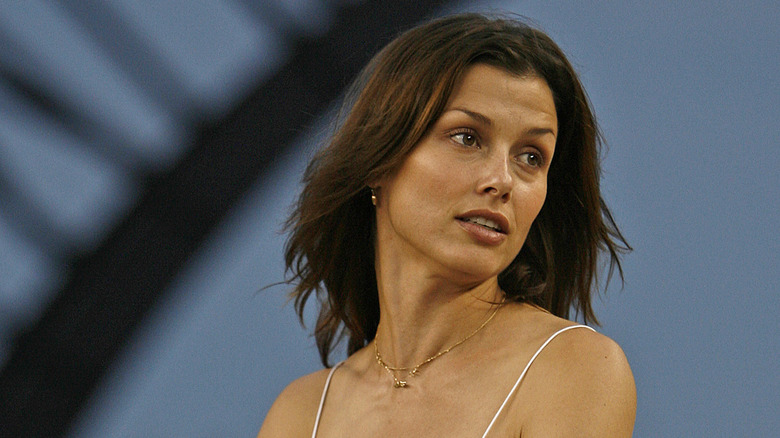 Jim Rogash/Getty Images
Breakups are never easy, and ending a relationship that was so closely followed by the public is difficult to imagine. While Bridget Moynahan stayed strong for her son Jack Moynahan, it's understandable that her breakup with Brady was not an easy phase of her life. "Going through that traumatic time of being heartbroken and then being pregnant turned my whole life upside down and inside out and just knocked the wind out of me," Moynahan told Harper's Bazaar in 2008. "But now I have a child, and it's the best thing in the world."
Also, it's worth noting that the trauma she went through didn't deter Moynahan from motherhood or her acting career. As Brady continued his rise in the NFL world, Moynahan's own career continued to blossom. Since their breakup and the birth of their son Jack, Moynahan has continued to land roles in movies such as "John Wick," as well as on television series like "Blue Bloods." 
Bridget Moynahan found happiness in another relationship and got married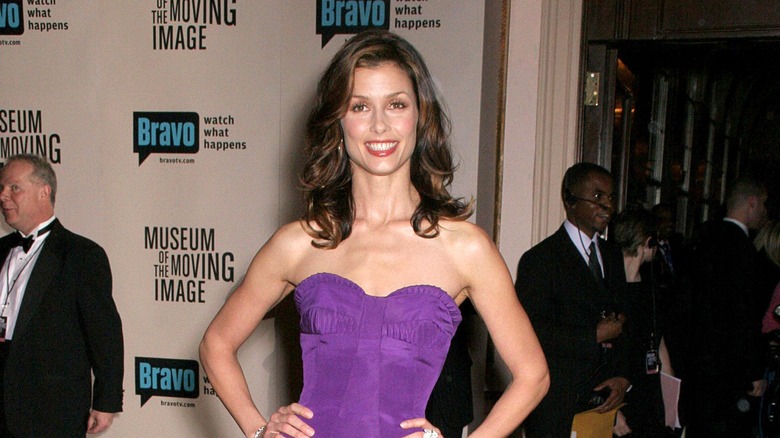 Everett Collection/Shutterstock
Bridget Moynahan grew from the trauma of her relationship with Tom Brady and started dating other people. While Brady admittedly moved on sooner, marrying Gisele Bündchen in 2009, Moynahan took her time before committing to another serious relationship. Eventually, after dating other men, she found her match in Andrew Frankel, a businessman from New York who also had three sons from a previous relationship. Frankel and Moynahan got married in October 2015 in the Hamptons after being engaged for about four months. "He's a really good person and a good partner," Moynahan told Glamour magazine in 2021. "I don't think as a younger person I understood what that meant when it pertains to real-life situations."
With Frankel and Moynahan both having sons from previous relationships (not to mention Brady and Bündchen's own children), fans were interested in seeing how Moynahan would settle into multiple blended families. Still, she had a clear and mature view of the situation. "I always encourage everyone to stay positive and understand you have to make the kids priority," Moynahan previously told People magazine, in which she discusses co-parenting and how she and Brady both had blended families due to their subsequent marriages.
Bridget Moynahan learned to raise her only biological son while co-parenting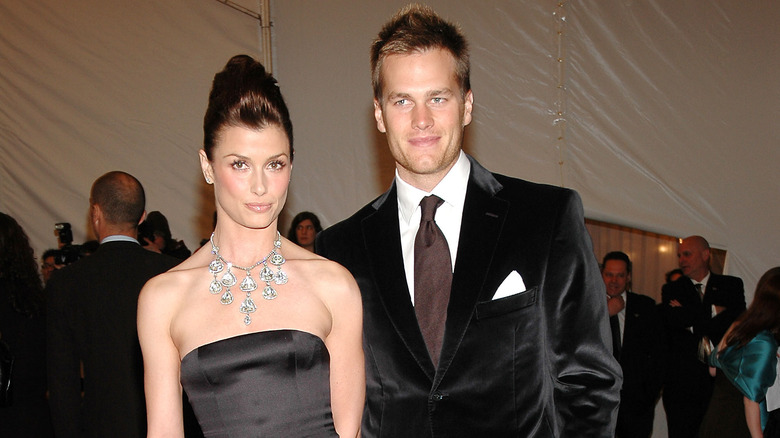 Rabbani And Solimene Photography/Getty Images
Shortly after learning of Moynahan's pregnancy, Brady vowed to be a key figure in their child's life. For a while, Bridget Moynahan's situation looked like a real-life soap opera, with Tom Brady and Gisele Bündchen getting married in 2009, just a couple of years after Moynahan and Brady ended their relationship and after their son Jack Moynahan was born. Eventually, Brady and Bündchen went through a heartbreaking breakup of their own, announcing their divorce in 2022. They were married for 13 years and have two children together. Moynahan has been married to Andrew Frankel for nearly a decade now, and she blended her own family with his own boys. 
Yet despite changes in relationships, Moynahan raised Jack, her only biological son, while co-parenting with Brady and later marrying Frankel. While the terms of their co-parenting aren't publicly known, it's apparent that Jack primarily lives with Moynahan, while occasional pictures on social media reveal that Brady spends a lot of time with him. Brady also said during an interview with Howard Stern that Jack was "the greatest kid you could ever ask for" and reported that his son shares his father's love of sports. At the same time, Moynahan reportedly made it a point to make sure Jack had a healthy relationship with all of his parental figures.
She eventually developed a good relationship with Tom Brady's ex-wife Gisele Bündchen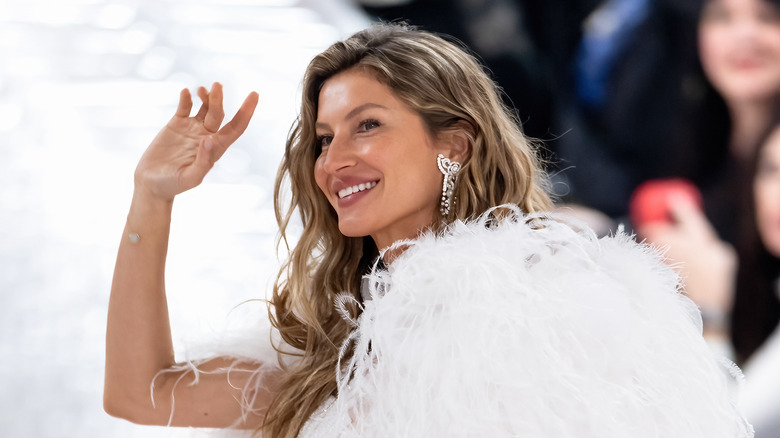 Gilbert Carrasquillo/Getty Images
It would seem that all was well in the Bridget Moynahan-Tom Brady world, with both having moved on to other partners while also successfully co-parenting their son. "Tom and I made a decision to raise a child together, and we both found partners that not only supported us in raising that child, but also loved our child as if he was their own," Moynahan told People magazine in 2019, referring to both her husband and Brady's wife, Gisele Bündchen.
Yet the relationship between Moynahan and Bündchen wasn't always so rosy. In 2023, Bündchen told Vanity Fair magazine that she and Moynahan didn't always have a positive relationship, though that changed over the years, declaring that "[l]ove conquers all." 
Interestingly, Bündchen also revealed in this particular interview that she didn't meet Moynahan for the first time until Jack was more than 1 year old. "We are a team," she went on to tell Vanity Fair. "I look back and I have no regrets. I loved every bit of it." It's not clear exactly who helped mend the relationship, though it would seem that Moynahan, Brady, and Bündchen all worked together to some degree to give Jack the best life they could without any unnecessary drama.
She continues to receive praise from her ex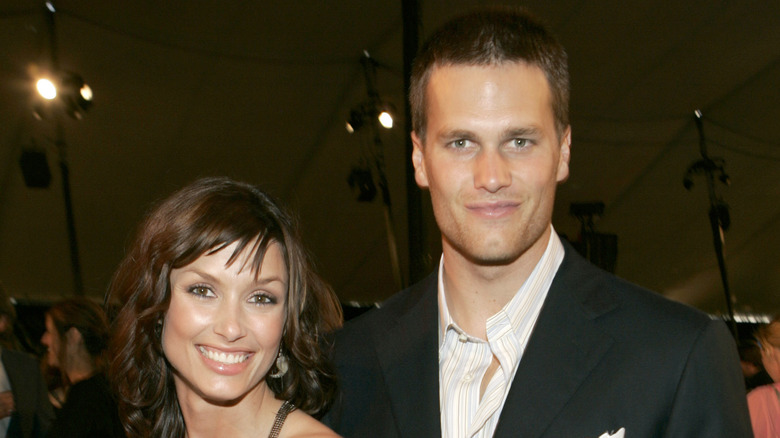 Kmazur/Getty Images
Bridget Moynahan has gone through a wide spectrum of experiences with Tom Brady, though most of them as of late seem to be positive. Despite their very public breakup, they went on to co-parent their son, Jack Moynahan, and also navigated a new type of relationship together. In fact, it's apparent that the two have still managed to be friends after all of these years in spite of all the drama surrounding their breakup.
The two occasionally post kind words about one another on social media. However, one surprise post from Brady was in February 2023, when he announced his second (and final) retirement from playing football for the NFL. Brady posted a photo on his personal Instagram account with Moynahan and their son Jack standing between them. Later that year, for Mother's Day, Brady posted again, this time praising both Moynahan and his ex-wife Gisele Bündchen, writing, "Thank you all for your love, compassion and kindness, and for setting such an amazing example for all of our little ones."
It would seem that not only did Brady change Moynahan's life throughout the years, but she also made positive changes in his, too!