Why Sean Hannity's Ex-Wife Jill Rhodes Was Warned About Their Marriage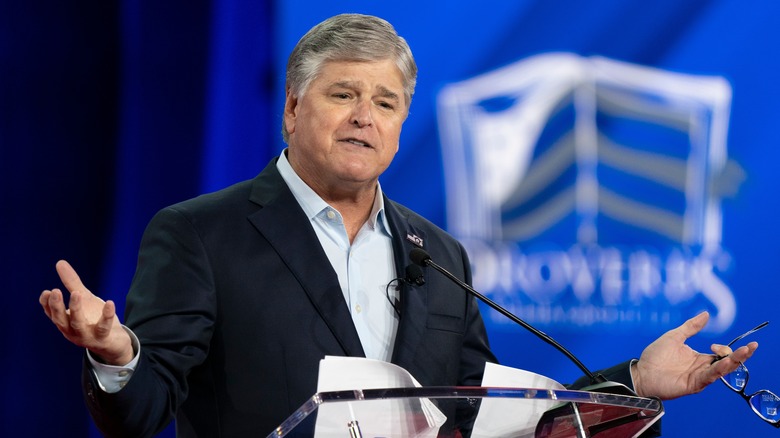 lev radin/Shutterstock
We may receive a commission on purchases made from links.
Sean Hannity fell in love with his ex-wife, Jill Rhodes, before they ever met face-to-face. Although Rhodes, a conservative columnist at The Huntsville Times in Alabama, had similar political leanings, most important to Hannity was her appearance. "She was really talented — gifted, but I really just fell in love with the little picture in her column," the political commentator told Newsmax in 2011. Fortunately, the attraction was mutual. The pair began dating in 1991 — "I looked at his face and I said, 'That is the man I'm going to marry,'" Rhodes remembers thinking, per People. By 1992, they were engaged and living in Atlanta where Hannity got a job as a radio host. Although they might seem like a match made in right-wing heaven, plenty of people objected. 
 "Everyone that she worked with at [The Huntsville Times] warned her not to marry me," the future Fox host recalled. Rhodes' friends were skeptical because Hannity was from New York, by all accounts a very different place than small-town Alabama. "'You mean that guy on the radio?' [they asked] Because it was Huntsville, Alabama, and I'm Sean, the New York talk-radio [guy]." Despite warnings, the pair decided to go for it — and they proved everyone wrong... at least for the next couple of decades. 
The pair called it quits after decades of marriage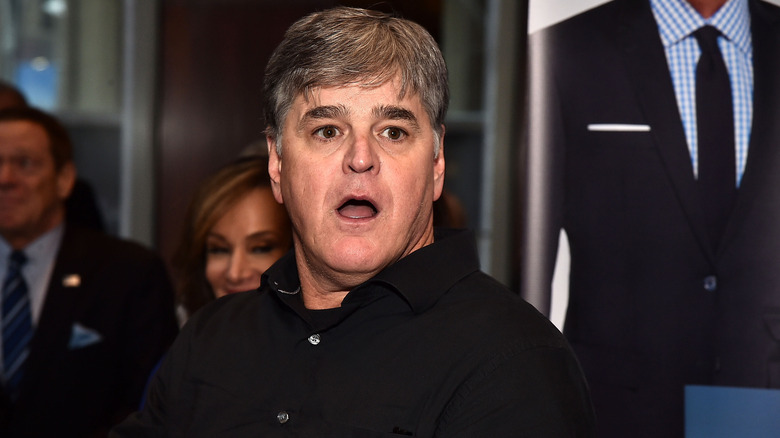 Theo Wargo/Getty Images
Fox News megastar Sean Hannity and his ex-wife, Jill Rhodes, had a very private relationship. According to sources close to the couple, they actually split several years before their divorce was finalized in 2020 — it was just kept largely under wraps. "[Their split] is very amicable," a friend told Page Six, adding that "Sean and Jill remain on very good terms and still have family dinners, and attend tennis tournaments for their children. Sean is still close with members of Jill's family."
The former conservative it-couple share two kids, Merri Kelly and Sean Patrick, both in their 20s. "Sean and Jill are committed to working together for the best interests of their children. Amicable agreements were entered into over four years ago between Sean and Jill. They maintain a close relationship as parents to their children," a representative told People. Their decades-long relationship is preserved on the pages of Hannity's 2002 book, "Let Freedom Ring: Winning the War of Liberty Over Liberalism." "The most important acknowledgment I make is to my family — my wife, Jill, and my two children, Patrick and Kelly, to whom I dedicate this book," he wrote, explaining that they made it all possible. "I am blessed to have them in my life." Neither Hannity nor Rhodes have posted about their personal lives on social media — in fact, the latter has opted out of a public account entirely.
Sean Hannity is dating Fox host Ainsley Earhardt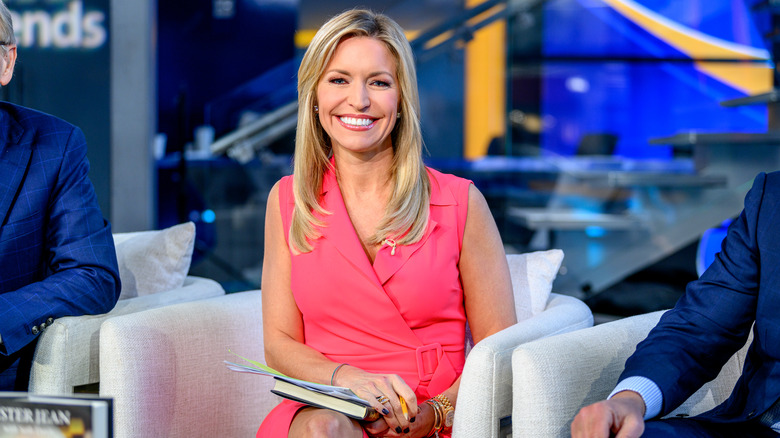 Roy Rochlin/Getty Images
After calling things off with his ex-wife, Jill Rhodes, Sean Hannity sparked dating rumors with fellow Fox News host, Ainsley Earhardt. In 2023, the couple finally went public with their secret romance. They've traveled together, shared meals at Waffle House, and even met one another's families. "They are extremely happy together and have been for a while," an insider told The Daily Mail. "It's not a surprise to anyone who knows them, but they're very private people and prefer to keep their personal life private and lowkey," they added.
Although the pair denied rumors for several years — "As anyone at FOX News will tell you, Sean is a wonderful person and whomever he chooses to date will be extremely fortunate," Earhardt reported in a 2020 Business Insider statement — many suspected their fling. Allegedly, Earhardt even filmed "Fox & Friends" from Hannity's home studio during the Pandemic. Despite their sizable age gap, the pair have made it work, bonding over their shared love of former president Donald Trump.