What We Know About Zendaya's Friendship With Timothée Chalamet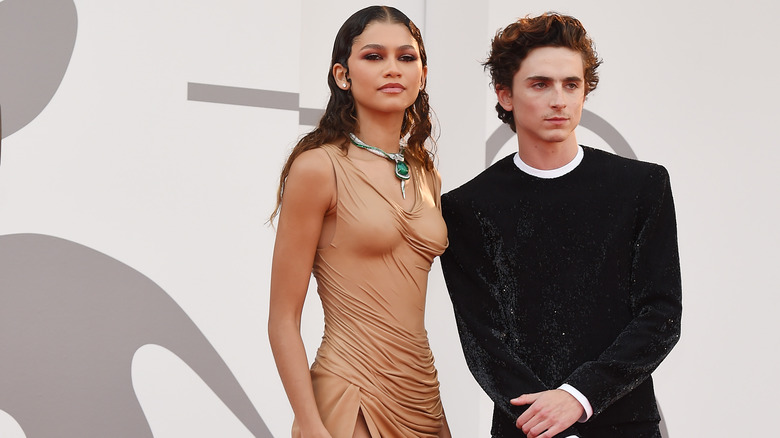 Stefania D'alessandro/Getty Images
Zendaya and Timothée Chalamet knew they were going to be best friends the moment they met. The two actors were introduced for the first time during their chemistry read for "Dune," and their connection was instant. In the years since they collaborated for the first part of the sci-fi movie adaptation, they've transcended fast friendship to become found family — with a heavy emphasis on the family. Though their close relationship garnered romance rumors before the "Euphoria" star was confirmed to be in a long-term relationship with "Spider-Man's" Tom Holland, both Zendaya and the "Little Women" actor have insisted they're nothing more than the best of pals — and their friendship is truly giving elite bestie vibes.
From delivering an incredible performance together on screen and slaying the red carpet in their "Dune"-inspired looks to supporting one another as they achieve their dreams and singing each other's praises along the way, Zendaya and Timothée Chalamet have a touching friendship that thrives both onscreen and off.
Zendaya and Timothée Chalamet became friends while working on 'Dune'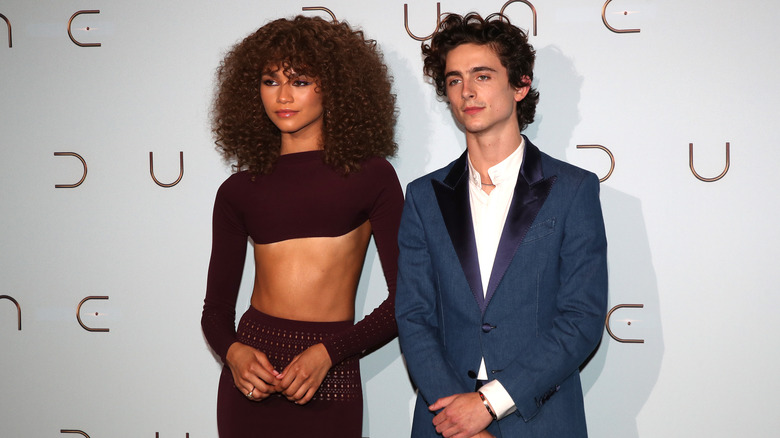 Bertrand Rindoff Petroff/Getty Images
Zendaya and Timothée Chalamet met while working on "Dune" in 2019. The majority of the cast is a generation older than the two actors, who were in their early 20s at the time, so they naturally bonded due to their similar age. But that wasn't the only reason Zendaya and Chalamet clicked: They genuinely enjoy each other's personalities and sense of humor as well. The "Euphoria" star recalled her first impression of the "Lady Bird" actor during an interview with British Vogue: "I was the only other person closer to his age on the cast. So he was like, 'Awesome, someone who understands my jokes!'" Zendaya added: "He's obviously a very talented actor, but just a wonderful person and a good friend to have. Especially in this industry, it's nice to have other people who are going through it too and that you can talk to."
Chalamet echoed her sentiment in a joint interview with Entertainment Tonight, during which he gushed: "I was just super grateful when Zendaya got there. ... It was great to have someone of the same age, same generation." He expressed how easy it was to transition their friendship on- and off-screen, explaining: "We had a really great time, and obviously on set, took the material as seriously as it required, but off set we were losing our minds — in a good way."
They felt an instant connection during their chemistry read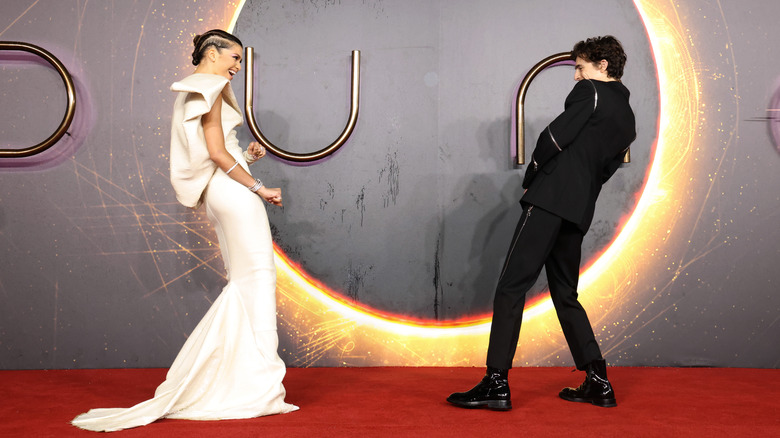 Tim P. Whitby/Getty Images
Even before working together on the set of "Dune," Zendaya and Timothée Chalamet could tell they were going to be fast friends. During their chemistry read for their respective roles of Chani and Paul, the two actors felt an instant connection. During a joint interview with People, Zendaya recalled, "I couldn't be as presumptuous because I hadn't gotten the job yet, but I was like, 'I feel like that went really well. I feel like we had, like, a good vibe!'" She added, "Like I said, not to be presumptuous at the time, but I was like, 'This feels like the right thing happening.'"
Chalamet praised Zendaya's ability to connect with not just him, but everyone on set, calling the award-winning actor "a breath of fresh air." He told People: "We were all having a great time, but she just brought her own energy and it was just like another kick of like, you know, incredibly talented artist coming to work." Zendaya responded to his praise by sharing how thrilled she was when she learned they were both cast in the sci-fi movie and would get the opportunity to work together for the first time.
Timothée Chalamet couldn't imagine anyone but Zendaya playing Chani to his Paul in Dune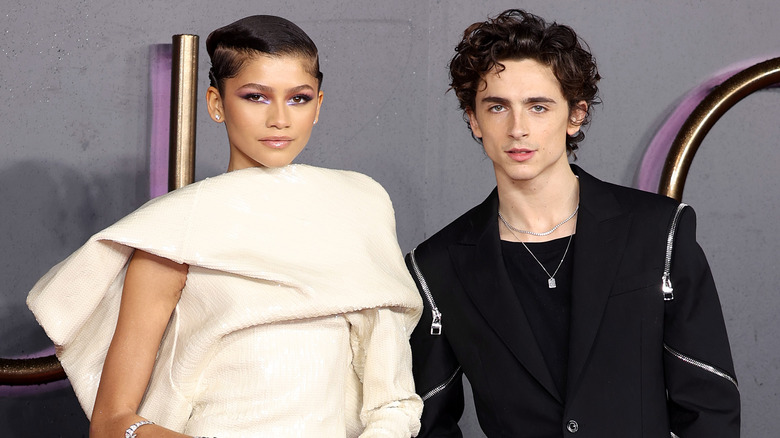 Mike Marsland/Getty Images
In addition to Zendaya and Timothée Chalamet's crackling chemistry on the set of "Dune," the "Little Women" actor expressed how wholly the "Spider-Man" star embodied her character in their film. "She is Chani, and it's incredible to witness. From the get-go, she was that character, and it was inspiring to see," Chalamet said during an interview with Deadline. He effused: "I love the shot in the movie of Chani pulling the mask down for the first time; it feels properly momentous. But even on the day, it was like, 'Holy s***, Chani has arrived.'"
The "Call Me by Your Name" star waxed poetic about their instant connection again, expressing how he couldn't imagine anyone else being Chani to his Paul. "[N]ot only was the relationship between us alive in Jordan, and not only does it live on the screen now, it was there just at the first chemistry read. It felt obvious." Considering the way Zendaya and Chalamet talk about each other, it's not too far of a leap to assume there may be something romantic between the two — and fans certainly did speculate that their relationship transcended the bounds of friendship. However ... 
They shut down romance rumors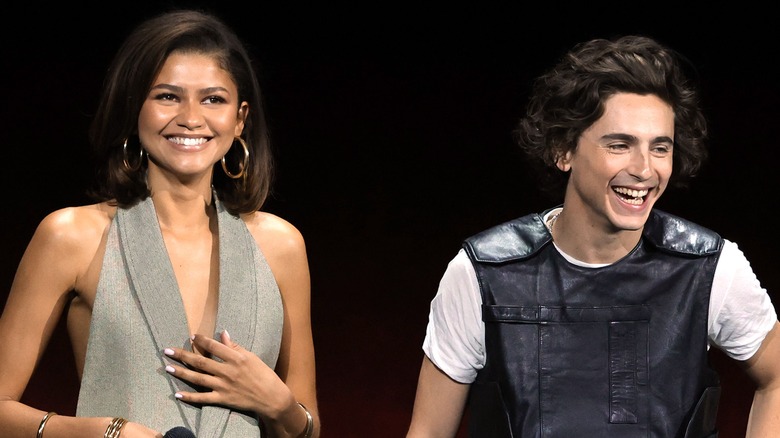 Ethan Miller/Getty Images
Zendaya and Timothée Chalamet subtly but firmly put each other in the friend zone in 2020. For each of their birthdays, the actors celebrated the other with glowing social media posts that explicitly included the "friend" label. For Zendaya's birthday on September 1, Chalamet took to Twitter, saying, "Happy birthday to one of the most inspiring people I've met on my short journey. Someone with the strongest ethical character and a moral compass that is in harmony with a totally fearless creative abandon. Happy birthday, @Zendaya. Hope your day is beautiful, friend." 
For Chalamet's birthday on December 27, the former Disney star penned a loving Instagram Story echoing the "Bones and All" actor's verbiage. "Happy birthday to one of the coolest mf on the planet. This may not be as eloquent as he would say it, but the love is just as real," Zendaya wrote. "It's an honor to watch his talents at work but even more of an honor to be able to call him a friend. Essentially he's the s***. Hope it's a beautiful one. @tchalamet."
By the time the two actors were doing press for "Dune" ahead of its September 2021 premiere, Zendaya and her "Spider-Man" co-star Tom Holland were speculated to be dating as well. In July 2021, they were photographed by paparazzi kissing at a stoplight, and for her birthday, Holland penned his own tribute that seemed to double as relationship confirmation.
In fact, Zendaya and Timothée Chalamet consider each other family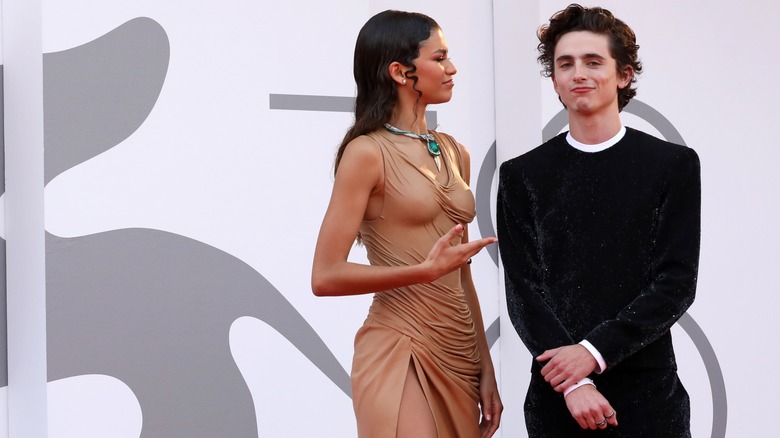 Elisabetta A. Villa/Getty Images
Even more than insisting they're just friends, Zendaya and Timothée Chalamet consider each other family. The "Wonka" star sang the praises of the "Malcom and Marie" actor in an interview with Variety, noting that their close friendship had transcended to something more akin to a sibling dynamic. "[S]he's really become a sister," he lovingly shared. The award-winning actor added: "I'm so grateful to count her as a partner and a sister and a friend, and also to share stories about how amazing it is to work with Luca [Guadagnino], because we worked with him back to back on wildly different projects." (In addition to the "Dune" movies, Zendaya starred in "Challengers," a rom-com directed by Guadagnino that's set to release in 2024, and Chalamet starred in Guadagnino's "Call Me by Your Name" back in 2017.)
By the time the November 2022 article was published, Zendaya and Tom Holland had been spotted holding hands in public on numerous occasions, and their social media posts of one another had increased in frequency. Though the couple tries to maintain some privacy in their very public lives, sources confirmed the seriousness of their romance. In fact, that same month, a source told Us Weekly Zendaya and Holland were "serious and permanent," adding: "They're both in settling-down mode and are absolutely planning for a real future together." All of which is to say: Zendaya and Chalamet are strictly the best of friends.
They fervently admire each other's work and sing the other's praises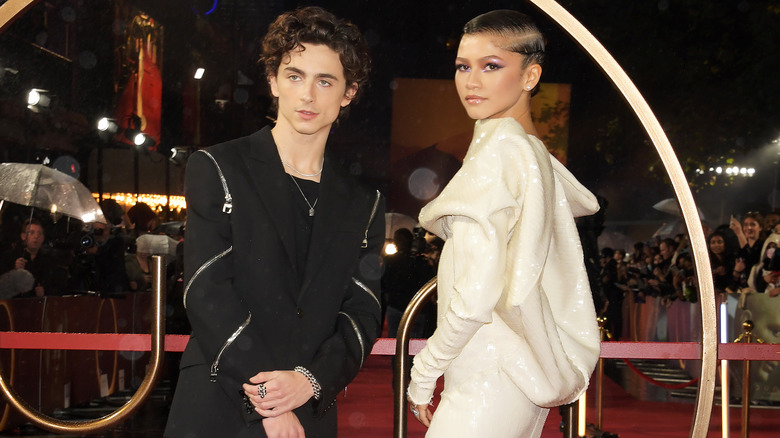 David M. Benett/Getty Images
Zendaya and Timothée Chalamet take every opportunity possible to publicly tout their admiration for the other's acting skills — the bestie vibes are truly immaculate. During a joint interview with People ahead of the first "Dune" film, the young stars took turns applauding one another for the wildly impressive projects they've been part of during their early careers. Chalamet expressed how blown away he was by not only "Euphoria" as a whole, but also by Zendaya's leading role in the explosive drama. "Zendaya's Rue is incredible and insightful and just, like, what a beautiful performance," Chalamet effused.
"The Greatest Showman" star returned the compliment with gushing praise of her own, saying it isn't any one of Chalamet's projects that has impressed her, but his entire CV of acting credits. "He continuously comes with beautiful performances. ... There's not a pretentiousness in the way in which he goes about choosing things or wanting to do things," she said. Zendaya went on to express her admiration for the way in which Chalamet picks projects not for how they could benefit his career, but because they resonate at a deeper level with who he is. "I appreciate that because I think often that's not people's motivation to want to do things," she added. "I feel like you always keep the art first in the non-pretentious kind of way, and it shows because you deliver every time."
Timothée Chalamet and Zendaya admire each other as people as well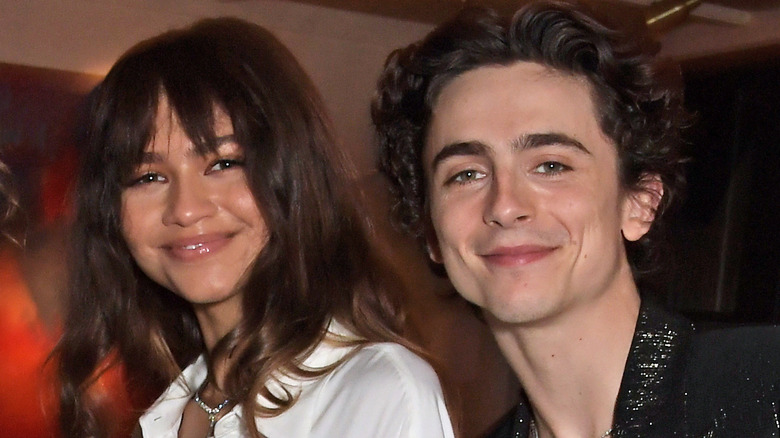 David M. Benett/Getty Images
During her interview with British Vogue, Zendaya heralded Timothée Chalamet as not just an incredible talent behind the camera, but also as a genuinely fantastic person and friend. She expressed how much she appreciates that he's become a fixture in her Hollywood circle because he understands the challenges and pressures of the high-profile world, and it's nice to have someone her age to talk to about a life that many others can't fully understand.
Zendaya's beau Tom Holland agrees that her previously rumored love interest is a great guy, too. During an interview with Associated Press for "Spider-Man: No Way Home," the couple mused about which role would be fitting for Chalamet if he were part of the superhero franchise. Zendaya commented that fans have expressed interest in her "Dune" co-star playing Harry Osborn, and Holland added: "I think it would be good to bring him in as a [friend of Spider-Man] and then he kind of becomes bad, and then he can be a villain. He'd be a good villain." Zendaya agreed before saying the idea "is funny 'cause he's so nice," to which Holland responded: "Such a nice bloke, yeah."
Timothée Chalamet celebrated Zendaya's Emmy win for 'Euphoria'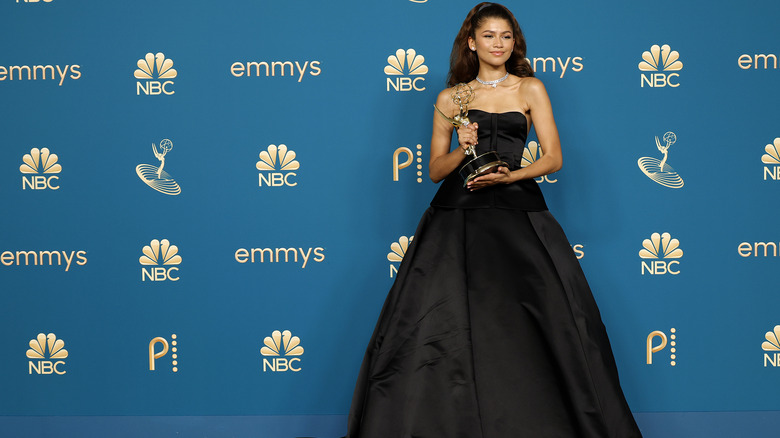 Frazer Harrison/Getty Images
When Zendaya won her first Emmy award, for outstanding lead actress in a drama series in 2020, she became (and still is) the youngest person in history to receive the esteemed accolade at just 24 years old, and Timothée Chalamet was ecstatic for his best friend. The "Hot Summer Nights" actor interviewed Zendaya for Elle after she won it for her performance in "Euphoria," and again, the duo was giving top-tier friendship vibes. Chalamet told Zendaya: "I'm so happy for you. I was screaming over here when I saw it!" He added: "When you had just gotten the nomination, I remember us talking about what it was going to be like in this environment, not having an in-person ceremony. But you killed it!" 
In 2022, Zendaya went on to snag a second outstanding lead actress Emmy award for her portrayal of Rue Bennett on the hit HBO series. She also made history once again by becoming the youngest woman nominated for producing when "Euphoria" was up for outstanding drama series that year. In addition to her Emmy accolades, Zendaya also won a Golden Globe for best performance by an actress in a television series, again for "Euphoria," in 2023.
They applaud each other's fashion sense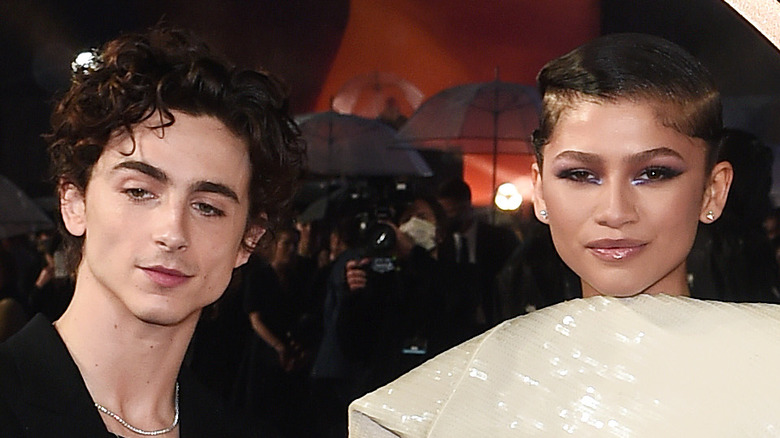 Eamonn M. Mccormack/Getty Images
Zendaya and Timothée Chalamet are known as two of the most fashion-forward actors of their generation — and they commend each other's ability to slay on the red carpet. During a joint interview with Access Hollywood, the "Smallfoot" voice actor applauded Chalamet's ability to pull off any look. She humorously opined: "I mean, you can wear anything. He's, like, the cool guy. Boom. What do you want? Glasses on the carpet? Boom. What do you want? Sparkle? Do you want floral? Do you want color? Whatever you want. Whatever you need. Got it. Boom."
In another joint interview with E! News, the duo talked about how much they were loving the fashion inspired by "Dune" and in the film itself. After playfully complimenting each other's red carpet looks for the movie, Zendaya spoke about her passion for fashion and the way she curated her press looks based on the movie's costumes. "Fashion is, again, a form of expression, and I think in many ways I was heavily inspired by the film and the beautiful costumes in this film," she shared. "I think when I was on set, I was blown away by the detail ... Every [red carpet] outfit [of mine] is almost an homage to the film that I'm lucky enough to be a part of."
The actors first walked the red carpet together at the Venice Film Festival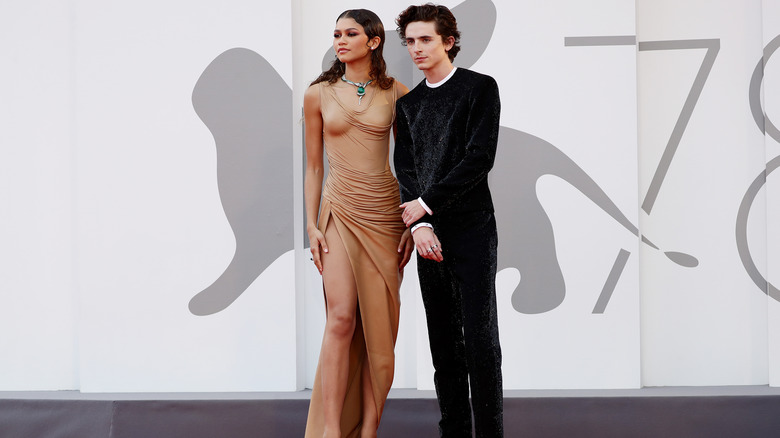 Vittorio Zunino Celotto/Getty Images
Zendaya and Timothée Chalamet made their red carpet debut at the 2021 Venice Film Festival for the premiere of "Dune." For the esteemed event, Zendaya wore a bespoke leather Balmain gown that gripped her frame and created the illusion that she was soaking wet. The stunning fawn-colored dress matched the actor's warm skin tone, allowing the garment to seamlessly blend with her body, which heightened the drama of the visual trick. With its draping silhouette — created from a form of Zendaya's bust — and the hip-high leg slit, the "Dune" star was an ethereal enigma. And let's not forget her emerald snake necklace by Bulgari, her faux-wet waves, or her softly blown-out cat eye.
Law Roach, Zendaya's stylist, explained the look's concept to Women's Wear Daily: "The custom Balmain haute couture was very much supposed to feel like armor and for her to feel like some type of warrior. The color was reminiscent of the sand from sand dunes, so when we started this, we came to the conclusion that we wanted everything to feel like it could have been a costume in the movie."
It's hard to elicit a jaw-dropping effect when standing next to Zendaya, but Chalamet managed to do so in his muted yet bold Haider Ackermann ensemble. The actor played up his mop of dark locks with a sparkling black crewneck and trousers set that looked remarkably high-fashion for such a simple outfit.
Timothée Chalamet and Zendaya continued to serve jaw-dropping looks together at Dune events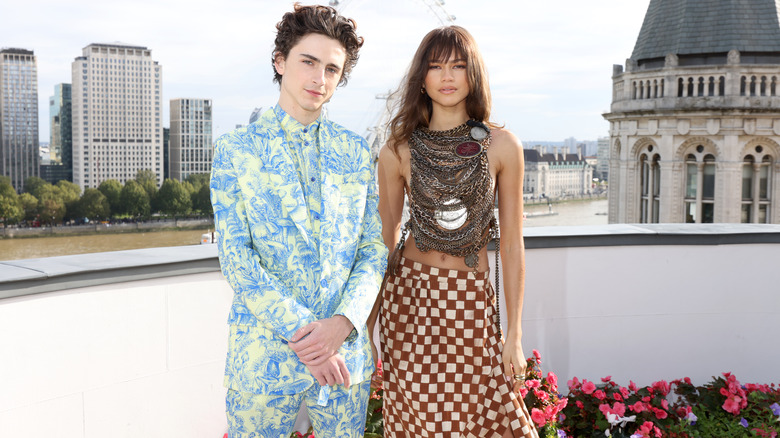 Tim P. Whitby/Getty Images
After the Venice premiere of "Dune," Zendaya, Timothée Chalamet, and their fellow castmates hit Paris for the hit movie's next screening. For the occasion, Zendaya wore a stunning plum-colored two-piece set from Alaïa. The look included a long-sleeve crop top and matching floor-length skirt with a mermaid silhouette covered in lush feathers from the knee down. Chalamet coordinated with his co-star's jewel-toned look with a sapphire-colored Tom Ford suit over a collarless white dress shirt.
The cast then headed to London to promote the release of "Dune." For the photo-call ahead of the British premiere, Zendaya wore an astonishing Vivienne Westwood ensemble that included a top made entirely of chains and antique-style embellishments, as well as a rust and ivory checkered skirt with a modest slit and draping hem. Chalamet wore one of his most high-fashion looks to date, which was a bespoke three-piece suit by Stella McCartney. The elegant cerulean and cream number featured an elaborate fungi and foliage print that was completely mesmerizing. 
That evening, the duo walked the red carpet again, this time with Zendaya wearing an ivory-colored dress by Rick Owens that featured a single long-sleeve, elaborately draped fabric over her shoulders and back, and a fishtail-style skirt with a modest train. Chalamet donned a black Alexander McQueen suit with zipper detailing along the sleeves and down the pant legs — and these were just a few of their "Dune"-inspired ensembles.
The two love decompressing with dance parties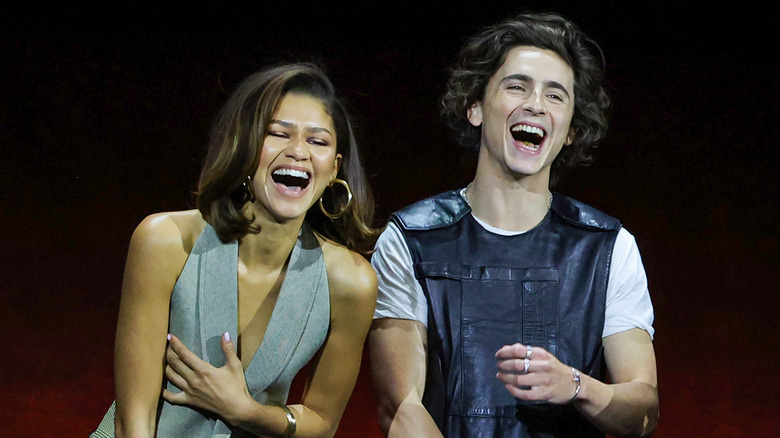 Ethan Miller/Getty Images
Long days on set can take a lot out of an actor's mental and emotional reserves, but Zendaya and Timothée Chalamet had a special way they liked to decompress while filming "Dune." During a virtual appearance on "The Late Night Show with Stephen Colbert," the "Euphoria" star gushed about the "Beautiful Boy" actor again when Colbert asked what her favorite part of working on the movie was. "Timothée has become one of my closest friends, and he's lovely and so talented," Zendaya said, adding: "I think my favorite part was we would have these like dance parties in my room where I would leave the door open, and Timothée would come in with his little speaker, and then everybody would start coming in and we would just start dancing."
Zendaya also mentioned the dance parties during her interview with British Vogue, laughing at the fond memory. She recalled: "He just rolled up with his little boom box [and would play] 2000s dance songs like Soulja Boy." Chalamet told the outlet: "We got in a nice, beautiful rhythm, where we were able to snap into focus on scenes but we had so much fun, too." From work to play and creative fulfillment, these two stars certainly have an enriching bond that they clearly hold in very high esteem.
Zendaya and Timothée Chalamet still had to nail romantic chemistry in Dune: Part Two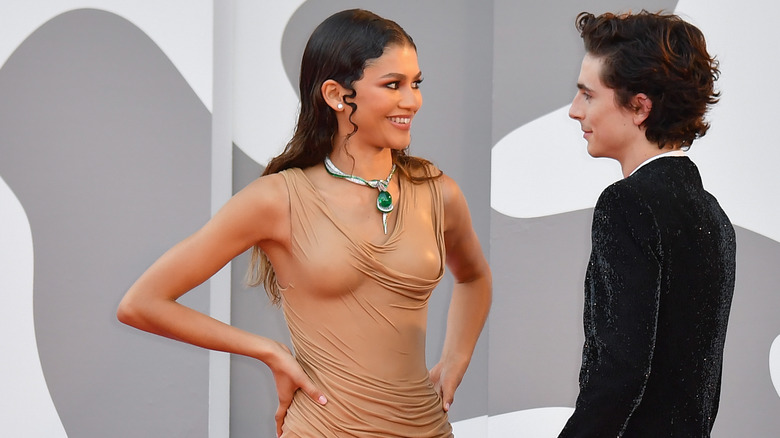 Stephane Cardinale - Corbis/Getty Images
The second part of "Dune," which hits theaters November 3, 2023, picks up right where the first left off. While war is one of the main plotlines in the movie, the developing love story between Chani and Paul — Zendaya and Timothée Chalamet's characters — is also a massive part of the follow-up film. And for the two friends, who consider each other siblings, figuring out the romance of it all was a challenge — especially considering the story's sci-fi setting.
Zendaya told Variety: "It was funny trying to figure out in this futuristic space talk, like, how do they flirt? What does that look like for a space warrior and the young duke of a planet? How do they show that they like each other? What does that even sound like? We were definitely trying to navigate that, which was funny because all of us were stumped. I think it's just as foreign to us as it probably is to the characters," she mused.
The actor also said that she and Chalamet only had about an hour each day to film the romance scenes because Denis Villeneuve wanted to shoot them during the fleeting "golden hour" for the gorgeous cinematic effect the lighting would lend. Oh, and Villeneuve also said the connection between their characters was vital to the success of the film — so, no pressure or anything!
They teased more iconic Dune-inspired looks to come ahead of the Part Two premiere at CinemaCon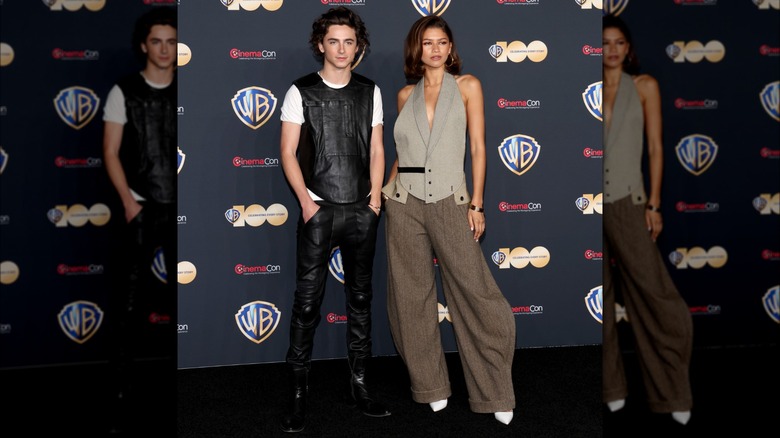 Gabe Ginsberg/Getty Images
Zendaya and Timothée Chalamet teased the imminent return of their red carpet fashion slays during CinemaCon in April 2023. While promoting "Dune: Part Two," the duo resumed their streak of stepping out in looks inspired by the story, and they coordinated with one another by incorporating vests into both their ensembles. Zendaya donned an oversize, backless Louis Vuitton vest with a plunging neckline, panels of plaid fabric at the hem, and a leather strap encircling her waist. She paired the avant-garde piece with wide-legged trousers that had a Hammer pants-style silhouette that somehow worked — probably because she was the one wearing them.
Chalamet pulled his look from the Helmut Lang archives, opting for a futuristic black leather vest from the designer's 1998 spring/summer collection. The actor wore a tastefully rumpled white T-shirt beneath the vest and paired matching black leather pants with the "Dune"-inspired look. Both Zendaya and Chalamet's ensembles have us eager for what's to come in the months leading up to the second film's premiere.