Sharon's Journey With Breast Cancer On The Young And The Restless Fully Explained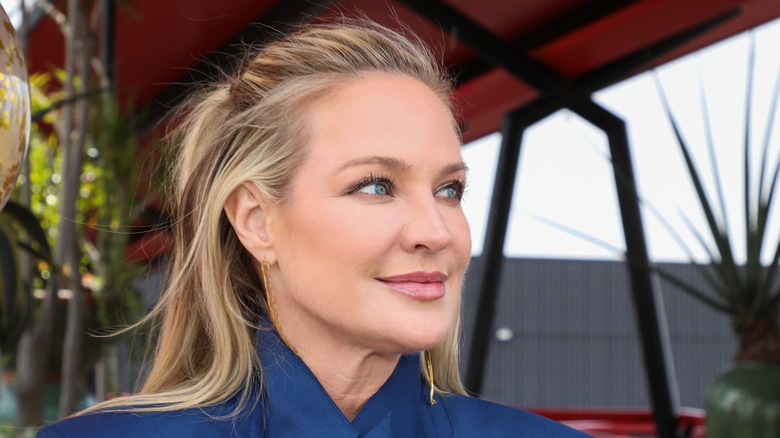 Paul Archuleta/Getty Images
One major selling point of "The Young and the Restless" is that the writers consistently address difficult topics. Sharon Collins' (played by Sharon Case) cancer journey was made possible by a partnership between CBS and The American Cancer Society. When Sharon was diagnosed with breast cancer in "The Young and the Restless," she faced a life-threatening reality that millions of people face yearly. She had just started to settle into life with her boyfriend Rey Rosales (Jordi Vilasuso) after a tumultuous romantic history with some of "The Young and the Restless" leading men when her life took a drastic turn.
She discovered a lump in her breast, and though she hoped it would be non-cancerous, the results showed that she had stage two breast cancer. Sharon was immediately plunged into panic as she grappled with the reality of her diagnosis. Rey was the first to hear the sad news, and Sharon decided she wouldn't tell anyone else. She didn't want to be treated differently. Instead, she suffered in silence and lived in a daze of worry.
Despite keeping silent, she couldn't hide her worried demeanor, which bothered Faith Newman (Alyvia Alyn Lind). Faith snooped and found Sharon's medical notes around the house. The papers didn't expressly say it, but Faith figured Sharon had cancer. Terrified, she shared the news with Nick Newman (Joshua Morrow), and soon, Mariah Copeland, whom Sharon had given up for adoption at 16, also became aware of the situation. When Rey discovered that her ex-husband knew about her cancer, he was happy and relieved she had more support.
Sharon Collins undergoes chemotherapy
Sharon's medical specialists advised her to undergo chemotherapy, but the effects were more than she could handle. The chemotherapy caused nauseating chills and even began to attack her white blood cells. In response, the medical team recommended scheduling a lumpectomy — an operation to remove the lump. Fortunately, the cancer had not spread, so her chances of recovery were promising. Sharon was also told that she would need chemotherapy or radiation therapy post-surgery.
While she struggled, her family stayed close, offering help and support. Mariah chose not to tour with her musician girlfriend, and Faith transferred from her boarding school to Genoa. Soon, even Nikki Newman heard the terrible news. Nikki and Sharon had never seen eye to eye, as she resented Sharon's involvement with multiple Newman men, including Nick, Adam, and Victor, Nikki's husband. Worse still, Sharon's previous ill-fated romance and marriage had been Dylan McAvoy, Nikki's long-lost son from a man she'd been with when she was younger.
Despite this, Nikki visited Sharon, offering a sympathetic ear and a compassionate presence. Sharon openly discussed her fears, diagnosis, and thoughts about mortality during their conversation. In response, Nikki shocked Sharon (and viewers) by hugging her. When Sharon remarked that no one would ever believe they would share such a moment, Nikki told her that was precisely why the world would never hear of it. Sharon's lumpectomy went according to plan, but a scan showed that her sentinel lymph nodes also had cancerous cells, requiring another surgery.
Sharon's cancer is cured, but her journey faces some criticism
Sharon's second surgery was successful, but her journey was far from over — she still needed to endure chemotherapy. Considering her terrible reactions when she'd previously tried chemo, this was another major challenge. Luckily, she completed her final treatment and was declared cancer-free. An ecstatic Sharon picked Rey to tell the good news first, which was fitting considering he was the first to hear she had cancer.
Soon after, she proposed to Rey, and they were married in a gorgeous indoor ceremony. Sharon's cancer storyline ended positively, contrary to the fears that it would end her "Y&R" run. Despite this, some fans of the show were dissatisfied. Some observers pointed out that Sharon didn't experience hair loss and continued working at the Crimson Lights coffee shop without much struggle. It's important to note that not all individuals undergoing cancer treatment suffer hair loss, as it is a side effect of chemotherapy, rather than the cancer itself.
Critics also highlighted a scene where Sharon wore a low-cut dress that, logically, should have revealed her cancer port, yet no such device was visible. While the plot may have inconsistencies, it remains appreciable that "Y&R" tackled a topic as crucial and lethal as breast cancer. Although imperfectly portrayed, sharing Sharon's journey was a major step toward representation and breast cancer awareness.