Michelle Obama Gave Sasha And Malia Reality Checks While Growing Up In The White House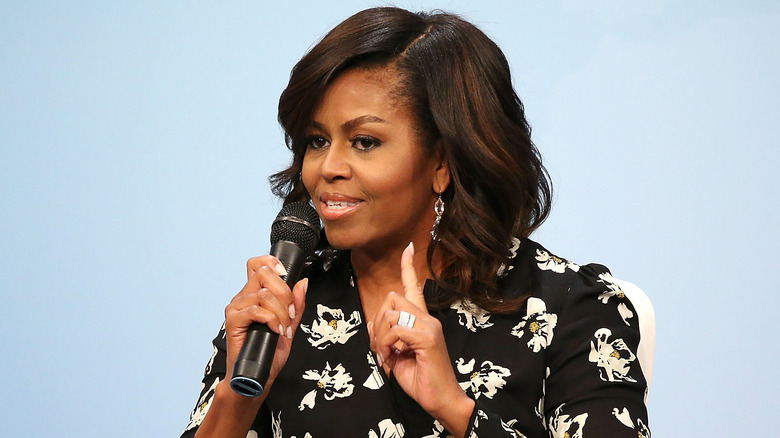 Paul Morigi/Getty Images
When Barack Obama was elected president, Jenna Bush Hager showed his daughters Malia and Sasha Obama the ins and outs of their soon-to-be new home. As the daughter and granddaughter of a president, Bush Hager was one of the few people who understood what a unique childhood Malia and Sasha would have in the White House. Along with her twin sister, she took 10-year-old Malia and 7-year-old Sasha to check out some of the mansion's opulent features, including an in-house movie theater and bowling alley. They also encouraged the girls to use the staircases as indoor slides. 
Once they moved in, Michelle Obama gave her daughters carte blanche to explore the White House's 55,000-plus square feet of space. "I've tried to encourage them to feel like this whole place is their home," Michelle explained to People in 2009. "Just let us know where you're going."
Despite these luxurious surroundings, Michelle wanted to make sure Malia and Sasha had as normal a childhood as possible, complete with common chores that all kids can relate to. To achieve her plan, she got the White House staff involved. "I also had to beg the housekeepers, 'These girls need to learn how to clean their own rooms and make their beds and do their laundry,'" Michelle recalled in the Netflix Documentary "Becoming," per "Today." "You cannot do this every day because they will not live here forever, and I am not raising kids who don't know how to make a bed."
Michelle followed her own mother's lead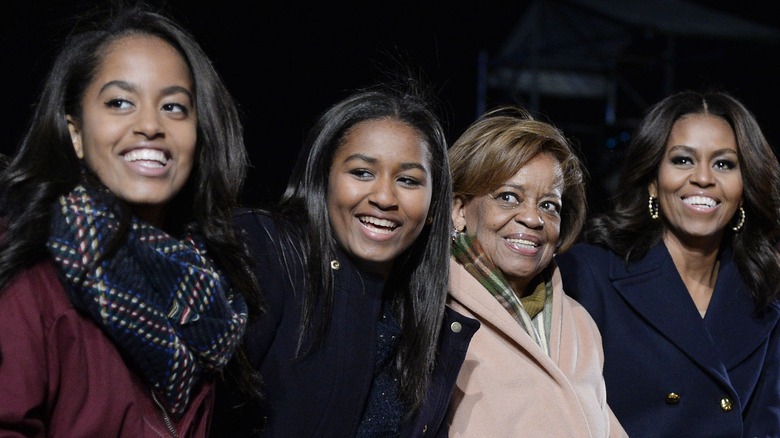 Pool/Getty Images
Michelle Obama's forward-thinking approach to raising her daughters, Malia and Sasha Obama, originated in her own childhood and the influence of her mother, Marian Robinson. "She told me and my brother, 'I wasn't raising children. I was raising adults,'" the former first lady said in 2018, per CNBC. "She would include you in big grown up conversations. There was never anything that she wouldn't talk to us about."
As part of raising her daughters to become confident adults, Michelle ensured Malia and Sasha's lives in the White House weren't unduly effortless. "My job is not to bulldoze a path for them in an effort to eliminate all possible adversity," Michelle informed British Vogue in 2019. "Instead, I need to be a safe and consistent place for them to land when they inevitably fail; and to show them, again and again, how to get up on their own."
When it came to getting up in a more literal sense, Malia and Sasha discovered they could receive a daily wake-up phone call from the White House's operator. While the sisters loved this hotel-like luxury, Michelle quickly put the kibosh on the practice by getting the White House's interior decorator to provide alarm clocks. Michelle recalled a similar experience with her own mother, telling NPR, "As early as kindergarten she gave us alarm clocks because she knew that we were capable of getting ourselves up. She wanted us to feel the power of our competence."
Michelle kept White House life as informal as possible for Malia and Sasha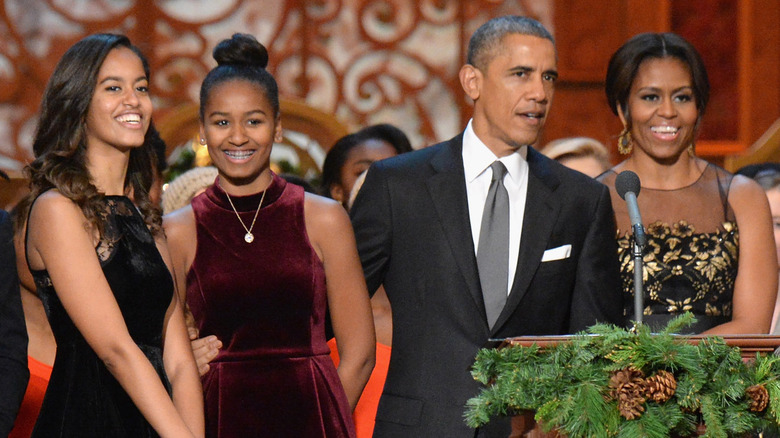 Kevin Mazur/Getty Images
Even though dinnertime inevitably looked different when the Obama family was living in the White House, Barack and Michelle Obama made a conscious effort to keep things as grounded as possible. Despite his demanding job, Barack made family meals a priority. "I just set up a rule: I'm having dinner with my crew at 6:30 every night unless I'm traveling," the former president recalled on his "Renegades" podcast (via PopSugar).
While eating, Barack, Michelle, and their daughters, Malia and Sasha Obama, played a game called "roses and thorns," as a way to generate candid discussion about the positives and negatives of life. "Malia has pointed out to Barack that, as she said, 'Dad, you seem to have a pretty thorny job,'" Michelle informed People in 2009, early in her husband's presidency. "We looked at each other and laughed and said, 'It's okay, you can say that.'" After dinner, Barack spent additional time reading to his daughters and hearing more about their days. 
To help her daughters feel more comfortable living in the vast 132-room White House,  Michelle implemented a more casual dress code for the staff. "I didn't want them thinking that grown African American men serve them in tuxedos," Michelle explained in the Netflix documentary "Becoming," per Daily Mail. "You can't walk around every day in a full tuxedo. Girls would have pool parties and play dates and little kids over and that just doesn't even look right to me."