Joanna Gaines' Sage Parenting Advice For Working Moms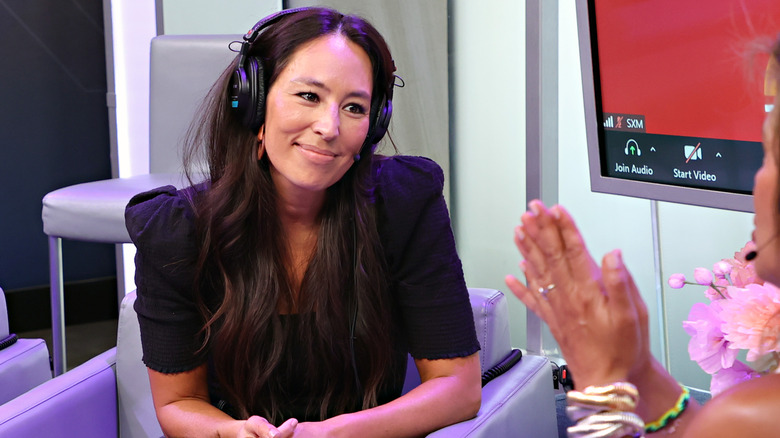 Cindy Ord/Getty Images
"Fixer Upper" stars Chip and Joanna Gaines have been together for 20 years and their love is still going strong. They got married in 2003 and had their first child, Drake, in 2005. Their second child, Ella, was born two years later. "Ella is like me," Joanna confessed in an interview with PEOPLE. "I think she'll follow in my footsteps and have her hand in lots of things. Right now she wants to cook, be a lead designer, and have a donut truck," she added.
In the years since, the couple has welcomed three more children, Duke, Emmie, and Crew, all while building a successful business. Joanna became a bestselling author and, together with her husband, launched the Magnolia brand and the lifestyle magazine "Magnolia Journal." In 2017, Chip published "Capital Gaines," a book describing his entrepreneurial experience and the lessons he learned throughout his career. The power couple also operates three restaurants, among other business endeavors.
We can all agree that Joanna is a super mom, not just an accomplished entrepreneur. She's also a role model for her kids and puts a lot of effort into their education. Luckily, she's more than happy to share parenting tips with other working moms and help them navigate the challenges they face. From helping with chores and learning how to entertain themselves, she believes it's easy to set your kids up to be successful adults. However, she also thinks parents should offer themselves a bit more grace. 
Joanna Gaines sets clear rules and expectations for her kids
Joanna Gaines believes that children should learn to be responsible from a young age. With that in mind, she and her husband ask the kids to help around the house and follow strict rules, such as leaving their phones in a designated space. "It just became a house rule, when you're at home, that all the phones go in one spot, so if you want to check a text, if you want to check an email, you go to that spot, but it's not on your body," the mother-of-five explained in an interview with TODAY.
The "Fixer Upper" star also encourages her kids to spend time outdoors and do work on the farm. For example, they are expected to water the plants and pick the fruits and vegetables they eat. Their parents also want them to spend more time outdoors and less time on screens. In fact, Chip and Joanna Gaines don't even own a TV and prefer to spend their evenings playing with the kids. 
Joanna wants her children to stay down-to-earth and learn to enjoy the simple things. Despite their wealth, the Gaines kids are encouraged to make their own toys and be content with what they have. For instance, their favorite toy is a set of plastic cups. They stack them on top of each other, build forts of different sizes, or simply arrange them in creative ways. 
The Fixer Upper star encourages working moms to practice self-care
Working mothers often feel like they're not doing enough. Perhaps you blame yourself for spending too little time with your kids or making mistakes that push them away. You try to follow all the parenting advice that gets thrown around, but your efforts don't seem to pay off. What you're feeling is perfectly normal, and you shouldn't beat yourself up for not being a perfect parent, wrote Joanna Gaines on her blog.
"When I was staying home, these same feelings of 'not doing enough' would find their way into my mind," she confessed in her post. Gaines also says she makes an "intentional effort" to connect with her children, no matter how busy she gets. The 45-year-old entrepreneur advises working moms to find joy in the little things and value every moment spent with their kids.
Self-care is just as important as looking after your loved ones, says Gaines. After all, you can't be at your best if you're constantly tired and burned out. Make time for a nap, read a good book, go out for a walk, or do whatever brings you joy. "From one mom to another, stop being so hard on yourself. Don't spend another second focusing on failure; instead, use whatever time and energy you have and look for the moments where grace can be found. Because I'm telling you, this grace is sufficient," Gaines wrote on her Instagram page.