Sophie Gregoire Trudeau's Absolute Best Fashion Moments Ever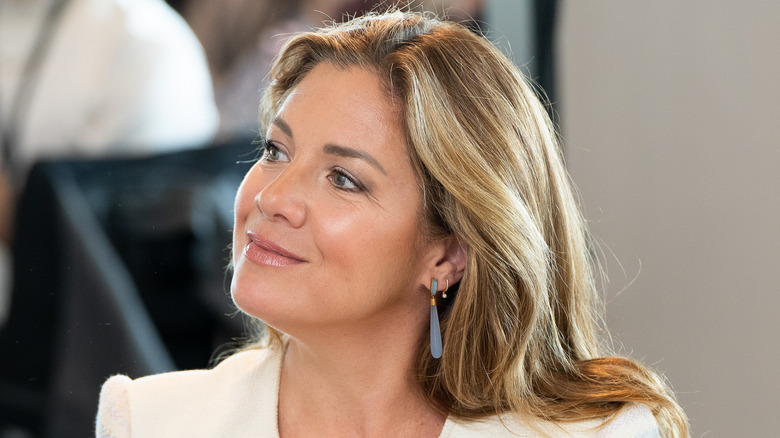 Jared Siskin/Getty Images
When Canadian Prime Minister Justin Trudeau first took office in 2015, the world quickly took notice of Sophie Grégoire Trudeau's sartorial savvy —  and the immense focus on her style caught her off guard. "I never expected the level of reaction and interest and curiosity, which is amazing because what I get on my side is letters from designers and artists and creators who are getting more light shed on their work, and that's what we want to do," she told The Globe and Mail, noting that she's eager to use her platform to lift up Canadian designers. Grégoire Trudeau echoed this sentiment in a separate chat with Elle, sharing that she'd been thrilled to not only collaborate with Canadian designers, but share their pieces with the world. "Together we can grow and let this light shine that's being created here," she said.
Trudeau's estranged wife takes her role as a Canadian political fashion icon seriously, and she wasted no time cementing herself as one of the best-dressed first ladies in the world. Let's take a look at Sophie Grégoire Trudeau's best fashion moments ever. 
Her purple Lucian Matis gown was nothing short of 'opulent'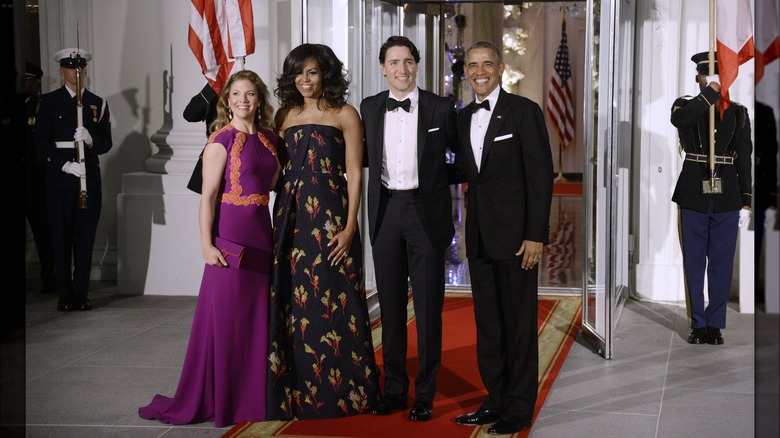 Pool/Getty
In 2016, Sophie Grégoire Trudeau accompanied her then-husband, Justin Trudeau, to the United States to visit Barack and Michelle Obama at the White House. During their visit, the Trudeaus attended many events with the Obamas, including a state dinner. Naturally, said state dinner was a major fashion moment for both Grégoire Trudeau and Michelle Obama. Grégoire Trudeau showed up in a form-fitting purple gown with a pink and orange embroidered flowers around the torso. Grégoire Trudeau paired the dress, made by Canadian fashion designer Lucian Matis, with a matching clutch and wore her locks in long waves down her back. Michelle wore a gown made by Jason Wu. 
Grégoire Trudeau wore two of Matis' designs during their visit to Washington, D.C. Per HuffPost, Matis shared in an interview that he was shocked to find out that she'd brought not one, but two of his dresses on such an important trip. As for the inspiration behind the striking purple gown? "I wanted to do something that (was) a classic piece, that's elegant yet opulent in the sense of colour, so I chose the orange, fuchsia and purple colours together," he said. 
Her red asymmetrical jumpsuit earned praise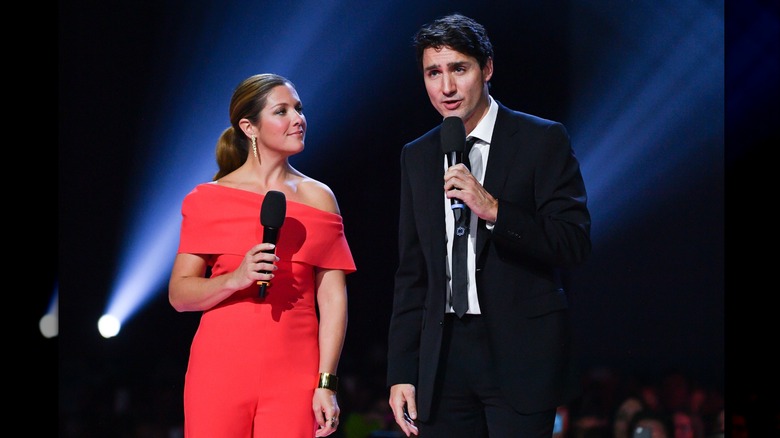 George Pimentel/Getty Images
Sophie Grégoire Trudeau has long made a point of buying Canadian. "As a consumer and a mom, I've always been interested in local products," she told The Globe and Mail in 2017. "But when my husband had his official swearing-in ceremony in Ottawa, it really came to me, 'Whoa! I should be wearing Canadian!'" she added. Since that revelation, Grégoire Trudeau has been a major help to Canadian designers hoping to get more attention for their clothing. If Grégoire Trudeau is photographed in a particular designer, it can be a major boost in business for the creator of the clothing. 
For the 2017 Juno Awards, Grégoire Trudeau wore a red Greta Constantine jumpsuit. Based in Toronto, Constantine is known for her bold, colorful, structured designs — three features for which Grégoire Trudeau has shown an affinity during her time in the spotlight. The jumpsuit Grégoire Trudeau wore for the awards ceremony featured an off-the-shoulder neckline and wide legs and hugged her form. Grégoire Trudeau kept her glam soft and slicked her hair back for a wavy ponytail. She finished the look with striking gold jewelry. The overall look was a total win: Real Style Network named her one of the night's best-dressed attendees. 
Her green election night dress was perfectly bold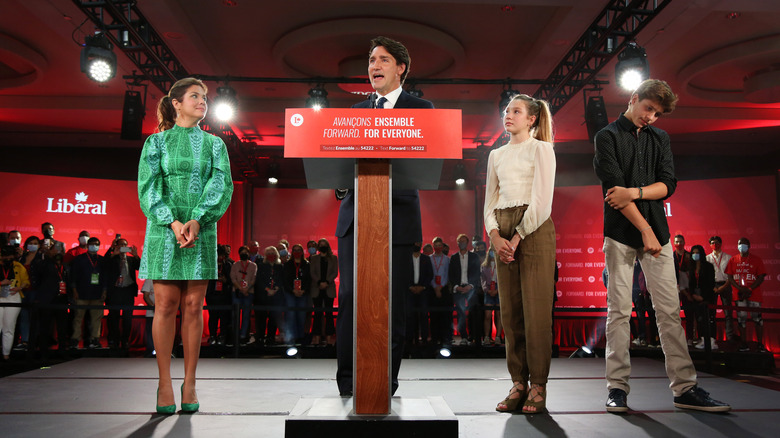 Dave Chan/Getty Images
As noted, if Sophie Grégoire Trudeau is photographed in a dress, particularly one made by a Canadian designer, it can be a boon for the designer's business. Such was the case for the designer of the green dress Grégoire Trudeau wore on election night in 2021 when her husband, Justin Trudeau, was elected as prime minister for a third term. The dress, made by Toronto-based designer Hayley Gibson, was especially eye-catching thanks to its unique pattern. "I'm kind of obsessed with bold prints. I don't design fabric, but I'm always hunting for bold prints we can buy and use in our collections," Gibson told BlogTo. Speaking of bold, Grégoire Trudeau opted against a safe, neutral pump and instead wore matching green heels. The whole outfit was as fun as it was chic.
Gibson was excited to see Grégoire Trudeau wearing her design for a variety of reasons, including how well the just-above-the-knee length worked on her. But Gibson also commented on what Grégoire Trudeau wearing one of her designs meant for her company. "We're sort of a small business, relatively, and to have so many eyes on our collection, and also, just people who wouldn't normally see it or wouldn't normally have an interest...it's really exciting," she said. 
This mustard election night dress passed muster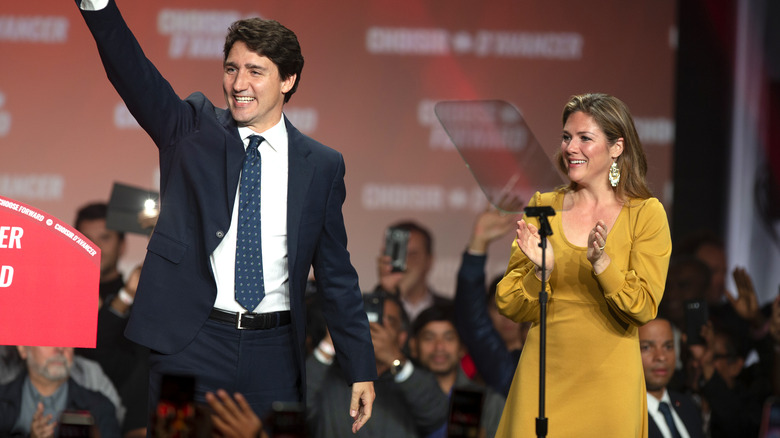 Bloomberg/Getty Images
Sophie Grégoire Trudeau has made it customary to wow audiences with her style choices on election nights. In 2019, Grégoire Trudeau wore a mustard Eliza Faulkner dress to celebrate her then-husband Justin Trudeau's victory. The dress featured balloon sleeves — a silhouette Grégoire Trudeau favors — and the A-line skirt hit at her shins. She also kept her hair pulled back most of the evening and let her statement earrings, well, make a statement. 
While Trudeau didn't comment on his then-wife's outfit like many others did, he was sure to relay a special message. "There are a few people in particular I have to thank. First of all, my wife Sophie. We began this political adventure together ten years ago because we believed in a better future, because we knew that it was worthwhile fighting for a better, more prosperous Canada. Sophie, I love you," Trudeau said, as reported by Yahoo! Style. Unfortunately, we will not be seeing Grégoire Trudeau standing by Trudeau's side for any future election nights as the two have separated. Sophie Grégoire Trudeau and Justin Trudeau announced their split in the summer of 2023.
Her dreamy pale pink dress was a hit at the coronation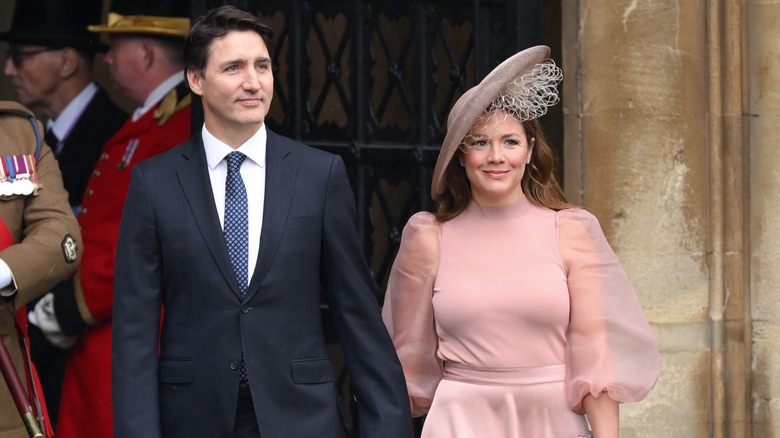 Karwai Tang/Getty Images
Though she loves to represent her home country, Sophie Grégoire Trudeau doesn't always wear Canadian designers. When she attended King Charles III's coronation ceremony in 2023, Grégoire Trudeau sported a soft pink Ted Baker dress with sheer balloon sleeves and a coordinating hat. It was nothing short of fabulous. As CNN wrote, her dreamy pink dress "cut through the gray weather."
Donning a dress by Ted Baker felt especially appropriate for the event, as the designer is from England. Wearing a local designer when visiting another country is a favorite move among fashionable first ladies. Michelle Obama once wore Missoni while on a trip to Italy; Queen Rania stunned in a Givenchy dress while in France for the Cannes Film Festival. Grégoire Trudeau was simply following suit.
Justin Trudeau had a long and close relationship with Queen Elizabeth II, first making her acquaintance when he was a child and his father was prime minister. The Trudeaus have maintained a connection with the royal family since the queen's passing, and it even extends to a friendship between Grégoire Trudeau and Prince Harry's wife, Meghan Markle. Grégoire Trudeau was a guest on the Duchess of Sussex's podcast. 
Her mustard blouse and striped pants were a fun combo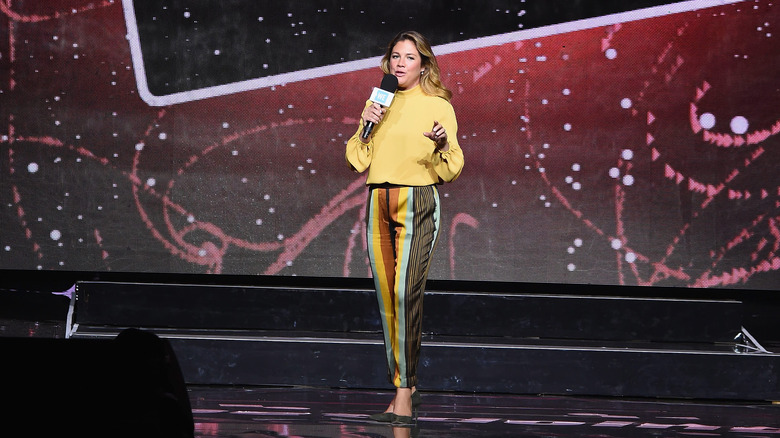 Gary Gershoff/Getty Images
Many first ladies embrace being public figures who, much like their husbands, take on high-profile opportunities. One such opportunity for Sophie Grégoire Trudeau was speaking at a WE Day UN event in 2018. And as is customary for a woman dedicated to fashion, Grégoire Trudeau used the event to serve a smart look. Grégoire Trudeau wore a mustard blouse with a turtleneck and balloon sleeves. She paired the top with satin, multicolor striped pants. She could have matched her top to any of the other colors in the slacks, but the pale mustard was a real winner; the overall look was bold yet soft. Grégoire Trudeau went with a pair of heels and simple jewelry to complete the ensemble, and she kept her hair in flowing waves.
Grégoire Trudeau has certainly become known for highlighting Canadian fashion, but that's not the only area of Canadian business she wants to bolster. As she told The Globe and Mail, "I want to offer every person that we meet on a trip something from Canada so I'm always coming up with new ideas, whether it's soaps or candles or woodcarvings — I really try to promote the talent that we have here." 
Sophie Grégoire Trudeau's white jumpsuit delivered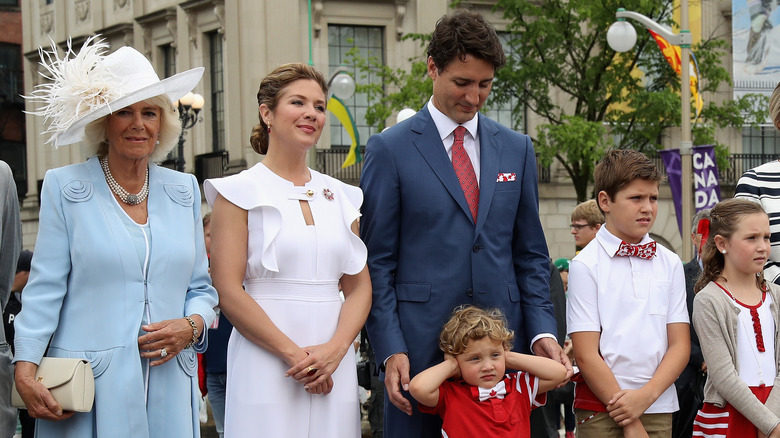 Chris Jackson/Getty Images
For Canada Day in 2017, Sophie Grégoire Trudeau stunned in a white jumpsuit that was certainly a chic homage to the colors of the Canadian flag. The sleeveless piece had a flouncy fabric detail around her chest and long wide legs. Grégoire Trudeau wore her hair in a low bun and kept her jewelry simple, but she did adorn her jumpsuit with some brooches that popped off the stark white background. 
For as beautiful as Grégoire Trudeau's outfit was that day, it was her kids who stole the sartorial show. A local Canadian business, Peekaboo Beans, clothed the younger Trudeaus, rising to the occasion when a fabric crisis threatened to derail the designer's plans. The Trudeaus were almost dressed in the wrong shade of red, but some quick action by the designer made sure that wasn't the case. And as Grégoire Trudeau's fashion choices have the power to sell out designer pieces, so do her children's. The owner of Peekaboo Beans told the Vancouver Sun, "My phone has been ringing non stop, and between Facebook and Instagram and LinkedIn and Twitter, it's like my phone has taken on a life of its own ... The most common question, however, is 'can I buy that?'"
Her red long-sleeved dress was beyond charming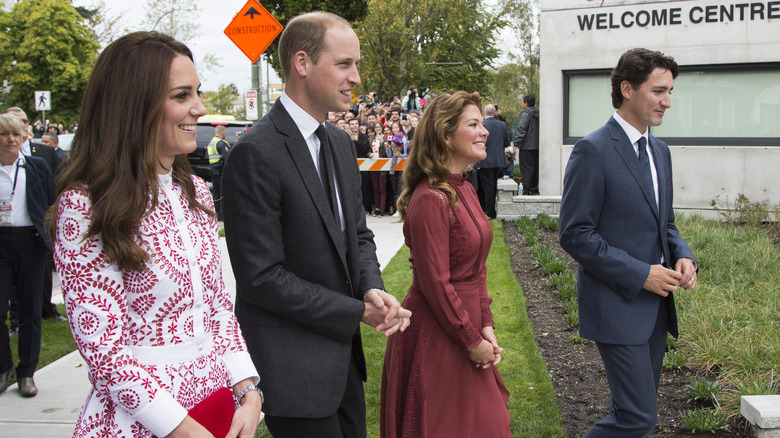 Phillip Chin/Getty Images
Sophie Grégoire Trudeau puts a great deal of thought into what she wears, and she even takes care to coordinate with those around her. During one of Prince William and Princess Catherine's visits to Canada, Grégoire Trudeau made a last-minute outfit decision based on what Catherine was going to wear. "When the Royals came over, one morning I had two dresses — one as a backup, because if anything happens to one, we always have something else just in case. And I saw the colour [Kate] was wearing and I said, "Oh, [the colour of my outfit] is going to clash with what she's wearing!" Grégoire Trudeau recalled in The Globe and Mail in 2017. 
For a separate visit from the British royals, Grégoire Trudeau wore a brick red dress made by Tanya Taylor. The dress hit just below her knees, and it featured some lace embroidery detailing down the entire piece. Grégoire Trudeau paired the dress with nude heels and simple jewelry, and she wore her hair in cascading curls. Princess Catherine had on a white dress with a red pattern, made by the same designer who created her wedding dress, which she paired with red heels. The women's outfits did not clash.
Sophie Grégoire Trudeau's jumpsuit didn't give anyone the blues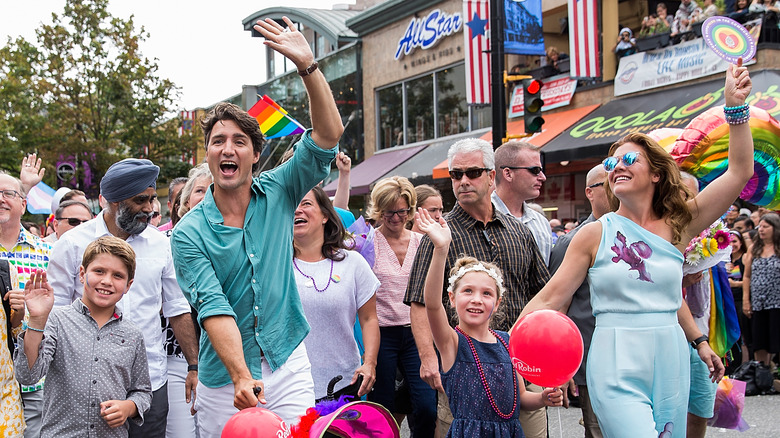 Andrew Chin/Getty Images
Sophie Grégoire Trudeau sure loves a good jumpsuit. While walking with her family in a Canadian Pride parade in 2016, an event where many attendees arrive in colorful attire, Grégoire Trudeau donned a light blue one-shoulder jumpsuit with purple ink blots and matching purple and blue beaded bracelets. Even her aviator sunglasses matched, thanks to the bright blue lenses.
When it comes to figuring out what she's going to wear to an event, Grégoire Trudeau has a small network. "I work with Jessica [Mulroney] and also my sister-in-law Zoë in Quebec with Quebec designers, but I don't have a stylist per se," she told The Globe and Mail. "I worked as a personal shopper and as a stylist, so nobody is styling me." She and Jessica Mulroney have teamed up on a number of occasions, and evidently, the two really seem to be on the same page. "It's a fun process, like girlfriends when they get dressed to go out," Mulroney once told The Telegraph. 
Sophie Grégoire Trudeau wowed in this long white gown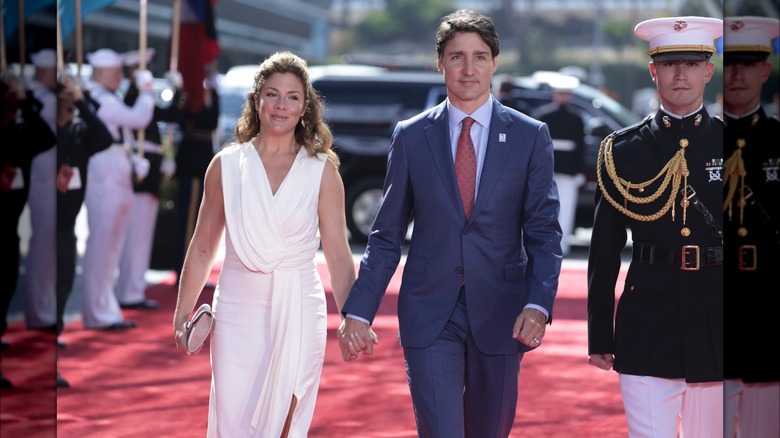 Anna Moneymaker/Getty Images
Though she isn't always wearing white, some of Sophie Grégoire Trudeau's best looks have been in one of her country's national colors. Grégoire Trudeau attended the Ninth Summit of the Americas in 2022 with her then-husband Justin Trudeau in a fabulous white dress. The dress was form-fitting around her hips and waist but draped over her chest. She pulled half of her brown waves back and completed the ensemble with simple jewelry and a clutch, proving that while she has her particular tastes, Grégoire Trudeau can still find variety within those parameters. 
The former Canadian first lady recognizes that she sort of fell into her role as a fashion icon, but it's one that she does not take for granted. As she said to Elle in an interview, "I've never seen myself as an ambassador, but I will take that on with such honour and privilege. ... It's an honour to serve Canadians and to wear Canadian talent. Everything that is coming from the artistic and creative community is just unbelievable. Let's celebrate it as much as we can!"
Sophie Grégoire Trudeau does casual well, too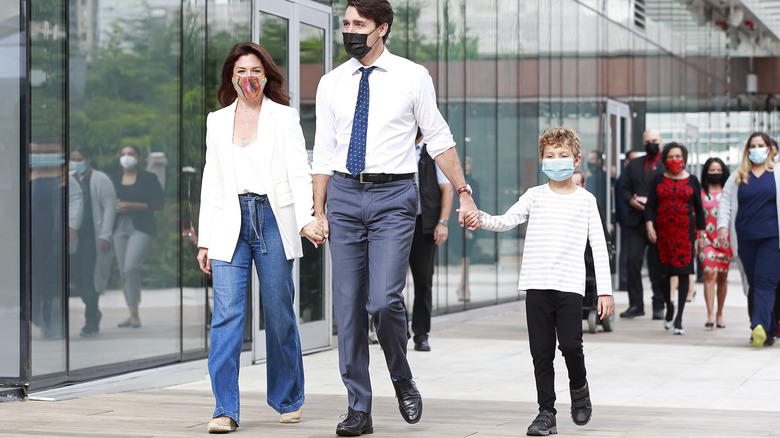 Jeff Vinnick/Getty Images
While Sophie Grégoire Trudeau certainly knows how to bring it when it comes to formalwear, she also can rock a more casual ensemble. In 2021, for example, Grégoire Trudeau showed off her more laid-back style by wearing a pair of wide-legged denim with a matching denim belt, a white blazer, and a white top with sheer detail at the neckline while walking around Vancouver with Justin Trudeau and their son. Once again, she kept her brown hair long and wavy (hey, if it ain't broke, why fix it?) and completed the look with a pair of espadrille wedges.
Grégoire Trudeau is very cognizant of the fact that the eyes of her country — and the rest of the world — are on her when she makes a fashion choice, but she's not afraid to trust her gut when it comes to wardrobe matters. As she told The Globe and Mail 2017, "I'm a little bit more bohemian sometimes than the protocol that demands that the skirt be under the knee, and also sometimes, I have a very feminine, sexy side as well that I love to express in a well-balanced way. So I do have to make decisions. But it's just common sense for me."
Her yellow dress brought the sunshine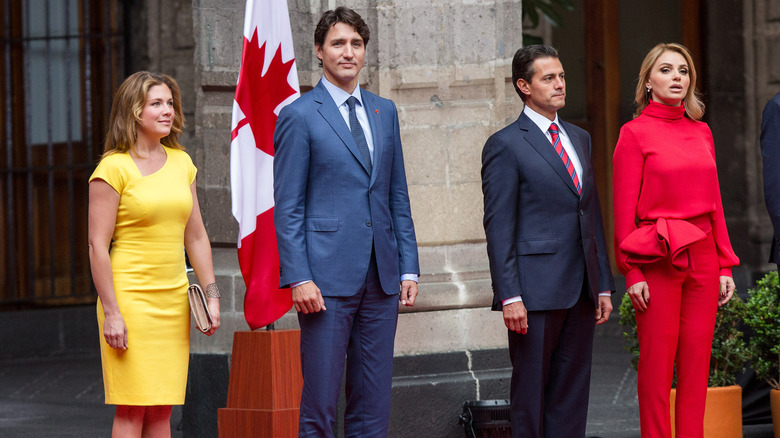 Bloomberg/Getty Images
Another one of Sophie Grégoire Trudeau's best looks? It would have to be the bright yellow dress she wore while visiting Mexico City in 2017 with her then-husband Justin Trudeau. Grégoire Trudeau's dress featured an asymmetric neckline and hit just above her knees. The dress came from Hazel Mae, a Filipino-Canadian designer who was thrilled to see Grégoire Trudeau in one of her pieces. "Thank you so much Madame Sophie Gregoire Trudeau. You look stunning in your new Hazel Mae dress for your official visit to Mexico," the designer said on Twitter. Commenters offered their congratulations to Mae, wishing her further success from Grégoire Trudeau wearing one of Mae's designs. 
Time and time again, Grégoire Trudeau has proven that you can both dazzle and stay true to who you are when it comes to getting dressed up. As she said in The Globe and Mail, "What I wear is what I feel comfortable in. Bottom line: Nobody tells me what to wear. I'm a mom. I'm the wife of a Prime Minister. I'm Sophie. So yes, I try to express with integrity who I am through what I'm wearing." Though her relationship with the prime minister has since changed, we don't doubt her style will stay strong.