Lisa Kudrow Has Fond Behind-The-Scenes Memories Of Friends During Her Pregnancy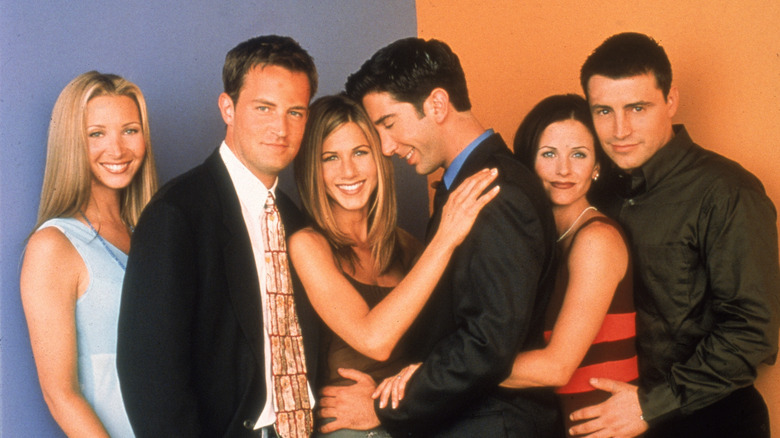 Fotos International/Getty Images
A large part of what made "Friends" such a beloved sitcom was the undeniable chemistry — and thus, believability — of the cast members' relationships. Their real-life friendships translated onto the screen in heartwarming, exciting, and hilarious ways, including when "Friends" picked up a storyline inspired by Lisa Kudrow's real life.
When Kudrow, who played the eccentric "Smelly Cat" songstress Phoebe Buffay, became pregnant in real life, "Friends" writers decided to include it in the sitcom's 4th and 5th Seasons by having Phoebe become a surrogate for her brother and his wife. (Phoebe had triplets, but Kudrow had a single pregnancy: A boy named Julian Murray Stern.) 
In a testament to the ensemble's genuine friendships, Kudrow shared how the cast included her baby in their pre-show huddle in a 2018 interview with People. The backstage confab consisted of each cast member saying "love you" to each other, and during Seasons 4 and 5, that included Julian.
Julian Murray Stern spent time on the Friends sitcom's set before and after he was born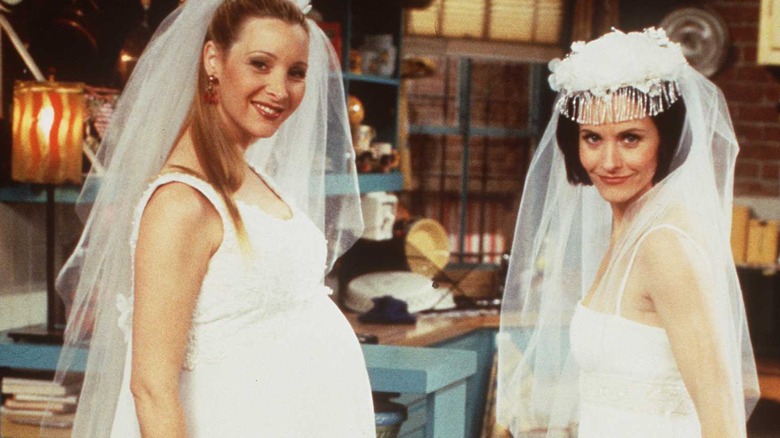 Getty Images/Getty Images
"The six of us would do a huddle backstage and just say, 'All right, have a good show, love you, love you, love you, love you," Kudrow told People. "And when I was pregnant, then they would say, 'Have a great show, love you, love you, love you, little Julian!' 'Cause we knew it was a boy, and that was his name. So sweet, they included my little fetus in the huddle."
Julian Murray Stern, born May 7, 1998, is the only son of Kudrow and her husband, Michael Stern. (And from what we know about Lisa Kudrow's marriage, their family is rooted in the same compassion and teamwork as the "Friends" pre-show ritual the cast shared just before Julian's birth.) As a child, Julian continued to spend time on the "Friends" set — even confusing his mom for her co-star, Jennifer Aniston. 
In an interview with Conan O'Brien, Kudrow recalled Julian naturally flocking to Jennifer Aniston's lap during his visits to the set. "She's a lovebug, and that made sense. And I was always glad for anyone that Julian felt love for and felt from," Kudrow said, adding with a laugh that when they would watch Aniston on TV at home, Julian would point and say, "Mommy!"
Lisa Kudrow's son Julian Murray Stern grew up to appreciate the work of his mom and her castmates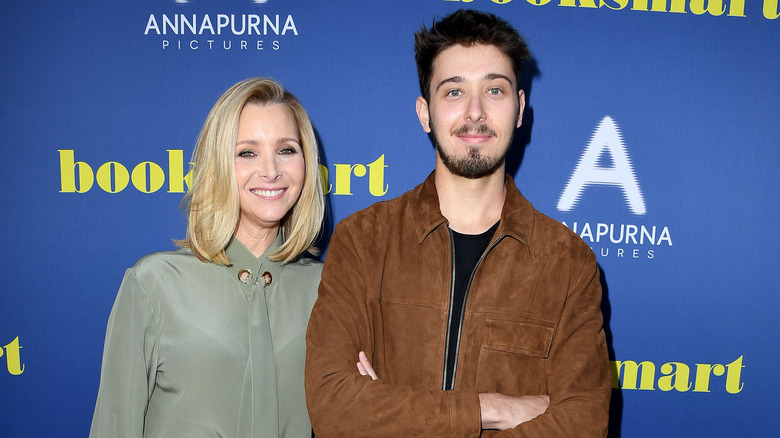 Steve Granitz/Getty Images
The "Friends" cast's heartwarming pre-show practice wasn't the only inside ritual they shared while filming the show's 10 Seasons. While accepting the Artist Inspiration Award at the 2019 SAG-AFTRA Foundation's Patron of the Artists Awards, Jennifer Aniston, who played Rachel Green, shared another recurring bit the cast would do when a joke flopped while filming. 
"If any of us tried a joke that failed miserably, we were just sort of sheepishly pull out our [Screen Actor's Guild] card and say, 'Here you go,' or we were demanded by our castmates to just give it to them. But as long as we made the audience laugh, that's all we really cared about," Aniston recounted (via E! Online).
Indeed, the sweet — and sassy — moments the cast shared on set contributed to the show's lovability and longevity, which is something Kudrow's son picked up on as he got older. While speaking with O'Brien about the "Friends" reunion in 2021, Kudrow said the then-23-year-old Julian was able to attend. Afterward, Julian approached his mother and said he was proud of her. "That was one of the very emotional things that happened to me that's not part of it. It was really nice of him. He was proud," Kudrow said.