Tragic Details About Queen Camilla And Her Family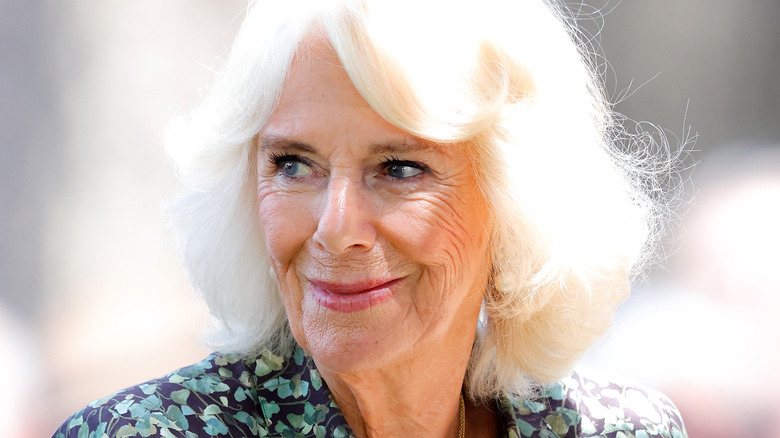 Max Mumby/indigo/Getty Images
The following article includes allegations of domestic abuse.
Camilla, Queen Consort, formerly known as the Duchess of Cornwall before the death of Queen Elizabeth II, is the second wife of King Charles III. While Camilla has done a great deal of charity work of her own, she's perhaps best known for being part of a scandalous love triangle between then-Prince Charles and the late Princess Diana, which ultimately led to two broken marriages and a slew of media scrutiny.
However, Camilla has endured numerous other events and tragedies that have shaped her life. Born to Major Bruce Shand and Rosalind Cubitt in 1947, Camilla came from an honorable family, but not the aristocratic type that the royal family often sought when choosing marriage partners. Despite also being well educated, she was shunned by members of the royal family — and the public — for quite some time.
Read on to learn the major tragedies Camilla has lived through, including those that have affected her family, and how these have likely shaped her into the person she is today.
Her grandfather allegedly abused her grandmother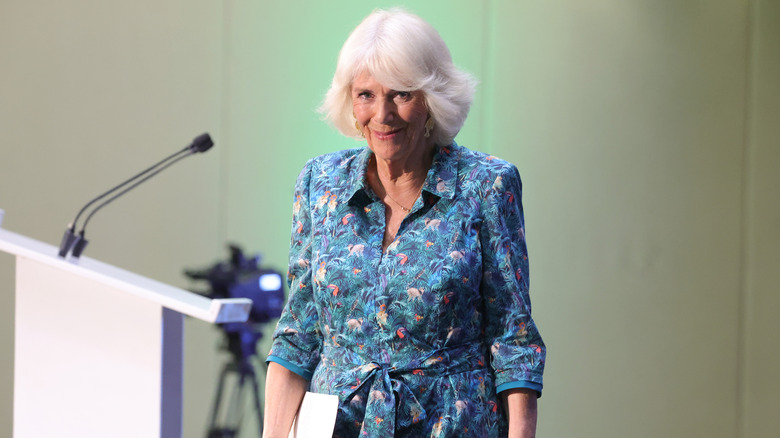 Chris Jackson/Getty Images
Queen Camilla's family tragedies began before she — and her father — were even born. According to divorce documents obtained by The Daily Mail, Camilla's paternal grandfather Philip Morton Shand allegedly abused her grandmother, Edith Shand, when she was about four months along in her pregnancy. It just so happened that she was pregnant with Camilla's father, Bruce Shand. This incident occurred in 1916 and was concerning enough to Edith's doctor that he advised her to move out of the house away from Philip. They had only been married for a few months, and Edith eventually filed for divorce in 1919.
While Camilla hasn't publicly spoken on the record about this dark incident in her family's history, she has made it one of her missions to advocate against domestic violence. In fact, one early official act as queen consort was a conference on domestic violence against women. "We are uniting today to confront what has rightly been called a global pandemic of violence against women," she said, per The Guardian.
If you or someone you know is dealing with domestic abuse, you can call the National Domestic Violence Hotline at 1−800−799−7233. You can also find more information, resources, and support at their website.
Camilla's initial relationship with King Charles ended in heartbreak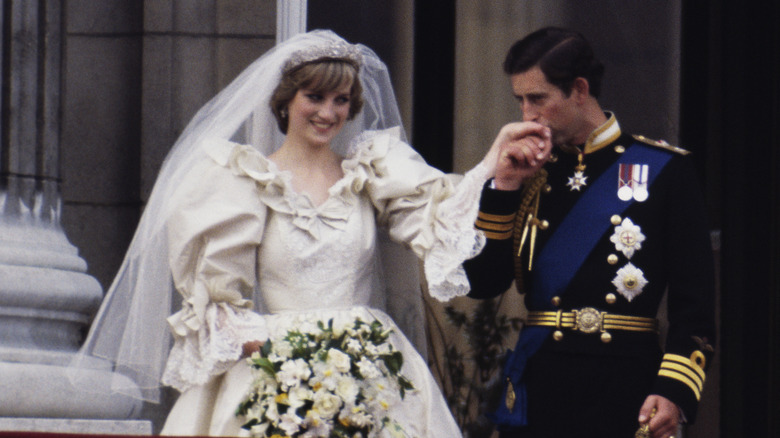 Princess Diana Archive/Getty Images
While the marriage between Camilla, Queen Consort, and King Charles is the second for each of them, the couple had met long before their first respective marriages. In fact, Camilla and Charles first met back in 1970 through a friend of theirs. Both Camilla and Charles were also in their early 20s at the time. While the couple hit it off right away, Charles' service in the Royal Navy made a serious relationship difficult. At the same time, they reportedly were skeptical that their relationship could work over the long term since Camilla didn't come from an aristocratic family. As such, the couple's relationship ended in heartbreak in 1971.
Camilla eventually married Andrew Parker Bowles in 1973, and Charles married Lady Diana Spencer in 1981. However, it was clear that the two still loved one another. On top of that, both had problems in their marriages that prompted them to reunite with one another over the years. The first alleged affair was in the late 1970s when Camilla was married, and the second was in the mid-1980s after Charles had married Diana. Both also had children with their spouses.
During the 1990s, she was deemed Britain's most hated woman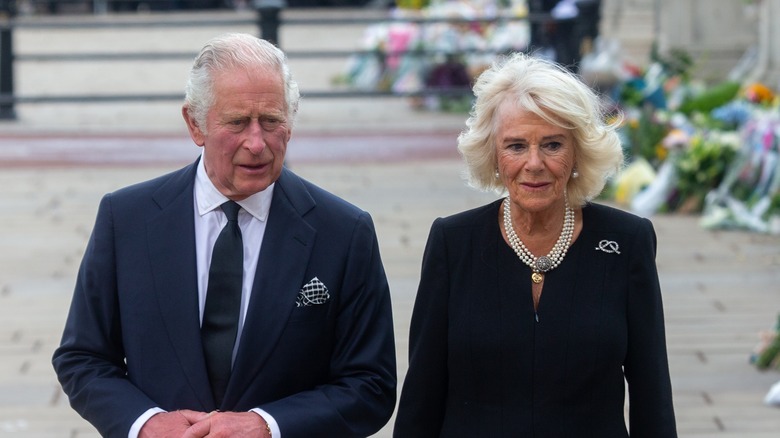 I T S/Shutterstock
In 1992, then-Prince Charles and Princess Diana separated. While Buckingham Palace insisted the two didn't have plans to divorce, the public was understandably skeptical considering the gossip surrounding Camilla and Charles and their affair. Diana had even confronted Camilla. During interviews for "Diana: Her True Story," Diana says she told Camilla, "I know what's going on between you and Charles, and I just want you to know that. ... Don't treat me like an idiot." 
The fact is that Camilla and Charles never quit their years-long affection for one another, and this ultimately ended in Camilla's own divorce. However, as Charles's marriage was much more public, his separation from Diana angered many people. Camilla was also cast as the reason why their marriage fell apart, and she was deemed as Britain's "most hated woman," as CBS News reported. 
However, all of this publicity didn't force any quick divorces. While Diana and Charles separated in 1992, Charles didn't admit to cheating on Diana until 1994, and they subsequently divorced in 1996. Camilla and Andrew Parker Bowles also didn't divorce until 1995.
In 1993, the press leaked private phone calls between Camilla and Charles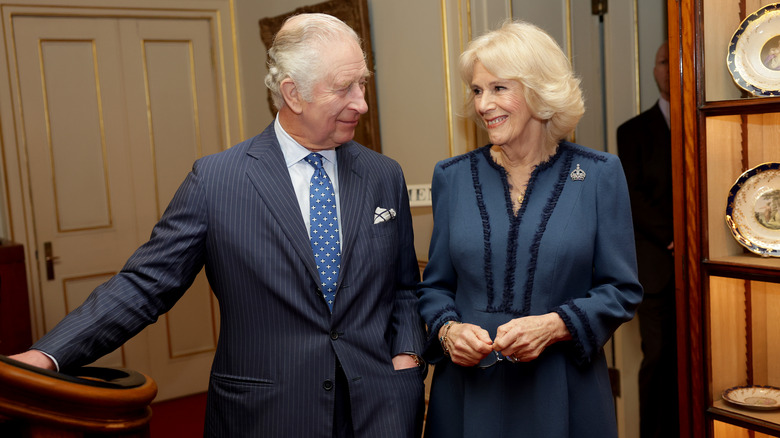 Chris Jackson/Getty Images
While then-Prince Charles didn't publicly confirm his relationship with Camilla Parker Bowles until 1994, leaked phone calls in 1993 all but confirmed it. At this time, Charles and Princess Diana were already separated, which Diana stated was due to his affair with Camilla. Yet the phone call recordings added an embarrassing layer on top of the complicated situation.
Nicknamed "Camillagate" and "Tampongate," the leaked phone calls reportedly took place in late 1989, and seemed to highlight a full-fledged affair while both Camilla and Charles were married. As the names suggest, the phone calls were intimate, with the couple also declaring their love for one another, as well as making playful jokes. The moment was even significant enough to be covered on Season 5 of "The Crown" on Netflix. 
This was likely one of the most mortifying moments for Camilla and Charles.
In 1994, Camilla's mother died from osteoporosis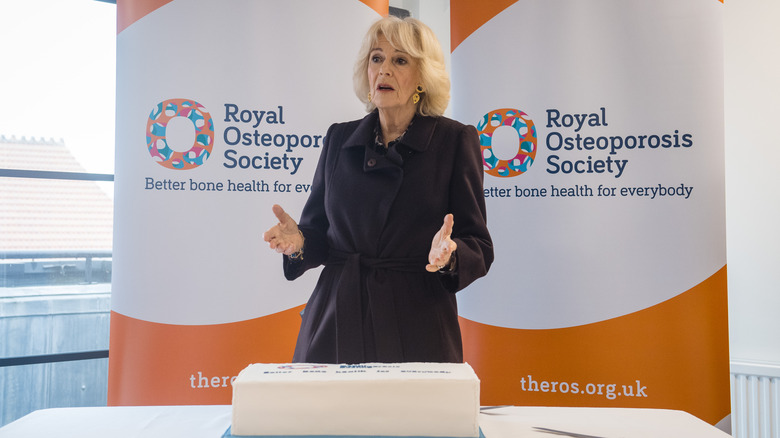 Polly Thomas/Getty Images
In 1994, at the age of 72, Queen Camilla's mother, Rosalind Shand, died from complications related to osteoporosis. She recalled during a BBC interview in 2021 that her mother's bones became so fragile that "she literally screamed" when other people touched her, and that she even broke a rib after a hug (via Today). Camilla's maternal grandmother also reportedly had the condition, suggesting a possible genetic component. 
Osteoporosis itself is more common in women, with the chances of developing related bone fractures increasing with age. Furthermore, according to the Mayo Clinic, having a close family history of osteoporosis, as is the case with Camilla's family, can increase your personal risk of developing it.
Nevertheless, Camilla has turned her family medical history and the tragic death of her mother into activist causes related to osteoporosis. In fact, she even served as president of the Royal Osteoporosis Society in the United Kingdom until she became queen consort. During her time with the organization, Camilla attended several educational events and connected with other people living with osteoporosis. 
Queen Elizabeth shunned the relationship between Charles and Camilla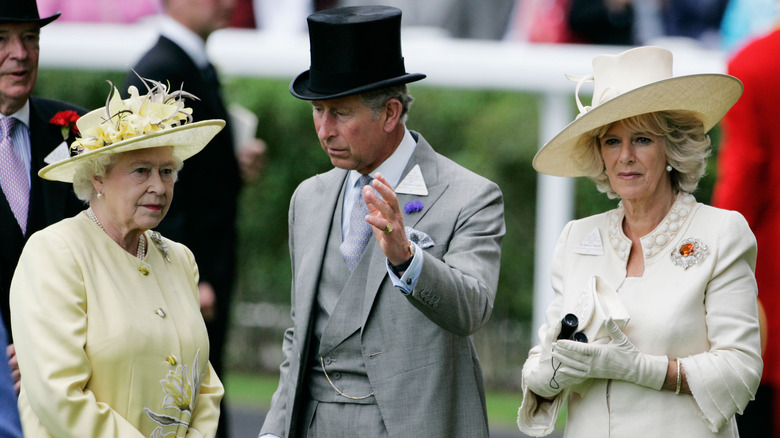 Tim Graham/Getty Images
By the mid-1990s, it was obvious that the marriage between Prince Charles and Princess Diana was broken, and that Camilla was there to stay. One person who didn't seem to accept this at the time was Charles' mother, Queen Elizabeth II. Charles was so careful around his mother when it came to Camilla, that he only approached her about the relationship after Diana's death in 1997, according to People. 
Yet the queen's response was less than what Charles and Camilla were likely hoping for. According to royal biographer Tom Bower's 2018 book "Rebel Prince: The Power, Passion and Defiance of Prince Charles," the queen, who was reportedly inebriated at the time, told Charles that "she would not condone his adultery, nor forgive Camilla for not leaving Charles alone to allow his marriage to recover."
Although she eventually accepted Camilla, Elizabeth also reportedly called her "that wicked woman" and left Charles in tears. While it's unclear how Camilla reacted to this meeting, it's hard to feel positive about not being on your future mother-in-law's good side.
Queen Elizabeth didn't attend their wedding in 2005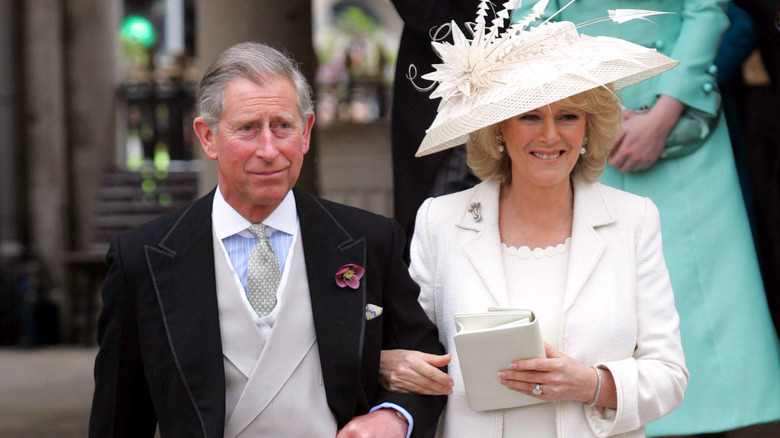 Antony Jones/Getty Images
Unfortunately, Queen Elizabeth II didn't warm up to Camilla very quickly, and she and King Charles were equally slow in being together in public. In fact, despite their years-long affair, Charles and Camilla didn't appear in public as a couple until 1999. The year after that, the queen reportedly had lunch with the couple, to some degree giving their relationship her blessing. Camilla and Charles eventually started living together in 2003 when they took up residence at Clarence House. 
The public was getting used to Camilla and Charles as a couple, and it seemed that the queen was as well. In 2005, the two finally got married with the queen's approval. While Elizabeth technically accepted the marriage between Charles and Camilla, neither she nor her husband Prince Philip attended the ceremony due to religious reasons, as both Charles and Camilla had been previously divorced. However, the queen did hold a reception for the couple instead.
In 2010, Camilla broke her leg in a frightening fall
Polly Thomas/Getty Images
Despite her known family history of osteoporosis as well as her associated advocacy work, Queen Camilla has never disclosed whether she has the bone condition. However, in 2010, there was some speculation about the then-duchess' bone health. It all stemmed from an outdoor walk Camilla was said to be on when she slipped and fell, fracturing her fibula. According to The Guardian, Camilla was 62 years old at the time, and the accident occurred during an Easter vacation in Scotland.
Whether or not Camilla herself has osteoporosis, the incident likely brought up memories of her mother's own suffering. In a 2011 essay from Camilla, she wrote how her late mother, Rosalind Shand, lost 8 inches in height and could barely eat or breathe toward the end of her life. 
"I believe that the quality of her life became so dismal, and her suffering so unbearable, that she just gave up the fight and lost the will to live," she wrote at the time.
That same year, Camilla and Charles were attacked by protesters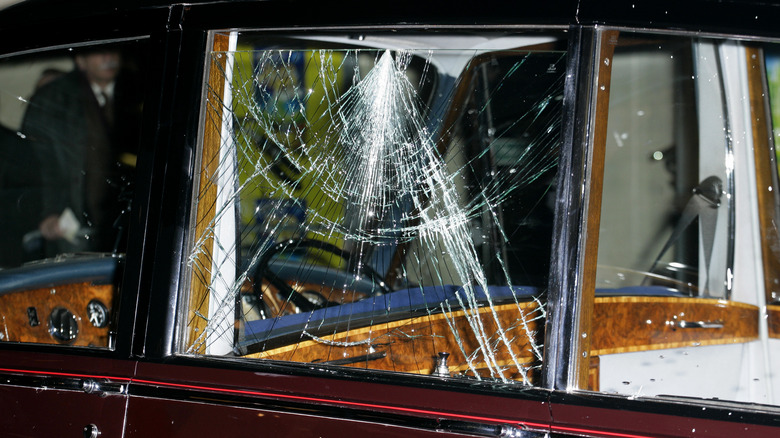 Max Mumby/indigo/Getty Images
2010 proved to be a year of frightening incidents for Queen Camilla. Several months after Camilla's fall in Scotland, she and then-Prince Charles found themselves in the middle of a violent protest. In December, the couple were in London when student protesters attacked the Rolls-Royce they were riding in while on their way to the London Palladium. Here, some of the protesters threw paint and rocks at the vehicle, and at one point reportedly surrounded it. 
According to The Guardian, a witness named Ben Kelsey reported that there were between 400 and 500 people protesting in the area. "Charles and Camilla looked quite relaxed at first but when they saw how many people there were they began to get worried," he said. "A few seconds later the area was packed with police. It was complete chaos."
The reason for the chaotic scene Camilla and Charles found themselves in the middle of? It was related to a controversial law regarding college tuition fees. While the student protest started peacefully, some of the participants became violent. In all, The Guardian reported that 38 people were injured, but this did not include Camilla and Charles.
Camilla's brother died in a 2014 accident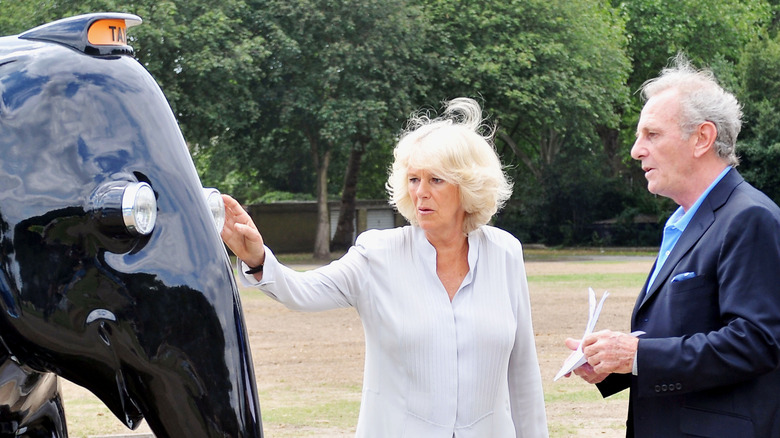 Pool/Getty Images
A few years after Camilla's fall and broken leg, her brother, Mark Shand, also suffered a fall. Tragically though, her brother's fall was fatal. According to The Guardian, Shand was at a charity event in New York City in April 2014. After the event, he reportedly fell and hit his head. Shand was only 62 years old.
Both Camilla and then-Prince Charles released an official statement regarding the incident which read, in part: "It is with deep sadness that we have to confirm that the Duchess of Cornwall's brother, Mark Shand, has today passed away in New York. Mr. Shand died in hospital as a result of a serious head injury which he sustained during a fall last night. The duchess, the Prince of Wales, and all her family members are utterly devastated by this sudden and tragic loss."
Shand was also Camilla's only brother and the youngest sibling in her family. He was a writer, traveler, and conservationist who had founded a charity called "Elephant Family," which aimed to help save Asian elephants.
In 2021, Camilla's son suffered a tragic loss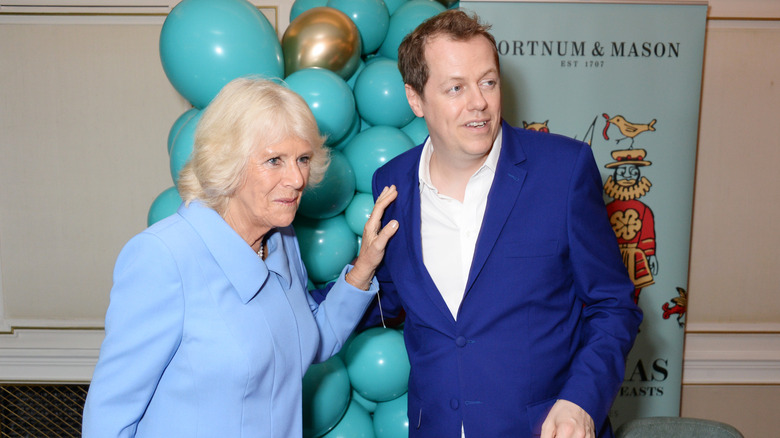 David M. Benett/Getty Images
Camilla's eldest son, Tom Parker Bowles, divorced in 2018 after nearly 13 years of marriage and two children, according to the Mirror. He fell in love with another woman named Alice Procope who also had three children of her own. She was also a writer and a journalist. The two seemed to hit it off right away, and the relationship was getting serious. 
Tragically, though, Procope died from cancer just two years after they had started dating. A friend of Parker Bowles told The Daily Mail, "Tom had been blissfully happy with Alice and is devastated that life can be so cruel." The loss was admittedly devastating for the entire family, given how close Camilla is to her eldest child.
Another tragic twist to the circumstances surrounding Procope's death is the speculation that the cancer may have been missed during COVID-19 pandemic-related lockdown measures. A friend of Procope told The Daily Mail that "Alice's cancer diagnosis didn't come until last August by when it was too late." This diagnosis would have been in the summer of 2020, at the height of the pandemic, and before related vaccines and medications were available.
In 2023, Prince Harry accused Camilla of being dangerous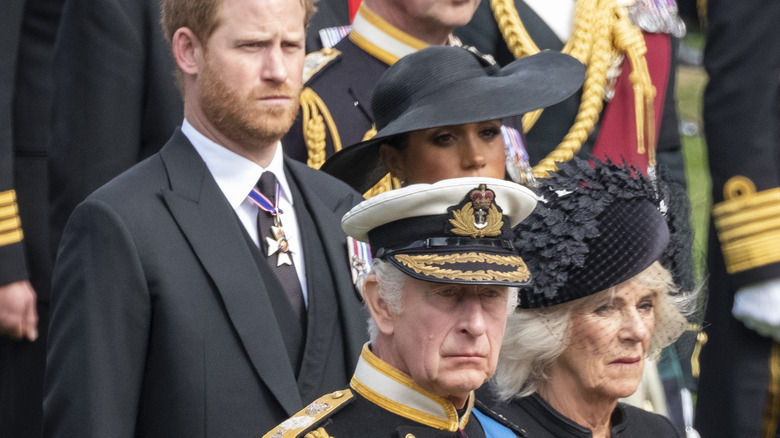 Bryn Colton/Getty Images
It's no secret that the relationship between Prince Harry and the rest of the royal family has been strained for several years. In 2020, Harry and his wife, Meghan Markle, left their duties as working royals and moved to California. However, since then, Harry has come out as a strong critic of his family, which he detailed in his 2023 autobiography, "Spare." 
In this memoir, Harry explores what it felt like to be the second to his older brother, Prince William, the tragic loss of his mother Princess Diana, and his complicated relationship with his father, King Charles. He wrote that Charles had allegedly made a joke about his birth to Diana, saying "Now you've given me an heir and a spare," and that "minutes after delivering this bit of high comedy, Pa was said to have gone off to meet with his girlfriend."
This girlfriend was, presumably, Queen Camilla. She eventually met William and Harry after Diana's death and established a relationship with the children. Additionally, she had hired a public relations firm to help transform her reputation after her affair with Charles came to light. Harry said in a 2023 interview with Anderson Cooper for "60 Minutes," "That made her dangerous because of the connections that she was forging within the British press." He also accused Camilla and Charles of using him to obtain positive press coverage.
Camilla's brother-in-law died shortly before the coronation in early 2023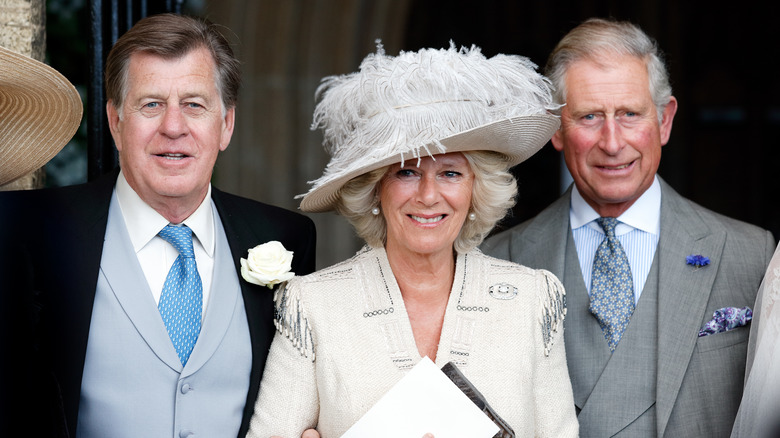 Max Mumby/indigo/Getty Images
Queen Elizabeth II announced that Camilla would obtain the title of queen consort when Prince Charles became king. This was in February 2022, and the queen died later that year on September 8. The coronation date was set for the following year on May 6, 2023, when Charles would ceremoniously take the crown. 
Sadly, Camilla lost a family member shortly before this historic event took place. Her brother-in-law, Simon Elliot, died at the age of 82 just weeks before the coronation ceremony. Elliot had been married to Camilla's younger sister Annabel for more than five decades.
Camilla and Charles were so close with Annabel and Simon that the four reportedly spent time together on Camilla and Charles' honeymoon. Elliot's funeral was held on March 20. While the exact cause of Elliot's death wasn't made public, it's been reported that he suffered a long-term illness.