Celebrity Besties Who Don't Speak Anymore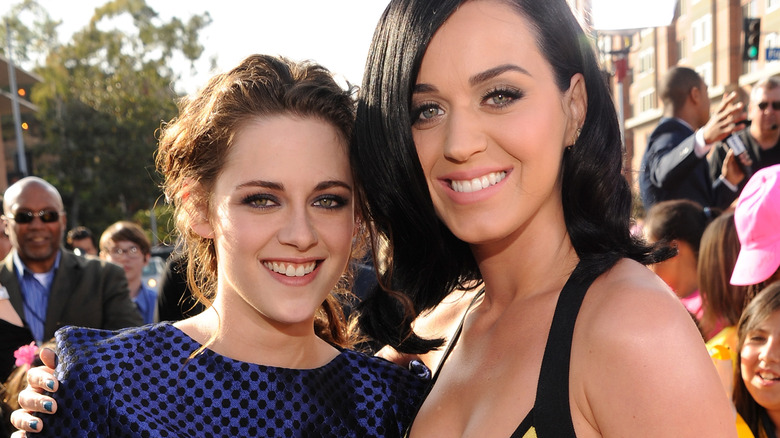 Kevin Mazur/Getty Images
Being a celebrity surely comes with its fair share of perks. There is the undying adoration from fans and the joy of getting to do what you love as a career — the wads of cash surely don't hurt either. But there are also a few downsides to being in the limelight. One of the big ones is the intrusion of the paparazzi and the constant scrutiny online. Fame also means that a celebrity's every interaction with another person is documented for prosperity — from their romantic relationships to their friendships.
Everyone has had a falling out with someone they once considered a close friend, but when it happens to celebrities, the whole world knows about it. A whole slew of celebs have had their friendship fallouts play out on the world stage. From family drama to stolen acting roles, you'll find an array of reasons why these one-time besties no longer speak to one another.
Selena Gomez and Demi Lovato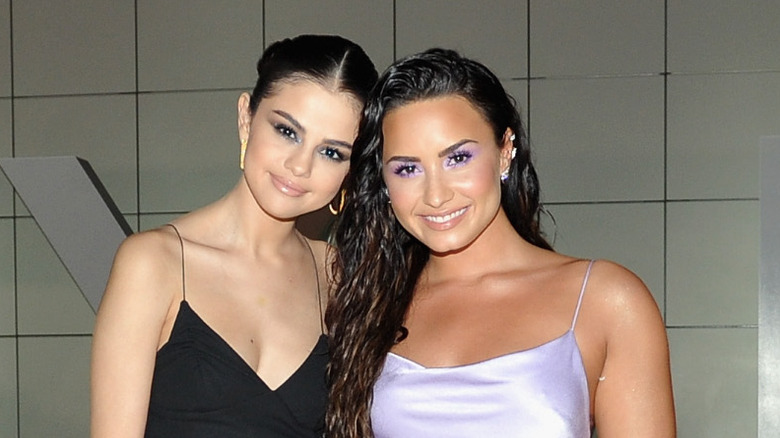 Donato Sardella/Getty Images
Selena Gomez and Demi Lovato are both Disney Channel royalty. Gomez starred in the "Wizards of Waverly Place" TV show and movie. Lovato starred on the channel's short-lived "As the Bell Rings" series before moving on to a starring role in the original movie "Camp Rock." Together, the two starred in the Disney Channel series "Sonny with a Chance" and the original movie "Princess Protection Program." However, Gomez and Lovato can trace the roots of their friendship even further. Both spent time hanging with a certain big purple dinosaur prior to their Disney Channel days.  
While they spent plenty of time together in their younger years, Gomez and Lovato haven't been besties in years. The Disney Channel alums don't seem to have a longstanding feud; rather, their distance appears to simply be a matter of drifting apart. Regrading their relationship, an inside source close to both informed Us Weekly, "They've always been pleasant when they've seen each other but haven't been close for many, many years."
Seth Rogen and James Franco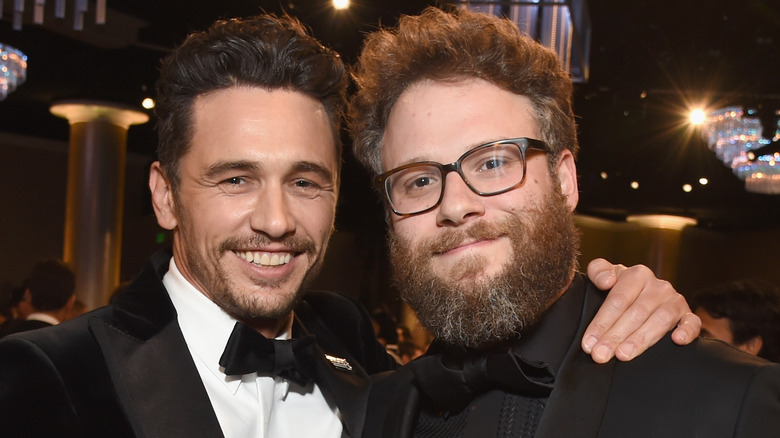 Michael Kovac/Getty Images
Canadian filmmaker and comedian Seth Rogen has a long history of working with actor James Franco. The two met on the set of "Freaks and Geeks," their 1999 short-lived but well-loved NBC series. The two became fast friends and worked together on other numerous projects such as "Pineapple Express" and "The Disaster Artist."
Nearly 10 years after they met, however, five women accused Franco of sexual misconduct. The Los Angeles Times published an exposé which accused Franco, who had taught acting in New York, of such acts as making his acting students "think there were possible roles on the table if [they] were to perform sexual acts or take off [their] shirts."
Rogen has admitted that the allegations damaged both his personal and professional relationship with the actor. Rogen spoke about the situation to The Sunday Times, saying, "[The allegations] changed many things in our relationship and our dynamic." He went on to say, "I despise abuse and harassment."
In June of 2021, Franco settled out of court, paying out $2,235,000 to two former students.
If you or anyone you know has been a victim of sexual assault, help is available. Visit the Rape, Abuse & Incest National Network website or contact RAINN's National Helpline at 1-800-656-HOPE (4673).
Gwyneth Paltrow and Winona Ryder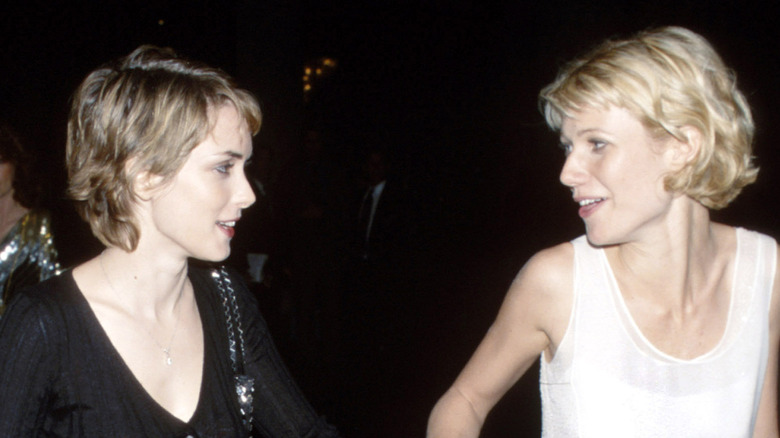 Kmazur/Getty Images
In the '90s, Gwyneth Paltrow and Winona Ryder were best friend goals for teenage girls everywhere. Both were beautiful and had amazing careers — Paltrow had starred in films including "Sliding Doors" and "Emma," while Ryder killed it in "Beetlejuice" and "Edward Scissorhands." The bestie actresses even snagged best friend boyfriends when they started dating Ben Affleck and Matt Damon (Paltrow dated Affleck, and Ryder dated Damon), with the two power couples seen at multiple events together.
However, the golden era came crashing to a close near the end of the decade. Ryder was up for a little flick called "Shakespeare in Love," but the starring role opposite Joseph Fiennes ultimately went to Paltrow who later the Best Actress Oscar for the role. Losing the role no doubt stung for Ryder. At the time, the public widely assumed their friendship disintegrated because Paltrow "stole" the role from Ryder; yet, the Goop founder has denied that things went down this way. "That's an urban myth," Paltrow told Howard Stern (via HuffPost) in 2015.
Larsa Pippen and Kim Kardashian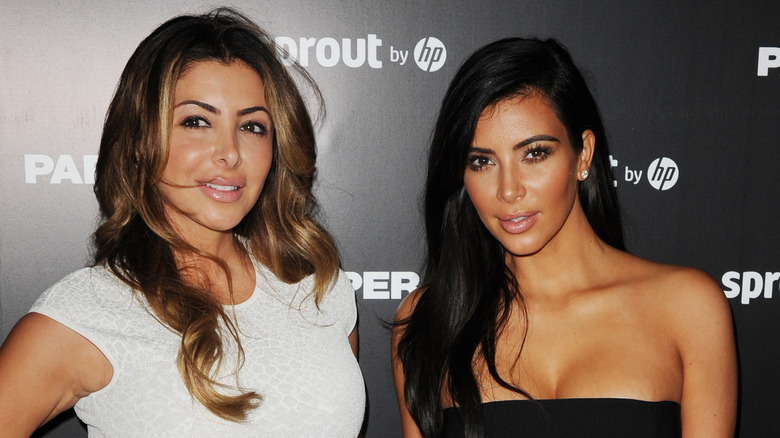 Uri Schanker/Getty Images
Kim Kardashian and Larsa Pippen of "Real Housewives of Miami" fame were friends for many years. The two women shopped, pole danced, partied, and wore matching outfits together. In fact, Larsa tried to kick off Kim's romance with Kanye West, and all five of the Kardashian-Jenner sisters (Kim, Kourtney, Khloé, Kylie, and Kendall!) attended Larsa's 45th birthday bash. In late 2019, the "Real Housewives" star sent Kim birthday wishes on Instagram. But, by July 2020, she could no longer count Kim as one of her followers.
Fans took notice when Kim wasn't at Larsa's birthday party the following year. This caused them to realize that Kim also was no longer following her on Instagram. Kourtney and Khloé also clicked the unfollow button. Larsa blamed the distance in their friendship on Kanye. "I just feel like Kanye was in a place where he, you know, he really didn't trust anyone with Kim," she said on the "Hollywood Raw" podcast.
Lauren Conrad and Heidi Montag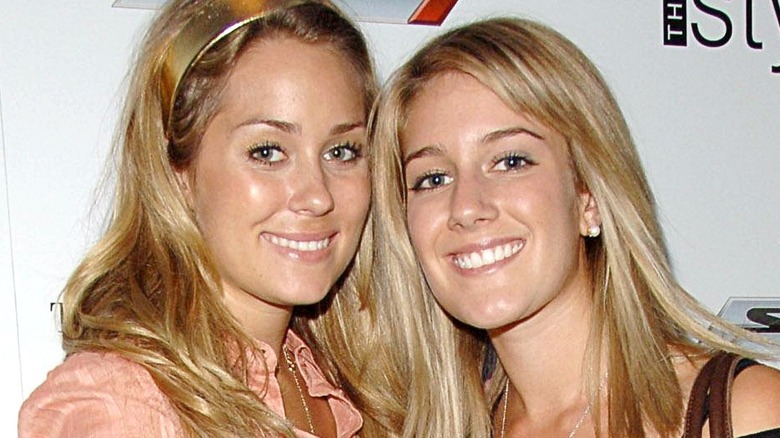 Everett Collection/Shutterstock
Lauren Conrad and Heidi Montag co-starred on the MTV reality show "The Hills," where they were once BFFs. Launched in 2006, the show was a spinoff of the network's popular "Laguna Beach." But their friendship took a hit when Montag started dating Spencer Pratt. Conrad was not supportive of the couple moving in together, and the friendship devolved from there. In 2007, the couple allegedly spread rumors about Conrad, accusing her of making a sex tape with her ex, Jason Wahler. Once Conrad discovered that Montag and Pratt had started the rumors, she quit talking to Montag for good.
While Conrad may have quit talking to Montag, Montag and Pratt didn't quit talking about Conrad, with the pair bringing up Conrad's name in multiple interviews and appearances. Conrad did discuss her problems with the couple with Seventeen (via People), saying, "I actually came dangerously close to not doing season three, because I really didn't want to do the show with Heidi and Spencer."
Jef Holm and Arie Luyendyk Jr.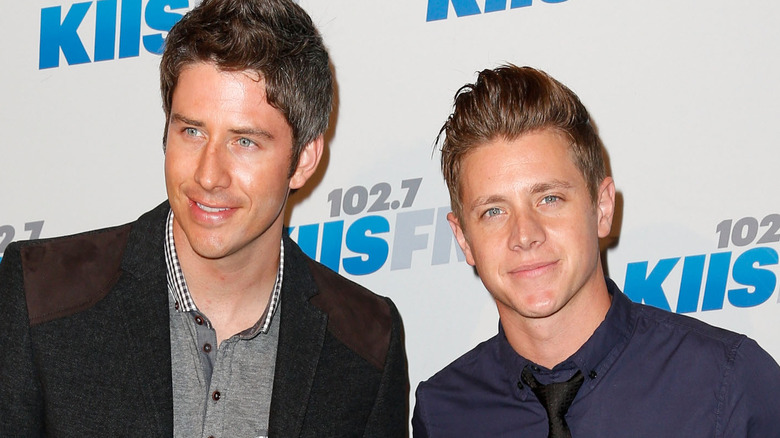 Imeh Akpanudosen/Getty Images
Before appearing on Season 22 of "The Bachelor," Arie Luyendyk Jr. spent his time racing cars and hanging with Jef Holm on the eighth season of "The Bachelorette," where they both vyed for the hand of then-Bachelorette Emily Maynard. While she was fond of both, she chose Holm in the end. It was no match made in heaven, though; the pair broke up just a few months after the season wrapped. 
Luyendyk's second chance at finding love in the Bachelor mansion led to his eventual marriage to Lauren Burnham — his second-place choice. Holm didn't think Luyendyk could last a year in a relationship, and he even tweeted about it. This wasn't the first time he called out his former castmate on social media either. In 2017, when ABC announced Luyendyk's search for love, Holm tweeted (via People) that he ended his friendship with Luyendyk "years ago because he's disgusting."
Luyendyk wasn't fazed by Holm's animosity, but he didn't really understand where it came from. "We just hadn't talked in years. So it's kind of surprising that he would say something negative," the former Bachelor told People.
Tori Spelling and Tiffani Thiessen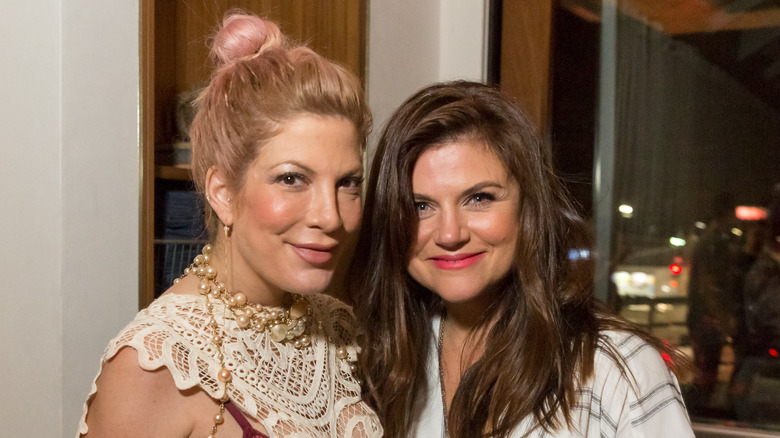 Greg Doherty/Getty Images
In the '90s, "Beverly Hills, 90210" was the only show to watch. The OG cast included the creator's daughter, Tori Spelling, who played Donna. In Season 5, Tiffani Thiessen joined the gang as bad girl Valerie. Cast mate Jennie Garth had her misgivings about their new cast member, which she spoke about on the "90210" rewatch podcast, "9021OMG" (via Us Weekly). "I remember thinking, 'Yeah, why are they bringing this girl in? Like, we're doing great." 
At the time, Spelling and Thiessen had a budding friendship, though it didn't last. In 2017, Garth and Spelling appeared on an episode of "RuPaul's Drag Race." When the topic of Thiessen came up, they refused to even mention her name, only saying, "Just say, 'that which we don't speak of" (via Entertainment Tonight Canada). Thiessen had already confirmed the friendship was over at this point, but the animosity seemed fresh for Spelling. The bad blood reportedly started when Spelling cheated on her first husband, Charlie Shanian, with Dean McDermott, who later became her second husband. Thiessen apparently had a friendship with Shanian and allegedly took his side over that of Spelling.
Kim Kardashian and Blac Chyna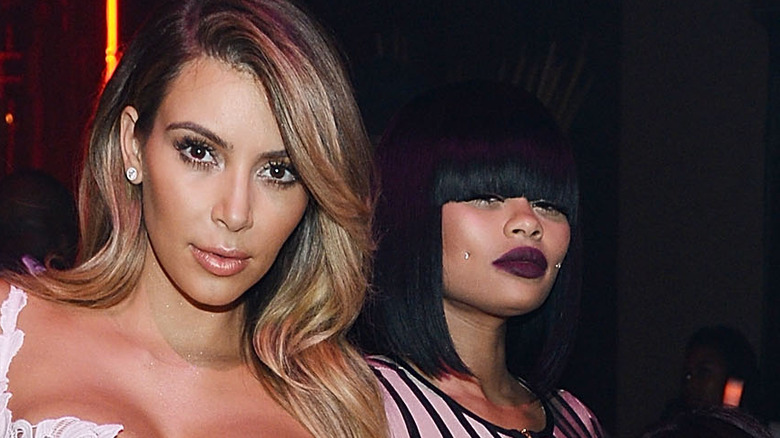 Denise Truscello/Getty Images
Another failed friendship for Kim Kardashian is her former friendship with model and fellow socialite Blac Chyna, though this feud involves nearly the whole Kardashian-Jenner clan. True fans of "Keeping Up with the Kardashians" know that Kim and Blac can trace their friendship back many years. In 2013, the duo would shop, work out, and even get their brows done together. Blac was even a guest at Kim's wedding to Kanye West. 
The wedding may be where the drama starts, however. At the time, Blac was linked to Tyga, the father of her son. Shortly after the Kardashian-West wedding, Tyga got friendly with Kylie Jenner, then a teenager. The rapper initially denied the rumors, but a relationship would later be confirmed. Next, Amber Rose — Blac's BFF and Kanye's ex — went on a Power 105.1 show and threw shade at Tyga, saying, "He has a beautiful woman and a baby that he left for a 16-year-old who just turned 17." Amber's comments sparked a Twitter feud with Khloé Kardashian. Then, in January 2016, Blac started dating Rob Kardashian. The couple would get engaged, have a child, land their own reality show, and break up all before the end of 2017 — which eventually led to Blac filing a defamation suit against the Kardashian-Jenner family.
Somewhere in all that drama, Kim and Blac's friendship fizzled out. 
Taylor Swift and Karlie Kloss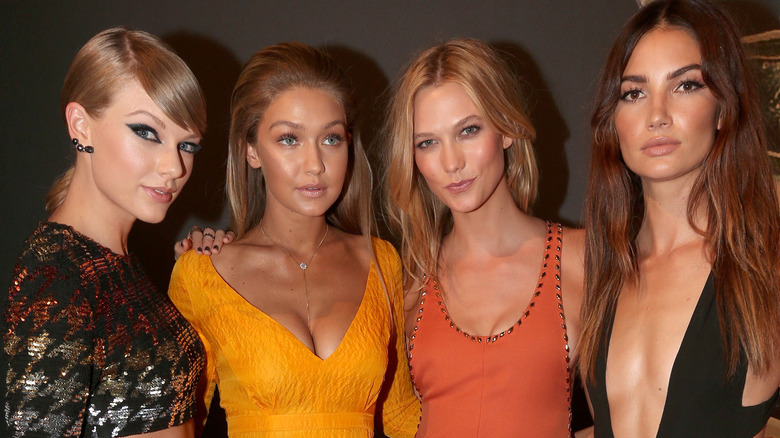 Christopher Polk/Getty Images
Music royalty Taylor Swift and model Karlie Kloss were once so close they shared a Vogue cover together. However, these two beautiful besties aren't so tight anymore. Their friendship apparently began with baking cookies in 2012, and, by 2014, they were documenting t heir road tripping on Instagram. The pair seemed inseparable, often spotted together hanging out in NYC, partying at a pre-Oscars shindig, and attending the Met Gala.  
For the next few years, their friendship appeared to be one to envy, but fans noticed the glow had begun to wear off when Kloss' 2017 birthday wishes to Swift didn't seem to gush the way they had in the past. Next, Kloss was spotted dining with Katy Perry, who had her own rift with Swift at the time. In 2019, Kloss had two wedding celebrations when she married Josh Kushner (brother of the Jared Kushner who's married to Ivanka Trump), but Swift didn't attend either one. When Swift's song "End Game" dropped, fans believed they could point to a fallout between the once ride-or-die pair. Neither Swift nor Kloss, though, has ever spoken publicly about the status of their friendship.
Jennette McCurdy and Ariana Grande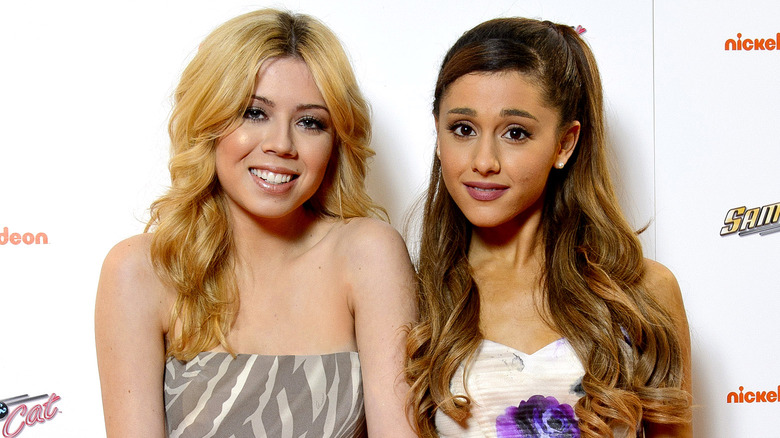 Ben A. Pruchnie/Getty Images
Jennette McCurdy and Ariana Grande can track their interactions back to Nickelodeon's crossover episodes of "iCarly" and "Victorious," which were filmed in 2009. By 2012, the pair starred together in their own show "Sam & Cat," and the friendship seemed to be blossoming, with McCurdy telling the media about a planned sleepover for the two in 2013. Around the same time, Grande told McCurdy she loved her on social media. But, by the following year, feud rumors circulated online, with both McCurdy and Grande denying any tension between them. 
All the way through 2020, the two ex-Nickelodeon stars had good things to say about each other. However, McCurdy's 2022 memoir paints their relationship a little differently. McCurdy admits to being jealous of Grande and the network's apparent treatment of the star. She also writes how their different upbringings may have helped Grande achieve her massive stardom. "Ariana grew up in Boca Raton, Florida, an incredibly wealthy, idyllic town, with a healthy mom who could buy her whatever she wanted," she wrote (via CBS8). At the time of writing, Grande hasn't addressed the statements made in the book.
Katy Perry and Kristen Stewart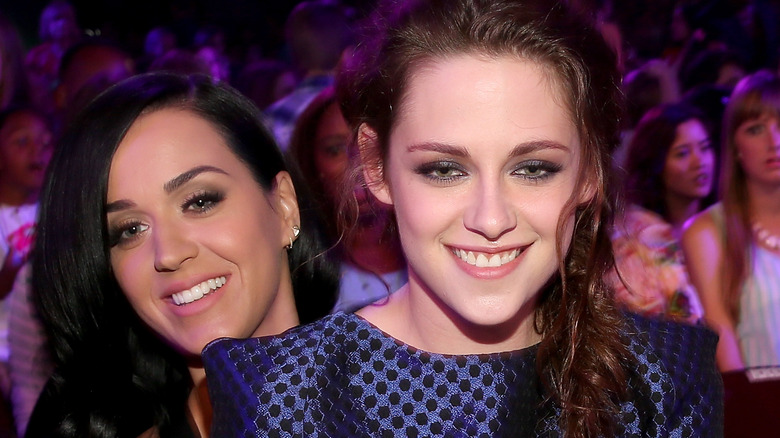 Christopher Polk/kca2013/Getty Images
Sitting together at "Nickelodeon's Kids' Choice Awards" in 2013, Katy Perry and Kristen Stewart seemed to have an adorable friendship. Stewart even sat on Perry's lap at one point. At the time, both women were rising stars. Stewart had recently completed the final installment of the "Twilight" series, and Perry's hit "Prism" album was released that year. Both women would take home awards that night: Perry for Favorite Female Singer and Stewart for Favorite Movie Actress and Favorite Female Buttkicker.  
The awards had barely collected dust, however, before the friendship turned rocky. When their friendship had initially blossomed, Stewart was in a relationship with her "Twilight" co-star, Robert Pattinson, but, by May of that year, the two called it quits. By June, rumors of a romance between Pattinson and Perry began circulating. Stewart was not happy to hear her bestie was cavorting with her very recent ex. While Perry sent text messages to Stewart claiming she and Pattinson were only friends, her friendship with Stewart apparently had run its course. 
Drake Bell and Josh Peck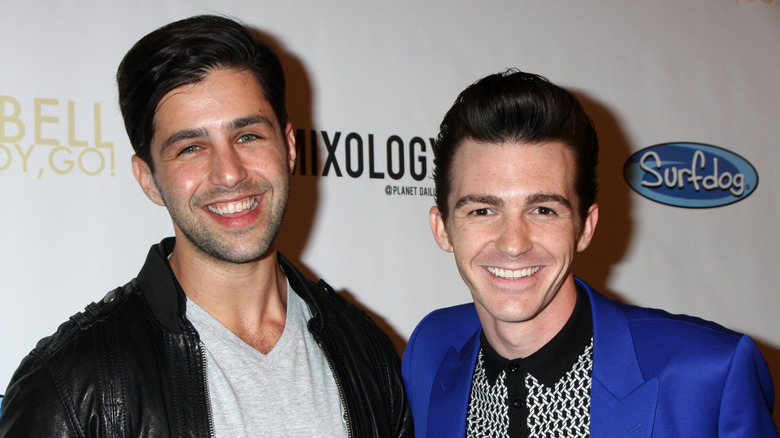 Kathy Hutchins/Shutterstock
Nickelodeon fans should be quite familiar with Drake Bell and Josh Peck, as the pair starred together in the network's popular "Drake & Josh," which ran for four seasons. While they appeared to be the best of friends both on and off screen at the time, their relationship took a dive after the show wrapped in 2007. When Peck got married in 2017, Bell was not on the guest list. Offended by the slight, Bell aired his ire on social media, with fans of the show taking his side and even throwing online shade at Peck's wife. When the two former co-stars ran into each other at an MTV award show, Peck demanded Bell apologize to his wife.
A few years later, a young fan made allegations against Bell, accusing him, for one, of taking advantage of her while she was a minor. The actor was eventually charged with child endangerment and put on probation. While attending a premiere for the Disney+ series "Turner and Hooch," Peck was asked to comment on the situation. "It's upsetting, and it's an unfortunate situation. It's disappointing," he told Variety.
If you or anyone you know has been a victim of sexual assault, help is available. Visit the Rape, Abuse & Incest National Network website or contact RAINN's National Helpline at 1-800-656-HOPE (4673).
Liam Payne and Zayn Malik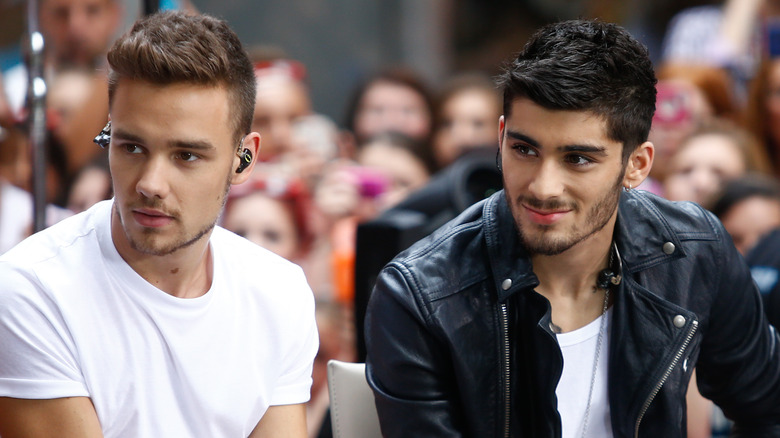 Debby Wong/Shutterstock
Both members of the boy band One Direction, Liam Payne and Zayn Malik had a longstanding friendship which began when the band competed on "The X Factor" in 2010. Although they didn't win the show, the band landed a record contract and released an album in 2011. From there, One Direction exploded on the scene and rocked the Billboard charts.
After Malik left the group in 2015, the rest of the band allegedly made snide remarks and possible veiled insults about him. In 2016, Malik told NME he had been "the closest to Liam" since leaving the band, but in a 2018 British Vogue interview, Malik noted that he hadn't spoken to any of his former band members since the split. "People take it different ways – especially when there are five different personalities," he said.
In June of 2022, Payne appeared on Logan Paul's YouTube show, "IMPAULSIVE," saying, "There's many, many reasons why I dislike Zayn." He later walked back those comments, claiming that his personal issues at the time led him to make comments out of anger. Payne entered a rehab program shortly after his appearance. In July of 2023, Payne commented on Malik's Instagram post about his new music, making fans hope a reconciliation is on the horizon.
If you or anyone you know is struggling with addiction issues, help is available. Visit the Substance Abuse and Mental Health Services Administration website or contact SAMHSA's National Helpline at 1-800-662-HELP (4357).
Olivia Wilde and Florence Pugh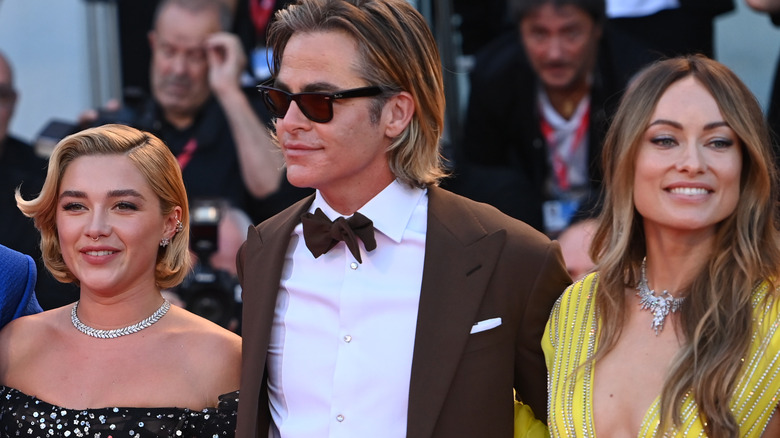 Kate Green/Getty Images
Though not exactly bestie status, Florence Pugh and Olivia Wilde had gushed about each other before they began work on the psychological thriller "Don't Worry Darling." When Wilde posted about Pugh's casting to Instagram in 2020, Pugh was ecstatic. "@oliviawilde is my idol and allowed me to be a part of this fecking incredible cast," she wrote (Pugh played the female lead, while Wilde directed and starred in the flick).
While Wilde may have been Pugh's idol at the start of production, by the film's premiere, some drama between them apparently unfolded. Fans noted that Pugh was unusually quiet about the film on social media, while Wilde posted frequently. Throw in a video leaked by Shia LeBeouf, where Wilde talks about his staying on the project being a "wake-up call for Miss Flo," and a storm was apparently brewing. 
Page Six blamed the drama on Wilde's relationship with Harry Styles, who took over when LeBeouf exited the film. According to their source, Pugh was uncomfortable with Wilde's then-new romance with Styles, which they flaunted on set, as Wilde was still attached to longtime partner Jason Sudeikis at the time. Pugh also took offense to Wilde's emphasis on sex scenes, telling Harper's Bazaar, "When it's reduced to your sex scenes ... it's not why we do it." Pugh was absent from most of the film's PR, including the film's premiere. Wilde, for her part, publicly commented on the rumors, not giving them much credence.
Courtney Love and Dave Grohl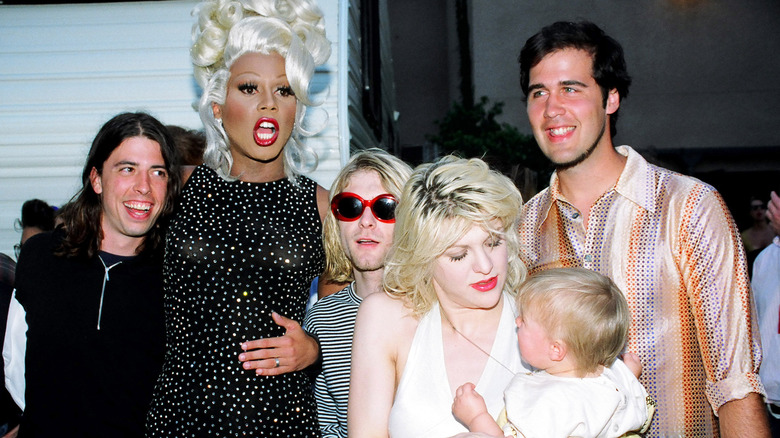 Jeff Kravitz/Getty Images
Infamous rocker Courtney Love became one-half of a grunge royalty couple in the '90s when she married Nirvana frontman Kurt Cobain. At the time, Love, Cobain, and bandmate Dave Grohl were great friends. Unfortunately, Cobain struggled with substance abuse and depression, taking his life in 1994. Eventually, Love and Grohl's friendship fell apart. The animosity can be tracked to Grohl's 1999 "Howard Stern" appearance where he made a snide comment about Love's songwriting abilities.
In 2001, Love sued Grohl and fellow Nirvana member Krist Novoselic to try and dissolve Nirvana's legal partnership. Grohl and Novoselic countersued, and the case settled out of court. Love also attempted to block the release of "You Know You're Right" — a song recorded right before Cobain's death. Grohl and Love continued taking jabs at each other through songs and interviews. Love even accused Grohl of making advances on her daughter, Frances Bean Cobain, though Bean Cobain denied any untoward behavior from Grohl.
The relationship seemed to be on the mend in 2014 when Nirvana was inducted into the Rock and Roll Hall of Fame, which Love confirmed during a "Jimmy Kimmel Live" appearance. However, in a since-deleted 2021 Instagram post, Love accused Grohl of "gorging on Kurt's fortune and Kurt's goodwill" (via the Daily Mail). While she publicly apologized, whether Grohl accepted is unclear.
If you or anyone you know is having suicidal thoughts, please call the National Suicide Prevention Lifeline by dialing 988 or by calling 1-800-273-TALK (8255)​.