Inside Bob Barker's Relationship With Long Time Girlfriend, Nancy Burnet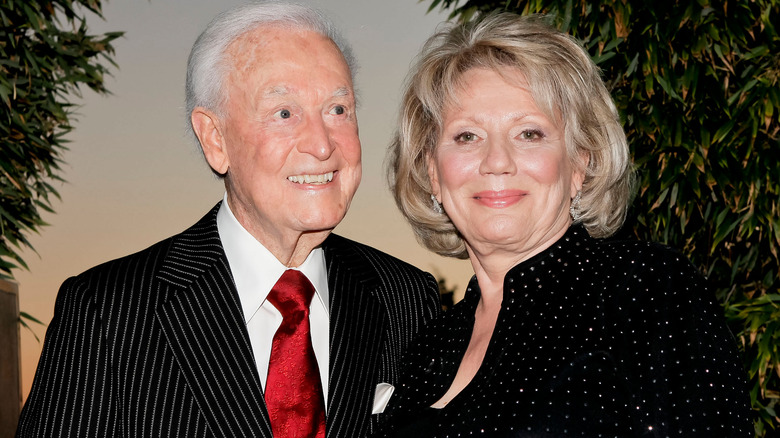 Tibrina Hobson/Getty Images
Legendary game show host Bob Barker died on August 26, 2023, at age 99. The TV star was beloved by many for his 35-year tenure as the host of "The Price Is Right." He was also well-known as an animal rights activist who always signed off his show, reminding viewers to have their pets spayed and neutered. His death was felt by many fans who grew up watching him on daytime television, as well as colleagues who loved and respected him.
Speaking of his death, a spokesperson for CBS said: "We lost a beloved member of the CBS family today with the passing of Bob Barker ... As host of 'The Price Is Right' Bob made countless people's dreams come true and everyone feel like a winner when they were called to 'come on down (via Page Six.)" Vanna White was one of several celebrities who responded to his death, taking to her Instagram to share a post thanking Barker for introducing her to the world of game shows. But along with the celebrities and viewers feeling his loss, his companion of 40 years may know him better than anyone. Nancy Burnet met Barker in 1983 and was his partner until his death. Their relationship was quite private, but Burnet has opened up about the time they spent together since his death.
They met because of their shared love for animals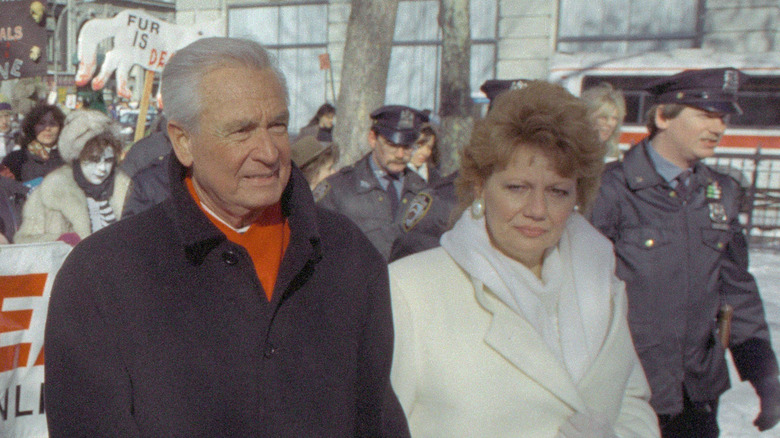 Bettmann/Getty Images
Second only to his career as a game show host, Bob Barker was known for his work as an animal rights activist. He even brought that passion to "The Price Is Right," signing off each show with a call to the audience to "have your pets spayed and neutered." Nancy Burnet shared his enthusiasm for animal rights, which is how the pair first crossed paths.
In 1983, Barker was hosting an animal adoption event. As Burnet recalled to People, she didn't know much about Barker except that he was on TV. She was working on animal rights legislation and had a proposal to stop pet stores from selling chicks and ducklings near Easter time, as the animals are often surrendered soon after the holiday. She attended Barker's adoption event because she hoped Barker would use his star power to get the word out about her proposal.
Upon meeting her, Burnet recalled: "He said, 'I'll bet you are a wild-eyed radical.' I said, 'Well, I don't know about the 'wild-eyed' part.'" Clearly charmed by her, Barker asked Burnet out to dinner, but as Burnet told Today, it was an "inconvenient time," and the animal rights activist declined the TV star's initial invitation. But, a few days later, she agreed to go to dinner with him, and the decades-long companionship began.
They kept their relationship private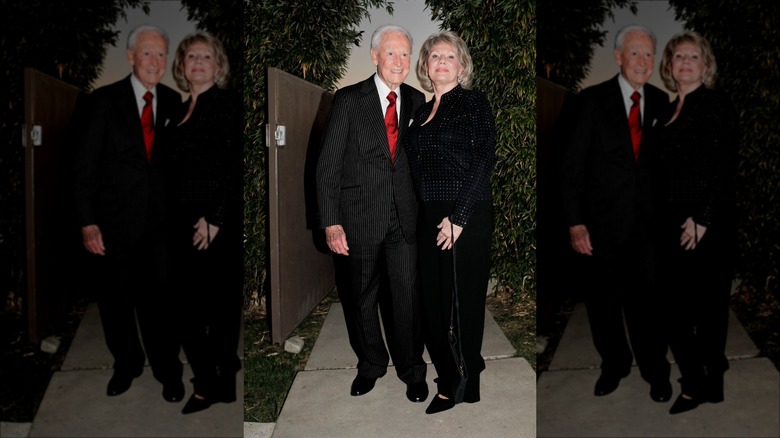 Tibrina Hobson/Getty Images
Nancy Burnet and Bob Barker met and began their relationship in the early '80s. During this time, Barker was at the height of his career in daytime television. He won his first of several Daytime Emmys for hosting "The Price Is Right" in 1982, just a year before meeting Burnet, and the popularity of the show made him very recognizable to the general public. But, Burnet was not interested in walking red carpets on the arm of a celebrity. For the majority of their time together, she stayed very private, only attending a handful of public events with Barker despite being his closest companion.
Burnet told Today that she preferred to remain more anonymous. They started going out periodically whenever she went to Los Angeles for business, and they did develop a romantic relationship. But, they kept their personal business out of the public eye. "I kept my relationship with him very low-key because people treat you differently when they know that there's a celebrity involved," she explained.
They fought for animal rights together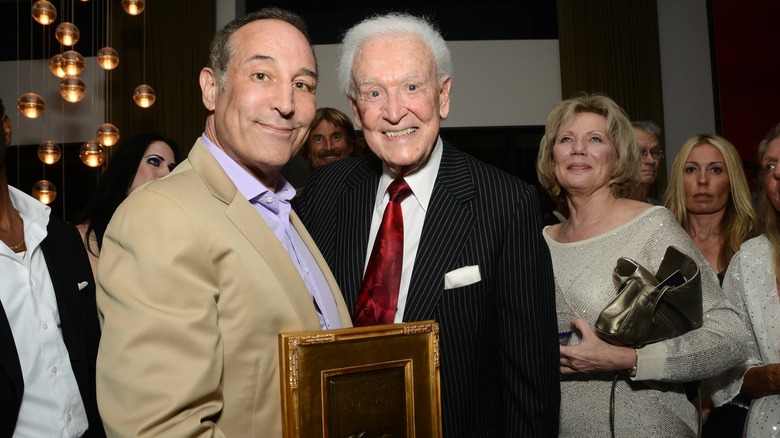 Araya Doheny/Getty Images
After meeting at a pet adoption event, Bob Barker and Nancy Burnet continued their fight for animal rights, often teaming up on important issues. Barker supported the United Activists for Animal Rights, a group founded by Burnet. Likewise, Burnet supported Barker in founding the DJ&T Foundation, an affordable spay and neutering program that she would later take over for him.
Their shared passion and commitment to animal rights made them a powerful force. Working together, they led an investigation into the treatment of animals during the filming of "Project X," resulting in criminal charges for animal cruelty. It was one of many fights they would go into together. Over the years, the pair organized and participated in protests, rescued animals, and did their best to raise awareness for animal welfare. Along with projects in the US, they took the fight for animal rights with them to the many locations they traveled together.
Speaking to People, Burnet discussed how valuable it was to have a celebrity like Barker using his platform to speak up for animals. "He was willing to stand up when things were controversial," Burnet said. She went on to explain the difference his promotion for having pets spayed and neutered made. "I can't tell you the millions of animals, because of his name value and his speaking out, that were not born doomed, never to be adopted, because there just aren't enough homes."
They never married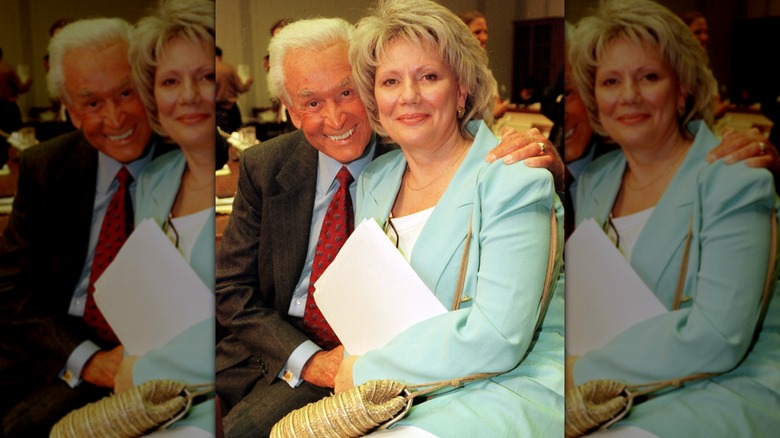 Alex Wong/Getty Images
Looking at their 40-year relationship, it may strike some as strange that in all that time, Bob Barker and Nancy Burnet never married. This was mostly because of Burnet in later years, but at first, it was both of their wishes.
When Barker first met Burnet, it was just two years after the death of his wife, Dorothy Jo Gideon. According to Barker's publicist, Roger Neal, Barker and Gideon were soulmates. "I think, if you're lucky, you find your soulmate and the love of your life," Neal told Entertainment Tonight. "I think once you find that person, some people don't want to replace that."
Respect for his late wife is likely why when Burnet and Barker first became close, he said he never wanted to remarry. This was no issue for Burnet, as she felt the same. However, as time passed, Barker changed his mind and proposed marriage to her more than once. But Burnet told People that her feelings toward remarrying never changed. While she was happy to remain by Barker's side, she never agreed to marry him. "He proposed to me many times. I just said, 'I just don't want to be married.'" she said. "Our humor was very dry. We kidded in a way. And he said, 'Not even to me?' And I said, 'Especially not to you.'" Barker continued to propose, even going so far as to have a prenup drawn up, but Burnet stayed firm, and they never married.
Barker and Burnet never had children together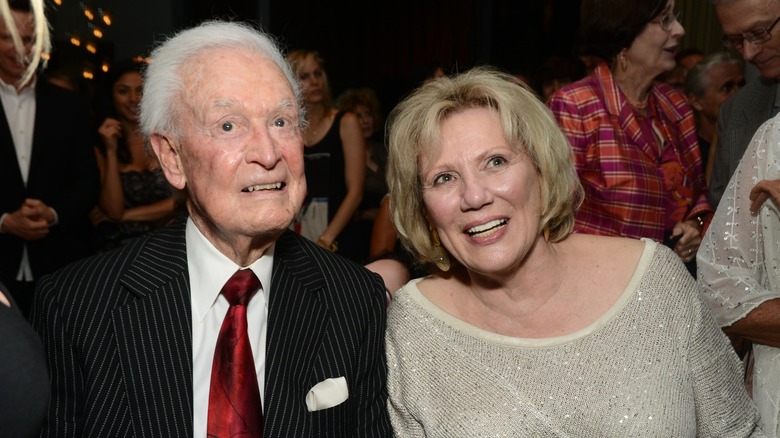 Araya Doheny/Getty Images
Although Nancy Burnet has shared that her relationship with Bob Barker was romantic for a time, they didn't take the typical path that many people expect couples to go down. Though the pair remained close until the end of Barker's life, they never married, lived together, or had children with each other. They were both very passionate about their careers and advocacy and didn't seem to have much interest in settling down or starting a traditional family.
Speaking to Esquire in 2007, Barker appeared to have no regrets about remaining unmarried and child-free. He spoke to the magazine about his late wife, Dorothy Jo Gideon, saying: "For some men, maybe a second or third marriage would work out fine. In my case, I had my marriage and she was the love of my life." Though he found companionship and did eventually propose marriage to Burnet, in the end, Gideon remained his only marriage. And he never had children with his first wife or his long-time companion Burnet. In his own words, he didn't have the time. "I don't regret it," he said. "Not when so many of my friends are having so much trouble with their children. I have thirteen ducks, and that's a lot of work."
Despite their long relationship, they never lived together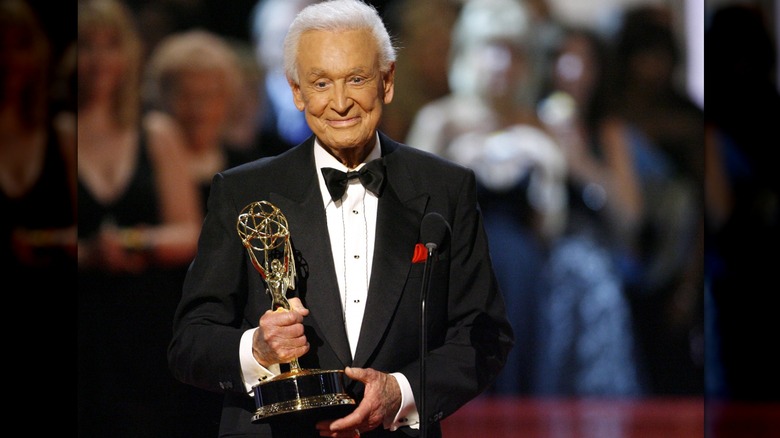 Christopher Polk/Getty Images
Just like they never married, Bob Barker and Nancy Burnet kept separate residences throughout their relationship. Speaking about their unconventional partnership, Barker's publicist Roger Neal told Entertainment Tonight: "They never lived together. They had separate residences ... I think if he ever contemplated marriage again, it would've been with Nancy for sure." And as we know, Barker did, in fact, propose marriage to Burnet several times.
Just like it was Burnet who turned down Barker's marriage proposals, keeping their lives more separate may have also been her decision. Burnet valued her privacy and may not have enjoyed the attention of marrying or cohabitating with the TV star. "She was fine with the way things were. She loved being his companion, but he did want to marry her," Neal said. But keeping separate residences didn't hurt Barker and Burnet's closeness. It's clear how much they cared for each other, and Burnet was Barker's closest companion up until his death. "I know he loved her," Neal said. "I know that she cared deeply for him."
They had shared interests and humor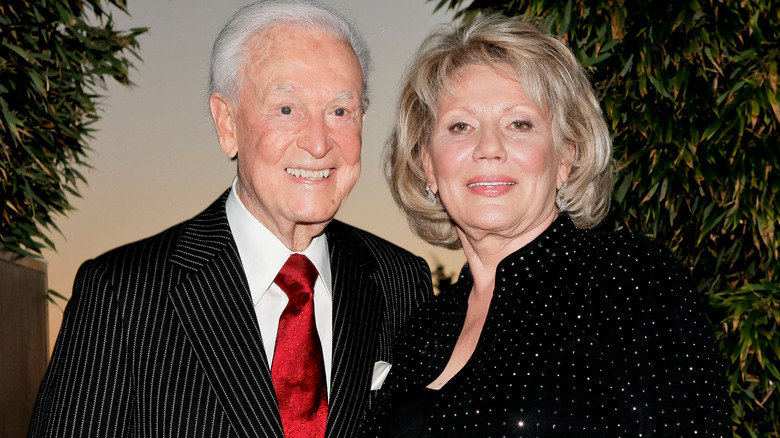 Tibrina Hobson/Getty Images
Though they never married or had children, Bob Barker and Nancy Burnet had shared passions, humor, and interests that made them fast friends and partners. Describing the time they spent together to People, Burnet said they'd typically have a glass of wine together and sit and chat about their interests. They got along well and could always be honest with each other. "I think the thing that he liked most about me is that I may have been the only person who treated him like anyone else," Burnet explained that she never treated him any different just because of his celebrity. "He was a person. I was very honest and direct with him. Everybody needs someone to keep them at ground level, and I was that person. I think he could depend on me, and he trusted me and respected me."
Due to their trust and shared humor, they stayed close and got along well for decades. Burnet shared a sweet moment when Barker had told her he thought they could be happy together in Dubuque, Iowa, despite there not being "a lot going on there." He believed they still could have kept each other entertained. "Just having that mutual humor, finding each other amusing, that helped pass the time," Burnet said.
Their romance evolved into more of a friendship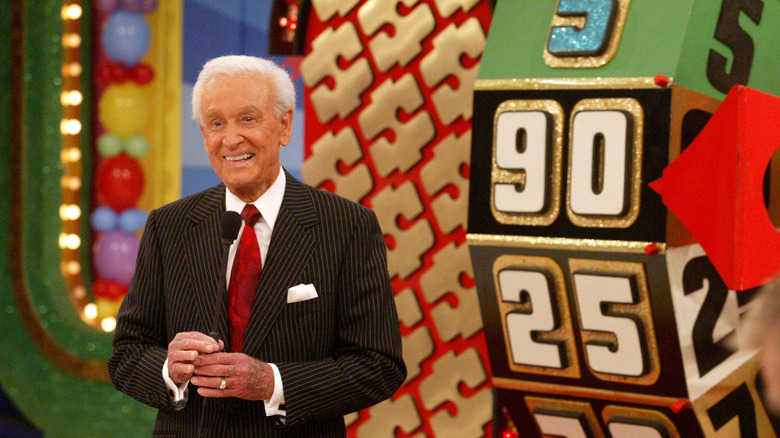 Jesse Grant/Getty Images
Although they kept their relationship quite private, Nancy Burnet shared with Today that she and Bob Barker were romantically involved for a while. However, that element of their partnership eventually faded out. Burnet didn't share any details on the exact timeline of when they were involved. She simply said: "At one time, we were very much a couple and then later (our) relationship evolved into more of a friendship." But regardless of what form their relationship took, it's clear that Barker and Barnet continued to have a deep respect and love for each other.
For many people, staying friends after a romantic partnership ends is difficult, but Barker and Burnet were able to maintain their relationship despite that shift. According to Burnet, the secret to their long-lasting and fulfilling partnership was that they didn't forget to have fun together. "People have to have fun together ... If they can keep that in their relationship, it'll last a long time and get you over some really rough spots. And so, just like any relationship, we just evolved from there. But it was very, very much around the work that was done." The work Burnet was referencing was, of course, their advocacy for animals, which also played a role in keeping them close.
Burnet helped care for Barker in his final days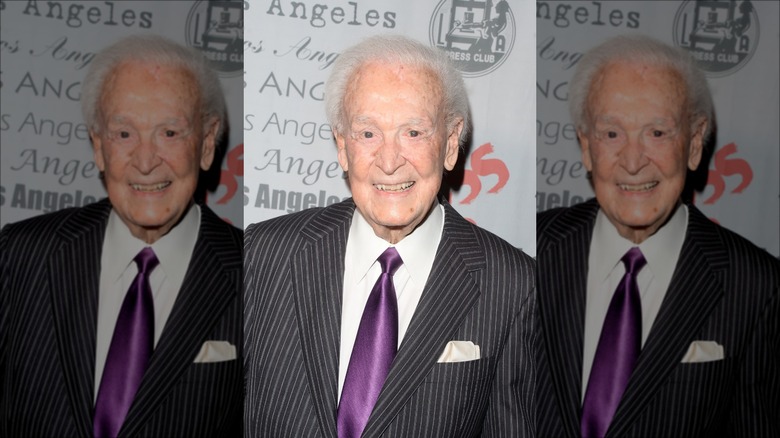 Matt Winkelmeyer/Getty Images
Bob Barker and Nancy Burnet's partnership was an enduring one. Despite turning down his proposals, Burnet was a loyal companion, sticking by Barker's side until the very end. Burnet is 20 years younger than Barker, so she was able to care for him as he aged. She told Today she oversaw every aspect of his care in his final years. "I was in touch with the caregiver nurses every day, all day, and they checked in with me at night, if ever there was a problem," Burnet said. "It was my pleasure to do it."
Barker died when he was 99, but according to Burnet, he was in the best health for that age right up to his last day. "You know, some people at that age are very gaunt and thin and frail. He was not," she said. This was likely due to the quality of care that she managed and Burnet's own attentiveness to his health.
Barker's publicist, Roger Neal, emphasized what a difference Burnet's caretaking made in the final years of Barker's life. "I can't stress enough the great care that Nancy took of him ... The fact that he got to stay in his home — the same house since the 1950s — to be able to live there his whole adult life and be able to be at home when he passed, I think it was very fortunate," Neal said (via Entertainment Tonight).
She released a statement for his 99th birthday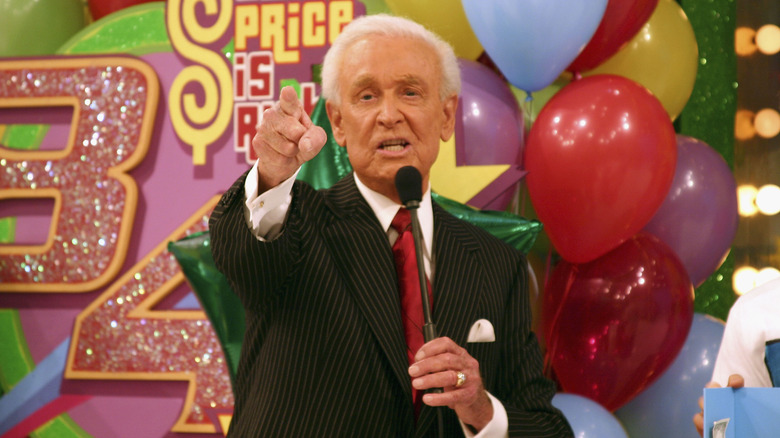 Lumeimages/Getty Images
Bob Barker celebrated his 99th birthday on December 12, 2022. The retired game show host was met with messages of love and appreciation from many fans for reaching such a milestone. One Twitter user wished him a happy birthday and referred to Barker as "The man who single-handedly got every GenX through their sick days home from school." Many more fans and colleagues reached out with their congratulations.
Burnet released a statement for his birthday, letting fans know that Barker would see and appreciate their well wishes. "Barker is doing great and will be very aware of all of the birthday wishes he will be receiving on his 99th birthday," she wrote (via Today). "We want all fans of PRICE IS RIGHT and BOB BARKER to take to social media and give him a shout-out for his birthday!" Burnet went on to speak on his behalf, encouraging everyone to get their pets spayed and neutered just like he always did at the end of his show.
Outside of the recognition from fans, Barker's 99th birthday was full of love from those closest to him. Burnet shared that he spent the day with family and friends at his house. "I came to his house, his half brother and his half brother's wife, some longtime friends and his six nurses who work different shifts through the day also showed up to celebrate," she said, recalling the special day (via Yahoo!).
Burnet opened up about how proud she is of Barker's accomplishments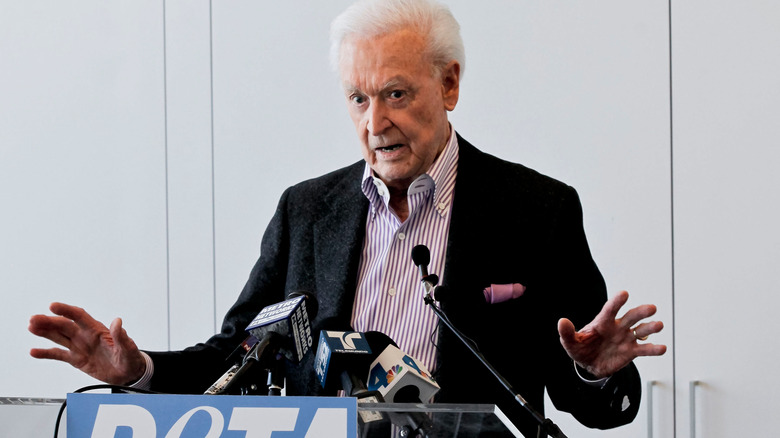 Tibrina Hobson/Getty Images
Although Bob Barker has died, his legacy lives on. Many people remember and love him for his time as a game show host. His work for animal rights was also hugely influential. "A lot of people did appreciate him or enjoy his work or certainly appreciated what he did for animals," Burnet told Today. "He was aware, of course, of all of that. He was always grateful for it."
Looking back on his life, Nancy Burnet shared how proud she personally is of all the work they did for animal rights. His foundation, which Burnet continues to work with, provides funding to DonkeyLand, a sanctuary for wild animals. Barker also helped raise awareness to have pets spayed and neutered throughout his time on "The Price Is Right." This encouraged all his viewers to help decrease the amount of animals without homes.
Burnet and Barker also fought for animal welfare in many other areas. Speaking to Page Six, Burnet talked about Barker's continuing legacy. "I am so proud of the trailblazing work Barker and I did together to expose the cruelty to animals in the entertainment industry and including working to improve the plight of abused and exploited animals in the United States and internationally."