The Stunning Transformation Of Sarah Rafferty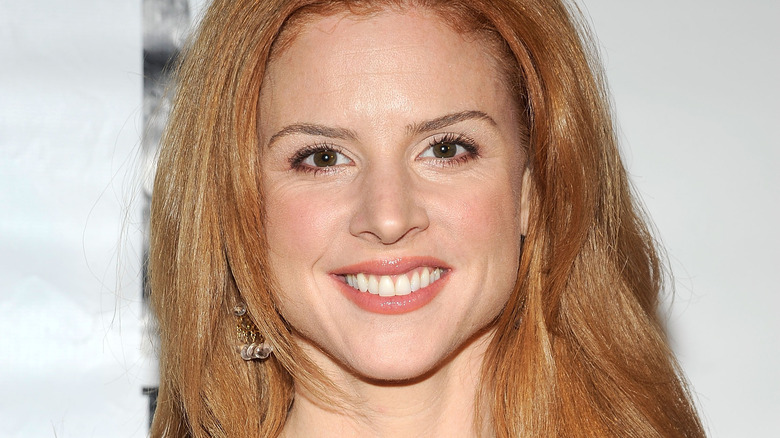 Gary Gershoff/Getty Images
Sarah Rafferty's Instagram bio cheekily identifies her as "that redhead on 'Suits.'" It's an apt description for an actor that most fans know for her nine-season run playing Donna Paulsen in the legal drama "Suits," a series also known for starring Meghan Markle. The USA Network show had its final season in 2019, but recently, "Suits" has gotten new life due to Netflix streaming the series, giving viewers the chance to binge the series to their hearts' content. 
Whether you just started watching "Suits" on Netflix, or if your love has simply been reignited, you're sure to be drawn in by Rafferty's portrayal of her complex character. 
However, you've likely seen Sarah Rafferty outside of "Suits," although you may not have realized it. The star has been in TV shows since the '90s and began acting in theater before that. She's certainly come a long way from her childhood in Connecticut to the recognizable TV actor she is today.
She grew up with artistic parents
Sarah Rafferty was the youngest of four sisters. They grew up together near Greenwich, Connecticut, with their parents Mary Lee Rafferty and Michael Griffin Rafferty Jr. It's likely her parents opened up her mind to the arts and self-expression at a young age. Though neither of her parents are actors, they both have an appreciation for the arts. Her mother was a chair for the English department at a girls' prep school. Her father worked in the financial sector but also has a love for oil painting.
By all appearances, the actor grew up with a loving and supportive family she remains close to today. She often posts Instagram tributes to her family members for birthdays and other special events. 
In a Mother's Day post, Sarah praised her mom's fashion sense, saying, "You made the '80s look good." She went on to wish her a special Mother's Day, writing, "I hope it was filled with the sublime, the ridiculous, and as always, a sprinkle of poetry." She put up a similarly heartfelt post for Father's Day. The sweet picture of the actor as a child, standing next to her father, is captioned, "Happy Father's Day to the one who never missed a game, or a play, or a call at the office, or a trip to Baskin Robbins."
Sarah Rafferty studied theater
After graduating high school, Sarah Rafferty went on to study theater in college, earning both her bachelor's and master's degrees. She attended Hamilton College and studied abroad for a time in the U.K. before getting her master of fine arts from the Yale School of Drama. 
Rafferty is appreciative of the time she spent studying theater and how much she was able to hone her craft. Giving advice to young actors, her most significant point was to stick to their studies. "Keep going back to class and keep working, keep working on your craft and keep digging. And I think I'd also just say that it's a marathon, not a sprint," Rafferty told the Daily Actor.
During the same interview, the "Suits" actor discussed some of the most important lessons she took away from her time studying abroad. "I think what you learn studying acting is that you have to have the courage to just make a strong choice," Rafferty said, going on to discuss how seeing actors make those bold choices in theater helps her acting to this day. "Just witnessing people making bold, deep choices," she said. "I think whether you're working on the stage or in film or on TV, you know, that's what is required to kind of make things compelling."
She and her husband met in college
Although you may know Sarah Rafferty for her character's romance with Harvey (played by Gabriel Macht) on "Suits," she's been with her real-life partner for decades. Rafferty met her husband while she was studying for her master's degree, long before she was a well-known TV actor. She and Santtu Seppälä hit it off when they were at Yale University. The pair dated throughout the '90s before marrying in 2001. They've been together ever since. Seppälä works as a financial analyst, and Rafferty continues to pursue her love of acting.
Although they're somewhat private, Rafferty makes a point to post on Instagram for their anniversary. In 2021, she marked two decades together with a picture from their wedding day. In the caption, she quoted Frida Kahlo, writing, "Thank you for the 'hope, coffee and poetry' ... "
Two years later, she posted again for their 22nd anniversary. This time, she shared pictures of them together as a young couple in Istanbul, with him in a suit and her in a flowing orange floral dress. The actor penned another sweet note to her husband in the caption, saying, "Happy 22 (one day late), Santtu. I love nothing more than seeing the world with you." Rafferty went on to add a joke about an old photo her daughter had shared of them on her Instagram, writing, "And seeing our child troll us on Instagram. How did she access photos from the '90s?"
Sarah Rafferty had many small TV roles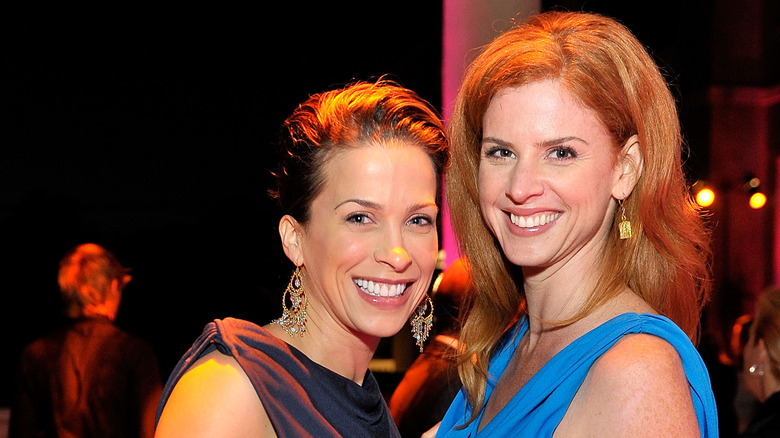 Charley Gallay/Getty Images
Before landing the role that many know her for as Donna in "Suits," Sarah Rafferty was working as a TV actor for years. After graduating with her master's degree from Yale, she started working professionally with her first credited part in 1998 as Sarah in the made-for-TV movie "Trinity." 
Though you may not remember her characters from that time, she went on to have several smaller guest parts in popular TV shows throughout the late '90s and early 2000s. You may have seen her in single episodes of your favorite shows, such as "Bones," "Numb3rs," "The Practice," "CSI," and more. Although she didn't have a consistent character, she stayed busy and built up quite an impressive resume with the many beloved shows she took part in.
Speaking to the Daily Actor about the shows she had guest roles on, Rafferty said, "It's all great because it's really fun to be able to play different characters and to go visit other people's shows and be a guest on them and work with different actors. That's, you know, always a pleasure and a great opportunity." She went on to explain that while she enjoyed the opportunity to play a variety of characters and work with many talented casts and crews, it's quite different from being a series regular, where you have a chance for the character to evolve.
She has two daughters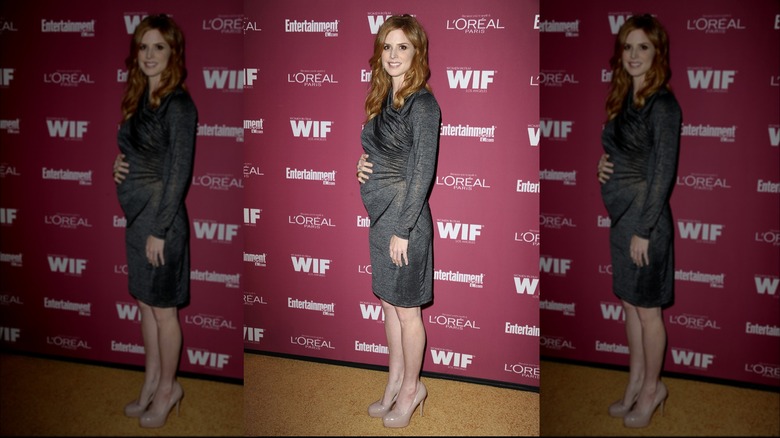 Jason Laveris/Getty Images
Sarah Rafferty and her husband Santtu Seppälä have two daughters. After getting married in 2001, the couple waited a few years before having their first daughter Oona Gray in 2007, and their youngest, Iris Friday, five years later in 2012. Rafferty does share photos of her family on her social media, but she usually keeps her daughter's faces out of the photos she shares for their privacy. Despite keeping their lives mostly out of the public eye, it's obvious how much the actor loves her family. 
Speaking to Best Health Magazine, the actor opened up about how being a mother changed her self-image and how she's learned to love herself again since becoming a mother. 
"As a mom, you have to go easy on yourself. I was so hard on myself when I first became a mom," she said. Rafferty explained that she had many insecurities that she eventually learned to find her confidence in. "I mean, my tummy doesn't look like it did before I had kids. It just doesn't. But I would never, ever trade being a mom for anything. So, why would I spend time being bummed about my stretch marks and that my tummy looks different? I made two babies. That's amazing."
She became well-known for her part in Suits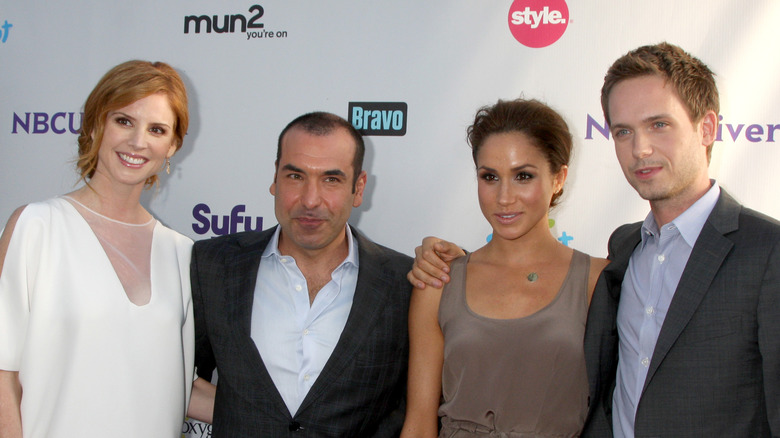 Kathy Hutchins/Shutterstock
Sarah Rafferty's acting career really took a turn when she was cast as a series regular on "Suits." The series, which follows a Manhattan law firm, began airing in 2011 and ended with its ninth and final season in 2019. The popular drama was also one of the biggest acting roles that Meghan Markle was known for before marrying Prince Harry. 
In the series, Rafferty plays Donna Paulsen, the sharp legal secretary of Harvey Specter, played by Gabriel Macht. As the show goes on, the audience learns more about Donna's character, history, and relationships.
This was a life-changing part for Rafferty. She went from playing guest roles for single episodes to being one of the main characters in a successful series. On top of that, Donna was a strong and complex character that Rafferty loved getting the opportunity to play. Rafferty spoke about the role to Build in 2016 after she'd already had a few seasons to play and get to know the character. "I so enjoy Donna's power, and Donna's confidence ... and her strength, but I also really care about her vulnerability," Rafferty said. "I think what's really important on TV and what we do connect to is not just these women's strengths, but their flaws too because we just really want to see humans."
She's an advocate for girls' self-esteem
Starring in "Suits" gave Sarah Rafferty a larger audience and platform to speak on issues close to her. In 2017, while still filming "Suits," she had the chance to join Dove's "Look How Far We've Come" Campaign, which promotes the self-esteem of young girls. In an Instagram post announcing her partnership with the company, Rafferty wrote, "As a mother of two girls, I'm proud to join the 'Look How Far We've Come' Campaign,' which highlights the difference we can make in a young girl's life by supporting her self-esteem and helping to manage beauty related anxiety."
During an interview with Cityline, Rafferty spoke more about how prominent beauty-related anxiety is, particularly today when so many kids are growing up with social media setting unrealistic standards. "Social media is a daunting thing ... I didn't have to navigate that when I was a kid. How am I going to help them navigate it now?" she said, voicing the concerns of many parents. 
Rafferty explained that it's been a priority to teach her daughters not to put all their value in appearance. This especially concerned Rafferty as part of her job as a TV actor is getting her hair and makeup done before filming. "It's fun to get done up, but what do I really value?" Rafferty said, going on to explain that it's important to her that her daughters see the other elements of her work and appreciate the value beyond the surface level.
Suits was Sarah Rafferty's longest role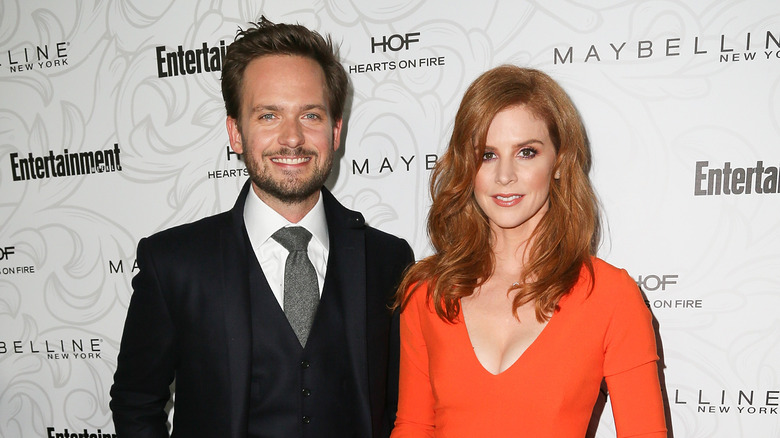 David Livingston/Getty Images
Sarah Rafferty achieved job security, a difficult task for anyone in the arts, with her longest role to date in "Suits." Not only was it a larger role as a main part of the cast, but the series ran for multiple seasons, giving Rafferty consistency and a job that felt like coming back home each season rather than auditioning for a new show. "When you're a regular on your own show there's a comfort level that you have with the crew and the other castmates so going into work can feel like going to your second home," Rafferty told the Daily Actor.
Working on "Suits" for so many seasons also gave her the chance to evolve with Donna. Rafferty spoke to HuffPost in 2017 when the sixth season of "Suits" was airing. She explained that when she first auditioned for the pilot, she was excited by the distinct voices of each character and the potential they had. Discussing the script, she said, "You could tell from the way [Donna] spoke that she was quite a girl. I thought there was a chance for her to really grow." And grow Donna certainly did. Although Rafferty did express that she was excited to try other roles and genres, she was also very grateful for how long her time on "Suits" lasted. 
"I might never have an opportunity like this again," she said, adding later that she would miss Donna when the series ended.
She quickly moved on to Chicago Med and Grey's Anatomy
After spending nine seasons working with the cast and crew of "Suits" and exploring her complex character, Donna, that life-changing chapter in Sarah Rafferty's career ended with the series finale in 2019. Fortunately, she was satisfied with the way the creators wrapped up the series and the ending they gave her character. Speaking to Entertainment Weekly, she said, "I was really happy," regarding her last moments in "Suits."
Although the series came to a close, Rafferty will likely always be known by many for this role, and it's one she'll also treasure. The character also had a profound impact on Rafferty, who said she learned from Donna's feminine strength. "She was her own woman in her own world," Rafferty said. "It rearranged my molecules in a very special way, and I'll miss it and I'll always carry it with me."
But Rafferty didn't rest long. After saying their goodbyes, she and other "Suits" cast members have had plenty to keep them busy. The actor hit the ground running and quickly landed roles in two more popular series. In 2020, she joined the cast of "Grey's Anatomy," playing Suzanne Britland, a patient who baffled the doctors at Grey Sloan Memorial Hospital with her bewildering symptoms. After three episodes on "Grey's," she had another recurring role in "Chicago Med" as Dr. Pamela Blake.
Sarah Rafferty has used her voice to support the SAG-AFTRA strikes
It's clear through her social media posts and interviews she's given throughout the years just how deeply Sarah Rafferty cares about her craft. She's excited about playing nuanced characters with good writing behind them. So, it's no surprise that in 2023, she has stood in picket lines and voiced her support of the WGA and SAG-AFTRA strikes. These strikes have been ongoing since the summer of 2023 in an effort to gain better compensation and protection for entertainment artists.
The issue became quite personal to Rafferty after "Suits" had a recent resurgence, with many viewers discovering it for the first time or rewatching it on streaming platforms. In an Instagram post discussing the strikes on August 27, Rafferty wrote: "Ethan Drogin, who wrote for our show for eight of the nine years, revealed that all the writers were collectively paid $3,000 this summer for their work on the show that has broken streaming records. The actors are in not the exact same boat, but a similar one ..." 
She continued, "Sure, there are very well-paid 'a-listers' and creators in this industry for whom we need not lose sleep. And then there's everyone else on the field who makes an assist and contributes meaningfully."
Sarah Rafferty has an upcoming Netflix series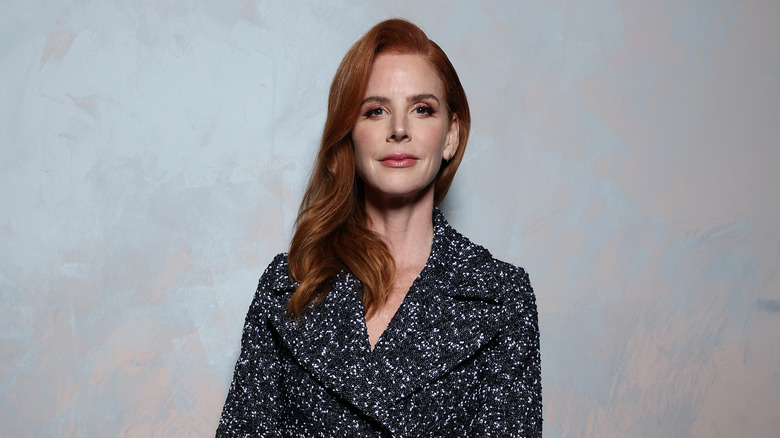 Pascal Le Segretain/Getty Images
Since starting her career in acting, Sarah Rafferty has guest starred and starred in an extensive list of hit TV dramas, with her most notable roles in "Suits" and "Chicago Med." And she has another potential hit on her hands with the upcoming Netflix series "My Life with the Walter Boys," based on a wildly popular Wattpad novel by Ali Novak, which reached an audience of almost 80 million.
The series follows a young girl, Jackie Howard (played by Nikki Rodriguez), who is sent to live with new guardians and 10 boys on a ranch in Colorado after her parents die.
Rafferty will star as Dr. Katherine Walter, the mother of the Walter boys. Other actors in the series include Marc Blucas of "Buffy the Vampire Slayer" and Corey Fogelmanis of "Girl Meets World." The show is now in postproduction. Netflix has yet to set a release date. But considering the recent success of "Suits" and the popularity of the novel the show is based on, it's likely to draw a lot of fans once it drops on the streaming service.