The Key To OutDaughtered Stars Danielle And Adam Busby's Thriving Relationship Is Simple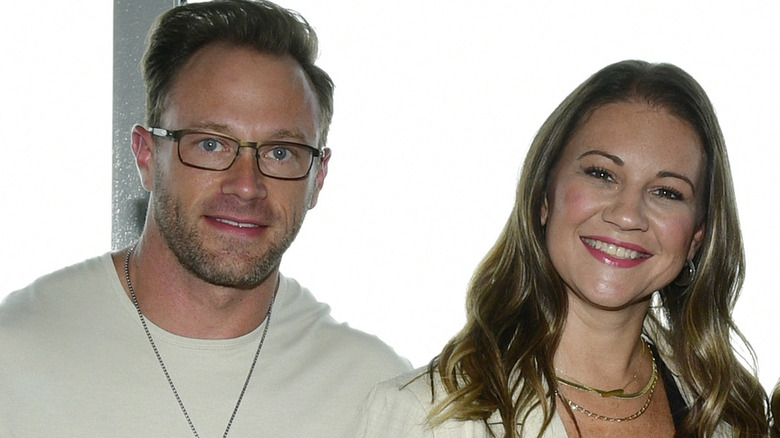 Eugene Gologursky/Getty Images
Between raising six children, starring in a TLC show, and maintaining their professional endeavors, "OutDaughtered" stars Danielle and Adam Busby have had to find ways to maintain their personal relationship under their unique (and, let's be honest, stressful) circumstances. And while they might be out-daughtered, they're not out of touch with each other.
The mom and dad of eldest daughter Blayke Busby and quintuplets Ava, Olivia, Riley, Parker, and Hazel Busby spoke to People about the next season of their reality series and how they manage to take care of all their daughters and keep the spark alive amidst the chaos. Their secret weapon, according to Adam? Date nights. 
"We realized you have to schedule time for yourselves," he told the magazine. "And honestly, it took putting date nights on the schedule. So, every week, we get out of the house and get away and just focus on us. That's our time to talk and stuff like that."
The Busbys learned the importance of partner time early on
TLC's "OutDaughtered" first aired in 2016 following the Busby quintuplets' birth, and parents Danielle and Adam Busby have been learning how to best honor their family and each other ever since. "Our house is just an extremely high-stress environment," Adam told People. "There's always something going on. And we learned very early on that you kind of lose sight of each other in the shuffle."
Adam went on to describe a typical week, detailing how both his and Danielle's energy is zapped by Wednesday from constantly chasing and caring for their six children. The couple quickly realized that waiting for a spontaneous opportunity to enjoy some one-on-one time together simply wasn't an option. Instead, Adam and Danielle make a point to schedule their quality time.
Adam and Danielle Busby's relationship started 13 years before they would star in the TLC series together. According to Danielle's blog post for the Busbys' website, Adam asked Danielle out after meeting at a local Target they both worked at. After a few scheduled-then-canceled (then rescheduled) dates, the couple became official, which seems like an appropriate start to a relationship that would later require a monthly calendar to maintain.
The couple says avoiding a relationship rut is hard work
With six young ones to account for, Adam and Danielle Busby have to snag quality time together wherever they can. "It's so hard to just have normal conversations between us because there's so much chaos and so much to do even after the kids are asleep," Danielle told TLCme. "If you can get outside of the house to do that once a week, then by all means do it."
However, when that proves easier said than done, Danielle says she and Adam try to get much-needed one-on-one time by sitting together on the patio or starting a new show together — even if the tired parents of six will likely fall asleep before the episode's over. Other times, the couple's quality time involves diving into difficult conversations, like when Adam opened up to Danielle about his experience with postpartum depression.
Adam and Danielle built a relationship for over a decade before they became famous from their TLC series, and their commitment to each other — despite the massive changes in their family — is evident on- and off-screen. "There isn't anyone else that I would rather do this life with!" Danielle wrote in an Instagram post on the couple's 17th anniversary. "You bring so much joy and laughter to my life. Truly perfect for each other bc we are each others strongness in the others weakness. We are a team, and I'm so proud of that."