The Style Evolution Of Alabama Barker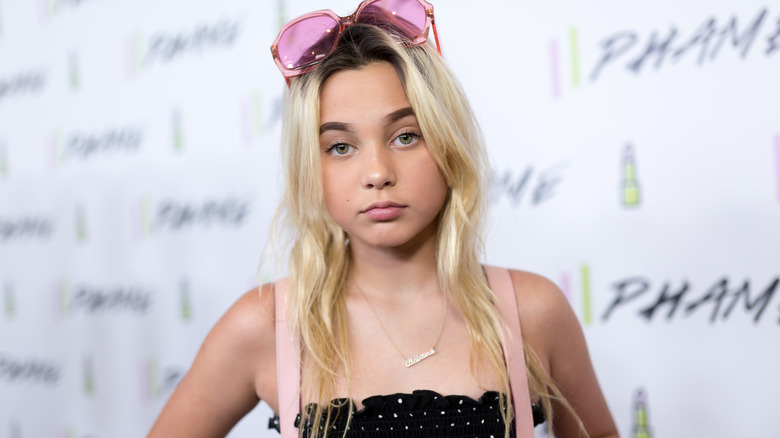 Greg Doherty/Getty Images
Considering her dad's love for fashion, it's no surprise that Alabama Barker has displayed the same interest in self-expression through style. The youngest daughter of Travis Barker started showing her passion for fashion as a child when the Blink-182 drummer would bring her and her siblings to red carpet events. Like most kids, Alabama began playing with her style as she entered her teenage years, and her tastes noticeably changed from girly, princess-style gowns to more mature, carefully curated ensembles. Now that she's a young woman, the fashion aesthetic Alabama gravitates toward has evolved once again. 
While Paris Jackson seems to have been a leading source of inspiration for Alabama in the early stage of her adolescence, she's shifted to taking fashion cues from her dad and step-mom Kourtney Kardashian as she nears adulthood. Alabama has also shown a fondness for the resurgent Y2K aesthetic, like much of Gen Z, as she's emulated 2000s-era Christina Aguilera and Avril Lavigne and drawn inspo from "The Matrix." From edgy glamour to Instagram baddie, here's a deep dive into Alabama Barker's stunning transformation into a true fashionista.
Girly glamour
Alberto E. Rodriguez/Getty Images
In February 2017, Alabama Barker made a major fashion statement at the Grammy Awards, which she attended with her dad, Travis Barker, and her older brother, Landon Barker. Wearing a fitted mermaid silhouette gown, Alabama wordlessly told the world she was ready to be viewed less as a little girl and more as a soon-to-be teen. The long-sleeved dress was crafted from a pale blush fabric embroidered with rose gold-colored sequins throughout the gown, and the shimmering adornments were arranged in an eye-catching geometric pattern that reflected a silver iridescence when struck by light. A modest train also flared from the hem of the high-necked formal dress, adding a touch more glamour to the feminine look.
Alabama played up the sparkle in her gown by accessorizing with a metallic gold clutch that had a reflective oil spill effect. Her honey-highlighted hair was styled straight in a sleek side part, and her soft glam makeup — a warm rose smoky eye and matching glossy lips — complimented the pink tones in her dress.
Femme meets punk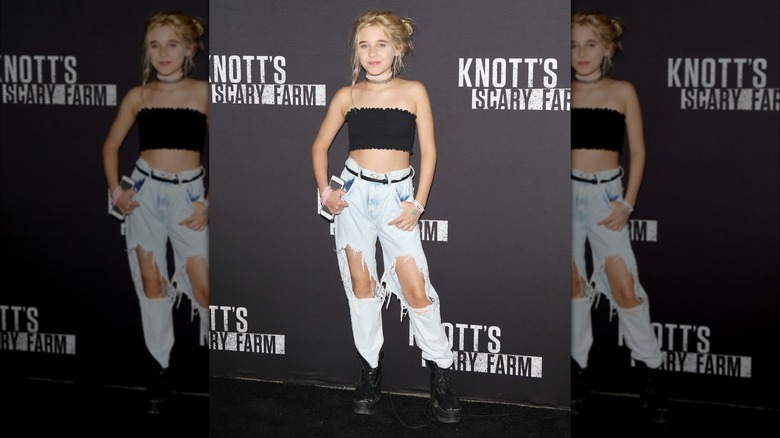 Michael Tran/Getty Images
A few months after her 2017 Grammy appearance, Alabama Barker joined her dad, Travis Barker, and her brother, Landon Barker for another event: Knott's Scary Farm and Instagram's Celebrity Night. For the casual Halloween-themed occasion, Alabama combined a girly top with several edgier pieces. The only non-black item the pre-teen donned was an oversized, slouchy pair of light-wash denim jeans with oblong holes in the knees. She tightened the waistband of the high-rise jeans with an ultra-slim black belt and stuffed the cuffs of her pants into a chunky pair of unlaced black combat boots. 
Alabama sprinkled a little femininity into the look with her ruffled black tube top, and she accessorized with a few wristbands and two '90s-style elastic choker necklaces. She pulled her blond tresses back in a loose messy bun and let a few tendrils frame her face, and she kept her makeup minimal with a clear lip gloss, a hint of mascara, and a structured brow.
Cali surfer vibes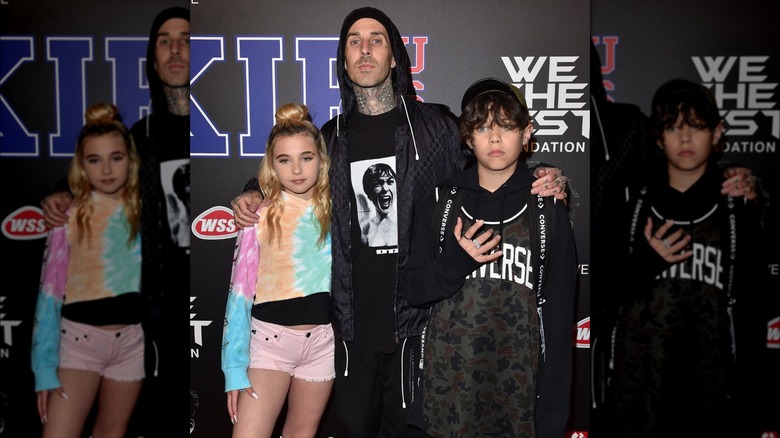 Axelle/bauer-griffin
Alabama Barker stepped out with Travis Barker and Landon Barker for a high-profile event in February 2018, but it wasn't a reappearance at the Grammy Awards. The trio enjoyed a night out in Los Angeles at the Rookie USA Fashion Show, and Alabama channeled her inner California surfer girl for the occasion. While her dad and brother went with edgy all-black looks, Alabama chose an outfit that was just as casual but a lot more colorful. 
The pre-teen wore a black T-shirt underneath a cropped tie-dye hoodie that featured splashes of blue, pink, yellow, and green, as well as graphics lining the arms. Playing up the pink in the sweatshirt, Alabama added a peachy-blush-colored pair of cut-off shorts that were slightly distressed and lined with short fringe around the hem. She also donned fuzzy black slides and styled her golden locks in a half-up top knot, finishing the look with bronze-toned eyeshadow and false lashes.
Stepping into her style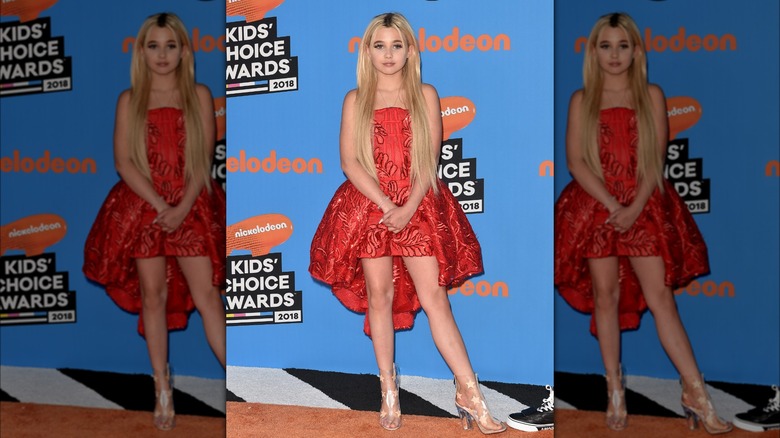 Axelle/bauer-griffin
A month later, Travis Barker took his daughter and son with him to the 2018 Nickelodeon Kids' Choice Awards. Alabama Barker got a little more experimental with her formal style, opting for a statement shoe and a trendy dress silhouette. She chose another sequined gown, but went bolder with the style and cut, wearing a red strapless mini dress with a high-low hem. The base layer of the vibrant garment was fitted, and the train had a voluminous cape-like effect. At the front, the dress remained exposed, while the sides and back were curtained by an outer skirt layer that tapered in a V shape at the back of Alabama's knees. The ruby-colored sequins were arranged in a flowing frond pattern that was more sparse toward the neckline and denser toward the hem, which added even more dimension to the dress.
For her shoes, Alabama tried the clear heel trend. She donned a pair of see-through mid-length booties with a chunky acetate heel and a nude star pattern — they're actually quite cute. While the shoes and the dress don't really feel like two cohesive pieces, the edgy undertones of each item make them surprisingly passable together. Alabama also wore waist-length blond hair extensions with a chocolate brown part, and she donned a long and wispy pair of false lashes with her look.
Experimenting with edgier outfits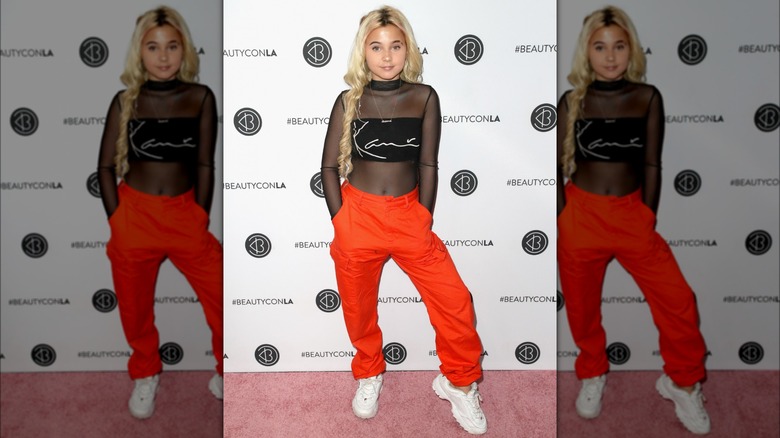 David Livingston/Getty Images
Alabama Barker continued to have fun with fashion in 2018, again gravitating toward cherry red for the look she wore to the Beautycon Festival that July. Hitting the event with her dad, Travis Barker, and sister, Atiana de la Hoya, Alabama looked increasingly comfortable in her skin. The pre-teen wore baggy canvas trousers the color of fiery red chili peppers. Tucked into her pants was a sheer, long-sleeved black shirt with a mock neck and an opaque bandeau emblazoned with white cursive script. 
Alabama accessorized with a dainty chain necklace with a sparkly pendant spelling her name, and she finished the look with a chunky pair of white Fila sneakers. She was still rocking the mermaid-length hair with dark roots, but she curled her locks for this occasion. Alabama filled in her brows, save for an edgy slit in one, and wore mascara, lip gloss, and a generous amount of highlighter to the beauty event.
Channeling Paris Jackson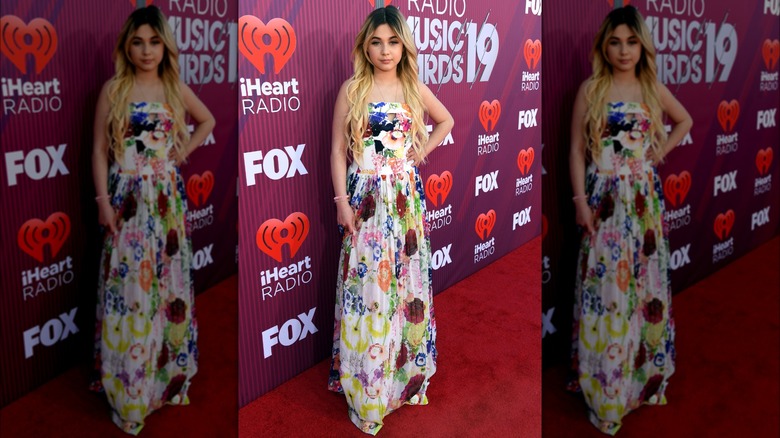 Kevin Mazur/Getty Images
A few months after celebrating her 13th birthday in December 2018, Alabama Barker walked the red carpet at the 2019 iHeart Radio Awards. Joined by both of her siblings and her rockstar dad, Alabama once again brought color to her family's otherwise all-black appearance. Opting for a maxi dress reminiscent of Paris Jackson's style around the time — namely her vibrant floral gown for New York Fashion Week in September 2017 — Alabama looked poised in the strapless, multi-colored A-line gown. Though the dress was white, much of the fabric featured a brightly-colored floral print that landed somewhere between watercolor and realism. A modest keyhole cutout was carved into the top of the bodice, and the flowy skirt was high-waisted, but not quite so high to be considered an empire waist.
The teen wore a chain necklace and two plastic hair ties on her wrist, and her mane was down in loose, beachy waves. Alabama's dark-colored roots had grown out more, and her tresses transitioned from black to caramel to honey all the way down to her waist. She kept her makeup minimal with a little bit of eyeshadow, false lashes, and structured eyebrows, putting the focus on her statement gown.
Y2K Christina Aguilera-inspired punk
Two years and a global pandemic later, Alabama Barker debuted a new look that felt inspired by Christina Aguilera and Avril Lavigne circa 2000. In August 2021, she posted a carousel of photos on her Instagram to launch her sassy style and matching personality. Though she was still wearing her "Alabama" necklace, the teen's experimental aesthetic shifted to become more sultry than outfits she'd previously been seen in. 
Alabama posed with a pouty look on her face while wearing Y2K-style punk-rock pants and a metallic bra. Her two-toned cargos featured one black leg and one classic tartan print leg with inversed suspenders hanging from her waistband, and she played up the punk aesthetic with her triangle-shaped gunmetal bra. Her hair was a more polished version of the style she'd been wearing prior to the coronavirus pandemic, and she seems to have spent a lot of time following makeup tutorials on YouTube, because her glam nailed the "Instagram baddie" style Gen Z is obsessed with.
Embracing the sheer trend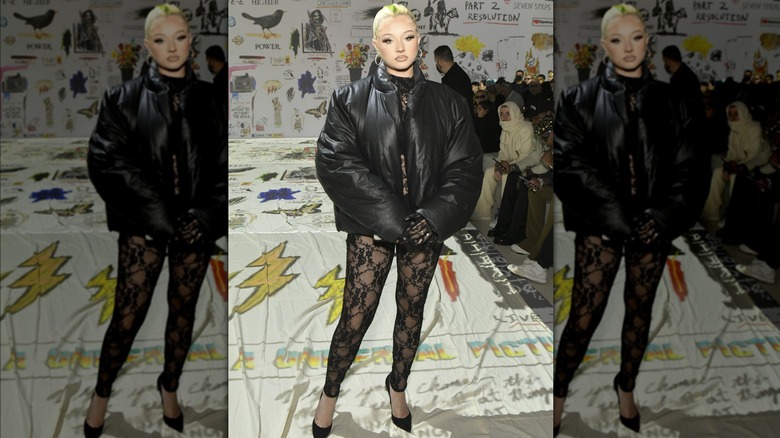 Rodin Eckenroth/Getty Images
Alabama Barker made her rounds during the many fashion weeks in 2022, starting with the Amiri runway show in Los Angeles that February. She attended the event alongside her dad and step-mom, Travis Barker and Kourtney Kardashian, as well as Mason Disick and Atiana de la Hoya. The entire family wore looks that heavily featured black clothing, with each of the three women donning all-black ensembles. 
Alabama matched step-mom and Poosh founder Kourtney Kardashian in a black lace jumpsuit, which was quite daring for the teenager considering the sheerness of the look. However, audacious and risqué had become key traits of her wardrobe at this point. Alabama's floral-patterned one-piece featured a mock neck and long sleeves that extended into gloves. She mostly kept the bodice covered with an oversized puffer coat that had a soft matte leather look, though at one point she did slip one shoulder down to reveal a solid black bra beneath the jumpsuit. Alabama kept her accessories simple with pointed-toe pumps and mid-sized hoop earrings, and her icy strands were pulled back in a ponytail to show off her flawless full-glam makeup.
Serving Gen Z Instagram baddie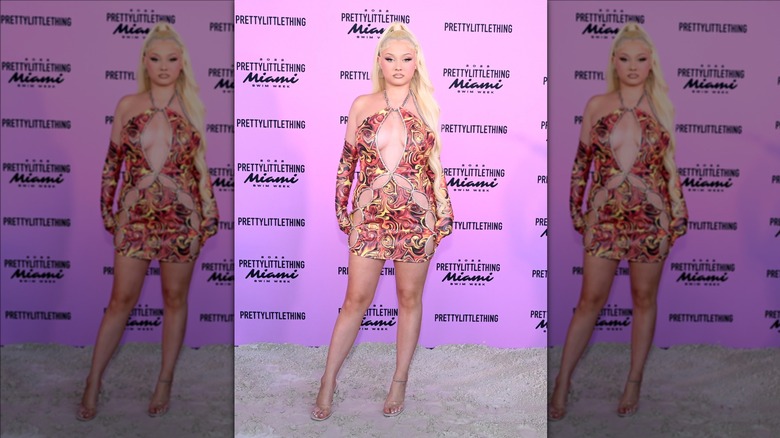 Manny Hernandez/Getty Images
Alabama Barker's next 2022 fashion week appearance was in July for the Pretty Little Thing runway show during Miami Swim Week. The teen wore a trippy retro-patterned minidress by the brand, and it was one of her most sultry looks to date. The fabric featured a '70s-inspired design of swirled reds, oranges, yellows, browns, and blacks, and the silhouette included nearly a dozen cutouts. The center of Alabama's chest was bare with a large oblong cutout splitting the bodice from the halter neckline to her waist, and the skirt featured a chain of smaller similarly-shaped cutouts arching up one leg, over her stomach, and down the other leg. Each cutout was lined with sparkling rhinestones, and a chunky silver chain served as the halter strap. 
Alabama accessorized with opera gloves in the same print as her funky dress, as well as clear, heeled mules, a silver anklet, her nameplate necklace, and hoop earrings. She wore her long mane in a ponytail at the top of her head with her hair falling in curls around her frame, and her makeup was very similar to the full-glam she wore to the Amiri show a few months prior.
Arsty-edgy with Miss Frizzle flair
Alabama Barker joined her dad, Travis Barker, and her beloved step-mom, Kourtney Kardashian, for New York Fashion Week in September 2022, and she made a splash with her eclectic ensemble. The trio attended Tommy Hilfiger's Tommy Factory runway show, and Alabama coordinated outfits with the Blink-182 drummer. Wearing an oversized puffer coat with a bold print like Travis, Alabama made the loud garment the focal point of her look. The coat seemed at least three times too big for her and featured a red and white geometric pattern on the inside and a blue and green floral print on the outside. The teenager paired faded, medium-wash denim with the look, opting for a baggy fit. 
Alabama incorporated her signature edgy aesthetic with her black platform loafers, which had long silver spikes sticking out of each upper. She got dolled up in her Instagram baddie glam and styled her icy tresses in 2000s-style half-up twisted buns, overall creating a mashed-up look of various style eras. Her jeans and shoes nod to '90s grunge, the prints in her coat feel like they belong in the 1970s, her hair is serving Y2K, and her makeup is screaming 2022. One thing is certain: Alabama is not afraid of getting eccentric with her aesthetic.
A little Kylie, a little Kourtney
In July 2023, Alabama Barker debuted a new hairstyle that felt so very Kylie Jenner circa 2015. The 17-year-old posed for a series of photos which she shared on her Instagram, showing off her icy turquoise tresses styled in a sleek blow-out. Even her outfit seemed to draw inspiration from Jenner's fashion aesthetic — Alabama's strapless black bodysuit and leather skirt put her curves on display in "The Kardashians" star's signature style. The neckline of the bodysuit was quite low, swooping across her chest in a gently sloping V cut. The mini skirt featured a bold slit up the side of the leg all the way to the waistband, matching the audaciousness of the bodysuit.
Alabama upgraded her long-loved nameplate necklace for a much icier version, which she strung around her neck with another diamond-encrusted chain. The teen also wore silver statement earrings, an assortment of rings, and a glittering watch on one wrist. She then threw a little Travis Barker/Kourtney Kardashian flair into her look by adding a black zip-up hoodie with an edgy white graphic design — call it a family-inspired look from head to toe.
Modern-day Marilyn
A few months later in September 2023, Alabama Barker continued to share her maturing style. The teenager posed for a series of photos in a hotel hallway using a luggage cart as a prop, and her look was giving modern-day Marilyn Monroe. Though her blond locks are much longer than the icon's ever were, Alabama's gently cascading curls were reminiscent of a glamourous Old Hollywood hairstyle. 
For her all-black outfit, Alabama donned an oversized coat trimmed with thick panels of fur — again, very Marilyn Monroe. Beneath the coat, the teen wore a long-sleeved mini-dress with silver clasps fastening the center of the bodice. Alabama opted to leave the edgy hardware undone all the way down to the base of her bust, revealing her cleavage and a dazzling diamond necklace dangling across her décolletage. She finished the retro-mod ensemble with a pair of combat boots, several silver statement rings, edgy metallic drop earrings, and her signature fierce makeup.
Her dad's daughter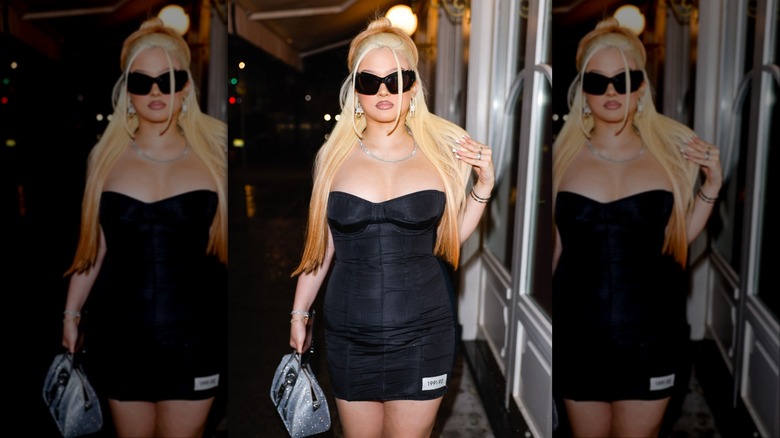 Rachpoot/bauer-griffin
Just like he's influenced Kourtney Kardashian's edgy style change, Travis Barker has inspired Alabama Barker to dip into a mod-punk fashion aesthetic — as seen by her New York City appearance in September 2023 during fashion week. Wearing an outfit that looks a lot like something we'd see the Lemme founder in since she tied the knot with the punk-rock musician, Alabama was spotted walking the city streets in a black strapless mini dress. The curve-hugging garment featured bustier-style cups and boning from the bust to the hem. 
For her accessories, the teenager chose a bedazzled handbag with silver hardware and a sparking diamond necklace to match. Alabama also wore a few bracelets and rings, as well as a large pair of statement earrings. Though it was nighttime when she was photographed, she donned a pair of black sunglasses with lenses tinted just as dark as the frames. The oversized, downward-tilted shape of the shades had an alien-esque look, which is a style both Kim Kardashian and Khloé Kardashian had been rocking around the same time. 
A 'Matrix'-inspired moment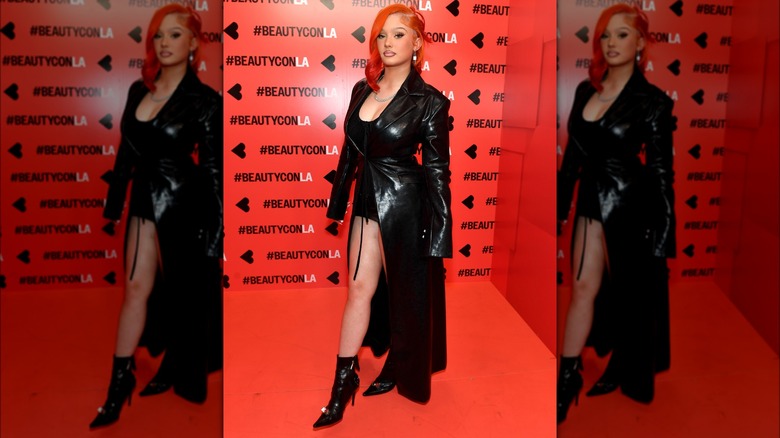 Paras Griffin/Getty Images
For her return to Beautycon in September 2023, Alabama Barker wore a Gen Z-inspired "Matrix" look with Kylie Jenner flair. The teen took a note from the cult classic movie's iconic wardrobe, choosing a black latex trench coat for the statement piece of her ensemble. She matched her shoes with the jacket, opting for pointed-toe sock boots with a stiletto heel and the same shiny finish. Beneath the floor-length trench, Alabama rocked a fitted black romper with a dramatic scoop neckline, putting her legs and boots on display while she posed for photos. She accessorized with a diamond chain necklace and the statement earrings she'd been seen wearing on multiple occasions — but her best accessory was her hair.
Channeling major Jessica Rabbit vibes, Alabama debuted a fiery red dye job at the beauty event. Her flaming locks were curled and pulled back in a sleek updo with a deep side part, leaving one section of hair down to caress her fully-glammed face. Alabama's makeup was her usual baddie look, but she opted for a spikier lash than her typical falsies and a dark-lined nude lip á la Pamela Anderson in the '90s.