Kevin Costner's Kids Live An Extremely Lavish Life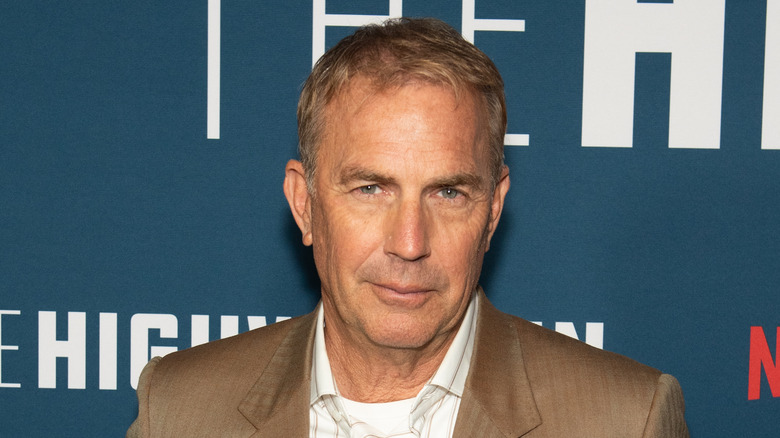 Jim Bennett/Getty Images
Cayden, Hayes, and Grace Costner are not your typical American teenagers. Their dad is Kevin Costner, the Oscar-winning actor and writer known for "Dances with Wolves," "The Bodyguard," and, most recently, the smash hit series "Yellowstone." Their mother is the former handbag designer and model Christine Baumgartner, who has found herself in the media spotlight due to her extremely messy divorce from her children's father and ex-husband of 18 years. Both Kevin Costner and Christine Baumgartner live rather glamorously — when they married each other in Aspen in 2004, Costner showed up to the star-studded event in a horse-drawn carriage, Baumgartner arrived in a vintage Chevy pickup truck, and the pair took a canoe out on the lake after their vows. But the fairytale came to an end in May 2023 when Baumgartner filed for divorce.
Throughout the painful conflict over custody of the Costner children, details emerged about Cayden, Hayes, and Grace Costner's upbringing. Christine Baumgartner and her legal team detailed the life that she and her children have become accustomed to — and what a life it is. From vacations to gifts to private planes and even the idea of luxury being a part of genetic makeup, no one can deny that Cayden, Hayes, and Grace Costner are living a life right out of your wildest dreams.
They spend time at their dad's 160-acre Aspen ranch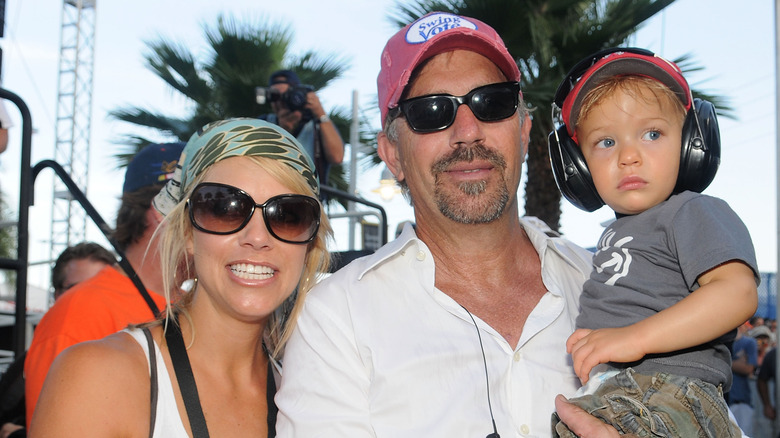 Gerardo Mora/Getty Images
Throughout his career, Kevin Costner has become associated with the open skies and rugged terrain of the American West. But it doesn't just exist onscreen. Costner and his family are able to escape to his absolutely stunning ranch in Aspen, Colorado, where they live right out of a movie. If calling a 160-acre ranch in the mountains just one of your homes isn't a sign of luxury, what is? 
The estate belonging to Cayden, Hayes, and Grace Coster's dad is unbelievably grand. Boasting its own baseball field, an ice rink, and multiple hot tubs, it provides an idyllic setting for the Costner teenagers to spend their time. Not only can Cayden, Hayes, and Grace Costner hang out in the main mansion of the ranch, which consists of 12 bedrooms and eight bathrooms, but they also have access to a lake house as well as a river house. In the surrounding forests that fit snugly between beautiful mountains, there's a hill that's decked out in lights, and the property features an outdoor sound system that fills the area with music. 
During the messy separation of Kevin Costner and Christine Baumgartner, it was decided that the Costner children would stay with Kevin at the Colorado property, which has been dubbed Dunbar Ranch. (Yes, that's a nod to "Dances with Wolves.") When the Costners are not on their Colorado property, the ranch is available to rent for $36,000 a night.
They regularly fly on private jets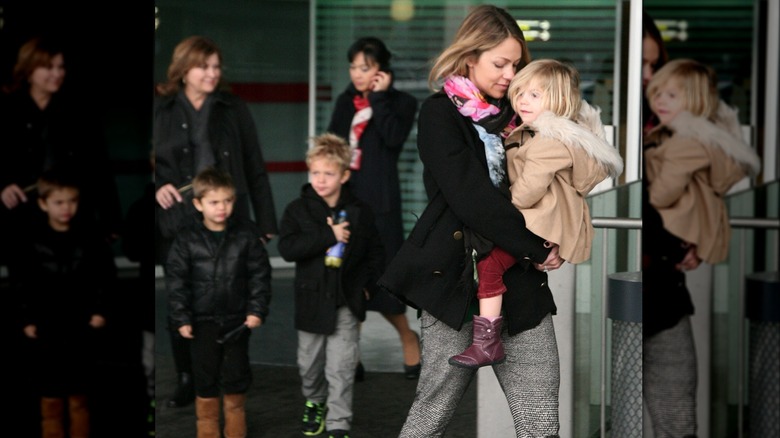 Marc Piasecki/Getty Images
Cayden, Hayes, and Grace Costner are accustomed to luxuries that, for many, only exist in their dreams or on TV. One of the prime examples of this is traveling by private plane. When the three Costner kids need to travel, they have historically joined their parents on their dad's private jet. However, this glamorous mode of transportation has become one of the central points in Christine Baumgartner's demands for Kevin Costner to pay increased child support. When Baumgartner originally requested $200,000 a month from her former husband, she emphasized how important she felt it was that Cayden, Hayes, and Grace Costner be allowed to live a lifestyle with her that is equivalent to the glamour of her ex-husband's lifestyle. Baumgartner and her legal team emphasized the importance of traveling by private plane, claiming that it has become normal for their children. According to Us Weekly, Baumgartner's legal team stated, "Because the children fly on private aircraft to go on luxury vacations when they are with their father, the Family Code dictates that Kevin should pay sufficient child support to Christine so that the children can go on comparable vacations when they are with her." This includes flying by private plane. 
The debate over how much money Kevin Costner should pay Baumgartner in order to ensure that their children maintained their lavish lifestyle came to an end on September 1, 2023. As reported by TMZ, a court ruled that Kevin pay about $63,000 each month. A few weeks later, the divorce was finalized.
Their mother claimed that her kids have luxury in their very DNA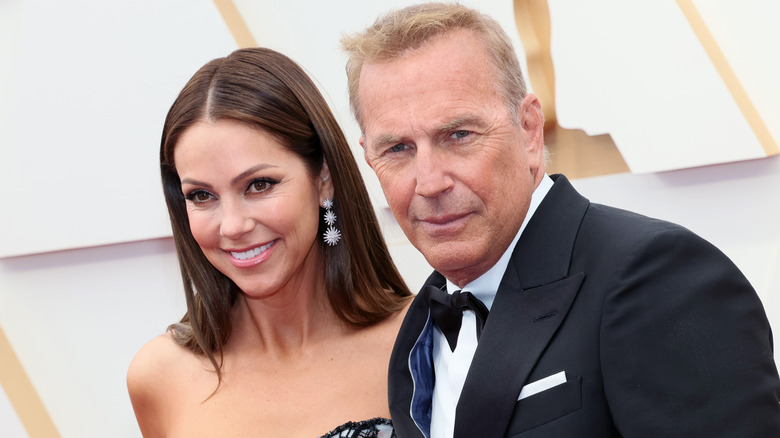 David Livingston/Getty Images
Cayden, Hayes, and Grace Costner's upbringing has been anything but average, and no one understands that better than their own mother. During the long and bitter debate surrounding child support, Christine Baumgartner's attorney, John Rydell, summed it all up rather succinctly when, according to People, he stated that her children have luxury "in their DNA at this point." After all, they've only known this way of life. 
When Cayden Costner arrived in 2007, his father had already owned the family's spectacular ranch in Aspen for seven years and had just recently scooped up a plot of land in Carpinteria, California, for $28.5 million. Cayden and his two younger siblings have grown up with all the finest things life has to offer, including private school education, high-end vacations, and over-the-top parties. Turns out, when your dad is an A-list star who's been making major bank for decades — for starters, he reportedly pulled in $1.3 million an episode when he was on "Yellowstone" — there's no shortage of silver spoons. 
The Costner kids have had some pretty amazing parties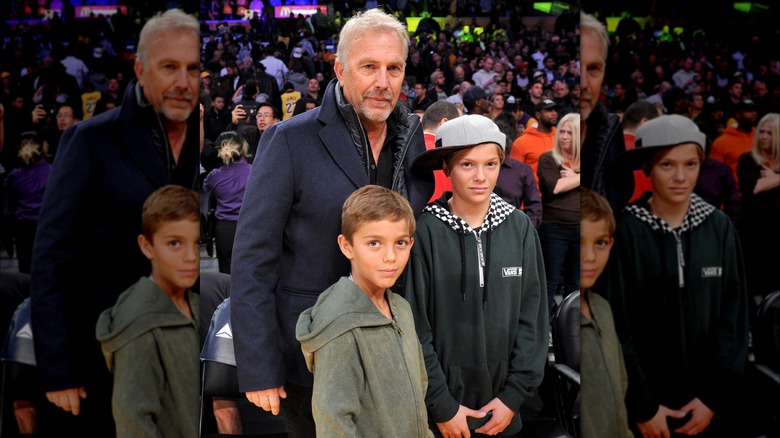 Allen Berezovsky/Getty Images
Kevin Costner and Christine Baumgartner have spared no expense over the years as they and their children celebrate holidays and birthdays, and those events have been highlighted during the child custody proceedings. Per the Daily Mail, Baumgartner spoke of Cayden Costner's birthday tradition of having friends come stay on a plot of land near their home in Carpinteria, California, for a camping experience. And no one was exactly roughing it: Cayden's parents would not only have tents all set up and ready to go, but would bring in catering trucks for the partygoers. Needless to say, the guests could leave the trail mix and freeze dried meals at home.
But the lavish parties aren't limited to birthdays. Christmas, in particular, has long been a grand event at the Costner household. One year, Kevin and Baumgartner went all out by making arrangements for trucks to haul in snow in order to turn that aforementioned area of land in Carpinteria into a winter wonderland. In addition to having snow spread over the beachfront plot, they had various farm animals brought in for all the attendees and children to ride. And if that wasn't enough to celebrate, the kids could go tobogganing — yes, all while overlooking the Pacific Ocean.   
The Costner siblings get to enjoy the family home on the beach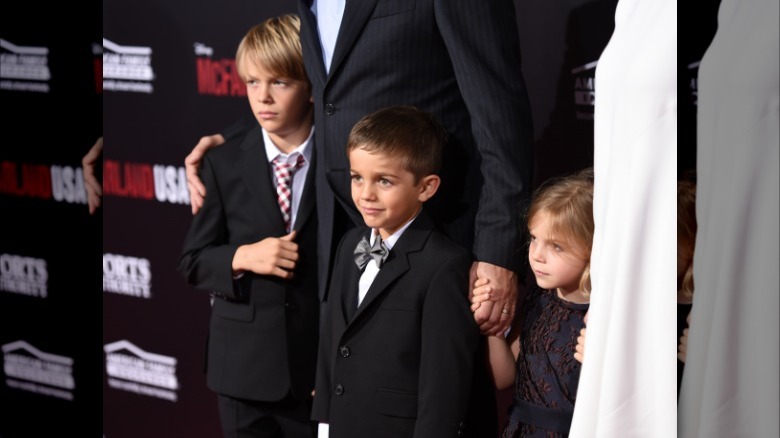 Amanda Edwards/Getty Images
In addition to the incredible fortress that is Kevin Costner's Aspen ranch, the Costner kids also spend time at the aforementioned Carpinteria, California, abode. The stunning $145 million compound is located on a massive piece of property that contains no shortage of exciting things to do and see. The estate, which is perched atop a cliff that overlooks the Pacific Ocean, basically sounds like a mini resort. Cayden, Hayes, and Grace Costner can enjoy a range of luxuries; from inviting their friends over for a game at the property's volleyball court, going for a swim, or hitting the baseball field, there are plenty of things to do.
In 2006, Kevin Costner also purchased a neighboring property that is located just down the road from their main residence. This parcel of land is complete with a trail for horseback riding and private beach access. Although the house that already existed on the plot is not as sprawling as their lavish compound, it's no small potatoes. As People reported at the time, the actor listed the property for $60 million in 2017. The house ultimately did not sell.
Cayden Costner owns his own boat and several guitars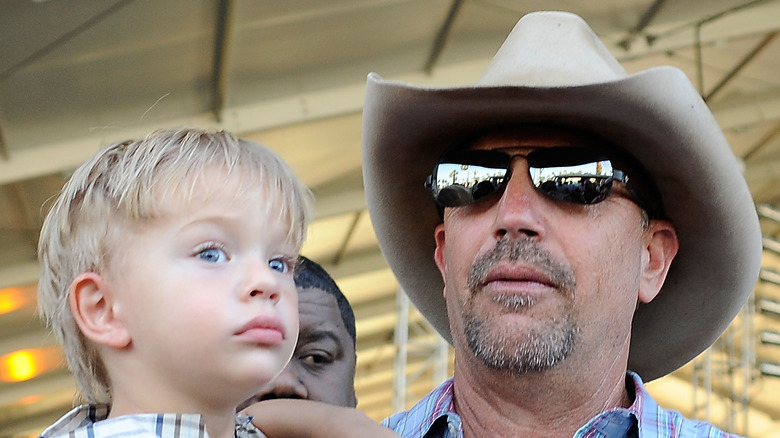 Frazer Harrison/Getty Images
Born in May 2007, Cayden Costner is the fourth child of Kevin Costner, but Christine Baumgartner's first. Cayden's parents wasted no time in lavishing Cayden Costner with gifts, and they also wasted no time in recognizing that he shares his dad's passion for music. Kevin, who fronts the country band Kevin Costner & Modern West, wanted to provide his baby boy with the means to explore that passion as early as possible. Before Cayden rang in his first birthday, Kevin told People, "He has a couple of little guitars, and he listens to the band and sits on my knee."
In addition to music, Cayden has grown up participating in various aquatic activities. It makes sense — the lake and winding rivers at Kevin Costner's Colorado getaway provide the perfect opportunity for water sports like fishing and boating. What's more, their California home is practically situated on top of the ocean, and the family is all about surfing and paddleboarding. Oh, but that's not all: Per the Daily Mail, Cayden Costner already owns his very own boat. 
Hayes Costner has had doors open for him in the movie industry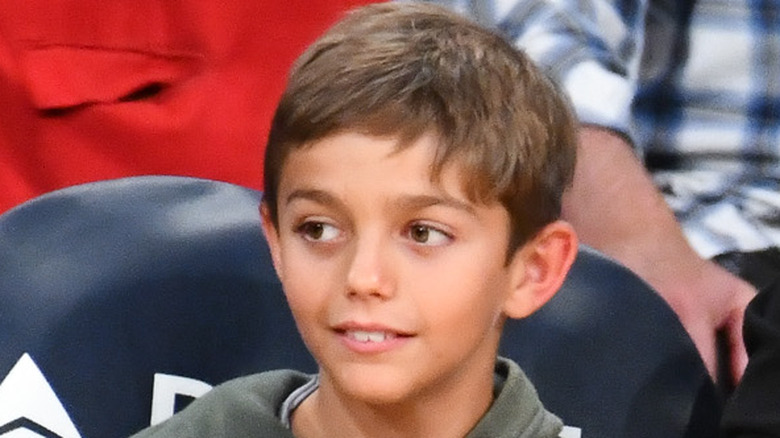 Allen Berezovsky/Getty Images
Born in February 2009, Hayes Costner is the second child of Kevin Costner and Christine Baumgartner. Like his older brother, Hayes has the privilege of exploring his passions. And one of those passions happens to be acting. Lucky for Hayes, his father's on board. Kevin Costner's youngest son will appear alongside his dad in his upcoming film, "Horizon" — an epic Western film that has been in the works since before Hayes Costner was born. Cowritten by, directed by, and starring Kevin Costner, the film will come out in four parts and will feature both Kevin and Hayes. Having a movie star dad sure has its perks. 
Kevin Costner is understandably incredibly excited to have his son join him on a project that has been so close to his heart, as he truly believes in Hayes. In a 2022 chat with People, Kevin enthusiastically praised his son's work in the upcoming project. He also admitted that he had an ulterior, albeit sweet, motive for bringing him on: "I kind of did it on purpose, so he could be hanging out with me."
Grace Costner was able to secure a coveted ticket to a sold-out Taylor Swift concert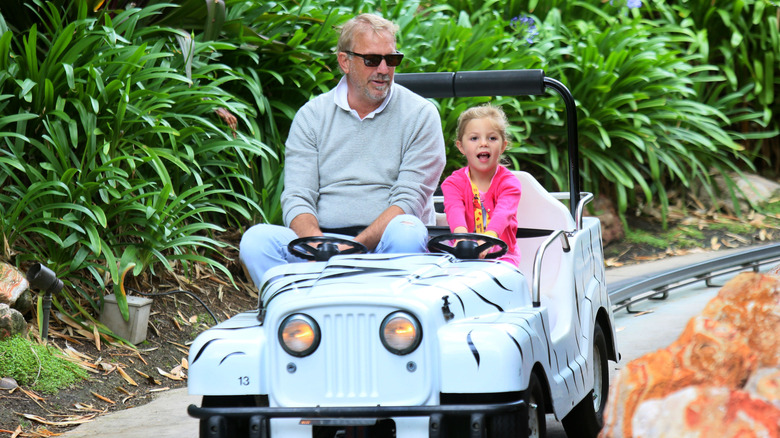 Sandy Huffaker/Getty Images
Grace Costner, who was born in June 2010, is at the perfect age to be completely captivated by the magic of Taylor Swift. As Swifties broke the internet multiple times in their mad dash to secure a seat at Taylor Swift's The Eras Tour, Grace Costner was one of the lucky few to get her own coveted ticket. The youngest Costner kid and her dad were two of the many famous faces at The Eras Tour when they attended the fifth date held at Los Angeles' SoFi Stadium in August 2023.
The father-daughter duo could be seen dancing together and enjoying every second of the six-hour-long concert from their VIP suite; as TMZ reported, the pair was spotted singing along to "We Are Never Getting Back Together." Kevin enjoyed the night with his daughter so much that he took to Instagram to share his joy. Along with sharing videos of his night with Grace, the actor wrote, "I had an amazing time with my daughter at the @taylorswift show... An inspiring night. I'm officially a Swiftie!"
They also spend time at their mom's $40,000 per month rental home in Montecito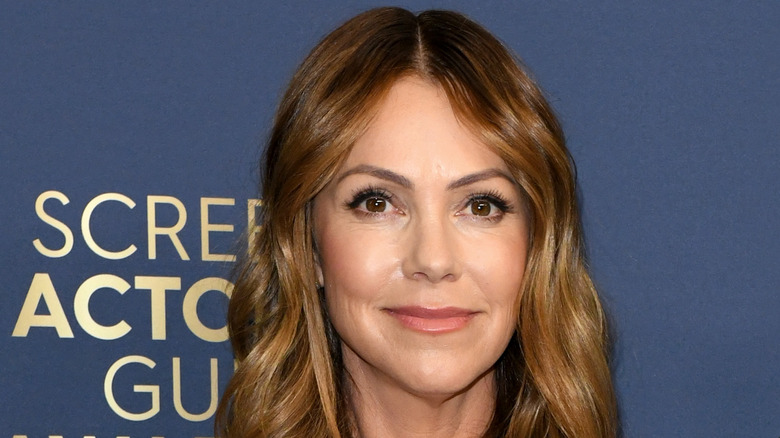 Axelle/bauer-griffin/Getty Images
In the months since her separation from her children's father, Christine Baumgartner has moved into a new rental home. According to People, she has set up camp in a house in Montecito for which she pays $40,000 each month. The Montecito home represents yet another residence that is available to Cayden, Hayes, and Grace Costner — and yes, there is plenty to do there. As noted by People, there's a bocce ball court, jacuzzi, hiking trails, and a nearby beach to enjoy. The Montecito home may not be as expansive as the house she had previously lived in, but its quality of luxury cannot be denied.  
Despite all of these amenities, Baumgartner is reportedly unsatisfied with her new home. According to the Daily Mail, she told the court during the child support hearing that the kids don't have their own bathrooms, which is evidently an issue. She also noted that the pool house lacks a shower. Baumgartner has already started searching for a different house.
They are able to enjoy some extremely enviable luxury vacations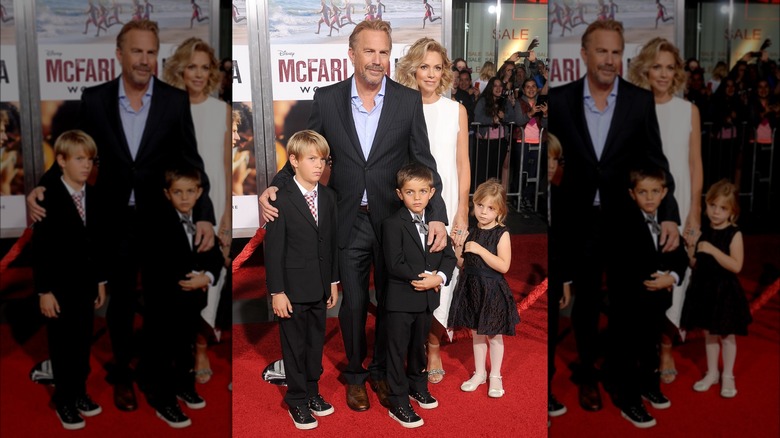 Gregg Deguire/Getty Images
Not only is the day-to-day routine of Cayden, Hayes, and Grace Costner extremely lavish, but their vacations are quite incredible as well. In fact, family trips have actually become a way for both Kevin Costner and Christine Baumgartner to separately spend some quality time with their children in the midst of the intense fallout following their messy divorce. 
In July 2023, Kevin took his kids, presumably by private jet, on a trip to British Columbia. While he was there, he actually missed one of his court dates and had to defend his decision to vacation with his kids. According to People, he stated that the trip had been "planned for months" in advance. Later in that same month, Baumgartner took Cayden, Hayes, and Grace on a trip to Hawaii. But they weren't the only ones on this excursion. As TMZ reported, Josh Connor, who is a close friend of Kevin, was also seen spending time with Baumgartner on that same vacation. According to People, Baumgartner's attorney insisted she and Connor have a strictly platonic relationship. 
They regularly attend Kevin Costner's movie premieres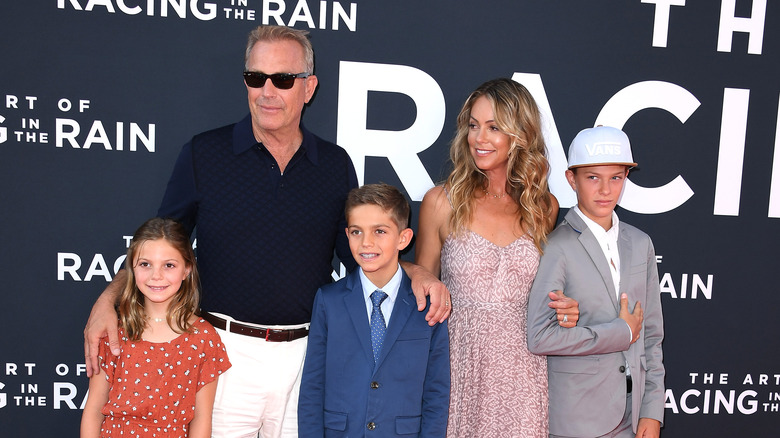 Steve Granitz/Getty Images
Ever since Kevin Costner broke into the movie industry and established himself as a critically acclaimed actor and Oscar-winning director, there has been no shortage of movie premieres he can attend. In the years since he made his film debut in 1981, it has not become uncommon to see him attend a movie premiere with his family. Although Hayes Costner is the only one of his siblings to be in a movie so far, Cayden and Grace Costner can be also seen accompanying their dad with pride as they walk the red carpet. Before their parents separated, the entire family attended these premieres together. One of these special nights for the Costner kids occurred when Kevin Costner's movie "The Art of Racing in the Rain" premiered in August 2019. The family of five got all dressed up for a night out in Los Angeles. Cayden and Hayes Costner, like their dad, looked dapper in their suits and Grace Costner, like her mom, shone in a colorful sundress. 
Even when the entire family wouldn't be able to attend an event together, Kevin Costner would regularly attend with Christine Baumgartner or one of his other four children. As big as Costner crew is, there is more than enough glitz and glamour to go around.
Kevin Costner reportedly spent $170,000 a month on his children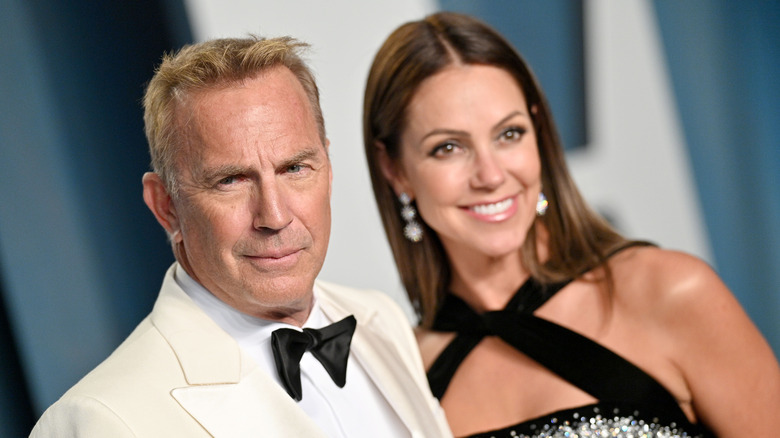 Lionel Hahn/Getty Images
Soon after Christine Baumgartner originally filed for divorce from her husband of 18 years in May 2023, she requested that he begin paying her $248,000 each month for child support. Kevin Costner and his lawyers, however, rejected that number with the claim that Baumgartner was asking for an amount of money that would not be used solely for Cayden, Hayes, and Grace Costner, but would go to Baumgartner's own personal use. As the disagreements over how much Kevin Costner should pay Christine Baumgartner in child support intensified, court documents mapped out just how rich the family is. As per People, of the $6,645,285 that Kevin and Baumgartner reportedly spent in 2022 alone, a not insignificant amount went toward the kids. According to a separate People report, Kevin's forensic accountant determined that around $170,000 a month was spent on their three children. 
When the judge decided that Kevin would provide $63,000 of child support every month, the intended use for the money would mainly go towards nonessential things such as gifts and vacations. Kevin has already agreed to pay all of the everyday expenses of their children. Regardless of how the relationship between their parents evolves, there's no doubt Cayden, Hayes, and Grace will continue to live comfortably.