What We Know About Elon Musk & Kanye West's Unlikely Friendship
In the celebrity world, it appears that no friendships are off-limits. From entertainment to sports, stars across Hollywood have always found a way to intermingle –- just take the surprising friendship between Bette Midler and 50 Cent or the unlikely closeness of Martha Stewart and Snoop Dogg. But none of these pairings can compare to the most surprising duo of all: Ye (formerly known as Kanye West) and Elon Musk.
Many might wonder what these two could possibly have in common, besides having Twitter fingers. Ye is a famed rapper, whose image has been tainted over the years by various problematic actions. His failed presidential run, close relationship with Donald Trump, and offensive spiels have all ostracized Ye from Hollywood. And of course, his marriage to Kim Kardashian ranked as one of the most high-profile relationships for years.
Musk is a South African tech billionaire whose companies include Tesla, SpaceX, and X, formerly known as Twitter. According to Bloomberg, he is the richest man in the world –- but money can't buy likability. Musk is often the target of jokes on his own social media app and is widely disliked by many  due to his problematic takes. Beyond being famed controversial figures, there is more to Ye and Musk's bromance than meets the eye.
They became friends in 2011
Ye and Elon Musk struck up their friendship over an assumed mutual love for innovation. As a fashion mogul who doubles as a rapper, Ye has many interests from politics to producing. In 2011, Musk welcomed the "Yeezy" founder, then going by Kanye West, into his SpaceX factory, home to various rockets owned and operated by the company. Musk posted a photo of them posing in front of a rocket during the private tour. 
Since then, the pals have exchanged kind words about each other. Musk even wrote Ye's bio for his entry in Time's "100 Most Influential People" list in 2015. "Kanye's belief in himself and his incredible tenacity—he performed his first single with his jaw wired shut—got him to where he is today," Musk wrote. "He's not afraid of being judged or ridiculed in the process."
Ye has also stood up for Musk on and offline. In 2018 he visited an arts college in Detroit and defended Musk as he spoke to a classroom. One student tweeted a video of Ye, who stood on a table as he ranted. "Elon Musk, I don't give a f***who's at his house. Leave that man the f*** alone," the "Heartless" rapper said. He appeared to be referring to a comment made by artist Azaelia Banks about Musk and his now ex-girlfriend, Grimes (per Page Six).
Elon Musk endorsed Ye for president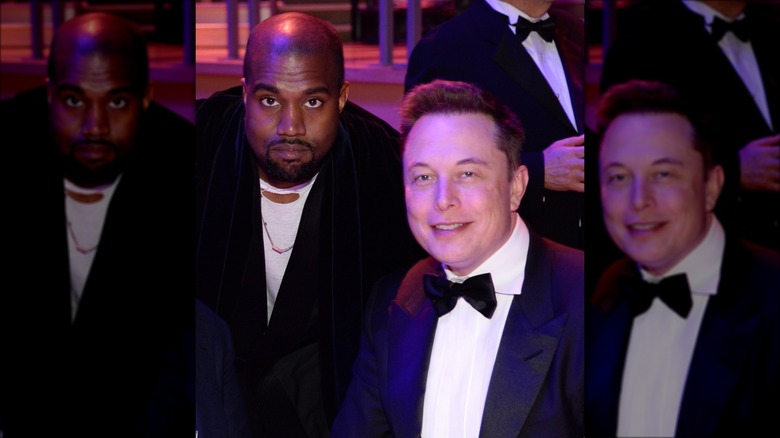 Kevin Mazur/Getty Images
The once-revered rapper Kanye West made a very controversial dive into politics. He first announced his bid for the presidency at the 2015 MTV Video Music Awards and quickly aligned with conservative politics. In the years following, Ye struck up a friendship with then-President Donald Trump and made an infamous visit to the Oval Office. In July 2020, he officially entered the race as an independent candidate and announced his candidacy on the platform X. Elon Musk was quick to endorse his friend, and replied to the tweet with his full support. Ye even told Forbes that he planned to make Musk head of the U.S. space program if he won.
But just days after Ye's bid became official, it was brought to the Neuralink founder's attention that his friend aligned with some controversial views, including anti-vaccine and anti-abortion stances. To these concerns, Musk tweeted: "We may have more differences of opinion than I anticipated" (per Dazed).
Despite these differences, the tech mogul remained loyal. Ye was banned from the platform X after making a slew of antisemitic remarks. After buying the company in 2022, Musk promptly reinstated his account. Eventually, Ye took his hate speech too far – after posting a Nazi swastika, the X CEO suspended his account. Their friendship appeared to crumble with this move, as Ye shared screenshots of heated texts between the two on Truth Social (per BuzzFeed News).