The Biggest Wardrobe Malfunctions That Happened During Fashion Weeks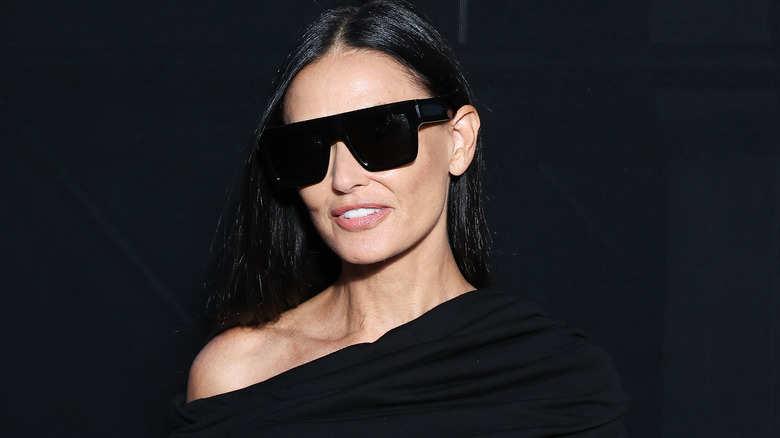 Marc Piasecki/Getty Images
There's no better time for fashion fans than when Fashion Week comes around. Clothes lovers can see the latest in couture and spot new fashion trends to get inspiration and plan their wardrobes for the coming season. But the amazing fashion isn't only contained on the runway. Favorite celebrities and social media influencers flock to major cities to catch the best Fashion Week runway shows and show off inspiring and, at times, questionable looks of their own.
Fashion Week is not the time to play it safe. It's a celebration of fashion, making it the perfect venue for daring clothing choices. But while that leads to many stunning moments, it can also result in disaster. With many celebrities rocking trends like cutouts, short skirts, and sheer fabric, there are many opportunities for embarrassing wardrobe malfunctions. At popular fashion shows with paparazzi everywhere, the odds of clothing slip-ups getting caught on camera are higher than ever.
Although they can be very embarrassing in the moment, wardrobe malfunctions are as common with celebrities as they are with the rest of us. They can happen to anyone, and if anything, these wardrobe malfunctions just prove how normal the stars are. The best entertainers are able to play off the awkward mistakes and keep going with the show.
Demi Moore had an issue with this sheer dress
"Ghost" star Demi Moore attended the Saint Laurent Spring/Summer 2024 show at Paris Fashion Week in September 2023. The 60-year-old actor looked absolutely stunning in a body-hugging, mostly sheer black dress. The ensemble featured long sleeves and an asymmetrical neckline with one off-shoulder side to highlight her collarbone. Because of the sheer fabric, Moore's legs, arms, and part of her torso were visible through the dress. However, she had on black matte bottoms under the dress to keep her covered. The top of the dress also had a second layer of fabric folded over to preserve her modesty by keeping her chest covered.
Unfortunately, that top section of folded fabric wasn't pinned to the rest of the dress. Although this draping looked beautiful, it led to a wardrobe malfunction during Fashion Week. As the actress was posing for photos, she lifted her arm to fix her hair. Her raised arm brought the top of the dress up with it, revealing one of her nipples. Moore handled the unfortunate wardrobe malfunction like a true professional. Her face remained calm, and she smiled softly as she fixed the dress and continued to pose for the cameras.
Despite the mishap, Moore continued to wow everyone with her all-black look. She accessorized with a pair of modern, oversized aviator sunglasses, pointed patent leather slingback heels, and a small black handbag. Her long black hair and minimal makeup looked perfect with her sleek look.
Nicky Hilton's revealing Versace look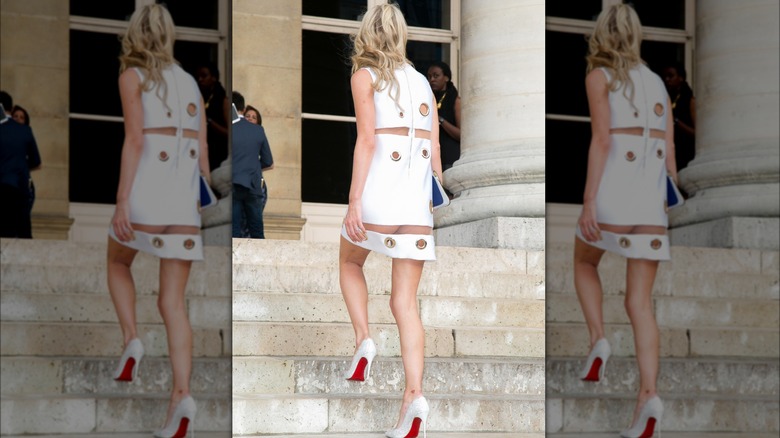 Marc Piasecki/Getty Images
Nicky Hilton is known for her fashion sense. Along with her time on reality TV, she's also worked as a model and fashion designer, creating her own line of handbags and shoes. But even the most fashionable people can have unfortunate style moments, and that's exactly what happened to Hilton at the 2015 Paris Fashion Week.
The socialite attended the Versace fashion show, wearing a fun white mini-dress. Her white look had a sixties-inspired mod feel but with a modern twist. The a-line shift dress cut off at mid-thigh and featured sheer paneling and cut-outs. Quirky metal rings with see-through centers showed off small portions of her skin, as well as looking reminiscent of a shower curtain, albeit a fashionable shower curtain.
But Hilton ran into trouble due to the larger portion of sheer paneling toward the bottom of the short skirt. When she stood up straight, the see-through fabric showed the top part of her thighs and was a great way to highlight her figure despite the loose-fitting style of the dress. But, when the reality star began to walk up the stairs, the dress shifted so that the sheer panel showed the bottom of her butt cheeks. It was an unfortunate incident as the leggy dress showed more than was intended to the crowd and photographers on her way to the show.
Doja Cat blames Victoria's Secret for this wardrobe malfunction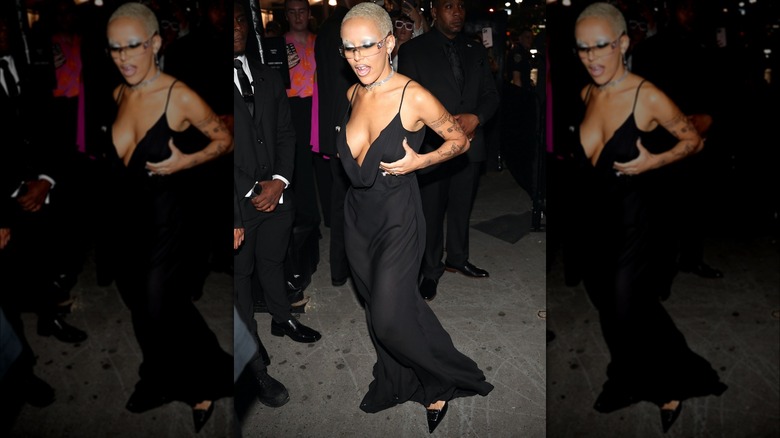 Jose Perez/Bauer-Griffin/GC Images
Rapper Doja Cat spoke up about her terrible fashion experience while attending the Victoria's Secret show in September 2023. While at the New York Fashion Week event, the pop star wore a black slip dress with a plunging v-neck that she was gifted. Doja Cat looked picture-perfect in the long black dress paired with black kitten heels, a chunky silver choker, light sunglasses, and eye-catching shimmery blue eyeshadow. But, while she may have looked amazing at the event and in Instagram photos that she shared later, things were less than ideal behind the scenes.
The artist was quick to share her true feelings about the dress in her Instagram Stories, which were later shared on X (formerly known as Twitter). Both the low neckline and a strap on the back of the dress made the entire night very uncomfortable for Doja. She wrote in her stories, "It's crazy when u got a dress on and your whole vagina is out the whole night and the straps on the dress pull ur t*ts all the way down to your knees and all you asked for was a slip dress but I digress." She went on to explain that the panties were built into the slip dress. Because of that, the shoulder straps pulled up on them throughout the night, making the panties ride up. "Never thought she could get manhandled by a piece of fabric," Doja Cat finished the post.
Nadia Bartel almost falls due to this wardrobe malfunction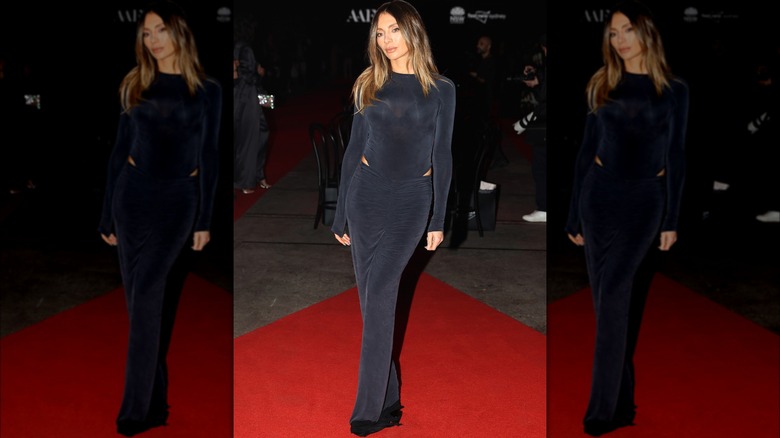 Brendon Thorne/Getty Images
Australian fashion model and clothing designer Nadia Bartel had a dangerous wardrobe mishap when she arrived at the Michael Lo Sordo show at Australian Fashion Week in May 2023. Bartel came to the show in a semi-sheer, figure-hugging maxi dress with cutout details showing slivers of her hips. She kept her accessories minimal, letting her sleek black dress and tanned skin take center stage.
Unfortunately, the effect of the look was partly spoiled by the model almost tripping over her dress. The length of the skirt and the sleeves created an elegant silhouette when she was standing for photos, but it became a problem when she was in motion. Because the maxi dress fabric draped down beyond her feet, Bartel had to be careful not to let her heels get caught in the folds she walked.
Videos from the event show Bartel stopping multiple times on her way in as she bends down to lift the flowing fabric away from her pumps. But, the seasoned model handled the situation with as much grace as possible. Though the wardrobe malfunction slowed her down, she managed to avoid stumbling over the long fabric by pausing to lift it up as needed. Bartel had a similar incident in 2019 when she almost fell over her high-slit gown. Once again, the model showed off her agility, catching herself to avoid disaster (via Yahoo). 
Cardi B's stylist had to keep her dress from falling down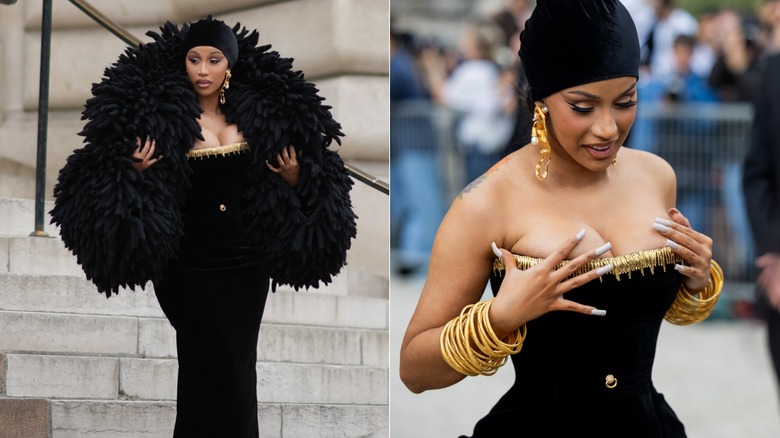 Edward Berthelot/Getty Images & Christian Vierig/Getty Images
Cardi B certainly made an entrance at the Schiaparelli Haute Couture Fall/Winter show for Paris Fashion Week in July 2023. The "I Like It" rapper arrived wearing a large black bolero with feather-like detailing. The large sleeves and collar of the bolero covered portions of her upper body, making for a fantastic reveal when she eventually removed the cover to show her form-fitting, sleeveless dress. The black gown featured gold detailing, which matched Cardi's stacked gold bangles, gold heels, and unique ear-shaped earrings. A corset back sinched the musician into the dress for a skin-tight fit that showed off her tiny waist and curves.
She ran into a slight problem after removing the bolero. Because the dress had no sleeves and such a tight fit, the singer's breasts began to spill out of the top, forcing Cardi to stop and adjust the dress. In a video from outside the show, you can see Cardi having fun posing for pictures. Then her stylist, Kollin Carter, has to step up to help pull the tight dress back up before it slides down any further. The two of them handled the risky wardrobe moment like pros. Once her dress was fixed, Cardi went on like nothing had happened. Thanks to her stylist, she avoided any seriously embarrassing moments and could go on showing off one of her many iconic looks.
When Anna McEvoy's bodice broke
"Love Island Australia" star Anna McEvoy had a particularly embarrassing wardrobe malfunction right in the middle of a fashion show. While many of these clothing mishaps happen on the way to or from events, McEvoy had hers while sitting in the front row at a Melbourne fashion show in March 2022.
The reality star looked beautiful in an off-shoulder, black dress with a cutout detail near the chest. She wore her blonde hair swept back, dangling earrings, a few delicate rings, and a bold red lip to finish the look. McEvoy looked perfect for a runway show, but as she watched the models displaying the latest trends on the catwalk, everything went wrong. The cutout at the front of her dress looked beautiful but proved to be a bit flimsy, and her dress broke open as she was sitting front and center.
In a hilarious video that she shared with her TikTok followers, McEvoy wasn't shy about the embarrassing moment. Over the video, she put text reading, "When your dress breaks and b**bs pop out front row at fashion week," followed by a grimacing emoji. The video continues, showing her holding the top of her dress together to keep it from flying open as her friend sitting beside her does their best to tie it back together, all while the show continues in front of them. In the video caption, McEvoy wrote, "All I remember is the guy across the runway pointing and laughing."
Gigi Hadid took this wardrobe mishap in stride
World-famous supermodel Gigi Hadid stays busy during fashion week. Throughout her career, she's walked the runway for many huge fashion brands, including Prada, Givenchy, and Ralph Lauren. But amidst all these incredible fashion shows and couture clothes she's modeled, Hadid has had her share of wardrobe malfunctions. Hadid had one such mishap modeling for the Versace runway show during 2016's Milan Fashion Week. Her look was the grand finale as she walked down the runway to close out the show in a black Versace dress.
The slip dress featured colorful detailing along the sides, a thin cutout below the chest, and heavy straps. Most notably, it also had a plunging neckline and back. As she strutted down the catwalk, the top of the dress slipped, exposing one of the model's breasts. Associated Press posted a video showing how Hadid handled the situation with remarkable composure. She continued to walk, looking straight ahead as if nothing had happened. After the show, she was seen smiling as she high-fived the designer on her way off the stage.
Hadid took to social media afterward to let everyone know she was unconcerned by the incident. She also called attention back to fashion to remind people of the point of the show. In a post, later shared by Refinery29, she complimented the designs, writing, "Wardrobe malfunctions happen on the runway every day of [Fashion Week] & are...unfortunate, lol, but let's talk instead about the new VERSACE CHOKERS???"
Gigi Hadid was forced to walk the runway barefoot after her heel broke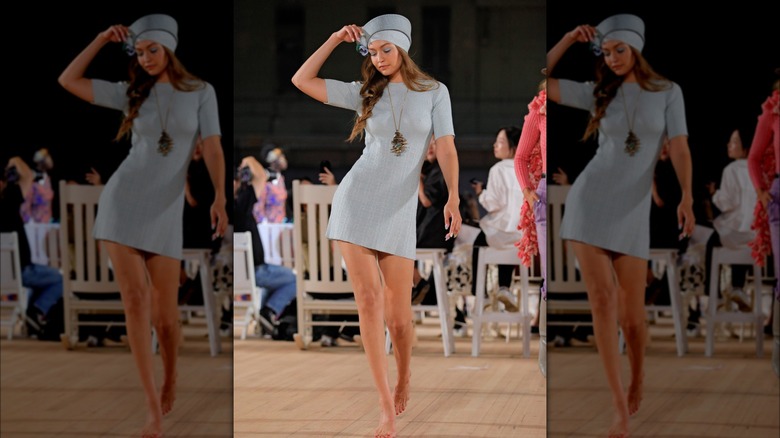 Randy Brooke/Getty Images
If you thought the 2016 Versace show was the last of Gigi Hadid's runway fashion problems, you were mistaken. In 2019, the model had another fashion malfunction while walking for the Marc Jacobs Spring 2020 Runway Show. Hadid modeled a light blue dress and matching hat and caught some attention for walking barefoot.
Ever the professional, Hadid rocked the barefoot look as if it was purposeful. However, Marc Jacob's stylist, Katie Grand, later revealed that Hadid walked the runway barefoot as a snap decision after one of her heels broke. "There wasn't much we could do other than either fake a non-broken heel or rip off her socks and shoes and send her out barefoot, which we did, and was all the more natural for it" (via People).
Gigi also posted photos from the runway show to her Instagram, including a video of her barefoot walk. Despite the incident, she had nothing but kind things to say about the entire Marc Jacobs team. In her caption, the model wrote, "Thank you so much for including me in one of the most incredible shows I've ever seen ...(sometimes a lil wardrobe malfunction can lead to the magic moments.)" She went on to personally thank Jacobs and Grand, saying, "Experiencing your creative ride is surreal, inspiring, and joyful. I am so grateful for time spent with you."
Celine Dion's friend saved her from wardrobe disaster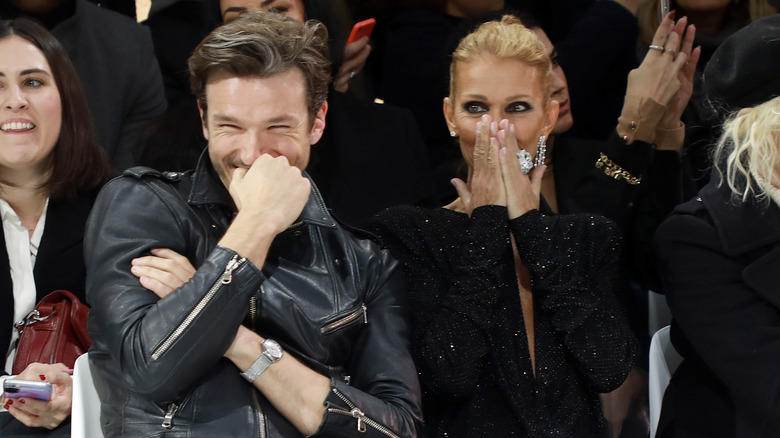 Pierre Suu/Getty Images
Celine Dion narrowly avoided an embarrassing wardrobe disaster while attending Paris Fashion Week in 2019. The "My Heart Will Go On" singer was sitting in the front row at the Alexandre Vauthier Haute Couture Show when her slinky dress almost became too revealing. Dion wore a sparkly black dress with a high neckline and long sleeves. It was a very modest look, apart from a cutout detail running from the neckline and down the center of her chest. The singer narrowly avoided the cutout slipping and revealing her chest during the show. Her friend Pepe Munoz spotted the wardrobe malfunction from his chair next to Dion and adjusted the front of her dress to avoid disaster. The two friends took the wardrobe incident in stride and were photographed laughing together over it.
Munoz and Dion have been friends for years and seem to share a love for high fashion, attending many shows together. There was some confusion at the start of their friendship from people thinking they were dating. Dion responded to the dating rumors during an interview with Extra, explaining, "Pepe is gay, and at first, I think some people did not know that. And the thing is that he's my best friend." It seems Munoz has come to her rescue in more areas than fashion. She leaned on Munoz after her husband's death. "He did so much for me, for my mental health, my spirituality, my strength," Dion said.