What JoJo Siwa's Life Was Really Like As A Child Star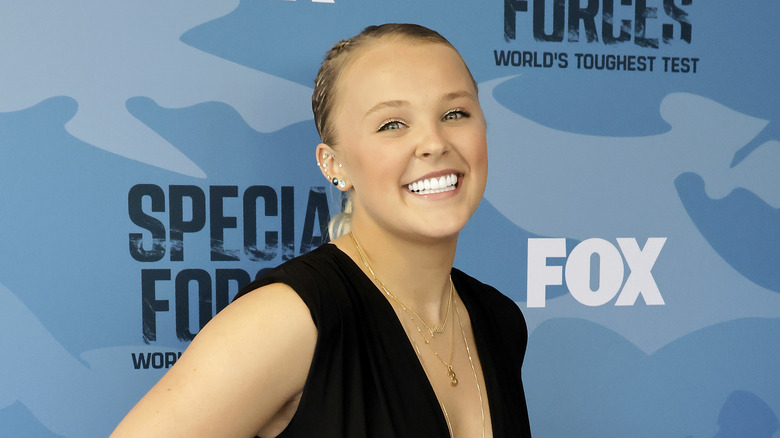 Kevin Winter/Getty Images
Since 2011, Abby Lee Miller has been churning out young stars, thanks to "Dance Moms" and its subsequent spin-offs. While there were several problematic moments on the show, many of the young dancers actually went on to have somewhat successful careers, and some have even achieved celebrity status. There were just a handful of "Dance Moms" cast members who became incredibly successful, including Maddie Ziegler, who went on to become Sia's protégé, and JoJo Siwa, who used her platform to build a kid-friendly, multifaceted brand around herself.
Between her dance, music, and television career, millions of social media followers, branded merchandise, awards, books, a nonprofit organization, and the singing group she established, XOMG Pop, it's incredible that Siwa somehow finds the time to do it all. Born May 19, 2003, the Nebraskan was still a kid just a few years ago and has managed to connect with her fans, build a multimillion-dollar fortune, and remain surprisingly humble, despite growing up in the spotlight.
Although fans may think they know everything about Siwa given that her childhood was largely captured on camera, there's so much more to the girl behind the ponytail. She's slowly transitioned out of her bubblegum-pop image as she's gotten older, leaving behind her life as a child star and becoming an adult icon.
JoJo Siwa was a born entertainer
Joelle Joanie "JoJo" Siwa's parents have been a solid support system in her life, helping her get into performing from a very young age. Her father Tom was a chiropractor and her mother Jessalyn, whom "Dance Moms" fans will remember as the fame-hungry newcomer to the mom group in Season 5, was a dance instructor and owned her own studio in Nebraska. 
From the time Siwa was still in diapers, her mom said that she would dance all the time. Speaking with Time in a 2019 interview, Jessalyn said, "I just knew from about the time she was like 1 and a half that she was really special because I'd seen a lot of kids. She just liked being onstage, and everyone liked to watch her. I just took it and ran."
So many parents think their children are especially talented, but Jessalyn was right about what she saw. "When my husband would come pick her up at the [dance] studio, she would not want to leave at night," she told Rolling Stone in 2019. Siwa began performing on stage at the age of 2 and went through several audition processes, many of which took her out of her home state, before submitting an audition tape for "Abby's Ultimate Dance Competition" when she was 9 years old.
She got her start competing on Abby's Ultimate Dance Competition
JoJo Siwa was the youngest to compete on "Abby's Ultimate Dance Competition" at just 9 years old when she made her television debut. She had been accepted to compete on Season 2 of the show and found herself in fifth place before she was eliminated. Working with the infamous Abby Lee Miller in this capacity allowed Siwa to prove her talent as both a dancer and a reality star. 
Given that she and her mother had strong personalities, she was perfect for "Dance Moms," which she joined as a cast member during Season 5, adorned in her signature ponytail and bow.
Miller hasn't been shy in sharing her thoughts on how much of a role her reality shows played in Siwa's rise to fame. Speaking with The U.S. Sun in 2023, Miller explained, "She knows why she's here. She knows that the success of 'Dance Moms' and her coming from 'Abby's Ultimate Dance Competition' — [they] catapulted her into millions and millions of homes. ... I believe she would still be a star, but not to the magnitude that she is. She'd be successful, but not a multimillionaire. That was because of ['Dance Moms']. And she knows that."
JoJo Siwa's mom was intent on making her a star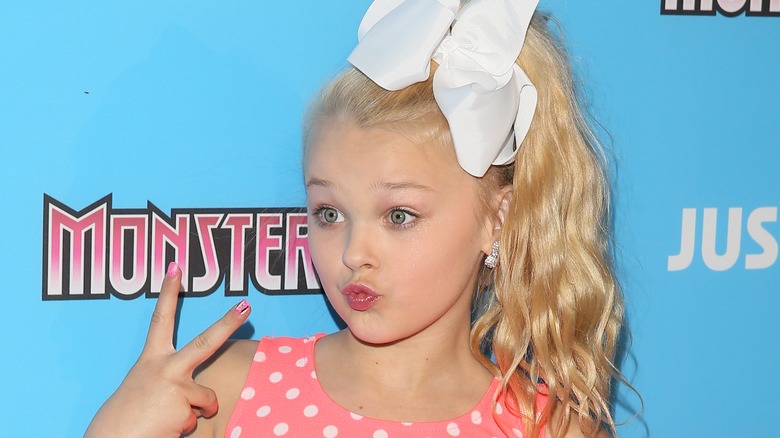 Jb Lacroix/Getty Images
Like all child stars, JoJo Siwa needed her parents' support in order to make it. While on "Abby's Ultimate Dance Competition," her mom Jessalyn Siwa stated, "I would say it's my mission in life to make JoJo a star." Her actions reflected this throughout their time on reality television and, thankfully, JoJo was fully on board with the plan.
It seemed that "Dance Moms" gave Jessalyn a bad rap, and like most parents of child stars, she seemed to be a momager. However, according to the star, she has her mother's support no matter what she wants to do, which she explained to Today in 2019, saying, "She's not a stage mom. ... [She's] literally the most opposite of that." She added, "My second dream in life is to be a surgeon. If I was like, 'I'm done with this, I want to be a surgeon' ... she'd be like, 'All right, we're going to Harvard!'"
Jessalyn spoke with People about her relationship with her daughter in a 2021 joint interview. "You were like my little sidekick before we were doing work together and TV together," she quipped. Throughout the better part of a decade, the mother-daughter team was able to work together to turn Siwa's name into a brand, and Jessalyn achieved her life's mission of making her daughter a star.
She suffered verbal and emotional abuse while on Dance Moms
Although she was only on "Dance Moms" for two seasons, having left in the middle of Season 6, JoJo Siwa arguably faced the worst of Abby Lee Miller's wrath. The dance instructor is known to yell at her young students. Some even accused Miller of physical abuse, and it was one of the more worrying elements of the show.
In January 2023, Siwa shared a video on TikTok of herself reacting to a clip from her time on "Dance Moms." In it, Miller reminds her pupils of a homework assignment she'd asked them to do, in which they would "write about JoJo; reasons she should not be part of the Abby Lee Dance Company." Some of the girls mentioned that she was "very loud" and would "take opportunities from people who have been [there] longer," as the camera panned back to a crying Siwa. In another scene, Miller shouted, "She deserves nothing! Don't have an attitude that you are entitled in this world."
Despite the intense environment Siwa was subjected to while on the show, she and her former dance coach are still close. Speaking with Us Weekly in 2020, she explained, "I actually talk to Abby the most out of anybody from the show. She's great. ... Even though you see her yelling and screaming at children on TV, like Abby made seven stars. I wouldn't be doing this if it wasn't for her."
There were many long days of filming
Child stars are all too familiar with the long hours and grueling schedule they often face, and being on "Dance Moms" was no different for JoJo Siwa. Competing with the Abby Lee Dance Company already brought with it a demanding week, packed full of learning dances and competing in competitions across various cities.
However, as Siwa wrote in her book "JoJo's Guide To The Sweet Life," being on the show was like working a full-time job. "We filmed Tuesday through Saturday, and each day had a specific purpose. Tuesday was interview day. Each interview took about two hours! Wednesday was Pyramid. Thursdays we had rehearsal, and Friday we had rehearsal in the morning, then traveled to wherever our competition was that weekend. Then Saturday, of course, was competition day," she wrote.
Siwa was so busy during this time that, as she told Us Weekly in 2020, she began slacking on her personal hygiene. "I could go a week without showering. Literally, what I would do is I would put my hair in a ponytail. I'd fall asleep with it in a ponytail. I would wake up and I would just re-slick it. Like I'd just spray down my wispies and I'd go on with my day," she explained. Pennsylvania labor laws came into question at times, as the girls often worked long hours without breaks, but nothing ever came of the allegations.
She became known for her signature ponytail and bow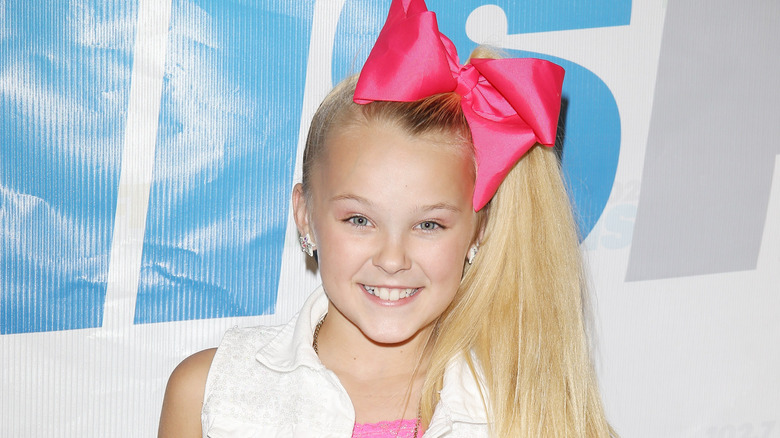 Michael Tran/Getty Images
When you think of JoJo Siwa, you most likely picture her platinum blond ponytail, embellished with her signature bow, as this became her most iconic look as early as her "Dance Moms" days. A lot of effort has gone into the young starlet's hair since she was practically a baby, which fans learned during a scene in "Abby's Ultimate Dance Competition" in which Siwa explained that she'd been bleaching her hair since she was just 2.
The color of her hair aside, Siwa revealed in a 2018 interview with J-14 how her statement ponytail came to be. "I feel more confident with my hair up. I wear my hair up all the time because I don't like it down. I just really hate having it on my neck, so that's why I always pull it into a ponytail," she said (via Just Jared Jr.). However, a lot can change in just a few years, as the dancer shocked her fans in 2021 with a brand-new look nobody was anticipating.
Adam Mosseri, head of Instagram, spoke with Siwa after she shared a video of herself shedding her bow and wearing her hair down. During the interview, she explained, "I've worn a bow, obviously, for the last 18 years of my life. ... It was right around my birthday that I realized, 'You know, I kind of want to do my hair different today.'"
JoJo Siwa developed a rash from the stress of Dance Moms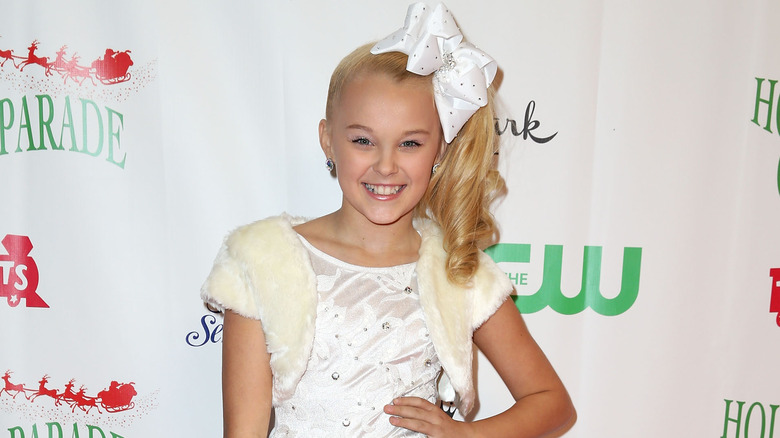 Phillip Faraone/Getty Images
In July 2022, JoJo Siwa took to TikTok to address her apparent bald spot on the right side of her head. The video showed a montage of the young dancer crying her eyes out while on "Dance Moms," and she captioned it, "Stress rash on my head when I was on 'Dance Moms' led to no more hair there."
That same day, Siwa posted another TikTok video to reply to a comment that had been left on her previous post, asking if the bald spot was from her "tight ponytails." She said that it wasn't from her hairstyle because she would wear her ponytail on the same side, which wouldn't cause the hair to be pulled from the area. 
Instead, Siwa explained, "When I was little I had a really bad stress rash right here on 'Dance Moms' and I would pick at it all day long, and I damaged every single hair follicle."
JoJo Siwa skyrocketed to fame when she signed with Nickelodeon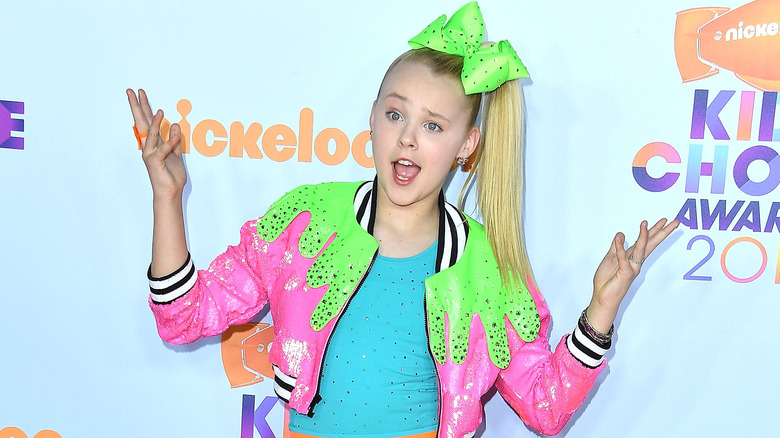 Steve Granitz/Getty Images
While she was still on "Dance Moms," JoJo Siwa signed a deal with Claire's and she came out with her own line of accessories for the retailer to sell, which of course included her signature hair bows. 2017 brought even more success, although it meant that she had to leave the reality show that had made her a star. Siwa signed an overall talent deal with Nickelodeon, and the broadness of her contract gave the network plenty of platforms to work with. Merchandise, television shows, music, live events, social media platforms, and more were in store for the latest face of Nickelodeon.
Shelly Sumpter Gillyard, the executive vice president of talent, music, and events at Nickelodeon, released a statement once the deal was signed, saying, "JoJo's an entrepreneur, her family is everything to her and she is happy just being a kid. We have watched JoJo's career as a real breakout talent and knew when we met with her that our audience would welcome her as part of the Nickelodeon family."
Once Siwa was signed with Nickelodeon, you simply couldn't escape her. Clothing and accessories decorated with sequins and rainbow colors dominated tween fashion while her name was thrown across everything from bedding to fruit snacks. She had her own doll, voiced herself in an animated series, released several songs, and even starred in her own Nickelodeon-produced movie, proving both her talents and brandable image.
She's dealt with harassment on and offline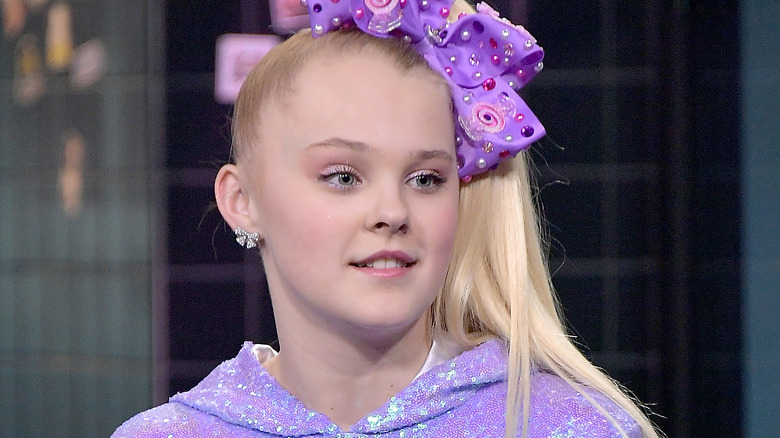 Michael Loccisano/Getty Images
JoJo Siwa is no stranger to harassment, as she faced it regularly from her dance teacher while on "Dance Moms," but that hasn't made the cyberbullying any easier for her. During an appearance on "This Morning" in 2017, at just 14 years old, the dancer revealed that she has faced harsh criticism from online commenters. "They can just comment 'you're fat,' 'you're ugly,' 'you're weird,' 'I hate you,' 'you're a brat' and 'you're annoying,'" she said (via The Daily Mail). "It's just terrible. It's so mean that someone can just comment. You don't even know who it is half the time." Despite the devastating words she's read about herself online, she insisted that she doesn't let the hate get to her.
Growing up in the spotlight put a target on young Siwa's back, and sadly it seems to be one of the many negative aspects of fame, but while it may have been difficult, she handled the online abuse with a mature outlook. However, the rude comments online probably didn't prepare her for the heckling she dealt with in person. 
Speaking in an interview with Variety in 2020, Siwa remarked, "After I was the top meme in October, with people criticizing my hairline and saying I'm a giant toddler, I went to Knott's Scary Farm, and people were being awful. All these teenagers were, like, 'JoJo Siwa, f*** you! Go home.'"
She's lived a lavish lifestyle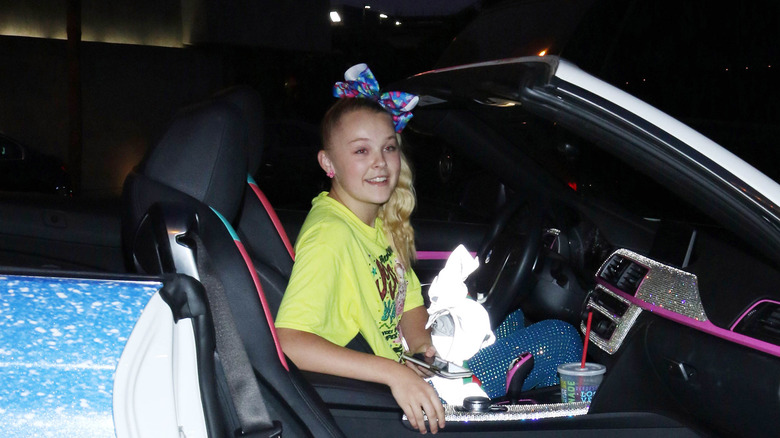 Hollywood To You/Star Max/Getty Images
As of 2022, JoJo Siwa's net worth has reportedly reached an impressive $20 million, per L'Officiel. It was estimated that a large chunk of her income came from her hugely successful YouTube channel which has amassed 12 million subscribers. Siwa's tours, merchandise, and reality show appearances, including "Dancing with the Stars" and "So You Think You Can Dance" have also added to her fortune.
With all of that money, Siwa's made a pretty cushy life for herself, and in 2019, at just 16 years old, she bought a six-bedroom mansion for $3.5 million. Initially, when she showed off her house to her millions of subscribers, her home had been decked out in bright pink colors and glittery décor. 
Speaking with People in 2022, Siwa has said she's since toned down the vibrancy of the home she shares with her parents, saying, "We did take it down a couple notches, and that's because I used to be a very, very dedicated and committed YouTuber. ... When I stopped filming in the house every day, it was really weird for me to come into the house, and it felt like work. So I told my family, 'Let's change the house to a nice, pretty, calm, serene house.'"
JoJo Siwa shed her childlike image with grace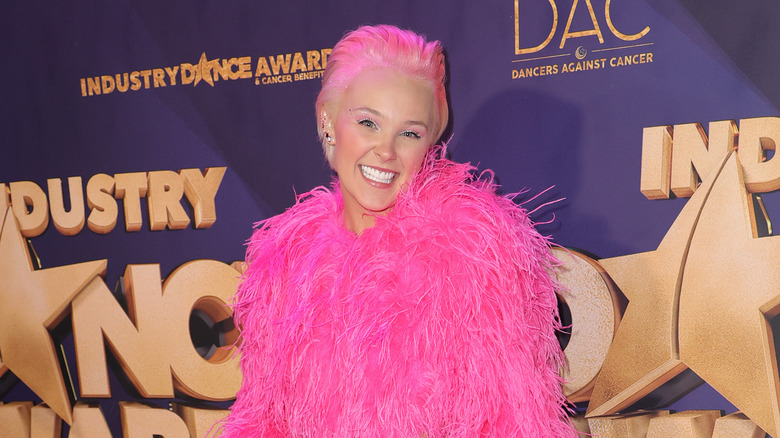 Momodu Mansaray/Getty Images
If you haven't seen JoJo Siwa in a little while, you're probably still picturing the young star dressed in neon colors, sparkles, and bows. She was often criticized for her childlike image, especially as she got into her late teenage years, but she knew the importance of maintaining her image for her fanbase and had continued to flaunt ruffles and rhinestones despite the hate. 
In a 2019 interview with Time, Siwa spoke about her image, saying, "There will be a time when I age up. Everyone does grow up. I think I'll cross that bridge when I get to it. But I mean, what do people want me to do? Wear black every day?"
Child stars who grow up in the spotlight have notoriously struggled to bridge the gap between "I'm that kid from that thing" and "take me seriously as an adult now, please." But, in April 2022, Siwa did just that with one monumental change: she chopped off her ponytail. She showed off her new pixie cut in an Instagram Story in which she enthused, "It's way different than long hair, it's crazy, but I'm obsessed!"
She was met with support when she came out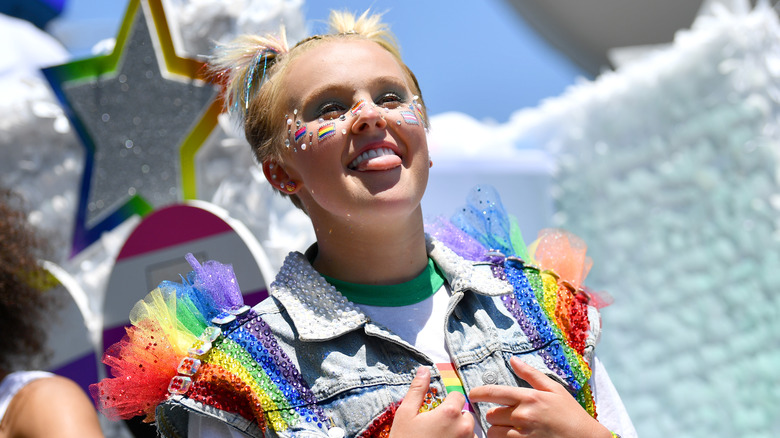 Sarah Morris/Getty Images
In April 2022, JoJo Siwa came out to her fans with a post on X, formerly known as Twitter, captioned, "My cousin got me a new shirt." In the photo, she wore a shirt that read, "Best. Gay. Cousin. Ever." Following her post, the star clarified how she labels her sexual identity while speaking on an Instagram Live video. 
"I have thought about this, but the reason I'm not going to say this answer is because I don't really know this answer. ... I also want to keep things in my life private until they are ready to be public. Right now what matters is that you guys know that no matter who you love, that it's okay," she said.
Siwa was met with incredible support from the LGBTQIA community, celebrity allies, and her friends and family. Online commenters included stars like Ellen DeGeneres, Lil Nas X, and Todrick Hall, who took to Twitter to share their love and pride for Siwa's bravery. Even Abby Lee Miller shared her support with an Instagram post that was captioned, "I always knew the world would be a more colorful, positive, sparkly place with a kind, loving, dazzling triple threat like you in it — a shining example for the kids out there to live their best lives each and every day."