How Jojo Siwa Really Feels About Abby Lee Miller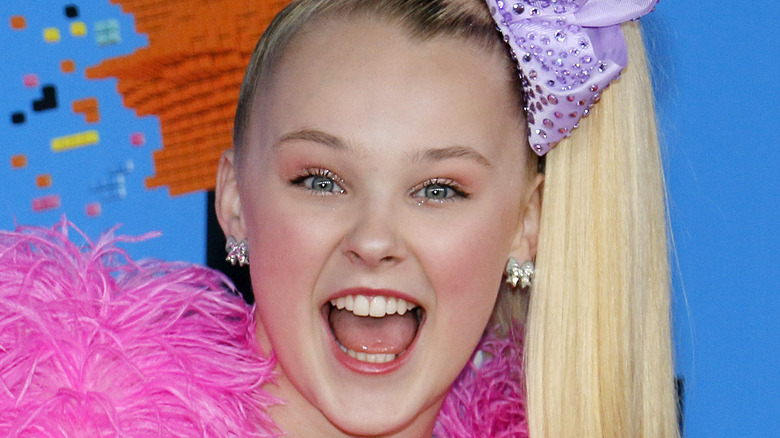 Tinseltown/Shutterstock
As entertaining as "Dance Moms" was during the eight seasons it ran (via Lifetime), it's no secret that, at times, it became difficult to watch. The show followed dance studio owner Abby Lee Miller as she helped young dancers — typically ranging between the ages of 6 and 15 (via Dance Moms Wiki) — become professional-level dancers and compete nationally. 
While the show was full of fun moments and exciting dance numbers, it was also pretty tough to watch at times due to Miller's treatment of her dancers. Indeed, episodes typically consisted of Miller verbally abusing the young girls, spewing insults and brutal criticism at them to get them to perform better. She has even been accused of making racist and offensive remarks — some of which were directed at the young dancers — that ultimately resulted in her show being canceled (via Entertainment Weekly). Needless to say, there is quite a bit of tension between Miller and her dancers, which explains why many of them have issues with her to this day.
At the same time, however, it's no secret that Miller's show helped contribute to the success of many of the dancers who starred on it. Some of the biggest names to come from "Dance Moms" include Mackenzie and Maddie Ziegler, Chloe Lukasiak, Nia Sioux Fraizer, and Kendall Vertes, all of whom have massive followings on social media and very successful careers in entertainment (via Women's Health). 
But perhaps one of the most famous stars to come from "Dance Moms" is none other than Jojo Siwa.
Jojo Siwa publicly defended Abby Lee Miller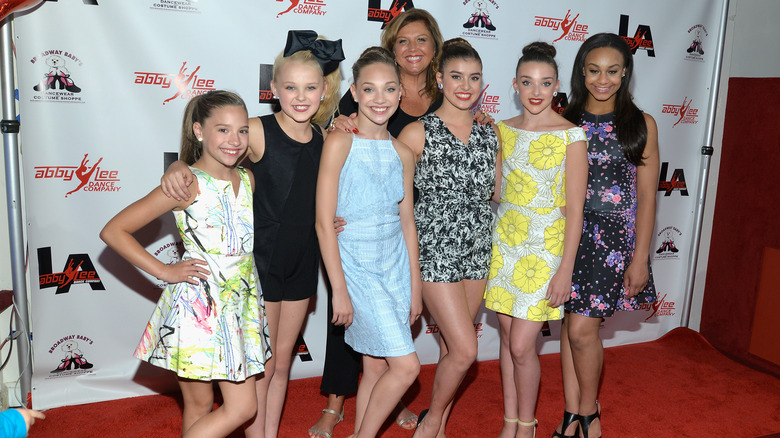 Michael Tullberg/Getty Images
So what does teen sensation Jojo Siwa really think of her former dance coach all these years later? Well, it's not something that has been addressed much at all. That being said, in June 2020, Siwa publicly defended Abby Lee Miller after a former "Dance Moms" contestant took to TikTok to share her disgust after Facebook recommended Miller to her as a "suggested friend." Siwa commented on the girl's TikTok video, saying (via People), "It's one thing to just not add her back, it's another to post it."
But why would Siwa defend Miller after all the abuse she seemingly put her and the entire Abby Lee Dance Company through? According to Siwa, despite the mistreatment, when you sign up to work with Miller, "you know what you're getting into." She explained to Entertainment Weekly, "It makes me really, really upset that I am one of the few — there's only a few people — that really truly thank Abby, and are thankful and grateful for what she's done for us." She added: "Because without her, 'Dance Moms' wouldn't be a thing."
Jojo Siwa is grateful to Abby Lee Miller for turning her and other dancers into stars
Jojo Siwa explained to Entertainment Weekly that, if it hadn't been for Abby Lee Miller, many of the dancers on the show wouldn't be where they are today. "That's where Maddie [Ziegler] got her start, that's where Kenzie [Ziegler] got her start, Kalani [Hilliker], Paige [Hyland], Brooke, Nia [Sioux], Chloe [Lukasiak], Kendall [Vertes]," she said. "I mean, that's where everyone got their start." Siwa added that Miller "really is a good person," despite all the yelling on TV.
Siwa's positivity toward Miller appears to be reciprocated. Earlier in 2021, Siwa made the brave decision to come out as pansexual on social media, sharing that she's "just really happy" to be a part of the LGBTQ community. 
In response, Miller took to Instagram to support her former dancer, pairing the kind words with photos of the two of them together back in the "Dance Moms" days. "I always knew the world would be a more colorful, positive, sparkly place with a kind, loving, dazzling triple threat like you in it — a shining example for the kids out there to live their BEST lives each and every day," Miller wrote. "Love you kiddo!!! Keep making me proud." 
Siwa replied, "Love you!" and shared Miller's emotional post on her Instagram Story (via People).